With star turns in the mini-series Roots, Black Mirror and most recently Steve McQueen's powerful Small Axe anthology, the issue 28 cover star and London-born actor talks to Jason Okundaye about vulnerability, shunning social media and the joy of sharing Black British Caribbean history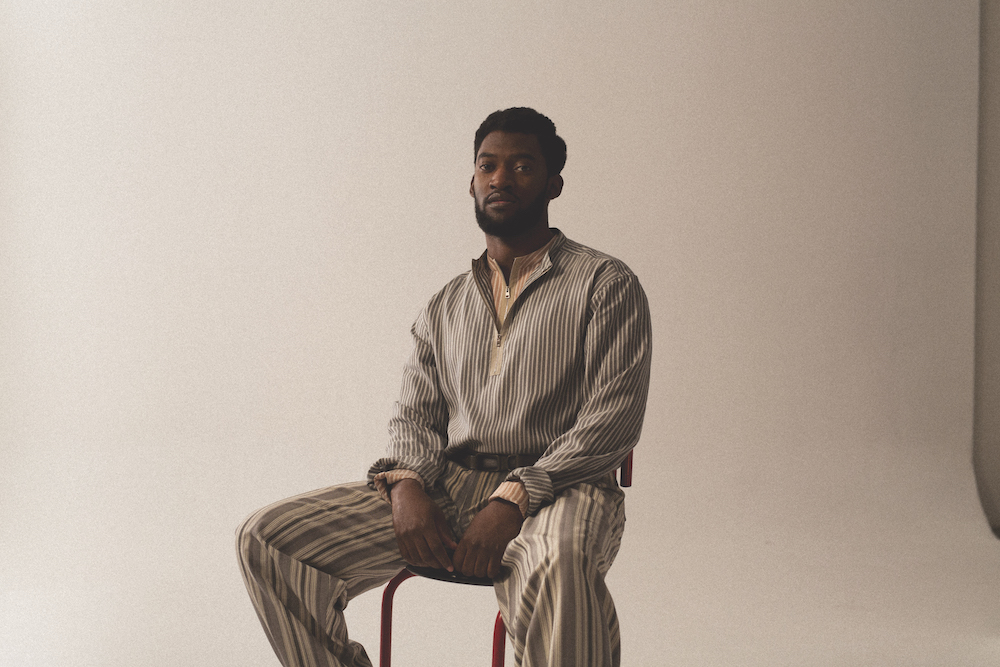 Malachi Kirby has the sage demeanour of an older brother. He feels at once charming and close, but with the evident amour propre and stature that doesn't permit overfamiliarity or a disrespect of boundaries. Perhaps I say this because, within the opening minute of our two-hour conversation on Zoom, we realise that we had grown up in neighbouring buildings on the same estate in Battersea – the Patmore. "Oh, behave yourself – no one else lived in Patmore!" he says. We become engrossed with describing the architecture of the estate, its adventure playground, and gesticulating to each other as if our hands could beget a holographic map of its geography. As Kirby remarks to me, "This is a special one." And when I listen back to the recording of our chat, I realise that we are both, at brief moments, notwithstanding his attentive and softened parlance, caught in a storm of each other's memories, and speaking at breakneck speed.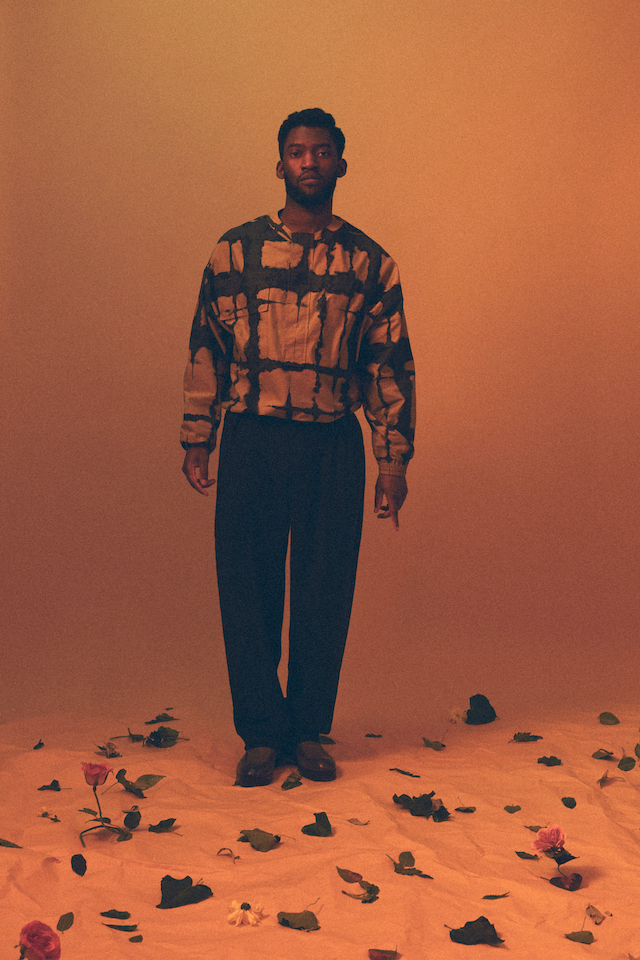 The relative seclusion and anonymity of growing up on the Patmore – its neighbouring estates in Battersea, like the Doddington and the Winstanley, are more famous – to me, frames the actor's modesty in the face of his own success. Standout performances in 2016 as Kunta Kinte in the heart-breaking miniseries, Roots, about slavery as America's original sin, closely followed by his role as the vulnerable soldier, Stripe, who hunts humanoid monsters in the Black Mirror episode 'Men Against Fire', have brought him firmly into the limelight. But he admits that fame is not something he relishes, and that as a child, whose primary passion was for words and literature, acting wasn't even on his radar: "It wasn't something that I thought was accessible. And even if it was accessible, it wasn't something I had any interest in. The spotlight for me was somewhere that felt unsafe."
When he reached year nine of secondary school, his mother brought home a leaflet for a short drama course at Battersea Arts Centre, which remained on their table for a year until he decided to take it up. He describes the course there as life changing, and, like dipping a toe into a bathtub to test the heat of the water, he gradually acclimatised to the space, splendidly populated by total strangers, and eventually felt able to act and perform with freedom. It was at a showcase for friends and family that he received local acclaim. "At the end, someone's parents came up to me and said I was good. And they didn't have any reason to say that; it was just kindness," he tells me. "But it encouraged me. I didn't go, 'Okay, I want to be an actor now', but there was definitely a thrill of, like, 'Wow, I was just on stage and people watched me and I had everyone's attention, but I didn't feel in danger. Okay, maybe this isn't so bad.'"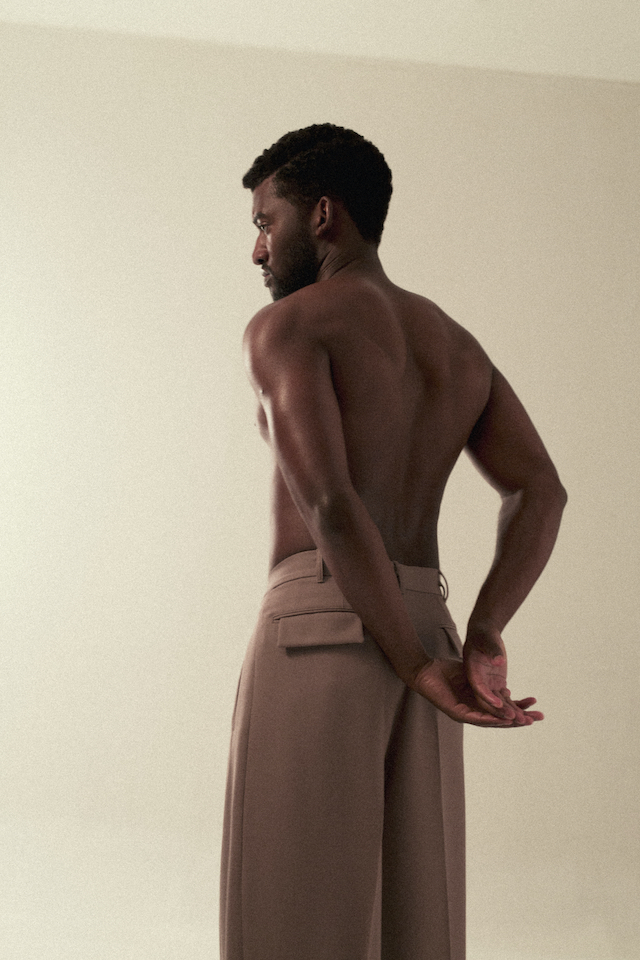 This local success found Kirby admitted to Identity School of Acting in late 2007, where he befriended the actress Letitia Wright, who enrolled in 2009. "As soon as she came in the room, I adopted her as my little sister, whether she knew that at the time I don't know. And I'm having to get to grips with the fact that she's not so little anymore." These two titans of Black British acting co-star in Steve McQueen's Small Axe-anthology film Mangrove, and he recalls auditioning for his role as Darcus Howe in Letitia's house with a friend, unknowing that she had already been cast in the part of Altheia Jones-LeCointe: "We were recording an audition tape, and she overheard us and said 'Hey, what are you auditioning for?', and I replied 'I can't really speak about it.' Anyway, we kept going and she was like, 'I know what you're doing; that's Mangrove!' I said 'How do you know?' She's like 'I'm in it, bro!'"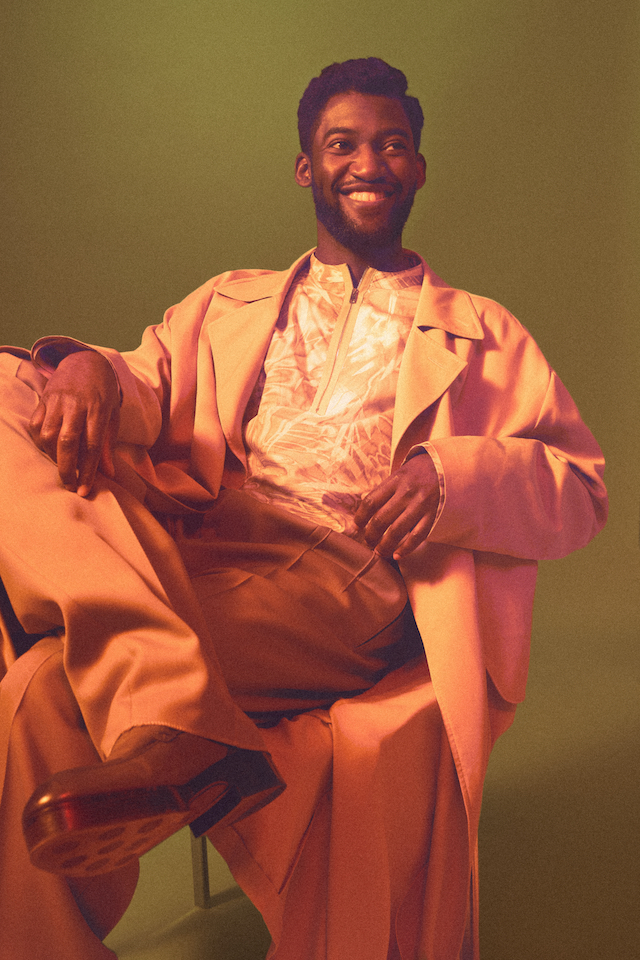 Knowing that he would be starring alongside one of his closest friends amplified the joy in getting the role. But he tells me that his biggest fear for performing as Darcus Howe was mastering the Trinidadian accent, a prospect he had dreaded his entire career. "Prior to this there were two accents that I just thought I was never ever gonna touch. It was Australian and Trinidadian, specifically. I just thought, people are gonna get offended." However, he describes learning to speak like Howe as one of the most thrilling parts of the role, crediting his voice coach with imbuing him with the confidence to nail it. And so it transformed from a fear to an honour, "To be able to tap into that and enjoy the rhythm of that, and the musicality of his voice, was like eating apple pie." He emphasises that it shouldn't be assumed that he could master a Trinidadian accent on the basis of his Jamaican heritage, noting the complexity of the dialect. "A Trinidadian accent is not just Trinidadian; it's so full of all of these different cultures, and all of these different places in the world, infused into this one voice." The process of becoming Howe was intensive, and with just three weeks to prepare, he immersed himself in his biography, newspaper articles and old video tapes, noting his luck that Howe was perhaps the most widely and accessibly documented character of the film. He comfortably admits to me that he had been unaware of Howe's history or that of the Black Panther movement, but rather than responding to this with guilt, he embraced the belated education he was receiving and developed a newfound appreciation of Black British organising. He was particularly impressed to learn that Howe had represented himself in court, something he did not even know was possible. "There was a weight for sure of, I've got a lot to catch up on… and not just for my sake, but also because of, I believe, the work that we need to do to progress and move forward." Before filming, the actor met with Darcus's son, Darcus Beese Jr, initially intending to "pick his brains" about his father, but instead resolving that his family's blessing would be enough to inspire his performance.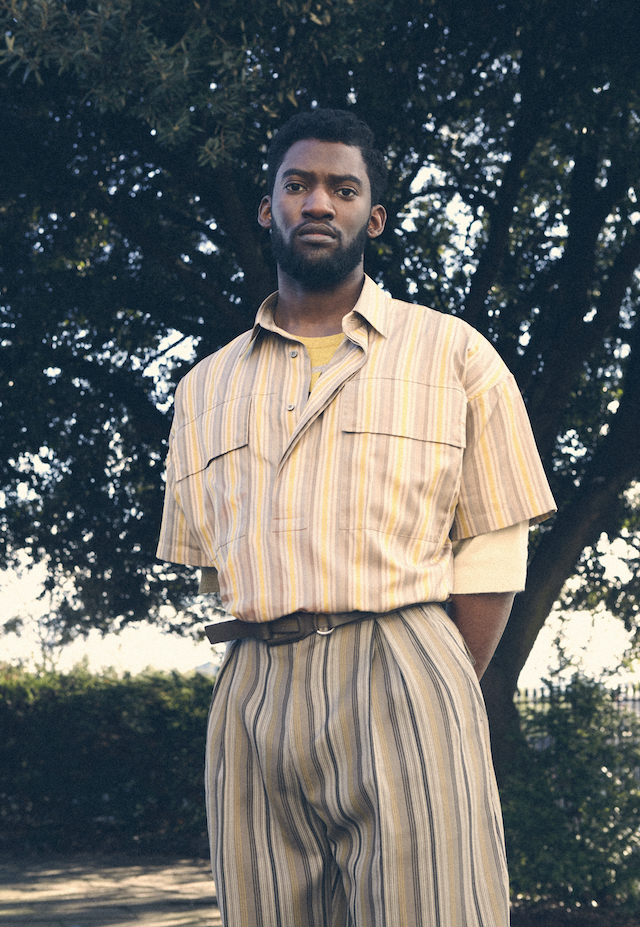 It's clear enough that Kirby has a deep appreciation for craft and artistry. He says that from his audition he knew Steve McQueen would stretch him "as an actor, as a human, as Malachi, and as an artist. And that was terrifying." The vulnerability he felt, though, was soothed by McQueen's love. "He has a really big heart; he cares, and he is passionate about what he does. I began to realise that he was going to create a safe space for me to be vulnerable." Indeed, it's this symbiosis between deep craft and curating spaces for comfort and safety that also defines his perception of his mother, whom he lives with, and whose cooking he celebrates as a kind of artistry. When I ask him his favourite home-cooked meal, he simply says: "Everything. Everything. If she cooked cereal, it would be beautiful; there's just a way that she makes food that I love." Kirby has been close to his mother, living with her only since his father passed when he was six years old. As such, despite this early tragedy, he describes his childhood on Patmore Estate as happy: "I always remember it being sunny. My primary school was literally a two minute walk from my house. And I just have really beautiful memories. I have an incredible mum, and there was always a lot of love at home." In fact, the most special part of performing in the Small Axe anthology for him was being able to share these stories of Black British Caribbean history with his Jamaican mother and grandmother. It was also an important moment for Kirby, as this was the first time he had embodied a Black Caribbean character, as opposed to previous portrayals as African Americans, Africans, or ethnically unspecific Black British people. "We made the decision to go around to my grandma's every Sunday to watch each episode. And it was so beautiful." When I ask him his favourite film of the series, other than Mangrove, he immediately replies Lovers Rock, "because for me it was the most familiar. Before I even knew what it was about – as soon as you hear Lovers Rock, memories come flooding in; there was a nostalgia to it. And also the experience of watching that with my family, and them witnessing and remembering the silly games and dancing and singing. It was a whole experience."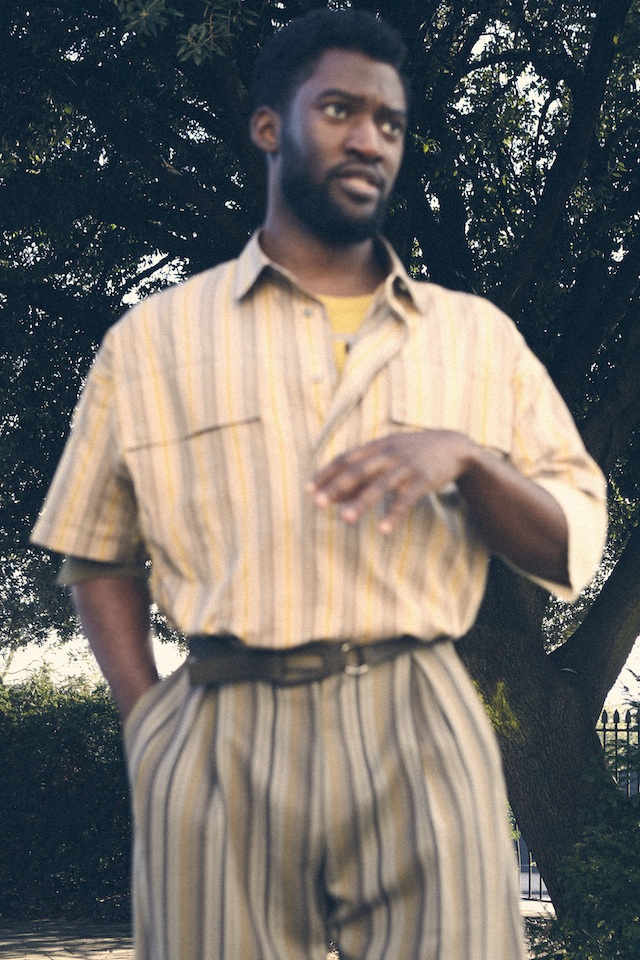 Kirby prefers privacy over the public sphere, so his social-media presence is minimal. We laugh when I note that he follows no one on Instagram, and so is clearly uninterested in what anyone has to post. As an actor he is often met with confusion at his disinterest in social media, but as safety and reclusion are motifs which define him, he's in no rush to tie his career to it. Though, he's not against distributing a few follow backs in the future: "I've just got this thing about social media where I think, am I being naive? Am I being stubborn? Is this insecurity? Is it against my sense of morality, or is it just not for me? I'm waiting for some kind of clarity, to just either run into it or run away from it." I'm scrolling through his Instagram at this point, flashing photographs from his various shoots and editorials to him, half teasing, half curious. He tells me that although he's still grappling with having his picture taken, he feels most comfortable on editorial shoots where he gets to go into acting mode, "I enjoy the ones where I'm not actually being myself… it feels a bit more like a character. Those are the ones I enjoy the most, because I feel the most safe."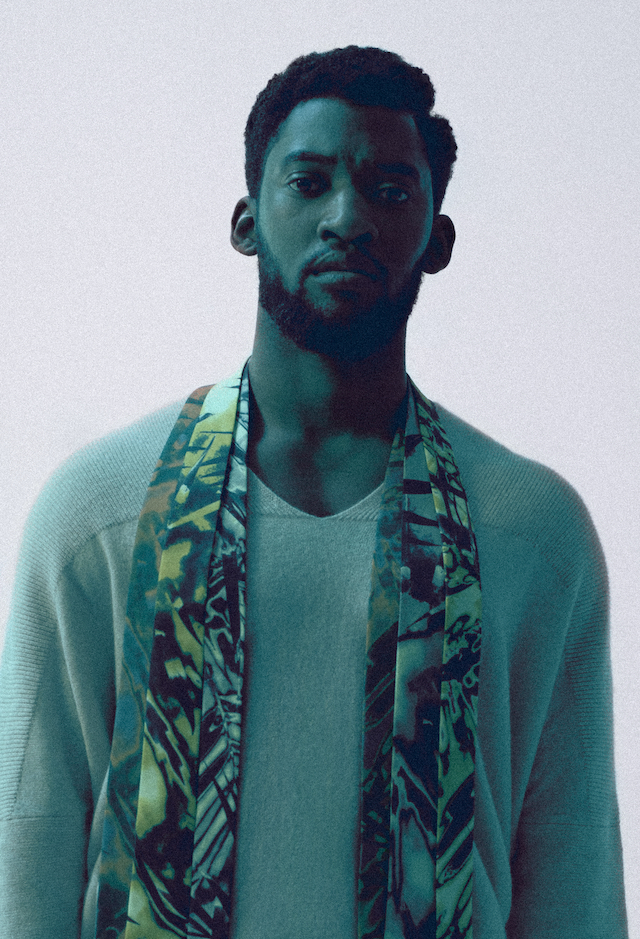 Both the near and distant future will see Kirby exploring his first love, writing. His debut play was meant to premiere at the Bush Theatre in May 2020, but was a casualty of the COVID-19 pandemic, though he hopes that he'll have a full audience once theatres are able to open again. Before he had even written this play, however, he had been working on a few film projects that he remains excited and hopeful about. He gives little away about the scope and content of his written projects: "They're not ready! They're not ready! Genuinely, I don't know if I'm ready to have this conversation, but I will say that they are all stories that are close to my heart, the play especially." As for influences in theatre and storytelling, he cites theatre writer Arinzé Kene. "In terms of scripts, I think he was the first writer that I really resonated with in terms of theatre. The poeticism of his language. And I find him very inspiring, especially because he comes from a background similar to mine." A play that he finds himself constantly returning to whenever it is on stage is Joe Penhall's Blue/Orange, "I think that play has always just stuck with me. I remember seeing it at the Arcola Theatre in Hackney with an actress called Ayesha Antoine starring in it, and then a second time at the Young Vic with Daniel Kaluuya. Whenever I hear Blue/Orange, I just get excited. But also, on a personal note, my two favourite colours are blue and orange. I've come to describe them as two different sides of me. A really deep blue, and a really vibrant orange."
Depth and vibrancy certainly define Malachi Kirby for me. His kind face, and his relaxed disposition, remind me of the gentle smile and brotherly nods of elder boys on the estate that we shared. Perhaps I, or my brothers, saw him at points, even briefly knew him, even if we didn't remember now. When our conversation ends, he asks me about Battersea, noting that he left the area at 15 but frequents Clapham Junction. I tell him that the area has changed beyond recognition, the forces of gentrification having displaced many residents and jarred the landscape with the kind of plastic architecture that has the Nine Elms quarter being nicknamed locally as 'English Dubai'. I ask that he come and visit the Patmore Estate and see Battersea again, promising to send him a recent Guardian article about developments in the area, and he keenly accepts both the invitation and the article link, clearly retaining some emotional concern and connection with the home we both once shared. And hopefully, one day, these two Battersea boys will share space again.
Kirby wears Zegna SS21 throughout 
Produced in collaboration with Zegna around its #WHATMAKESAMAN campaign, a communication platform that explores the uniqueness of the stories and experiences of the modern man
Photography Marlen Keller 
Styling Julie Velut
Make-up Nadia Altinbas using Tom Ford Beauty
Groomer styling Tanisha Rochas
Groomer beard Sheldon Edwards
Set Clara Boulard
Production Rosco
Retouching Helen Studios
This article is taken from Port issue 28. To continue reading, buy the issue or subscribe here