Jolyon Webber looks back the film festival's highs (Fruitvale Station) and lows (Hits)
MEMPHIS // a film by tim sutton // TRAILER from v r on Vimeo.
The Sundance Film Festival returned to London over the weekend with a truncated selection from the main festival in January, again locating itself in the soulless surroundings of the 02 Arena in Greenwich (WHY?). In the interests of full disclosure, I only managed to catch five films over a couple of days of press screenings, chosen primarily on the basis of my own taste (the best reasons for going to watch a film, in my opinion), though there were 16 new films screened in all.
First up was Hits, written and directed by David Cross, best known, to me anyway, as Dr. Tobias Fünke from HBO's Arrested Development. Cross is an excellent performer and stand-up comedian, but this fails to deliver many laughs at all. It's too broad a swipe at contemporary American culture's obsession with easily achieved fame and internet pervasiveness (taking in along the way right-wing anti-authoritarians and Brooklyn-based advocacy groups). Timely enough subjects, I suppose. And yet, the film feels outdated – always a potential problem when taking aim at zeitgeist-y trends, particularly given the speed at[/one_half]which the zeitgeist now moves. Maybe five years ago, maybe more, the setting up and knocking down of some of the stereotypes on show might have felt more prescient. As it is, taking aim at small-town small-mindedness and hipster pretensions seems a tad too cynical and easy.
From small town U.S.A to the deep-south, specifically Memphis, starring singer Willis Earl Beal, as singer Willis Earl Beal (though playing a fictionalised version of himself), wandering the titular town in an artistic and existential malaise. He goes to church but doesn't sing. He gets drunk. He hooks up with a girlfriend, plays cards with a boy that might be his son. He goes to the forest, then returns (the symbolism is not subtle). Dialogue is sparse and plot sparser – not something I mind too much, but when it strains toward the dull, I do. Too many shots pay homage, bordering on pastiche, to Terrence Malik's meditative southern-gothic style. At the film's core though, thankfully, is a brilliant performance from Beal who has undeniable screen presence and charisma.
According to both star and director, the film was an un-enjoyable experience as Beal is, by his own admission, a volatile and difficult character, not wholly as ease with himself or his talent – much like the fictionalised version portrayed on screen. In fact, exactly like that. That might be the problem with Memphis. It, and its star, has remarkable qualities. But it's uncertainty about who, or what, it is tips it towards an unlikable, hollow, conceitedness.
By far and away the best film I saw was Fruitvale Station, that comes garlanded with the backing of the Weinstein Company and the festival's Grand Jury Prize from 2013. Based on the true story of Oscar Grant, shot to death by a transport police officer in 2009, it centres simply on the last day of Oscar's life, also the last day of that year. It is, perhaps, a story we're familiar with. A young, disengaged, not-long-out-of-prison, African-American man struggles with the problems associated with being part of that demographic, in a working class part of town. He has a young daughter, girlfriend and family that he's determined to do right by. What elevates the film above the mundane is the performances of Michael B. Jordan as Oscar and Octavia Spencer as his mother, alongside the even-handedness of director Ryan Coogler, who allows events to unfurl with remarkable restraint given that the film opens with footage of Grant's shooting, taken from an eyewitness camera-phone. It's a quietly devastating film that deserves all its praise.
After the tragic ending of Fruitvale Station I didn't much feel like sitting through The Voices – not least because it stars Ryan Reynolds. But I had time to kill until a later screening and anything's better than loitering around the 02. Besides, The Voices has an interesting enough premise – Reynolds plays a psychotic pill-dodger who speaks to his pets – and is directed by Marjane Satrapi, who made the excellent Persepolis. It's a curious film, pitched somewhere on a very strange spectrum between Wes Anderson and Wes Craven (via Garfield), and while it doesn't amount to anything much at all, it was quite enjoyable.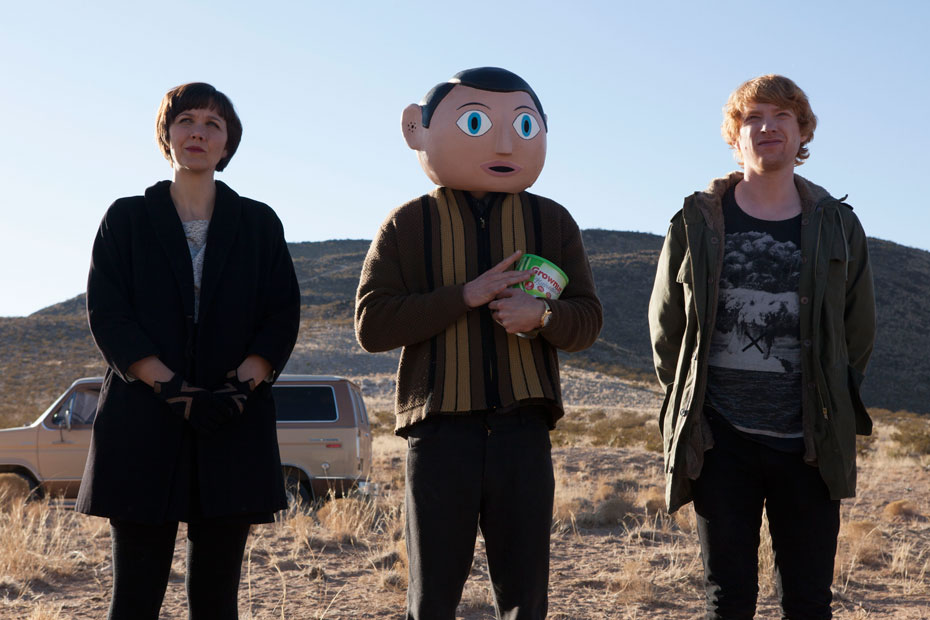 Above: still from Frank. Courtesy of Artificial Eye. Photography Lorey Sebastian
And finally, Frank, starring Michael Fassbender, Maggie Gyllenhaal and Domhnall Gleeson – all doing their bit for people with slightly unusual names – and all taking a small leap of faith on a film that could have fallen flat on its arse. Frank Sidebottom was the creation of comic Chris Sievey, and much has been made of the Americanisation of a very English character. Based on an article by John Ronson, who co-writes the script, it only really seeks to tap into the spirit of the character – and in that respect, it's only a partial success.
Essentially, it's a film about artistic integrity and eccentricity but, in all honesty, it's a film that's had to compromise on both, despite the final message being that this needn't always be a necessity. The film has heart though and is, again, an example of fine central performances coming to the rescue of mediocrity.
Click to read our interview with Hits Director David Cross, and Notes on Blindness directors Peter Middleton and James Spinney