Port speaks to multi-award winning choreographer Wayne McGregor about understated gesture, the connection between mind and body, and reimagining the latest COS menswear collection through dance 
We normally judge clothes from a distance, assessing them on a hanger or mannequin, but on our bodies they take on a new life – draping, swishing, billowing with our movements. It is often overlooked that, in being worn, fashion takes on its ultimate form, attaining an infinite number of fluid and shifting silhouettes. Each time we roll up a sleeve, tug at a hem or pop a collar, our clothes suddenly sit on us in new ways.
For the first time, COS have chosen to present their new 17-piece menswear collection 'Soma' through the medium of dance to enhance our ability to perceive the fabric's subtle dynamism and flow. Head of menswear design, Christophe Copin has said that "by bringing these everyday movements to life through dance, both the inspiration and design process is explored, and the functionality of the garments is brought to the forefront."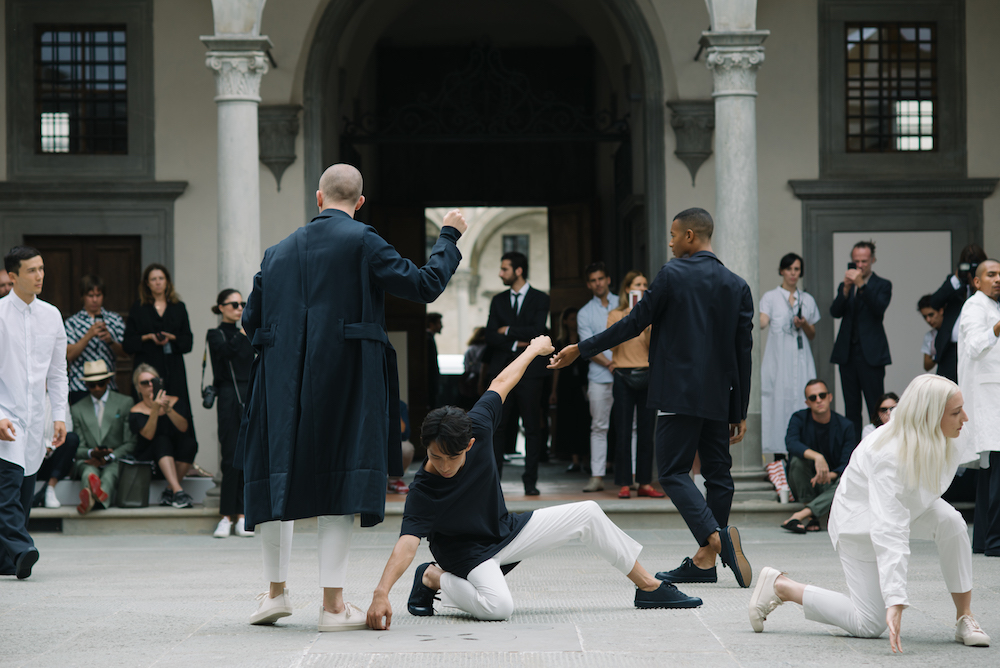 The choreographer Wayne McGregor CBE has worked in collaboration with COS to produce a unique performance that plays on the idea of 'somatic' movement – the way in which our body acts intuitively – to mimic the quiet grace with which we unconsciously execute even the most routine activities. Held during the 94th Pitti Uomo at Florence's Istituto degli Innocenti, it was an understated dance with an energy that gently rises before falling into a peaceful lull. The dancers pass each other, each engaged in their own passage and progress, until they turn towards one another in passing encounters. From afar, the effect is like a fantastical, almost surreal, square in which beautiful figures roam or linger.
Resident choreographer at The Royal Ballet, McGregor has worked on fashion campaigns, films, theatre, opera, music videos and other site-specific performances. Through his recently opened Studio Wayne McGregor he has been able to create an interactive space that embraces an experimental, multidisciplinary approach to choreography in which dance is just one artform among many. By collaborating with COS, he has produced a vision in which movement and fashion seamlessly co-exist and compliment each other.
How did your involvement in the COS project come about?
Christophe told me that he saw one of my dance works, Tree of Codes, at the Palais Garnier and that after seeing the way that I collaborate with artists, in this case, Olafur Eliasson and Jamie xx, he thought that we could create something together. Christophe and Karin [Gustafsson, creative director at COS] approached me to create an artistic conversation between the clothes and the body, exploring 'everyday' gesture, breaking down movement and clothing to their essential parts, and trying to see how we can experience them anew.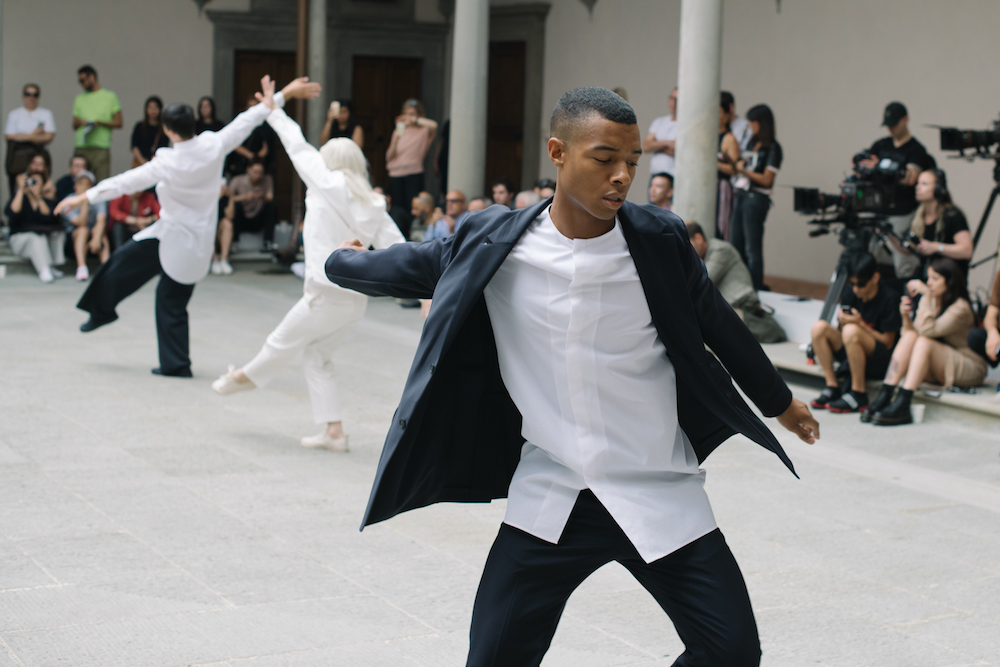 What was your concept for the presentation?
COS' new collection Soma subverts the wearer's everyday gestures, and we wanted to explore this playfully in the performance at Pitti Uomo. Somatic practice is the idea of bringing forward what the body already knows; we wanted to question instinctual movement and gesture in the everyday, particularly in relation to the garments. I believe every movement we make, no matter how ordinary or routine, is a kind of dance, and we wanted to develop and extend this for Pitti Uomo.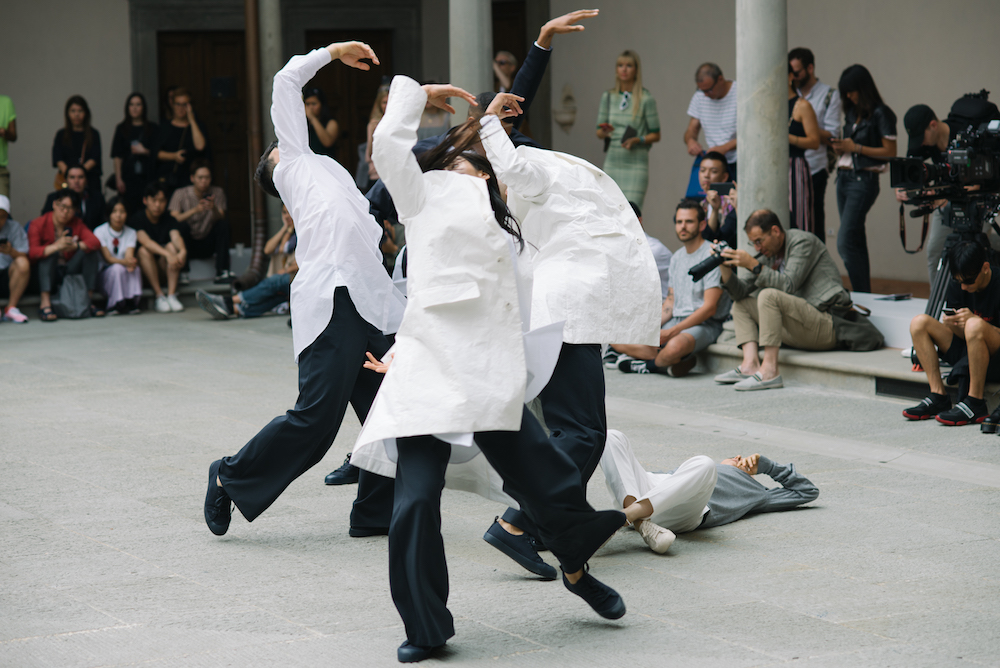 Was the dance inspired by the surroundings of L'Istituto degli Innocenti and Florence?
Dance is an ethereal experience. This gives every performance a unique quality, where you know you are watching and experiencing something that will only last a short time. There was an electricity in the air in Florence, which breathed life into the sails above the square, echoing the movement of the dancers in the COS garments. 
What is it that first drew you to contemporary dance?
I've always been curious about the mind and the body and the interconnectivity. Collaboration is at the heart of my artistic practice and choreography is always a collaborative act, not only with the dancers but also the other artists I work with.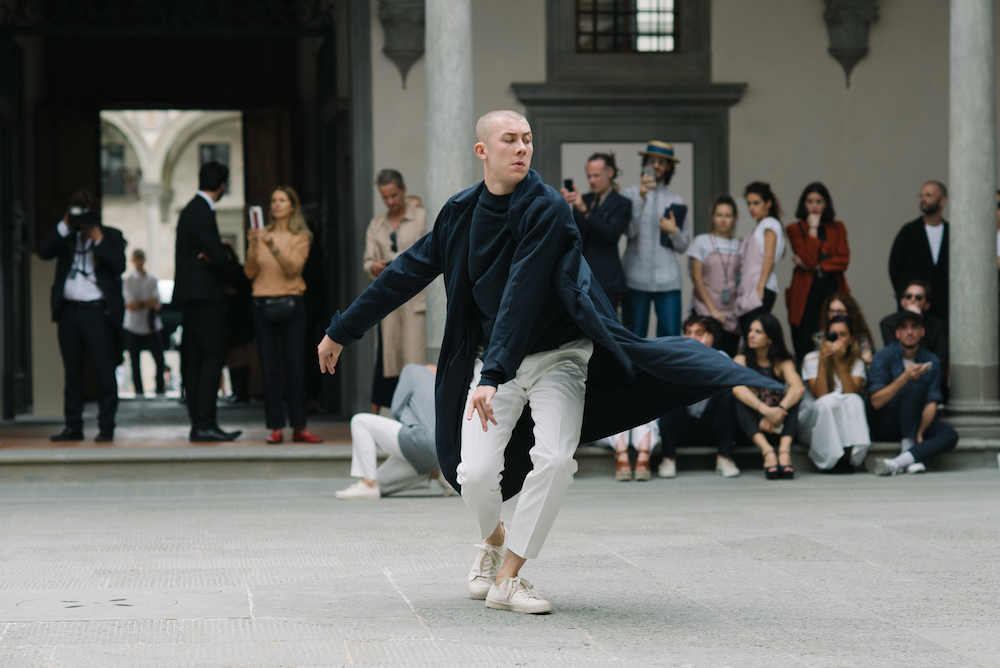 You've done a lot of work in experimental psychology, how has is that linked to your interest in dance?
For me, it's all about physical thinking. I'm fascinated by how the mind and body are connected, and I have been seeking out and collaborating with experts in cognitive science and genetics to learn more about the connections that we take for granted every day.