An ode to Derek Jarman's Dungeness refuge, Prospect Cottage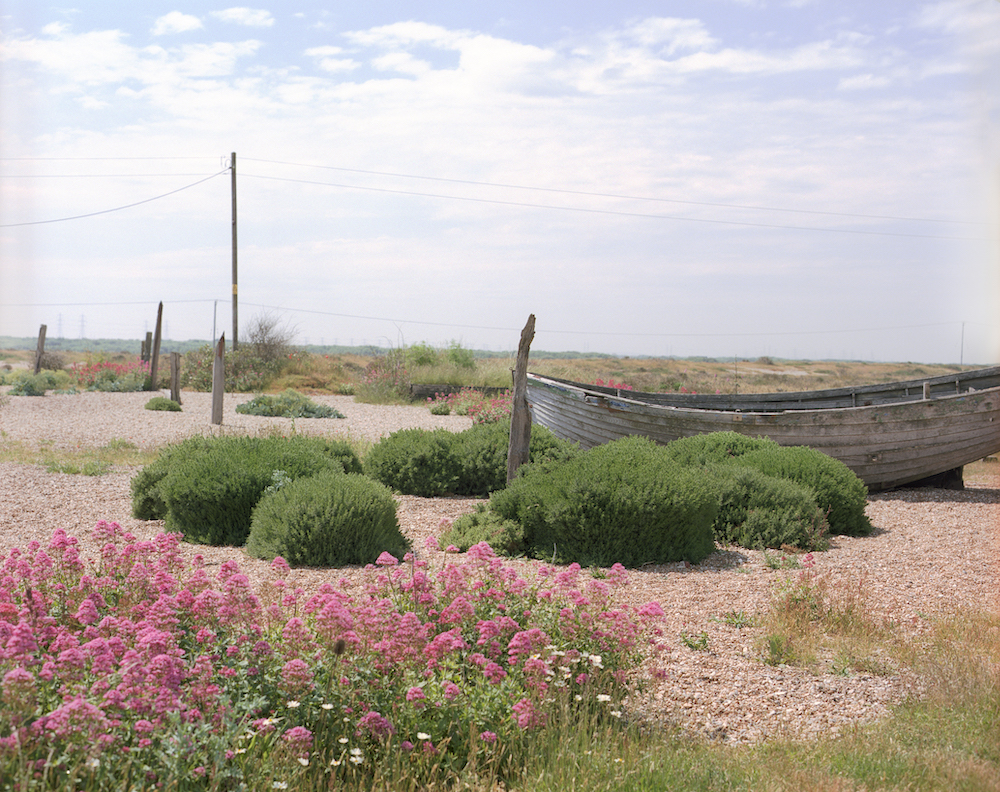 Prospect Cottage was created for Derek Jarman a hundred years before he arrived. It was waiting for him, like a UFO. The tarry fisherman's cottage stood naked and alone at Dungeness, surrounded by a dozen or more like it, in their varying shapes and sizes, facing out to the English Channel. This beach was the last of England, the fifth quarter, since it was new land, stolen from the sea. It now receives refugees. You might say Jarman was one of them.
This stony bare place was not on any map, like most utopias. Backed by the uncanny atmosphere of Romney Marshes – itself a half-where place with its queer past – and overlooked to the other side by the nuclear reactors that imbued the area with an apocalyptic air, Dungeness was defined by its otherness – a glowing alien presence from the future. Anything might happen there. Prospect's sharpness – the blackness of its boards against the sea light – was contained in its cabinet-scale. A secret closet, for cottaging, for heaven's sake.
When Jarman bought it for the princely sum of £32,000 in 1987, the cottage contained just four rooms – it evoked an absence of space, a punched hole in reality, a portal of strangeness that could be heaven or hell reversed, as William Blake, Jarman's favourite visionary poet, might have conjured. It became part of Jarman's performative, predictive dreamscape. Having lived in London since the early 1960s, in a succession of rented rooms and his Thames-side warehouse, where he slept in a glass greenhouse; or his tiny 1930s apartment on Charing Cross Road, 'the most beautiful room in London', Jarman had never possessed any outside space of his own to any extent, which is why his films always appeared to be cabinet pieces.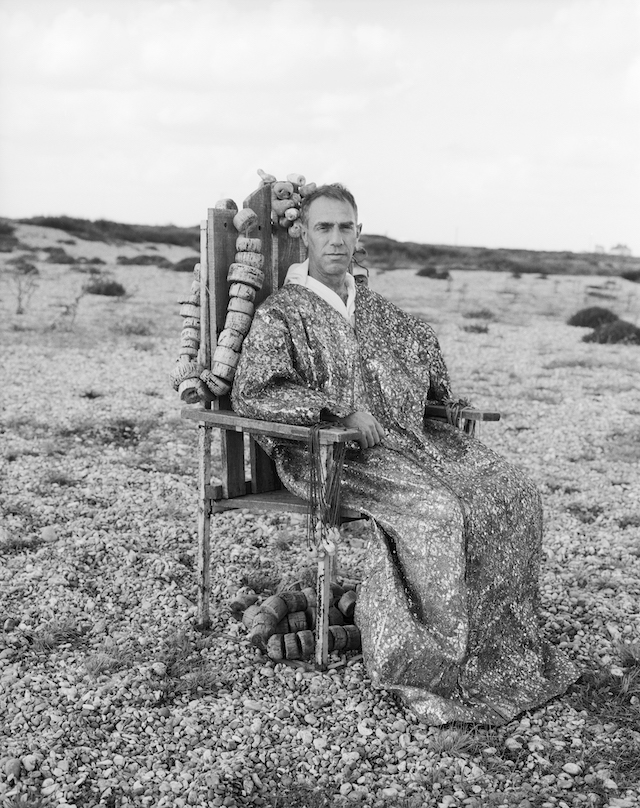 Suddenly, in 1986, with the onset of his critical state, as HIV+, the physical placing of his self, his body, his immediate environment, required an escape, if not an antidote; if not a negative space. A space to echo the confined sites of his life to date. 
Tilda Swinton, with whom Jarman found the cottage, recalled that he "made of this wee house, his wooden tent pitched in the wilderness, an art work – and out of its shingle skirts, an ingenious garden. But, first and foremost, the cottage was always a living thing, a practical toolbox for his work". Jarman's art was enacted here. This was an analogue age. Everything he made was physically made, with his hands. Even the films, cut up out of celluloid exposed to light; like frozen lucent shapes. From the tarry sculptured collages he began to make on the beach to the object troves, megalith flints and rusty forks that constituted the architecture of his garden to the apocalyptic filmic visions of The Last of England (1987) and The Garden (1990), Dungeness became the shifting stage to enact Jarman's ferocious resistance to the political oppressions of the 1980s.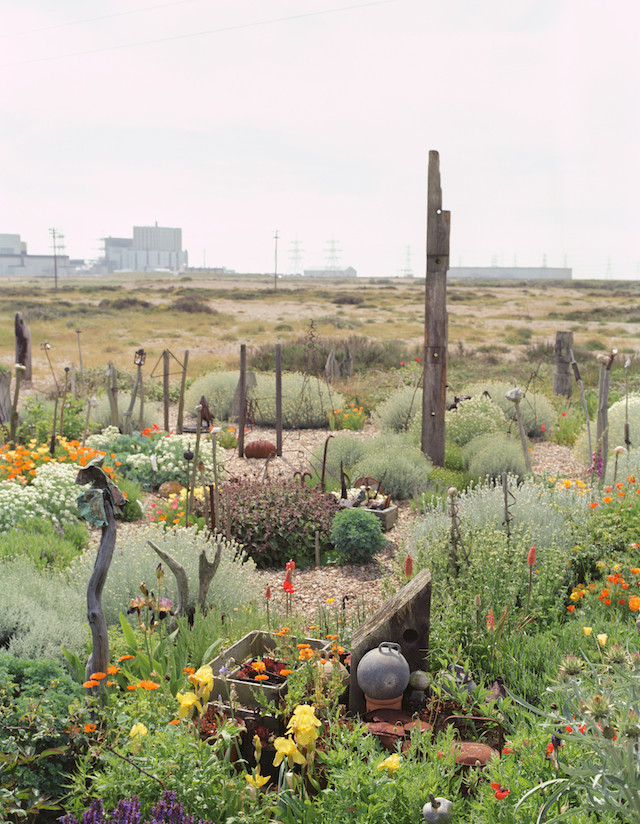 Inside the cottage, on the shelves, alongside arcane medieval texts and modern erotica stood the china and plaster and spelter busts that Jarman bought from charity shops, ceremonially beheading them and replacing them with flints from the beach or wound-round whirls of barbed wire. ("Prospect Products", as Jarman's life partner and 'Hinney Beast', the delectably handsome Keith Collins, jokingly called them).
The interior grew from the inside out. The corridors were tongue-and-grooved. Jarman's great gothic wooden bed, made in post-modern medieval style by Andy the Furniture-Maker, was brought down from the Charing Cross flat where it almost entirely filled the room. Now it was installed in the cottage bedroom where the wind shook the windowpanes. At night the light would fall and the entire place glowed purple and blue. By day Derek peered out towards the distant invisible sea and carefully traced over the pages of his journals which he had first written in pencil, inking them in his flowing italic hand, as if he were a monkish secretary or a recorder of his own oceanic empire on the desolate shore. He sat with his back to England. He was an uncrowned king, and this was no hermit's hut.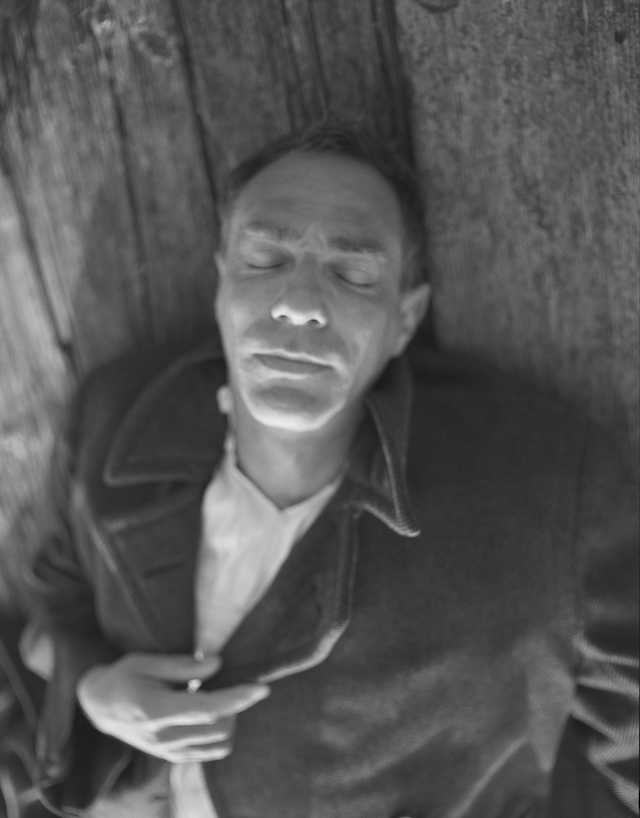 "Most days people came to call", Jarman's friend and collaborator, the photographer and gardener, Howard Sooley recalls. "Neil Tennant lived nearby at Rye, and would come over for a cup of tea. Dungeness can be a bleak and desolate place. But my memories of that time are full of friendship and laughter." Sooley's visits became acts of play. "I remember one morning, when an excited Derek got a nuclear protective suit out of the fishing loft. We decided to photograph him in it, dystopian gardening in front of the nuclear power station."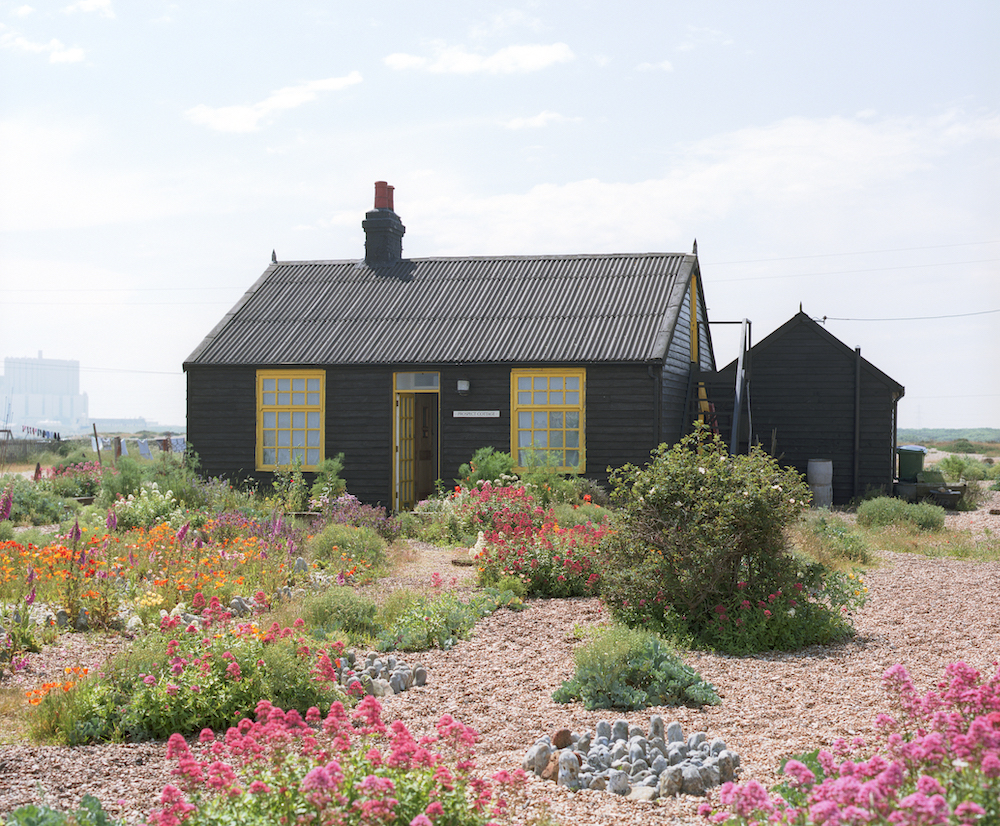 "It was quite an image", Sooley recalls. "Derek standing in the suit, raking the shingle by a dog rose". Suddenly a trio of Jehovah's Witnesses appeared, apparently seeking to interest Derek in a copy of The Watchtower. 'I'll never forget their faces", says Sooley, "as it started to dawn on them that the suit was clear plastic and see-through, and Derek was naked inside."
Sooley was a crucial co-conspirator in the creation of Prospect and its garden. His photographs would fix the place in the modern imagination when they were published in Jarman's edited journals, Modern Nature, in 1990; and later, after Jarman's death, in a Thames & Hudson book devoted to the garden. These images acquired a certain reliquary status; ironically, they also had the effect of making Jarman into an 'acceptable' artist, since gardeners, in England, will be forgiven any personal sins.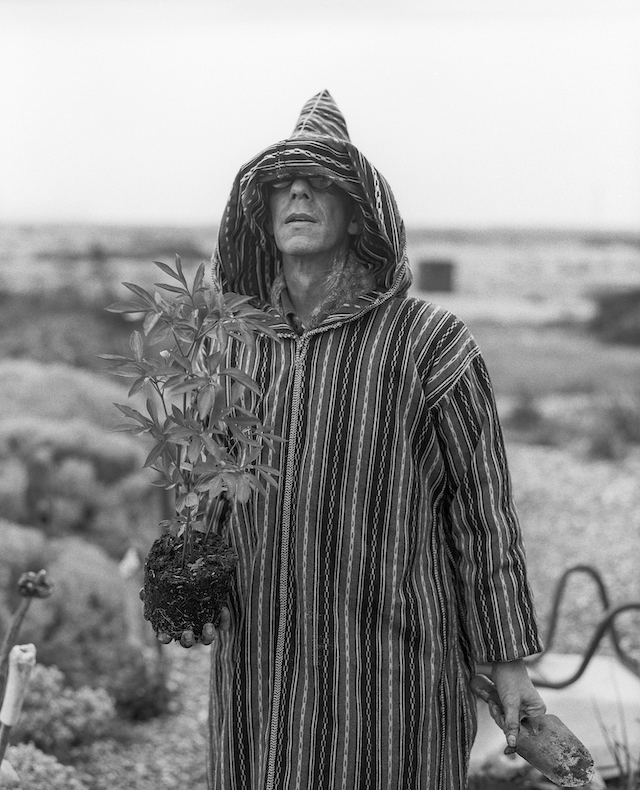 On 2 March 1994, Jarman's body, now reduced to a blind bag of bones, his handsome face to a shrunken head, lay in state in Prospect's sunroom, a recent extension filled with light. One of the mourners recalls the surreal sight of the cottage's presiding spirit laid out in a mortal glittering gown, the same which Jarman had worn for his canonisation as St Derek by the Sisters of Perpetual Indulgence. He was buried at the nearby churchyard of St Clements in Romney Marsh, where the turf appears about to tip Jarman's body into the sea beyond. His grey headstone bears his name, in that same italic hand, and laid in the soft peaty earth, on top of his bones, rests Keith Collins, the Hinney Beast, who had continued to live in the cottage, and who died suddenly in 2018, now reunited with his partner in death. The air is green, and the lights on the decommissioned reactor flicker, and the night draws in again.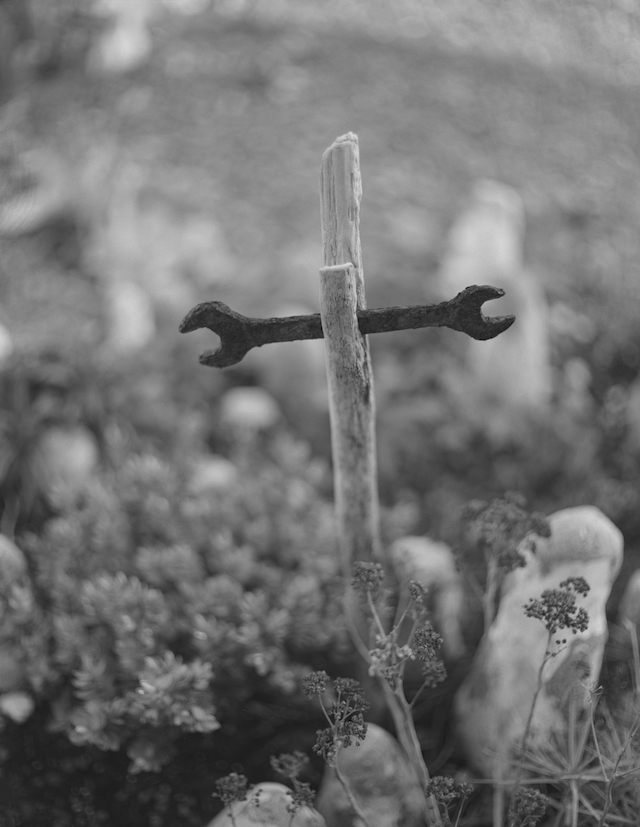 With Collins' death the future of Prospect was thrown in doubt. Private purchase of the cottage loomed. Thankfully an Art Fund campaign rescued it; under the aegis of Creative Folkestone, it is hoped that it will become place for artists' and writers' residences. Yet its preservation has its inbuilt self-destruction, as many wonder how this fragile building, as flimsy as Dorothy's Kansas shack, will sustain the future focus of artists' residencies and coach parties crunching over the shingle. This outsider's refuge may not withstand this new onslaught. It's as evanescent as a daguerreotype, as flickering as one of Jarman's early Super 8 mm films, and it could yet evaporate in a shimmer of summer heat. Or perhaps, as some of those who remember him suggest, one of Derek's last wishes should be acceded to: his perhaps mischievous, perhaps solemnly serious request that the entire place be burned to the ground.
Photography Howard Sooley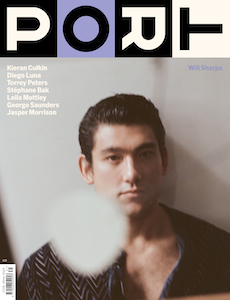 This article is taken from Port issue 31. To continue reading, buy the issue or subscribe here