Spanning continents and genres, Vincent Cassel is the global breakout star of pioneering French Cinema. Where he leads, others follow. Port travels to Paris to meet him.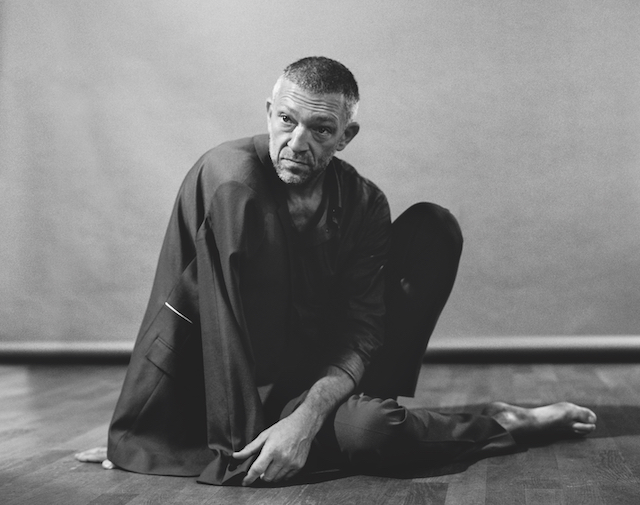 On a humid day in late May, at a photography studio in the 17th arrondissement, the windows have been flung wide open. Vincent Cassel, bearded and barefoot, is at home in these conditions – until recently he lived in Rio de Janeiro, where humidity rarely drops below 80 per cent – and on set he is charming and unguarded, laughing easily with the crew.
In this era of Hollywood's international dominance, the Gallic actor is a quietly global film star. Now 51 – though he looks at least 10 years younger – and fluent in four languages (French, Italian, English and Portuguese), Cassel's career has spanned cultures and continents. "I've always thought an actor should be able to feel comfortable in any situation," he says when we speak after the shoot, drawing on an e-cigarette. "It's about being flexible and open to new things, new languages, new people, new places."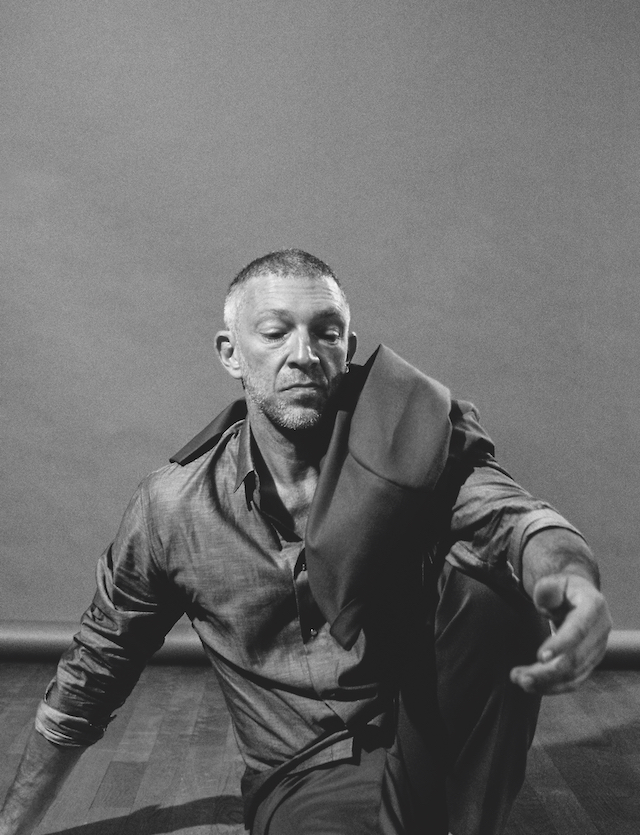 To truly understand Cassel, it is necessary view him from these different perspectives. In France, for example, he is one of the country's best-loved actors, remembered as the angry teenager of the mid-'90s banlieue classic La Haine and public enemy number one in Mesrine, as well as being – alongside Italian art-house pinup Monica Bellucci – one half of the Millennium-era power couple of European cinema. To the Anglophone world, he is the lithe master thief of Ocean's Twelve and Natalie Portman's predatory ballet teacher in Black Swan, while in Cassel's adopted country, Brazil, he is the eccentric Frenchman who has learnt their language, and the balletic native martial art of capoeira, appearing occasionally on television and the big screen. He is even known in Korea, where he is soon to play the head of the International Monetary Fund in Sovereign Default.
And yet, expecting to meet any one of these dark, brooding screen icons in Paris, I am surprised to find myself confronted instead by the easygoing, sun-kissed Cassel of Instagram, who surfs in Biarritz and Rio, jams with samba bands and hangs out with Tina Kunakey, the 21-year-old model who recently became his wife. There is little sign of the unhinged characters that exist on the fringes of society, the edge of sanity, for which he has become known. Only once – staring deep into the camera, his expressive shoulders hunched, face set and fierce – do I see a flicker of the wild violence the actor has a particular ability to evoke.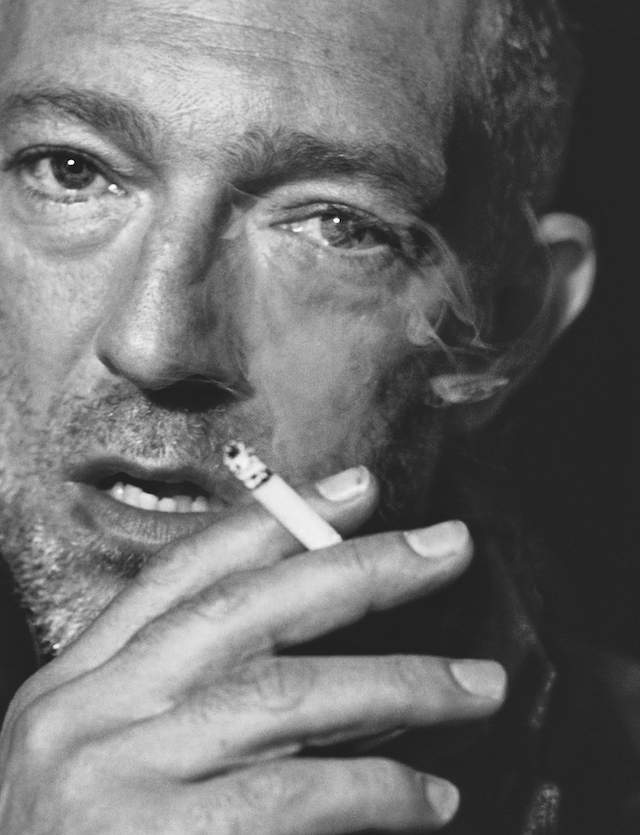 Cassel was born Vincent Crochon in 1966, the son of journalist Sabine Litique and the charming tap-dancing star of 1960s French cinema, Jean-Pierre Cassel, to whom Cassel Junior spent much of his early life in opposition. After running away from several boarding schools – ("If you don't run away from boarding school, there's a problem with you") – including a Catholic institution, where he became an atheist, Cassel joined a circus school. It was a move that would go on to serve a higher purpose – an ultimate act of rebellion against a father who prohibited his son from following in his footsteps.
"I really did the circus training, the dancing, to become an actor," Cassel tells me. "When you do a sequence of acrobatics, you can't stop in the middle. You do, say, a backflip somersault" – he is explaining with his hands – "and you have to commit to your decision, otherwise you'll break your neck. In the same way, you enter your scene: You trust in the other actors; you believe in what you are doing."
Following minor parts in small features and television films, Cassel would be introduced to French audiences as the troubled Jewish youth Vinz in the critically acclaimed La Haine (Hate). Released in 1995, La Haine captured a moment of national turmoil: strikes provoked by austerity measures and the country still recovering from rioting that had erupted in the deprived, isolated housing estates around Paris, where the film is set. There, Vinz and his two friends, Saïd, of Maghrebian descent, and Hubert, an Afro-French boxer, live, joke, fight and, in the case of Vinz, die in such a convincing depiction of the troubled suburbs that Alain Juppé, France's prime minister at the time, screened it to his cabinet.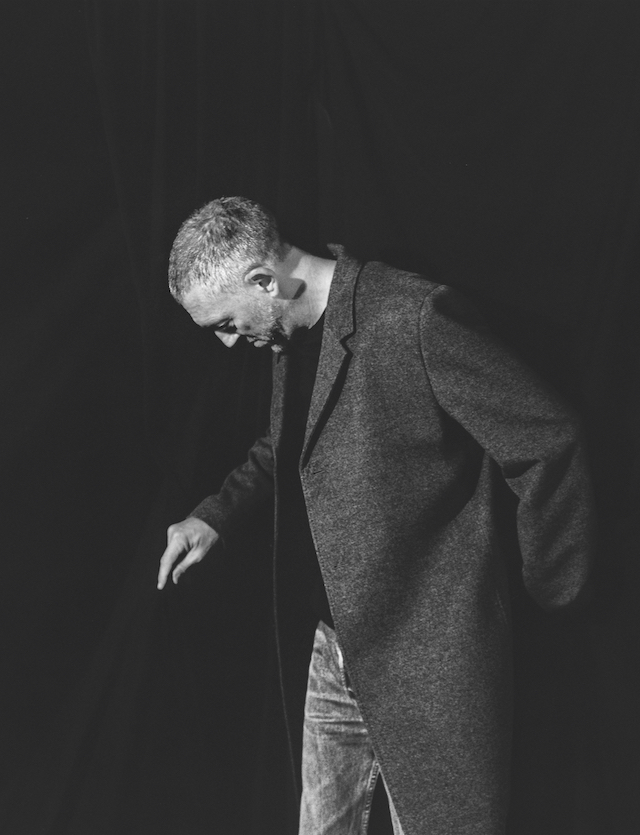 Together with Kim Chapiron and Romain Gavras, La Haine's director Mathieu Kassovitz formed Kourtrajmé, an iconoclastic DIY collective which radicalised French cinema in the 1990s and early 2000s. Producing, at first, short films by any means they could, they threw off the mantle of France's by then long-established cinematic heritage. Or as Cassel – who Gavras describes as the collective's godfather – once famously put it: "Fuck the nouvelle vague."
Cassel laughs. "I was much younger then, but the nouvelle vague was such a huge shadow to be under in France."
More so for you, with your father's reputation?
"I was overwhelmed. He was well known, he was talented, he was charismatic. For years I totally refused to work with anyone of his generation. That was my rule."
La Haine would be followed by L'Appartement, on which he would meet Bellucci; Chapiron's disturbing Sheitan, with Cassel playing a Satan-worshipping shepherd; and Irreversible, Gaspar Noé's harrowing masterpiece, featuring scenes that move backwards rather than forwards in time – among them, notoriously, one of the most traumatising and unwatchable in world cinema: a 10-minute long-shot rape in an underpass.
Cassel wouldn't break his rule until 2008, over a decade after La Haine.
"The first time I decided to work with my father was for Mesrine," he tells me, candidly. "He was going to play my father in the movie, but he died before we began shooting." It has started to rain, the sound rising up with the warm air to fill the studio, damp and clean. "For the movie I had gained weight, I wore wigs and lenses in my eyes. I was totally changed. I thought 'I've never looked so like my father.' I realised: 'OK, it's the end of the war. I have to let it go now.'"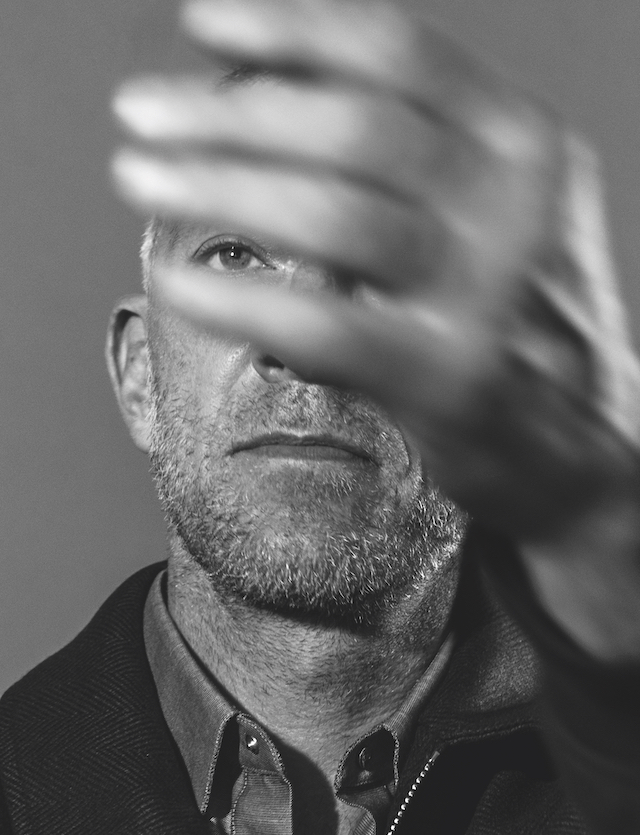 After five years in Brazil, Cassel is moving back to Paris to be closer to his children, Deva, 13, and Léonie, 8, where they live with their mother – he and Bellucci separated in 2013. Cassel had to renounce his Brazilian citizenship: "I've become French again, does it show?" But one gets a sense the vibrant South American country will always be his spiritual home.
"If you've been, you don't ask why," he tells me, when I question what continues to draw him there. "It's a love story. It goes deeper than whether or not I have citizenship." He's excited, speaking quickly. "There's an energy there, a blurred space where anything can happen. When everything is too codified, I feel trapped."
I suggest there is a similar energy and intensity in the characters he plays. Cassel half agrees. After all, over the past 25 years he has featured in an eclectic range of films – rom-coms, action, experimental arthouse, horror, westerns, animations – and he appears as at-home in commercial blockbusters as he does in intellectual dramas. But it is also true that the performances that have marked Cassel out as a commanding, nuanced actor are those in which he grapples with a moment of deep psychological torment, driven to extremes of emotion.
"I've always been drawn to that moment of drama," he says. "To seek out that struggle: what you would fight for, or are scared of. Through movies you can experience those things that you don't want to experience in real life."
"I love the process of putting that together," Cassel continues, smiling and expansive. "Watching people, building a character, ensuring what you're doing is believable. It's not a job, it's not work – it's a great pastime."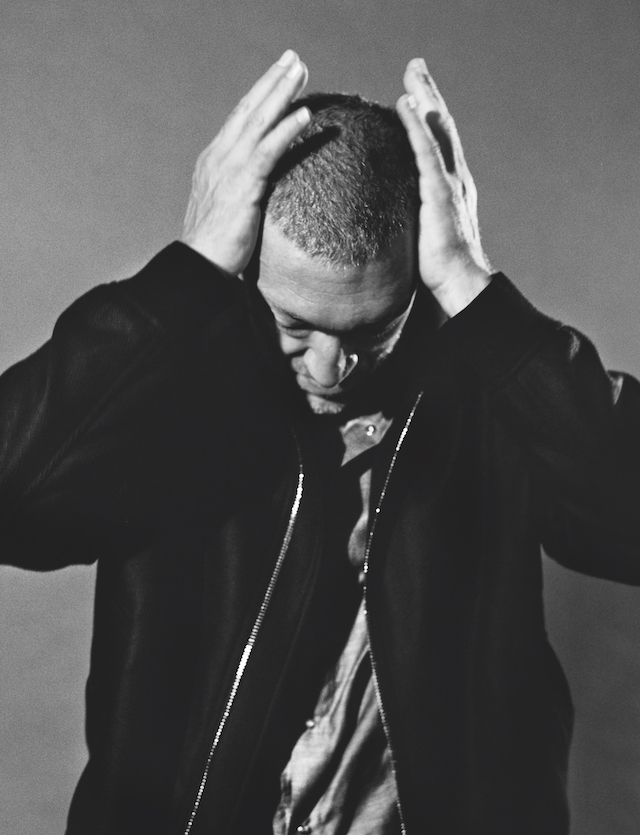 Though he physically immerses himself in his roles – shaving his head, gaining or losing weight – he is refreshingly down-to-earth about making films: He is no method actor. Instead, he builds his parts through an external understanding of physicality and psychology: "Your character should be recognisable from the other side of the street, from his back, just from the way he moves, the clothes he wears." When I ask whether, for example, he learned to paint for Gauguin, he is frank.
"I started to paint just to not look stupid. As an actor, you have to pretend to do things you don't really do – but it's always quite superficial." He laughs. "You end up knowing a lot of things about a lot of things, but nothing very deeply. But then my craft is in constructing things that are totally fake."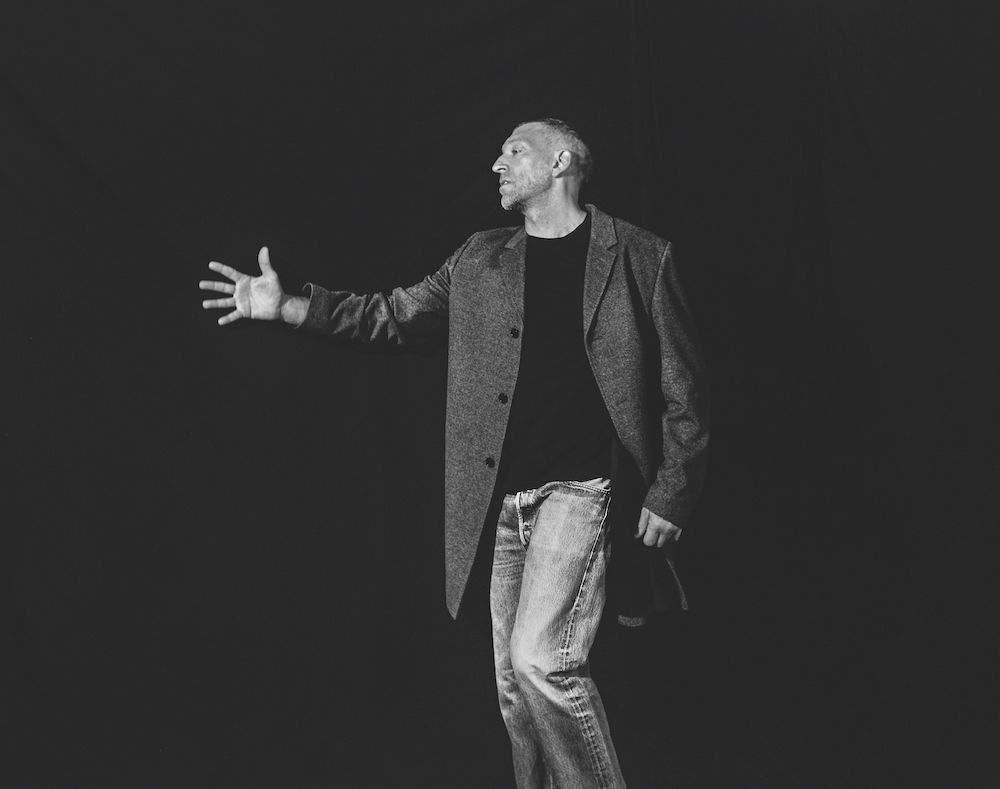 "I was talking to my friend, the actor Louis Garrel. He was telling me that movie-making was like a documentary on life, and I said no – movie-making is actually totally fake and you have to make it real. It's not about filming reality. When I go through these intense emotional moments in my own life – it could be the birth of my child or the death of my father – I've always gone outside myself and watched how I have reacted. Most of the time I think 'Fuck, I would not have played it like that.'"
Despite what may be suggested on social media, where he is rarely away from the beach, Cassel has been busy. Alongside Sovereign Default, his four other films out this year include the cop drama Fleuve Noir, Gavras's The World is Yours and a Brazilian film, The Great Mystical Circus (with the last two screening at Cannes), as well as L'Empereur de Paris, a Napoleonic-era crime thriller, currently in post-production. It's a typically Cassel-ian mixture of genre, language and style and represents the culmination of a period of intense work following his divorce from Bellucci. The separation, at least according to the line followed by both parties in the press, was amiable and mutual, but, after 14 years of marriage, it was enough to throw Cassel off balance.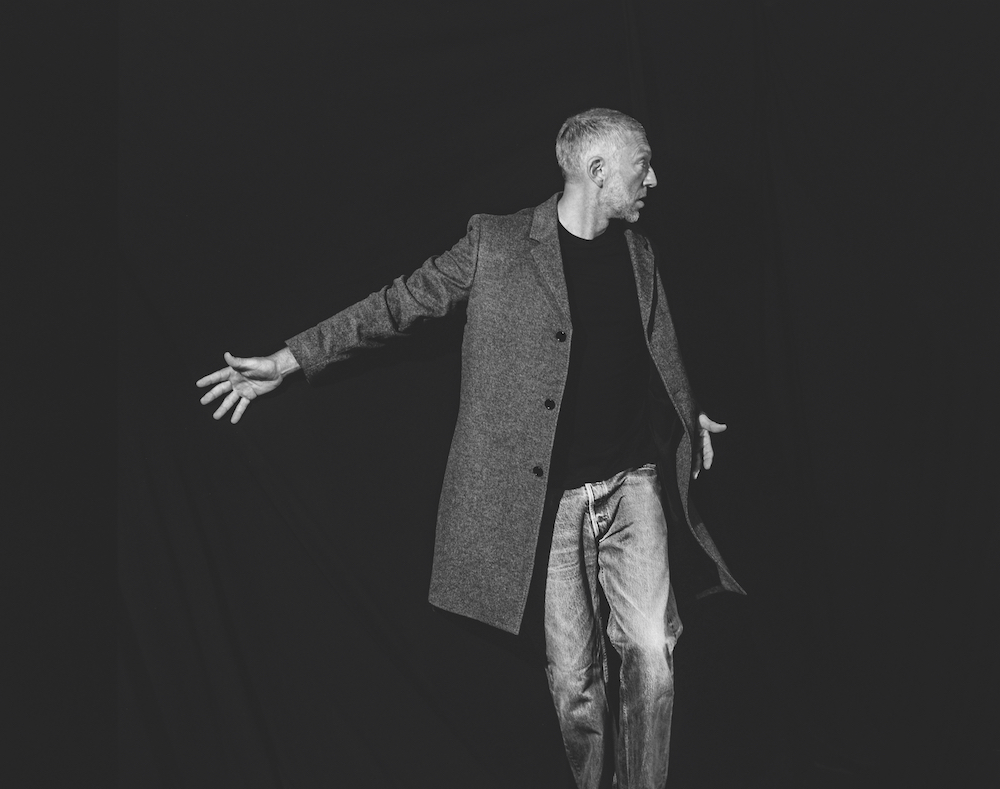 "Everything was changing around me," he explains. "I knew I would need to feel strong in myself and I feel strong when I act, so I worked almost non-stop for the past two years, and now things are going to be released."
It seems to have paid off. The Cassel I meet in the studio is content and enjoying life. He seems unconcerned by celebrity, critical success or those who take issue with the fact that his new wife – whom he married at the end of August in an intimate ceremony near Biarritz – is 30 years younger than him. He is unpretentious and grounded – an actor by choice, rather than a sense of destiny – but brings an uninhibited enthusiasm to everything he does. If there is any connection between this jet-setting, happy-go-lucky Cassel and the disturbed, villainous characters he plays, it is that they share this passion, only on screen it is inverted, twisted into arresting performances that probe the depths of human experience. "Well," as Cassel says, "it would be boring otherwise."
The interview finishes and Cassel hops on to a motor scooter to speed home through the damp Parisian streets: His children are living with him for the week and he has just installed a trapeze in his house – they are learning tricks from YouTube. I'm reminded of something he said earlier, the secret of his vitality: "I have a new rule now: Whatever you're doing, whatever situation you're in, you just have to keep it fun."
Words George Upton
Photography Laura Marie Cieplik
Fashion direction Dan May
Styling Camille-Joséphine Teisseire
Styling assistant Céline Gaulhiac
Talent Vincent Cassel @ Agence Contact
Casting direction V&Y Casting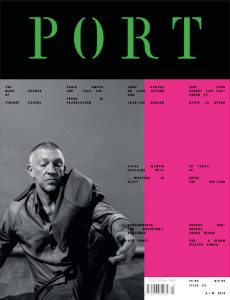 This article is taken from issue 23. To buy the issue or subscribe, click here.