Prolific, eclectic and indefatigable: Christopher Turner remembers the father of modern Italian design, Gio Ponti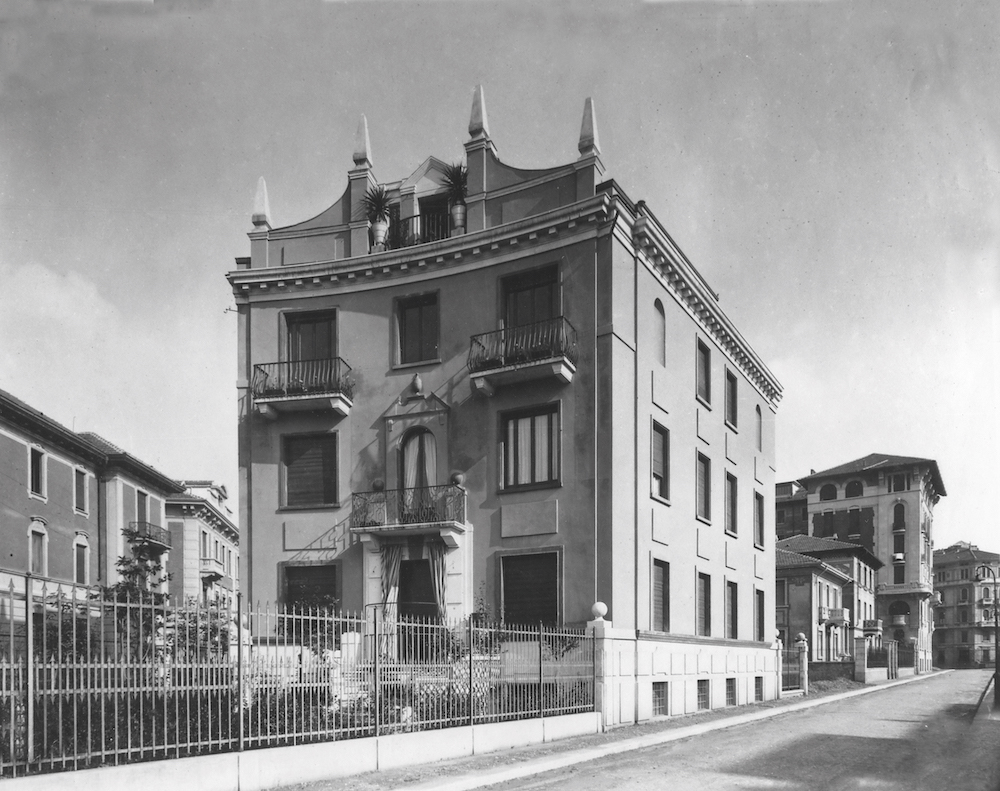 Giovanni 'Gio' Ponti was the quintessential Italian designer – a Renaissance man who designed everything from cutlery to city plans, opera sets to cars, skyscrapers to toilet seats. He was eclectic as well as prolific, creating products for 120 companies, and buildings in 13 countries, and he worked across many different styles. A restless inventor, who apparently needed only four hours sleep a night, he was also a professor, magazine editor and general cultural vortex who embodied la dolce vita. His hangar-like studio, in a former garage behind his apartment block, was so large that employees would drive their Vespas and Lambrettas right up to their desks in the mornings.
Ponti imported to Italy an American iconography of sleek consumer styling, creating in the process a new Italian design culture, with a distinctive national identity. Some of the best-known objects designed by the maestro include his gleaming 1948 espresso machine, La Cornuta (which translates as cuckold) – a curvaceous chrome-plated motor engine that was a voluptuous expression of caffeinated energy. His classic Superleggera (super-light) chair for Cassina (1957) had a thin ash frame and woven rush seat, and was so ethereal that it could be held up by a boy on his finger, an image exploited in the chair's advertising campaign.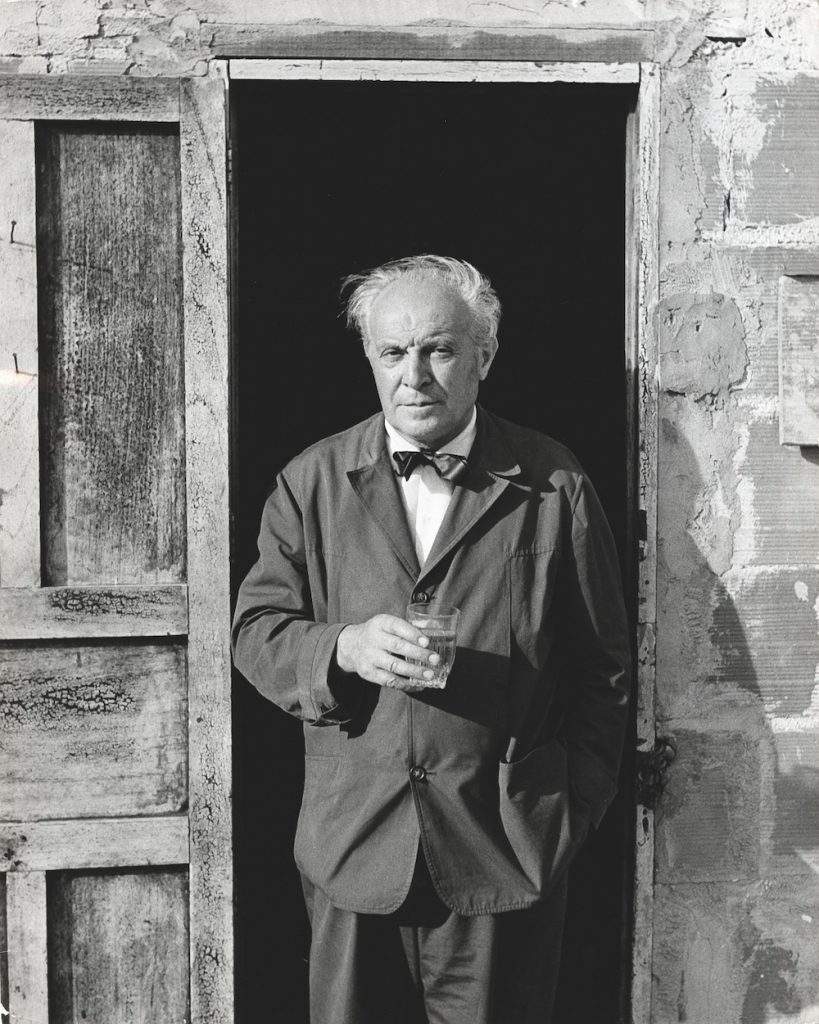 In the '50s, the Italian economy was expanding rapidly, and Ponti represented the post-war confidence that made the country a fashionable centre for high-quality modern design. He created hundreds of objects for Italy's new, adventurous manufacturing culture, including Murano glass for Venini, mosaics for Gabbianelli and embroidered silk fabrics for Vittorio Ferrari. Originals are much in demand at auction, and many of Ponti's designs, including his distinctive armchairs – with their tilted backrests, refined brass satin legs and angular heft – are still in production. By researching drawings and prototypes in his voluminous archive, Molteni&C have also reissued many of his unique designs for private houses and clients.
Ponti trained as an architect at Milan Polytechnic, graduating at the end of the first world war, and carried out industrial design alongside his architectural practice. His most significant achievement was the slender Pirelli Tower (1960) – which soars above his native Milan, where he designed 40 other buildings – often described as the most elegant tall building in the world. At 127 metres, it was the highest building in Italy until 1995, a modernist lighthouse that was intended to beam over Italy an American-style image of corporate success. "She is so beautiful that I'd like to marry her," Ponti once said. The following year he completed the supremely stylish Parco dei Principi Hotel (1961) – a blue and white modernist symphony in Sorrento and an essential pilgrimage site for the architectural tourist, for which he designed everything down to the diving board in the saltwater pool.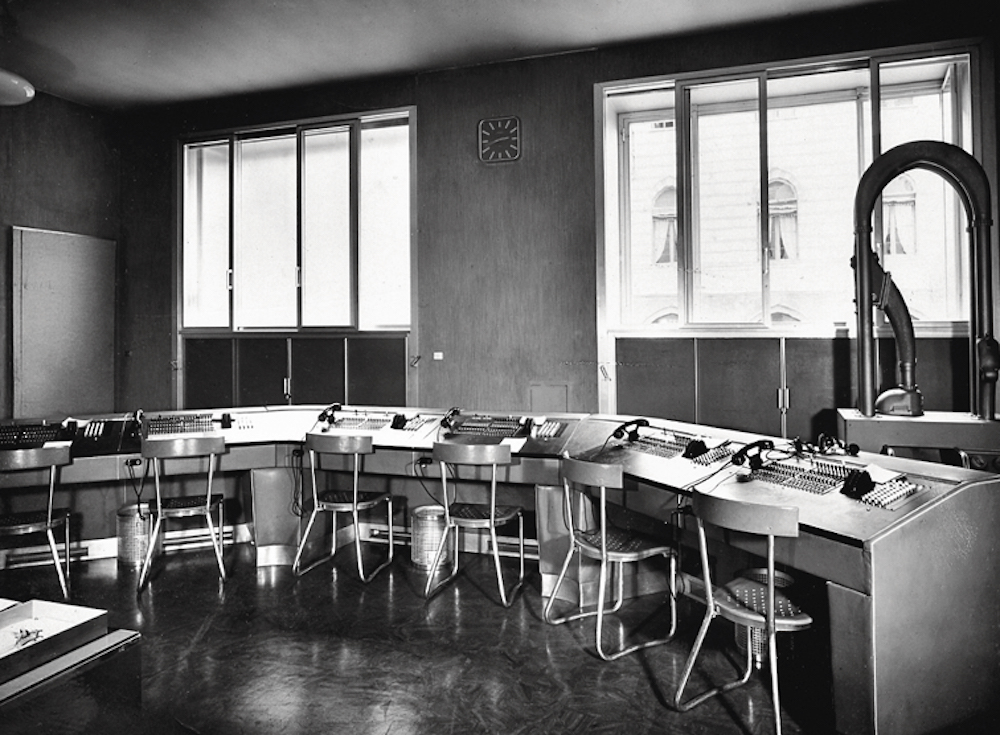 Other notable buildings include an unconventional cathedral in Taranto (1970), with a double-skinned façade, perforated with hexagonal and vertical slits, that was inspired by paper cut-outs; and the Denver Art Museum, a bulky castello with crenellations and apertures, covered in a million grey glass tiles. These structures have a postmodern playfulness, showing how Ponti, then in his late 70s, was able to move with the times. He was able to keep up with the architectural counterculture that, through Domus magazine and his professorship at Milan Polytechnic, he helped incubate: Mario Bellini, Ettore Sottsass and the Memphis group all owe him a huge debt.
Ponti began his career in the 1920s, creating neo-classical villas and decorative objects that were far removed from the stylised modern aesthetic with which he is now identified. These included his own house on Via Randaccio, which was influenced by the Palladian villas he'd visited whilst serving as an army captain in WWI, and had flamboyant obelisks crowning the pediment of its fan-shaped façade. He had married into one of Milan's most prominent families and was affiliated to the conservative Novecento group, whose inaugural exhibition was opened by Mussolini. The movement rejected an avant-garde aesthetic and searched instead for inspiration in the classical past. From 1923 to 1930, Ponti was artistic director of the Richard Ginori ceramics factory, for which he designed stylish hand-painted porcelain that riffed on Roman motifs and revived the fortunes of the company.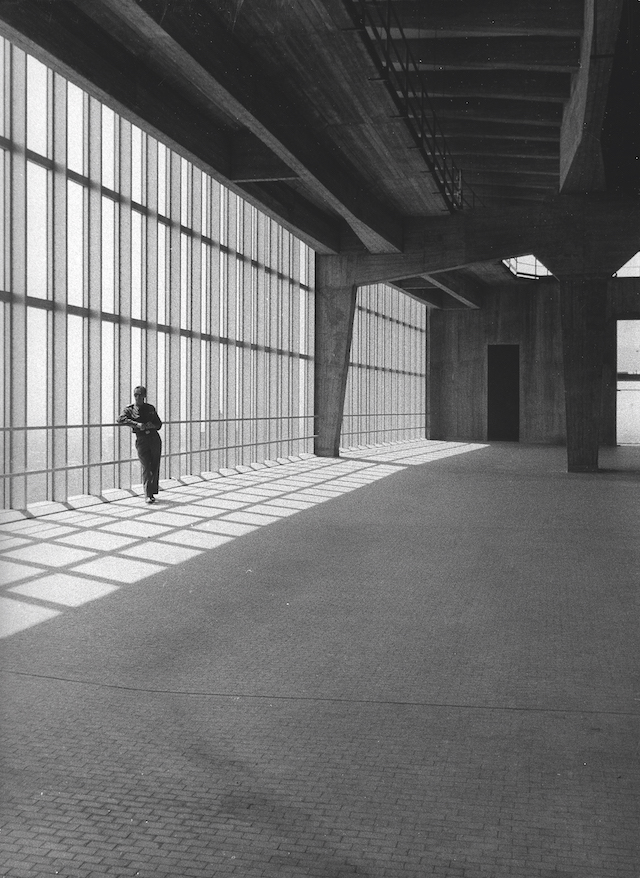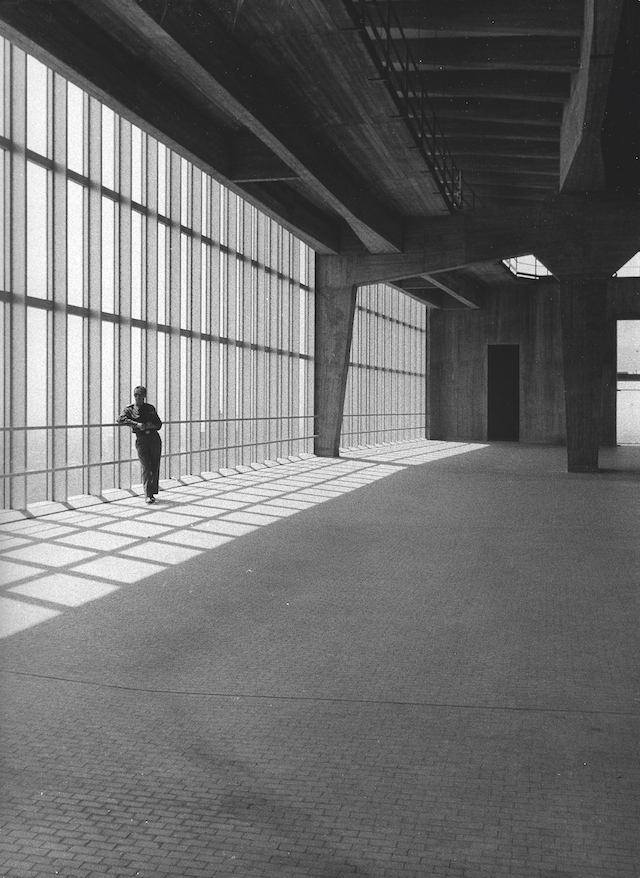 In 1928, Ponti founded Domus magazine in order to campaign against "the fake antique and ugly modern" styles of so much Italian domestic culture. He edited it, with a six-year hiatus in the early 1940s after an argument with the publisher (during which time he set up the rival magazine Stile), until his death in 1979 at the age of 87. It was through those pages that Ponti exerted most influence, establishing the intellectual culture that made Italy such a powerhouse of design. Ponti described Domus as an "art magazine that dreams of being turned into a work of art by its contributors" – who were themselves all architects and designers. Ponti himself wrote 560 articles – a diary of his changing tastes and eclectic, wide-ranging interests and influences, a cultural vociferousness that embraced fashion and car design, all interpreted through an architectural lens and treated with equal seriousness.
The magazine, as the title suggests, had a special interest in themes of domesticity, and Ponti served above all to transform the idea of modern dwelling. In 1933, he published The Italian House, in which he defined the house as a 'vase': It should be "as beautiful as a crystal, but perforated like a grotto full of stalactites […] to be judged by the degree of enchantment one feels both when looking at it from the outside and when living inside". From earlier Mediterranean architecture, to creating this cavernous mood of enchantment, Ponti adopted a fluid relationship between exterior and interior. "From inside, the Italian house reaches out to the open," he wrote, "with porticoes, terraces, pergolas and verandas, with loggias and balconies, with altane (roof decks) and belvederes, all extremely comfortable inventions for serene living and so Italian as to be called in every language by the names they have here."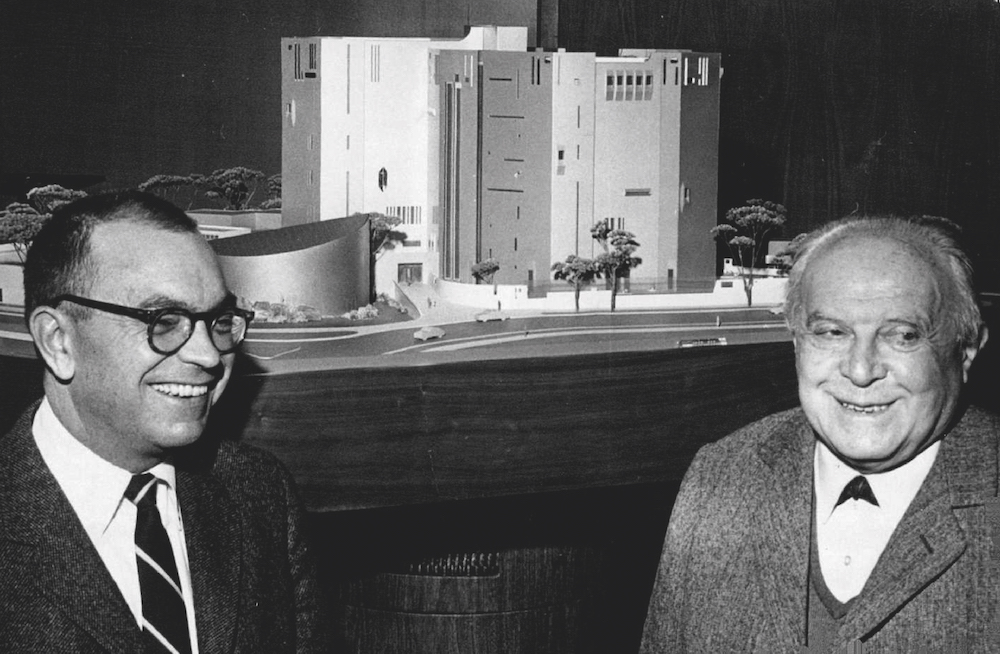 The house he built in Via Brin, where Ponti lived in the mid-'30s – de Chirico and other artistic luminaries were frequent guests – showed this new, fluid and open art of living. The house dispensed with corridors, standard at the time, and used large windows and sliding partitions to create an unfolding sequence of brightly lit, flexible living spaces that were in constant dialogue with the city. There was no formal dining room, but instead a big round coffee table surrounded by low armchairs, covered in a fabric of Ponti's design – an arrangement that he considered more conducive to conversation. After dinner, this central table was piled with books, sketches and plans, as aesthetic discussions with his friends and collaborators continued into the insomniac hours.
The entire apartment was a Gesamtkunstwerk, or 'total work of art', for which he designed every custom-made detail, including the maid's uniform: a green dress with white apron, designed to complement the patterned linoleum floor. Designed by one of the first globe-trotting starchitects, Ponti's buildings, with their easy Mediterranean style and considered, exuberant, modern aesthetic, were much in demand with rich private clients. He created a trilogy of such homes in the tropics that include two houses in Caracas, Venezuela. Villa Planchart (1955) and Villa Arreaza (1956) are both abstract sculptures that play with materials, textures and patterns, indoor windows and painted ceilings, to create a colourful op-art effect that embodies Ponti's search for a 'joie de vivre' in architecture. They were made to be seen with the moving eye: "The architect must be coordinator of this difficult and total spectacle," Ponti said.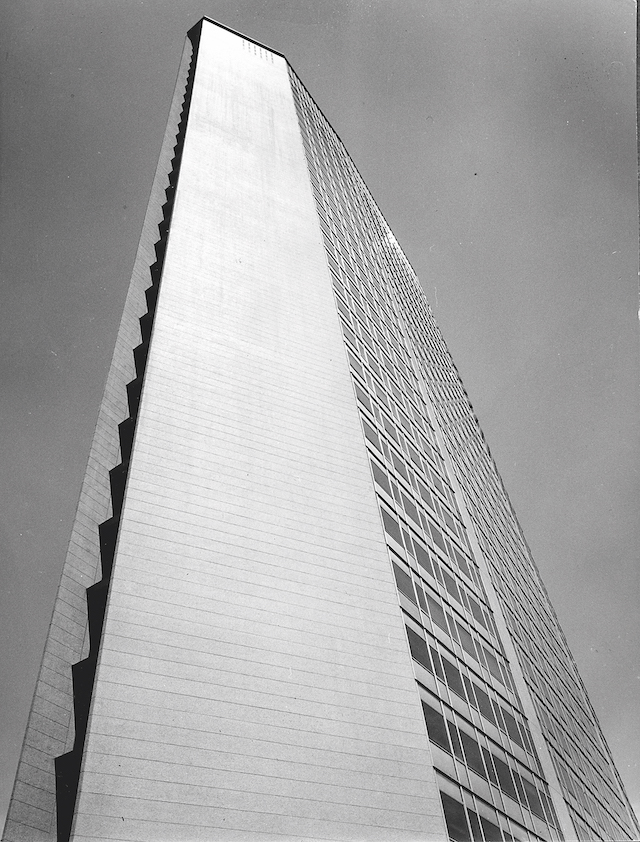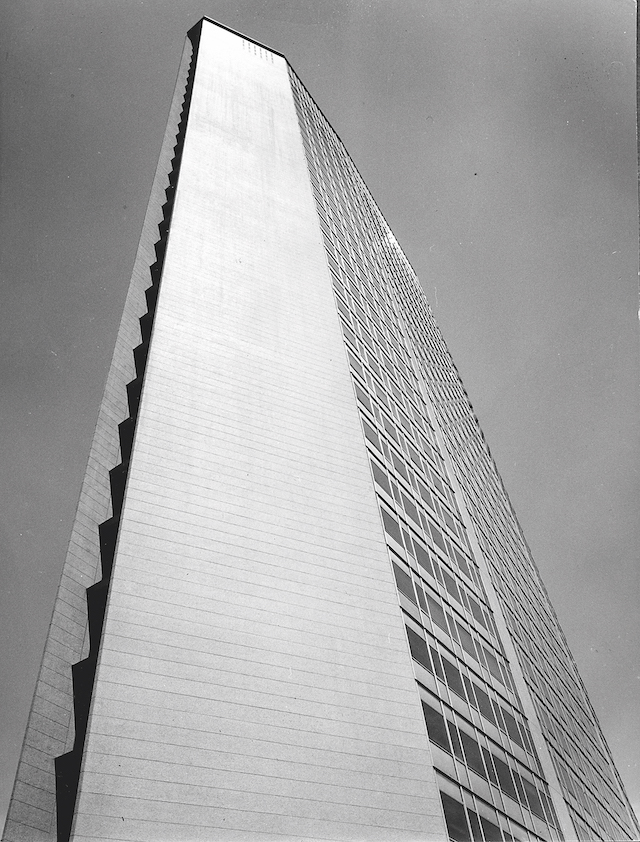 A third house, Villa Nemazee in Tehran (1960), built during the last shah's rule, features an internal courtyard decorated with ceramic tiles, by Fausto Melotti, that create a cheerful dialogue with the niches that punctuate the internal facades. External walls and domed ceilings are decorated with patterns of white and blue pebbles, like a neo-classical folly, and the floors and ceilings are covered with large slabs of marble and bold ceramic and stucco stripes, like confection applied with playful precision to a gingerbread house. The villa, one of Ponti's two buildings in the Middle East, has been transformed into administrative offices and is currently under threat of demolition, having been delisted to make way for a five-star hotel, to the outrage of the international architectural community.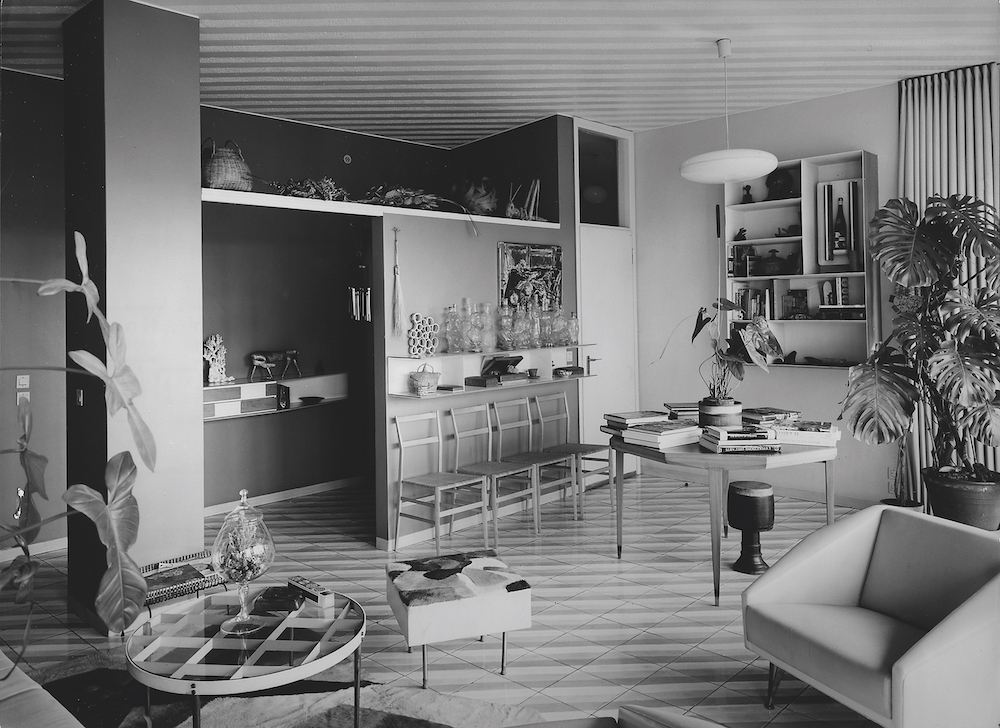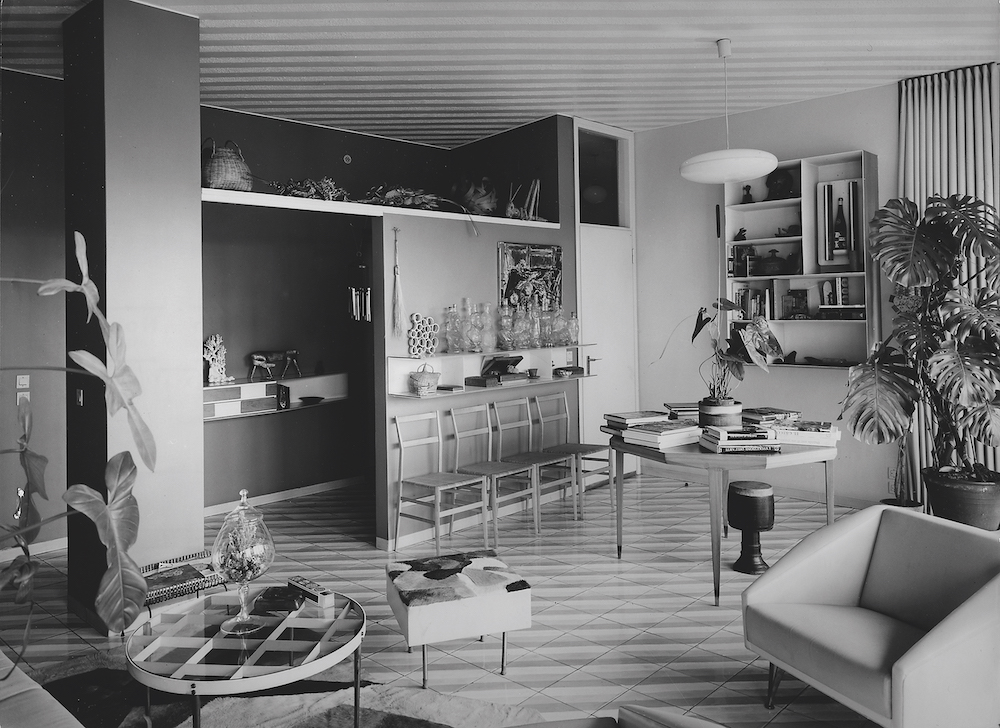 As always, Ponti's constant reinvention was reflected in the evolving styles of the houses he built for himself in Milan. In 1957, he moved into his final apartment on the eighth floor of a block he constructed on Via Dezza, next door to his studio, and now the home of the Gio Ponti Archive. It has a yellow, red and green façade that resembles a Mondrian painting, and large picture windows that Ponti imagined as a series of proscenium arches – framing the living theatre, staged both in the street and by the occupants inside. The open plan, articulated by moveable wooden walls, which could concertina like an accordion, was unified with a ceramic floor, decorated in a strong diagonal pattern of cream and yellow ochre stripes that were echoed in the stucco of the ceiling.
The interior was bright, colourful and refined, full of architectonic inventiveness, and a blueprint for Ponti's influential idea of modern living. It was considered, hyperactive and restless, like its inventor who would return from a long day at the office and sit at his drawing table, absorbed in his designs, his fast-moving hands stained black with graphite and ink, long after his family and the rest of the city had gone to bed.
Running until 10th February 2019, the Musée des Arts Décoratifs in Paris will be host to a groundbreaking retrospective of the 20th century architect and designer Gio Ponti. Curated by Olivier Gabet, Dominique Forest, Sophie Bouilhet-Dumas and Salvatore Licitra, the exhibition covers Gio Ponti's career, from 1921 to 1978, bringing together over 500 objects, some of which have never been displayed in public before. Sponsored by furniture brand Molteni&C, who hold the exclusive rights to reissue Ponti's designs, the exhibition forms part of a wider programme by the brand to raise awareness of the vital research conducted by Ponti across architecture, design, applied art and publishing.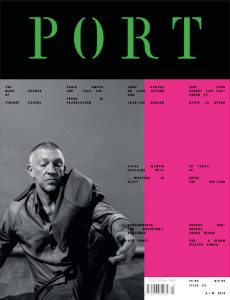 This article is taken from issue 23. To buy the issue or subscribe, click here.