PORT sits down with Adidas Originals and the iconic Japanese leather atelier, Hender Scheme, to discuss their latest collaboration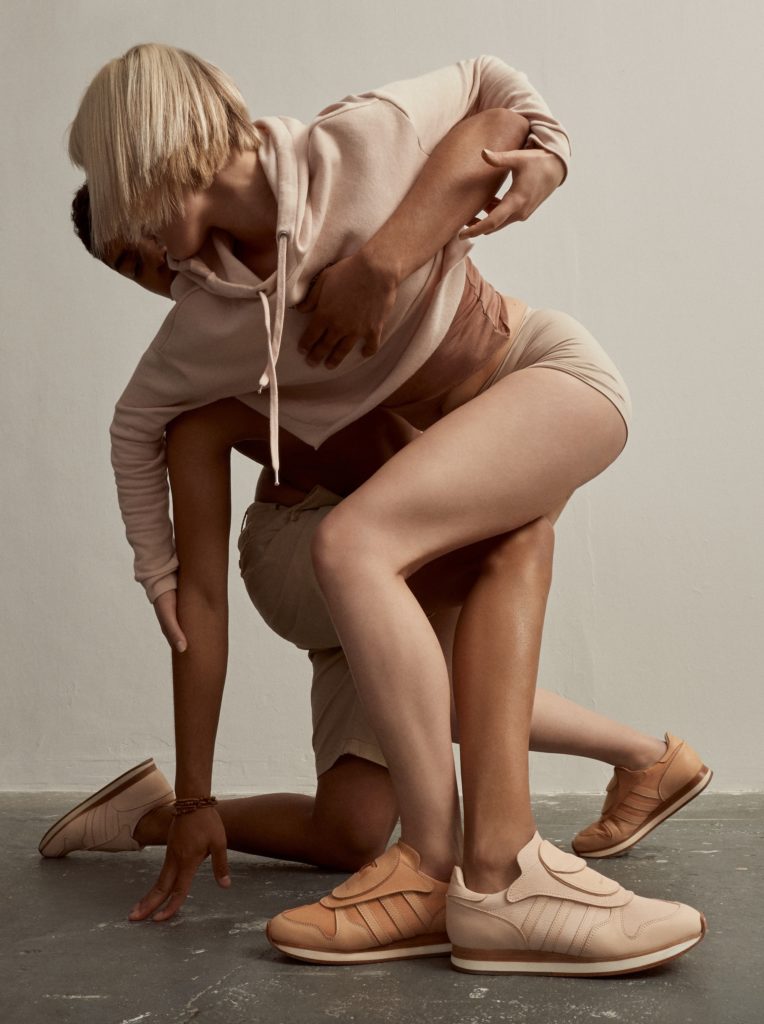 Fashion has long tried to redefine the concept of 'luxury', and to figure out what it means to consumers in 2017: just because something is expensive doesn't necessarily mean it's luxurious. Over the years the focus has moved on to the design process and, even more so, the craftsmanship needed to manufacture a product. How long did it take to make it, and how long will it last? Arguably, luxury is a combination of all aforementioned factors, and a high price tag the inevitable outcome from that.
Adidas, the German sportswear giant, is not a stranger to expensive fashion. Over the years it's worked with various designers – everyone from Yohji Yamamoto and Raf Simons to Rick Owens and Alexander Wang – on short and long-term projects. At the same time, the bulk of its trainers and apparel are affordable and accessible, the definition of democratic fashion, as opposed to luxury. As such its latest collaborative partner, Japanese leather experts Hender Scheme, perfectly illustrates Adidas' ability to scale 'luxury' in order to offer different types of products to different customers, without losing its DNA and brand personality.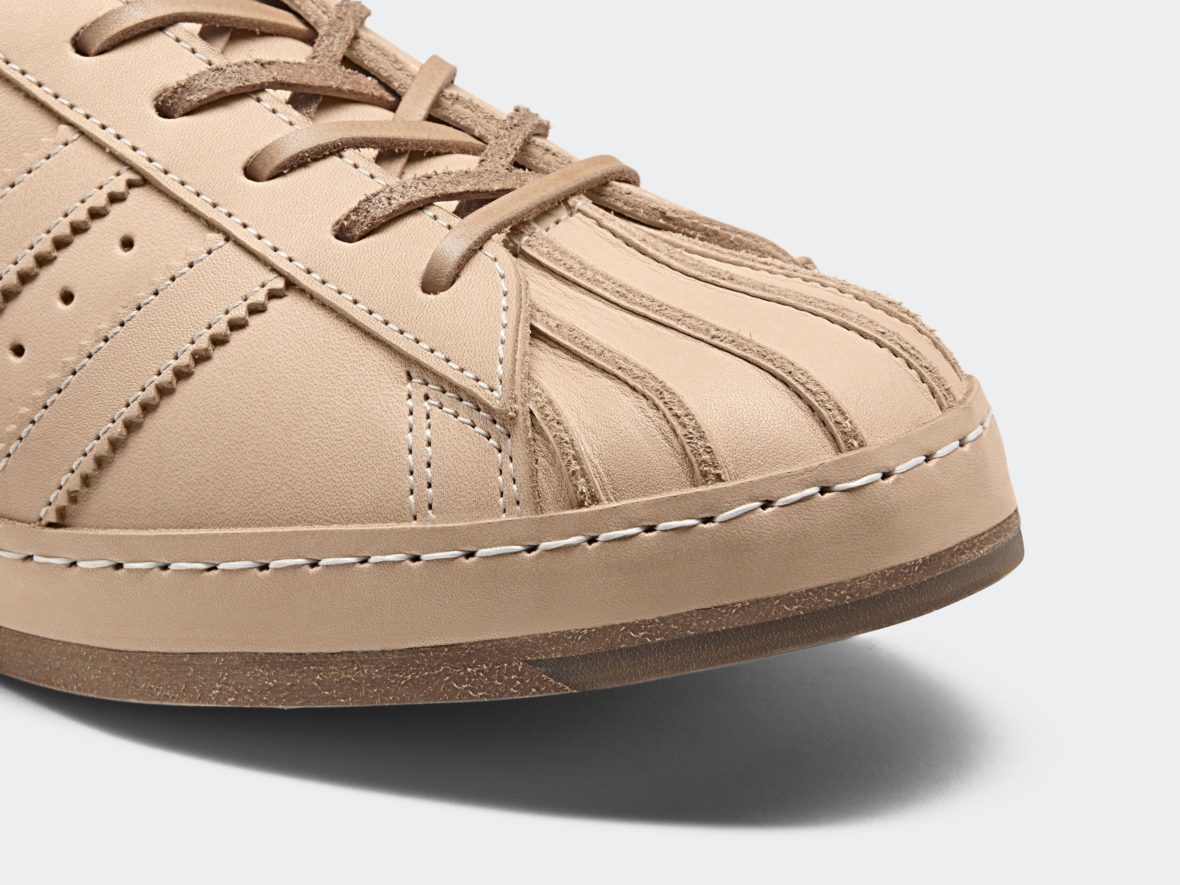 Founded by Ryo Kashiwazaki in 2010, Hender Scheme makes a wide array of leather goods, though is best known for its 'Homage' footwear line. In it, Kashiwazaki recreates various iconic trainers, from the likes of Adidas, Vans and Nike, using his signature 'nude' leather. The rawness of the material makes the craftsmanship that goes into the handmade trainers evident for the wearer as well as distant observers. Because of this, Hender Scheme might seem like an obvious collaboration match for the cherry picked brands, but in today's design climate, with corporate trademarks and the red tape of intellectual property, it could also have lead to an expensive lawsuit.
It's this that makes the Adidas x Hender Scheme project even more relevant. Based on a mutual respect, it is the ultimate collaboration in that it combines three mainstream Adidas silhouettes with Ryo's intricate and limited interpretations. The styles – the NMD, Superstar and Micropacer – have all been stripped of its technology and remoulded in Ryo's fine leather. They are no longer digital sportswear icons, but wearable and analogue pieces of art. PORT sat down with Kashiwazaki and Erman Aykurt, Senior Design Director for Adidas Originals Statement, to discuss the design process, the role of psychology in footwear and how Kashiwazaki retains ownership of his trainers.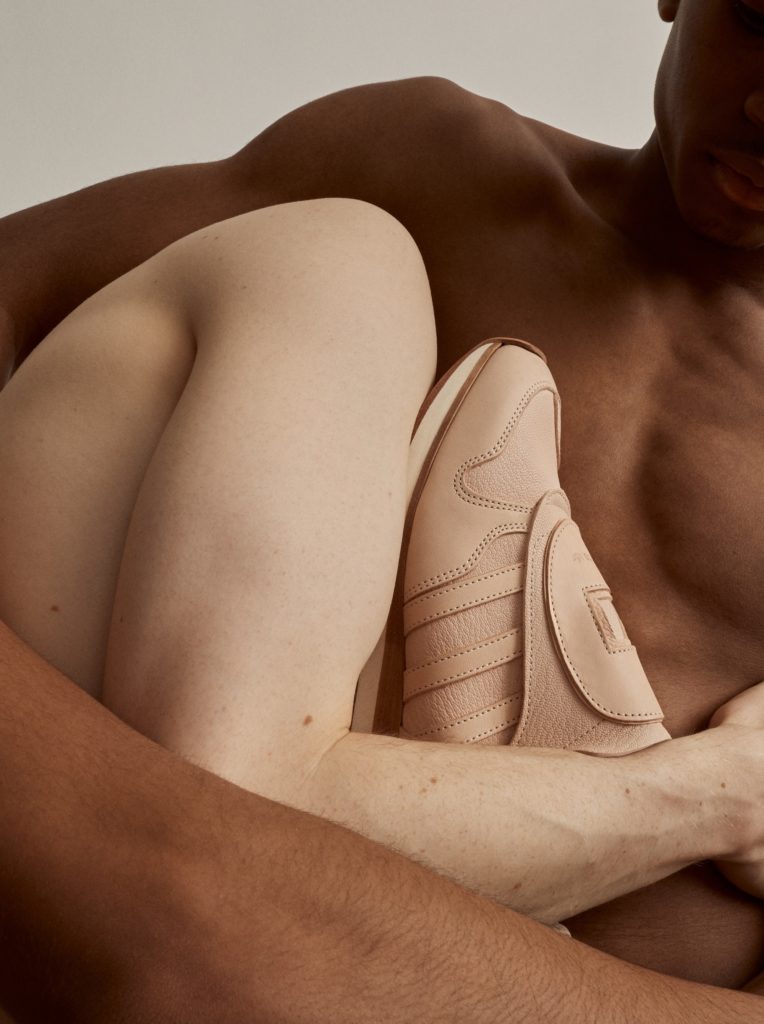 Ryo Kashiwakazi, you studied psychology before going into footwear. Have you ever had any use of this experience in your current job, in an abstract or concrete way?
When you manufacture something, you always involve a group of people who actually make the product. I can apply my knowledge of psychology when communicating with them. The process of shoemaking involves a lot of divided labour, or divided roles. To make a shoe like this you probably have about fifty people involved one way or another, from the leather supplier to someone stitching them together, so it's always important to create a shared goal among all of them, and to make everyone feel valued and involved. So, yes, psychology comes in handy!
You started out as a cobbler. Do you think that formal shoes are the foundation of footwear? Is that why you wanted to start at that end of the industry as opposed working with trainers straight away?
From my experience of repairing shoes I gained a lot of knowledge about how shoes are worn, and what happens to the shoes once they've been worn for a while. That helped me build my shoes and trainers, trying to foresee what will happen to them once they've been used for a while.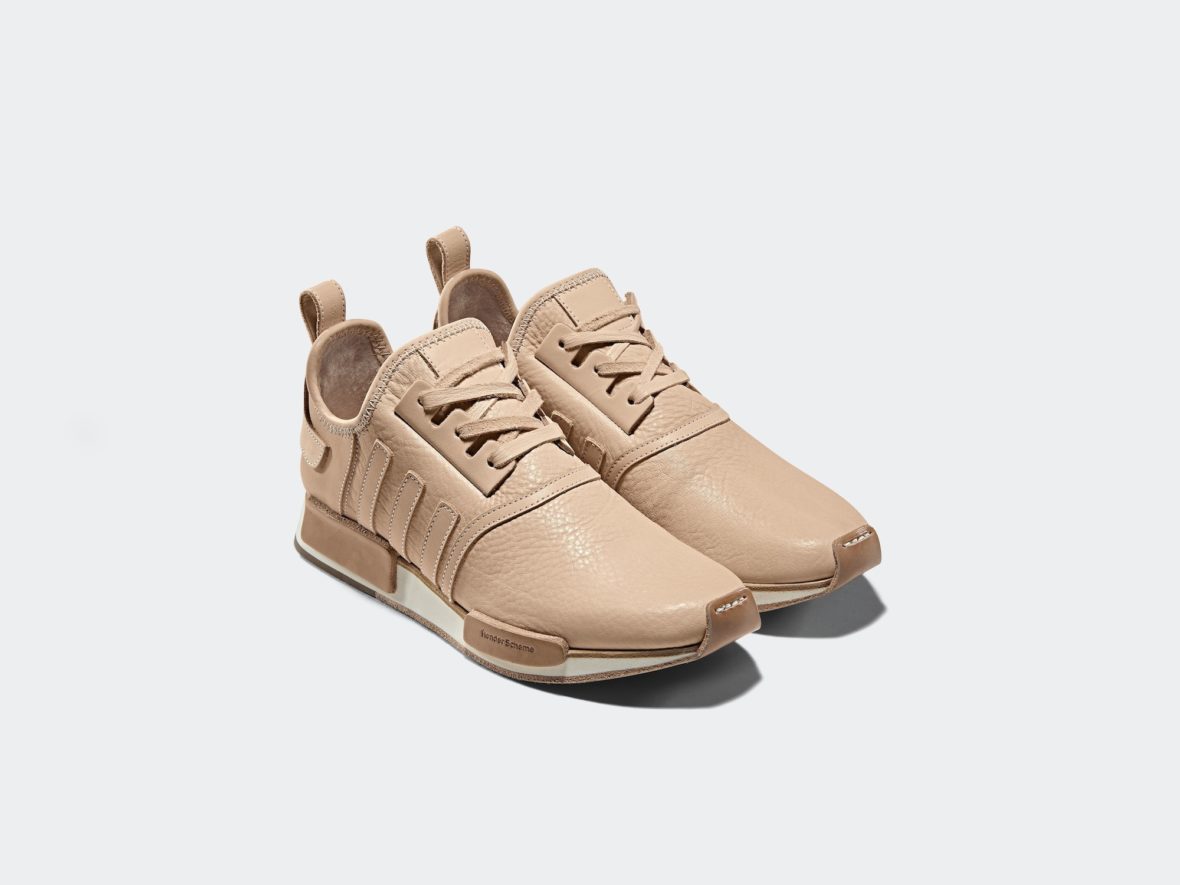 More than shoes you also produce other products, but what runs through the company is the use of leather and colour. What qualities does leather have that makes it so great for you?
For me, the thickness and tension are very important. For example, leather can be shaped into softness. If you don't shape it, you can keep it hard. And the reason I use this natural colour is that you can see aging very clearly.
There's a sense of purity to this colour, which makes it a great starting point, no?
Usually we dye from this colour, so this is starting point. It's very delicate and sensitive; it can easily get stained as it's basically untreated.
Another thing that strikes me is that you've borrowed existing silhouettes, and you're using a colour that lends itself to the wearer putting his own stamp on it. So how do you retain ownership? Are you even interested in that?
Not sure it explains the ownership question, but the point of re-creating existing styles is to show off the work of the craftsmen, to introduce the work they do. So I suppose the product making is more important than the ownership.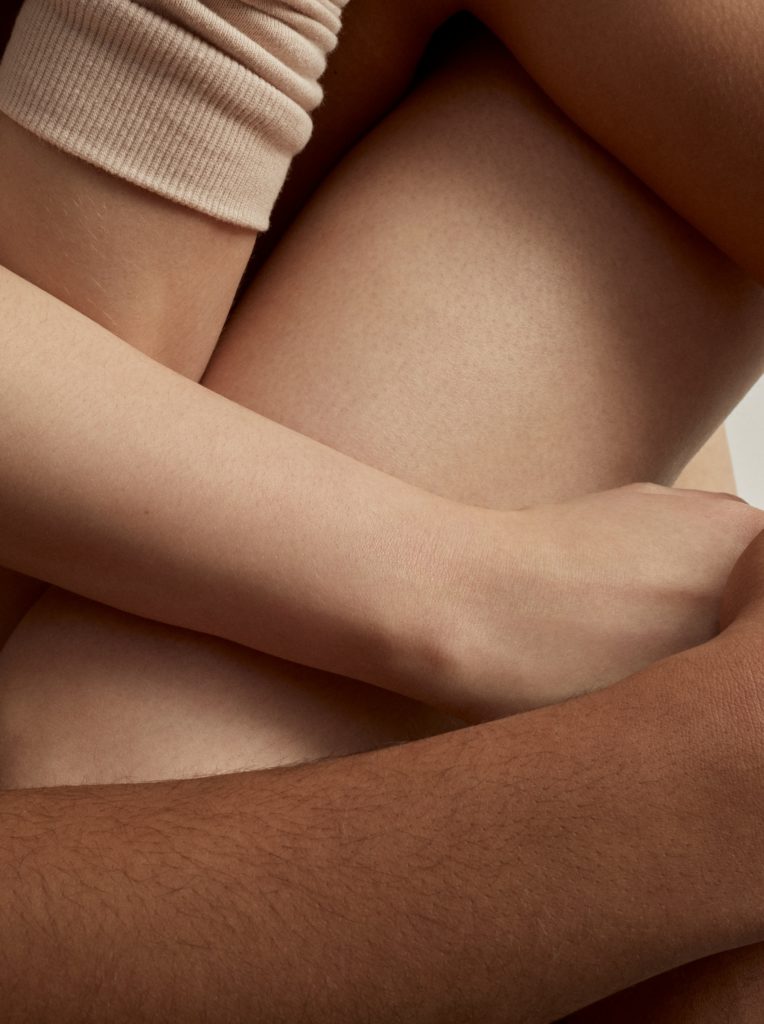 You've reworked quite a few different brands. Is this the first time one of them has actually come to you and said, 'let's do something together'?
Yes, and because I was ultimately doing this out of respect for Adidas, it made me very happy that they respected me in the same way.
On that note, over to you Erman…  What was the initial Adidas reaction when you saw these products?
I can only say that, within the Originals department, we were really honoured. From a company perspective, there's always two different ways how to look and deal with someone paying homage. But as we're a global organisation with an office in Tokyo, there was already a personal relationship in place with Ryo-san. And it was very clear to us from the beginning that Ryo was working out of respect for our brand. And the mantra for everything we do in Consortium is based on mutual respect, so we wanted to meet him halfway and start a dialogue based on that.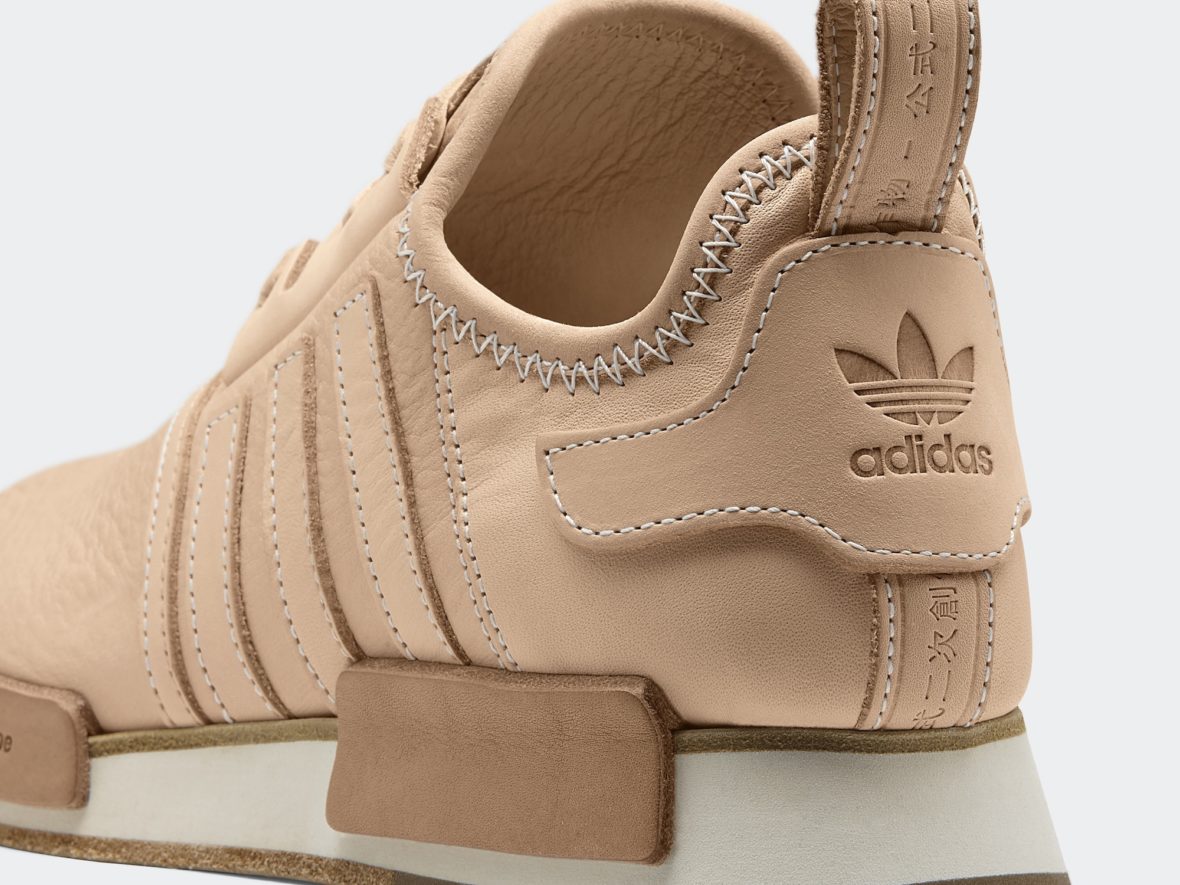 What was it that impressed you? Was it the craftwork, or the craftsmanship?
Obviously the craftsmanship is something we admire and that we look up to. Even people who have been with the company longer than I have wouldn't be able to do that even themselves. I know out of experience that what Ryo-san is doing is impressive. When Ryo-san came to Herzo , we gathered lots of people from across different Adidas branches and everyone was putting their latest innovations on the table, and he was known to everyone.
How did you end up with these three styles?
All of these shoes have been technological advancements of their own time. The NMD consists of Primeknit and our boost technology, the Superstar Shell Toe was high-tech at the time and, obviously, the Micropacer stands like nothing else for this sort of future-retro expression of the past.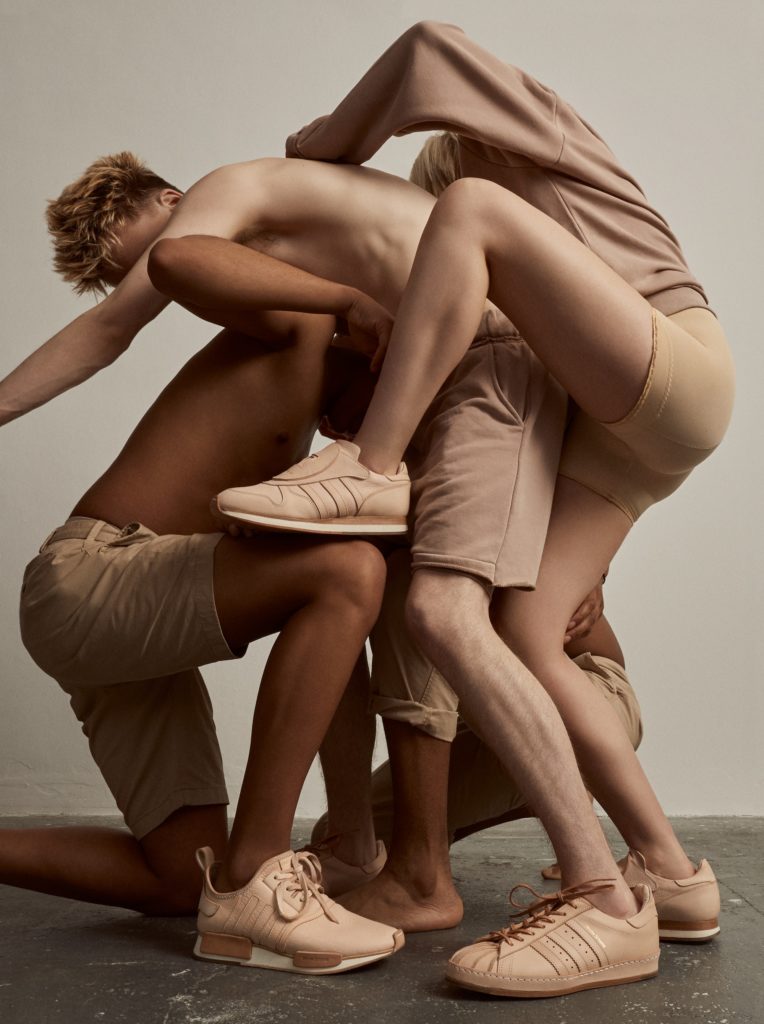 Would you say that this is the ultimate in trainer luxury?
Well, what defines trainer luxury? It's about combining a globally known silhouette with any form of limitation. In this case you have three of the most iconic sneaker silhouettes in the world, and you have, through the manual labour, one of the most authentic but at the same the most extreme limitation when it comes to creating quantities. It's not limiting for the sake of limiting; it's limiting because it's not actually possible to create more!