Encouraging and implementing discernible change amongst big brands is no easy task, and no one knows this better than sustainability advisor, Libby Annat. Here, she discusses the challenges of turning ethical ideals into corporate reality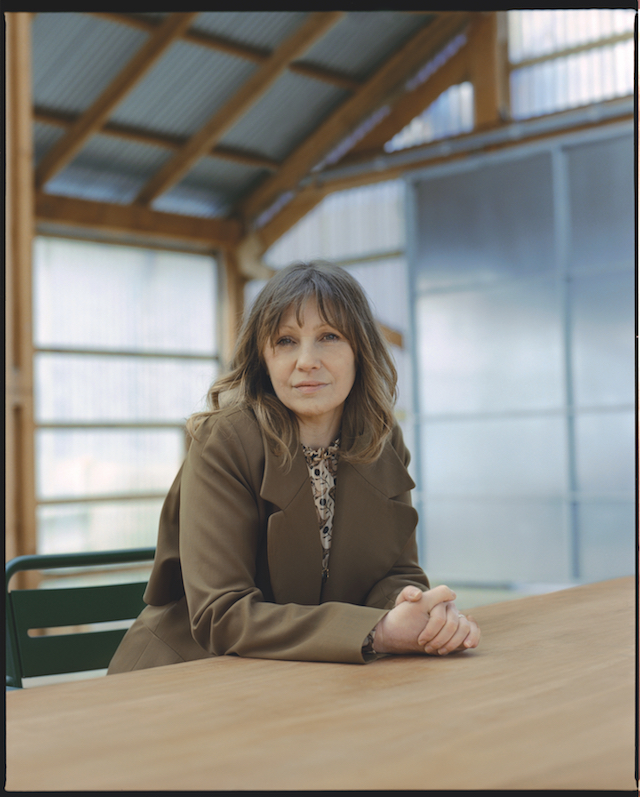 "I guess it's a bit of an accidental career," Libby Annat says of her 19 years to date working as an advisor on sustainable business and policy for the media and an array of fashion brands. "I just don't think the role existed in the way that it does now; it evolved and grew."
Having set out to be a tropical botanist, Annat spent plenty of time amongst nature, in the rainforests of Central America, taking part in ethnobotanical research that focused on the roles trees played for local indigenous communities in the Rio Dulce area of Guatemala, and how they were significant in global trade and colonial history. This work displayed her founding connection to Earth, and its resources, early on. However, it was a redirection during her time at the BBC that really propelled her into her current career.
"I was working in the commercial arm, looking at how to create monetary value from assets, in the same way that Disney does, licencing out brands," she says. "At the time, the BBC had just launched Teletubbies and the merchandising was enormous, with pyjamas and toys and the whole range; so we started looking at where it was coming from, where it was all being made, and putting in place an ethical sourcing policy."
Her love for the complex, global conundrum that is ethical sourcing led to a role at Marks and Spencer, starting on the same day in 2007 that the brand launched 'Plan A', a set of 100 commitments to tackle five major issues across climate change, waste, resources, fair partnerships and health – to be achieved within five years.
"Everyone was very innovative and they were pushing all the time," Annat says (a point that might surprise those who consider sustainable fashion to have emerged and exploded only within the last two to three years). But thanks to her wealth of experience in the space, working on sustainable strategies across fashion, footwear, luxury sportswear, media and broadcasting, she has seen the full evolution of the sector. "It was a lot to do with people being given insight into how failing to consider environmental impact could potentially damage the reputation of their companies and their shareholder values if they weren't careful," she says of the motivations that existed before Twitter call-outs and hashtag campaigns.
"There were lots of discussions about 'doing the right thing', and that is a ridiculous conversation to have. It's not a choice. You've got to go above and beyond that." But without an immediate threat to reputation or profit, pushback from within is almost inevitable: How do you tackle that? "You've got to be incredibly, incredibly stubborn," she says. "I think most sustainability people have stubborn optimism in spades, to keep pushing and pushing."
After M&S came a move to Primark. Due to its fast-fashion model, it's a company many may see as fundamentally hypocritical wading into the sustainability conversation, but Annat believes that such brands have to be invited in, in order to be part of the solution. She relished the opportunity to start from scratch with a company that had reputational issues needing to be addressed: not just with clever PR, but with proper inside-out change. But making those kinds of changes isn't a simple process.
For Annat, it starts with mapping out where a brand is at right now: "Looking at where your products are coming from; asking how much traceability you have." she says. "It's looking at your product mix and analysing where your biggest impacts are." And it's those analyses that will inform the myriad choices regarding what to tackle first.
The challenge with 'fixing' fashion is that it's not a single issue to solve, it's a multifaceted issue that spans sourcing, cultivation, people, production, transport, communication, traceability, supply chains, and a whole host of other underpinning elements that are woven into the intricacy of the industry.
One thing Annat is sure of, however, is that the responsibility cannot lie with consumers. "You end up asking consumers to make moral choices without giving them all the information. Companies can't wait for consumers to do the leg work for them. You can't rely on your consumer to drive change."
And the research shows that consumers don't want to accept that responsibility. She points to a study which found that only six per cent of people believe the primary responsibility for more ethical, sustainable consumerism lies with consumers themselves.
The industry, then, must take the lead, but a lack of unity is making it difficult: "I don't think we've got a vision of where we ultimately want to end up," Annat says. "I don't think we can see the shoreline yet."
While an image of what a sustainable fashion industry looks like, realistically, doesn't yet exist, Annat isn't hopeless. In fact, she believes that "the coming together of the industry has been phenomenal. We have pre-competitive platforms where there is genuine sharing and genuine lesson learning. And that's moving beyond the discussions and debate platforms into accelerators and organisations like Fashion for Good (a global platform for innovation and collaboration within sustainable fashion)."
It's initiatives like Fashion for Good that Annat believes are the key to creating collaborative, directional change. When asked about the standout turning points she's witnessed during her career, she highlights the Bangladesh Accord, an independent, legally binding agreement between brands and trade unions, designed to create a safe garment industry in Bangladesh."It set a new standard around how companies can work together. It showed the industry that you can still challenge each other and hold each other to account but there can be a common understanding, and a proper vision in place that everybody works towards."
She points to further programmes and groups, such as the Zero Discharge of Hazardous Chemicals scheme, a tool to support footwear and apparel brands with a unified approach to managing chemicals; the Sustainable Apparel Coalition, a platform for industry collaboration around improving social and environmental impacts; and act, an initiative on living wages, as being other significant examples of bold agents for change.
Not only are they pushing the industry forward and resetting standards, but their breadth is representative of how far-reaching the scope, of sustainability as a concept and sector – and indeed of Annat's work – really is. She's now working as an independent advisor with clients including Heron Preston – an American designer who runs an eponymous workwear-inspired label that previously collaborated with the City of New York Sanitation Department on a zero-waste collection. Working with communications company Akerbrandt, she's set out to tackle how the brand can change the entire culture around sustainability, reflecting it across the organisation, from production to communication.
Annat explains that for sustainability to be embedded from root to tip, brands must investigate, and become involved in, how their raw materials are grown and sourced. They have to look closely at their manufacturing processes and factories to ensure they're following higher environmental standards; they must scrutinise and uphold workers' rights, and even consider what the most sustainable modes of shopping are for consumers.
Her recent work has seen her supporting clients in scrutinising supply chains, becoming certified B Corps (to signify a business which balances purpose and profit) and reengineering products to be more lean in design, leaving out any unnecessary components and therefore making them easier to recycle. She's also helping brands to ask tough questions about the purpose of their products, and how they can be used to put something back into the planet.
For such vast, company-wide changes to come together, Annat looks inwards to the team, scouting for solutions and the "models of change that already exist in the company". By identifying so-called "choking points", and seeking out the people within a group who want to be part of the solution, she seeks to embed sustainability as a function within every department and every role.
And when those efforts come to fruition in the form of traceable sourcing, better materials, safer working conditions or waste management, for example, the next step, Annat believes, is for those standards to be upheld by legislation. "Regulation all the way," she says. "It's not to say you have to blame companies or shut them down, but they should be held to account and legislation is a great way of doing that."
France's 'duty of vigilance' law is one example of legislation that Annat considers groundbreaking, given that it has allowed an alliance of French local authorities and NGOs to take legal action against oil firm Total, forcing it to reduce its greenhouse gas emissions. France has also banned the destruction of unsold goods – an issue rife in the fashion industry, with brands routinely taking to burning excess stock.
Legislation could also go a long way to harmonising fashion's goals with those around the climate crisis, closing the gap between them. "If you have climate change as the ultimate goal, that would be the measure by which you assess your supply chains and your operations, your fabrics and fibres and the products that you sell," Annat explains. "If you were using that as your one big meaningful metric on everything, then that would bring consistency to your approach."
With the climate crisis looming over the industry, some of the conversations Annat is having with brands are beginning to change. "Ten years ago, we thought 'Let's all have organic cotton and a code of conduct,'" she quips. Whereas now, she's discussing with brands whether they need to make anything at all.
"Reengineering your business model inside, that's the next big frontier for companies," she says; and that's been the radical focus of recent conversations with clients. "I've been asking, "Does the world need another t-shirt?", she says, pointing to what she considers a new and necessary advanced level of thinking, where brands truly question whether the world needs something before they make it.
"If you're a company that feels strongly about health and well-being, for example, do you stop making products like running shoes, and provide services that enhance health and well-being instead?"
"Sustainable fashion can only go so far and do so much if we're still operating in the same paradigm," she points out. Problems in the fashion industry abound, but so too do solutions. Whether it's legislation, collaborative innovation, or rethinking what being a fashion brand actually means, what's clear from speaking to Annat is that radical thinking is needed if the fashion industry – and the planet – is going to survive.