Dutch photographer Thirza Schaap has long been foraging plastics from our ocean, and now she's collated her findings into a new book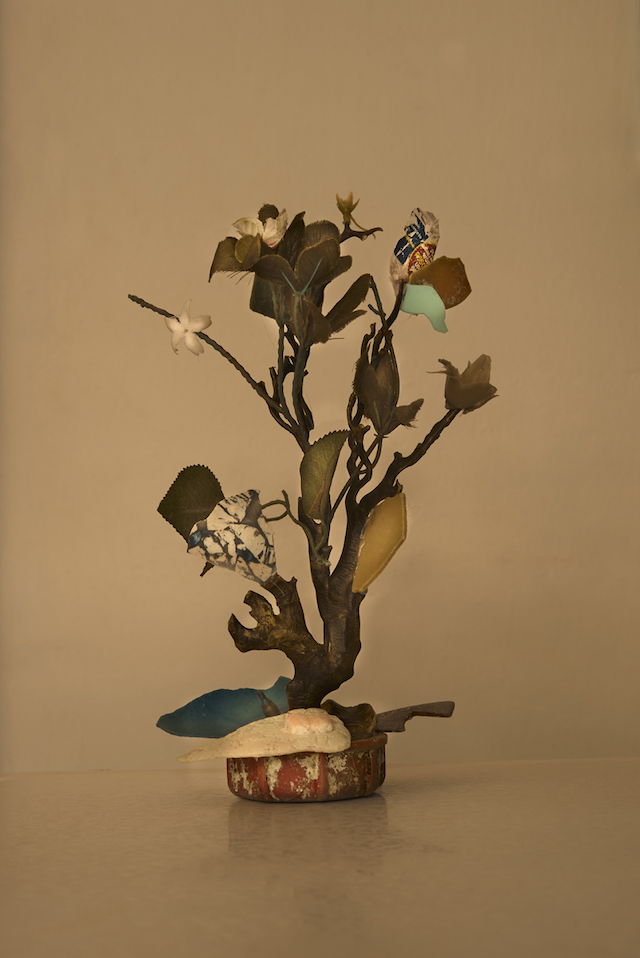 The world is at a tipping point, and no longer can we continue to litter our seas, earth and air with the debris of our human existence. In 2018, for example, the United National Intergovernmental Panel on Climate Change (IPCC) issued a warning stating that we have only 12 years to prevent the catastrophic impacts of climate change, which includes an increase of global warming of 1.5 degrees Celsius. We're now in 2021, and there's less than a decade on the clock. We've already seen the 20 of the hottest years on record; there's been an increase in adverse weather and wildfires; we're in the midst of a mass species extinction; and our oceans are at great risk too. So much so that a truckload of plastic enters the ocean every single minute, while the UK supermarkets produce 800,000 tonnes every year – and counting. 
Dutch photographer Thirza Schaap has long been drawing a lens on these issues. To such lengths, that for the last eight years, she's been collecting trash from beaches along the coast of South Africa, turning the washed up plastic items into remarkable pieces of art. Aptly named Plastic Ocean, her ongoing project has now been formed into a new book by 1605 Publishers. Within its pages, observers can become witness to a wide-spanning collection of still lives and sculptures, and art that's been crafted from discarded bottles, shopping bags, toothbrushes and straws.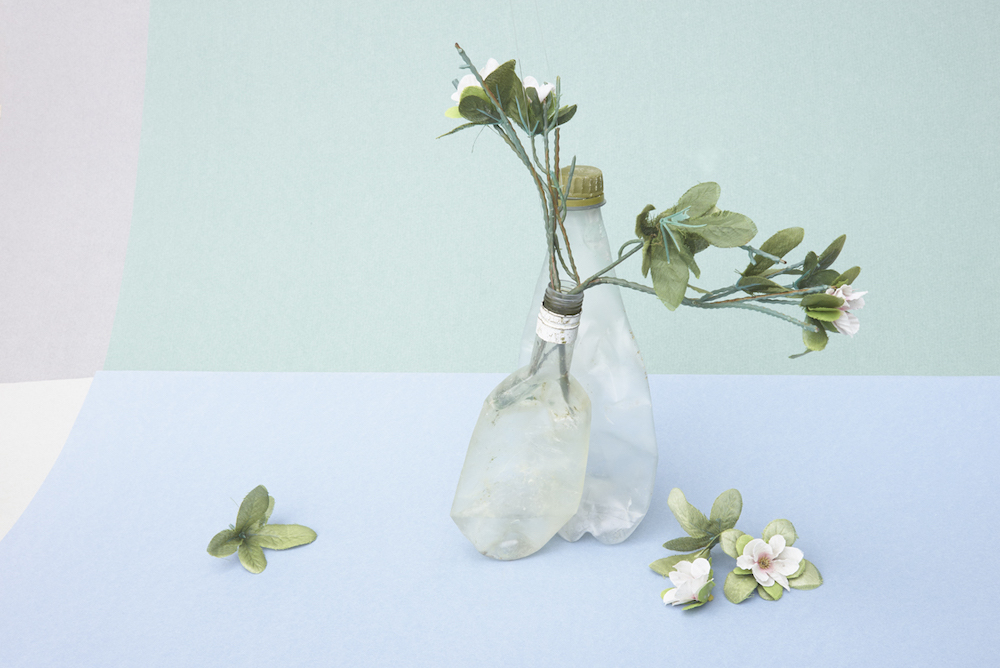 It all started a few years ago as she headed to her local beach with her dog, quickly to realise the abundance of rubbish flooding the shores. Picking up the aftermath of human consumption, there was something about the plastic formations in their masses that inspired her to start taking things further. "Astonished by what I found in a disgusted way," she says, "I was touched by the beauty of the objects I'd found. They looked faded, old, worn by the sea and I presumed they'd travelled for a long time in the ocean." Thirza knew she wanted to share her findings with others, and to "tell the story which is often hidden by the myth of recycling," she adds, stating how only 10% of the plastic is recyclable. Shockingly, half of the world's plastic is designed for single use, for it to then be tossed away like an afterthought. And this equates to around 79% of waste ending up in landfills, dumps or in the natural environment. Just 12% of it gets incinerated.
The realities of our polluted planet fuels both the creative and activist side of Thirza. She now has such a vast collection of rubbish, that she keeps it all stowed away in an archive for when the idea for a new piece arises. "I've collected so much that I can work from an idea and source from my storage. We go on plastic hunts to desolated beaches, which is where I find the old 'long travelled' objects and pieces. On the tourist beaches, I usually find 'yesterdays trash'. Unbelievably, people still bring food and drinks, consume everything and leave it on the beach."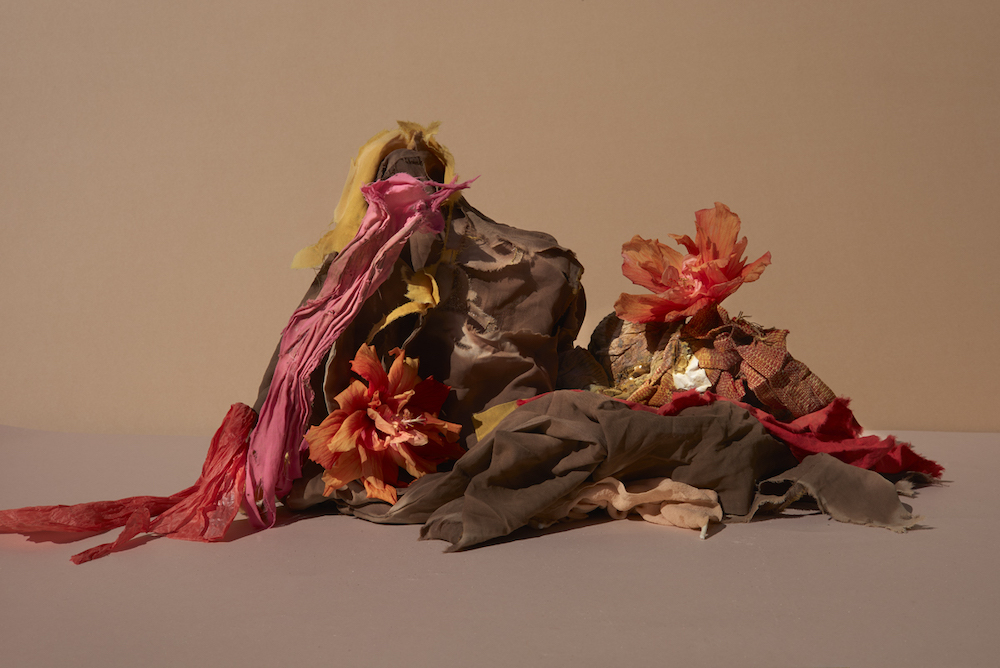 Within Plastic Ocean, the audience are granted access into Thirza's world of advocacy, pining and promoting for a better (and cleaner) world. It collates pieces from across the entirety of her project, including the "early shadow play" and more graphic photographs, right through to her more recent sculptural ensembles. Working closely with her publisher to edit and select the pieces involved in the book, they'd decided to proceed with an experimental approach to the layout, where repetition and colour palettes drove the overall feel of the publication. 
For example, in two pieces named Oxygen and Oxygen en Boubou, you'll see both images paired for their spindly compositions and beige, muddy hues – both of which are built with disused plastics. The first is a cigarette tree, composed from butts found on the beach. Oxygen en Boubou, on the other hand, is a sculptural piece built on a table outside and under some trees. "While I was making it, a Boubou bird (a large robin) came to sit on me. I love birds and was so taken aback by it, that I hadn't realise the bird took the small bits of plastic for food. I felt so bad, but I literally saw what happens in the ocean; when a fish mistakes plastic for its food, or a bird feeds on the beaches."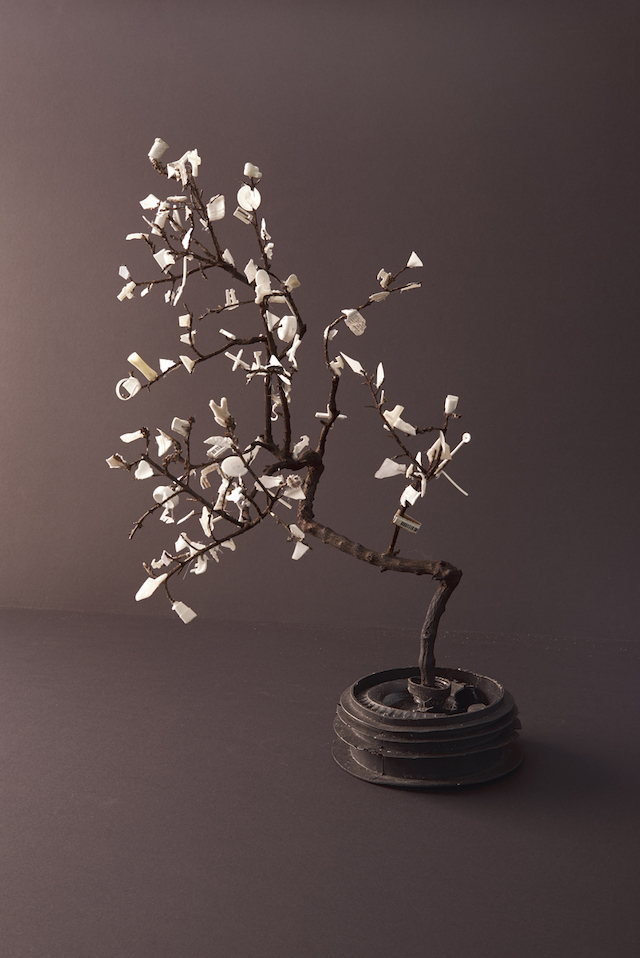 There are numerous stories to be told from Thirza's creations. Another is Cloack, a piece created after witnessing an octopus disguising itself with shells in the film My Octopus Teacher, shot near the bay in Western Cape of South Africa. "She was picking them up and placing them rapidly on her body to hide form the Pyama shark. This movie haunted me for weeks and that is why I made this sculpture of a bottle hiding in its cloak of shells."
However, these harsh and tearful stories are told in notes of soft pastels, earthy greens and crisp white backdrops. It's quite the contrast to your typical display of rubbish and climate change activism, and Thirza hopes to draw her audience in with these juxtapositions – that of beautiful imagery sat inline with ugly, disregarded plastics. Although most of all, she hopes that this will raise awareness to the catastrophic effects of our polluted ways. It's an ethos that's never been more vital. "I believe we are ready for a change but we need to unite and work together," she concludes. "As we have proven during the pandemic, it is possible to do so, we just need to see the agency of the plastic problem."
Thirza Schaap's Plastic Ocean is available to purchase here.