413 meets a trailblazing London-based designer exploring masculinity and culture through her forward-thinking collections, which, with the help of ISKOTM, feature some of the most responsible denim around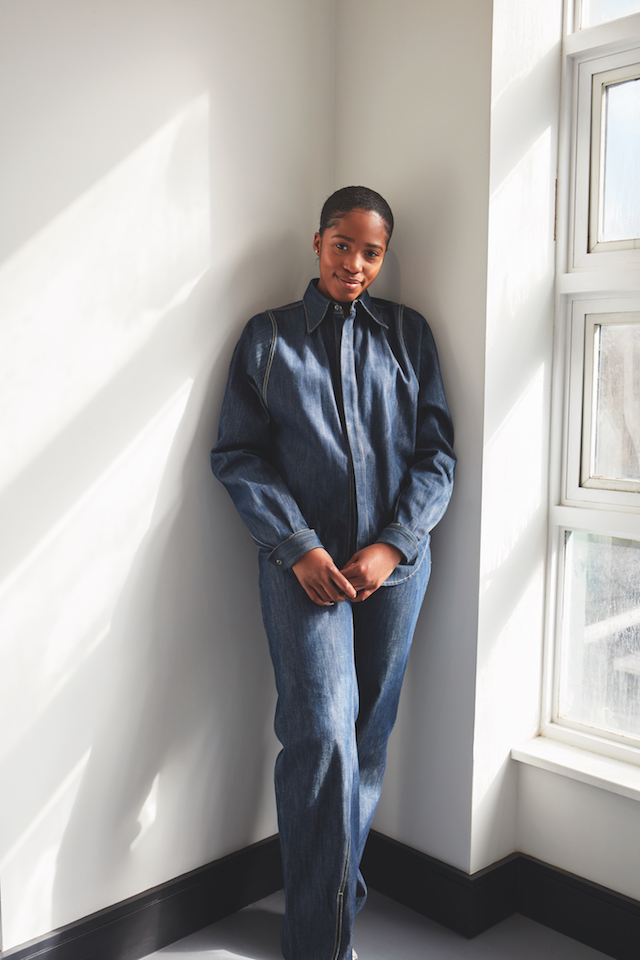 In the dancehall parties of 1990s Jamaica, men and women would compete for the attraction of the 'video light', the bright camera-mounted flash which singled out those who impressed the most. The dancers clad themselves in colourful outfits, each writhing and swaying to the booming rhythms as if they were the only person in the room.
Drawing on her Caribbean heritage, Bianca Saunders – the London-born designer whose work explores the boundaries of masculinity – sought to capture this energy for her AW20 collection, aptly titled Videolight. Her starting point came from a series of grainy, atmospheric VHS recordings of the dancehall scene.
"There was a particular tape in which the dancers in the foreground were moving at a different pace to the people further in the background," she explains. "This created a warped effect which I wanted the clothing to reflect."
Capturing and reflecting movement is an ongoing theme in Saunders' work. You can see it in the peculiar cut of a satin shirt, ruched to one side to mimic "how some guys would dance with their hands in their pockets"; in the elongated silhouette of a louche three-piece suit that exaggerates the way the wearer walks; or in a ruffled flourish around a cuff, waistband or placket.
For Videolight, Saunders used denim as a medium to explore these ideas; but for a designer whose practice holds sustainability at its core, this presented a challenge. In production, denim is notoriously resource-intensive and produces billions of gallons of wastewater polluted with chemical dyes and other toxins. However, in Saunders' view, denim can – and should – remain a staple: It is durable, long-lasting, biodegradable (when not made using synthetic fibres such as elastane); it can also be reused easily – an important quality for someone who likes to repurpose textiles from previous seasons in their collections. Obviously though, in order to retain its appeal, denim must be made responsibly.
"As a young brand it is important for us to be conscious of what is happening in the world," she says. "I want to help the environment, not contribute to its demise."
To alleviate the impact of her pieces Saunders worked with ISKOTM, one of the world's largest purveyors of denim committed to new ways of production, which use fewer natural resources and create less harmful emissions.
Its sustainable-certified denim, which contains organic and recycled elements, was used to create jeans, shirts, jackets and waistcoats, including two all-denim looks that harked back to the two-piece sets popular in dancehall culture.
The inseam of each pair of jeans curves outwards, creating a sense of continuous movement, while the shoulder point of the shirt is drawn close to the neck, suggesting a body frozen mid-sway.
When Saunders showed the collection at London Fashion Week Men's (it was also presented at the London Show Rooms in Milan, supported by the Camera Nazionale della Moda Italiana), her models stood apart in five curtained-off spaces, dancing as if nobody was watching. It brought to life the spirit of the concept – the sense of bodies moving, their freedom captured in cloth.
"I wanted to create space to breathe," says Saunders. "To make the clothes feel a bit more relaxed. Ultimately, I want for guys to feel comfortable and confident whilst dancing, as if in their own world."
The brilliant indigo hue of Bianca Saunders' denim pieces is a result of the ISKOTM Vintouch finish. Washed in an appropriately named 'rodeo blue', the fabric is laundered for a naturally aged, Americana-inspired look.
Patented technologies assure that the finished garments will retain their shape better than traditional denim pieces (in particular, jeans that are prone to stretching at the waist). This means that they need less washing, lessening their overall water and chemical usage. The fabric itself contains organic and recycled cotton yarns and meets reputable third- party sustainability standards.
ISKOTM is the first denim producer in the world to be recognised with the Nordic Swan and EU Ecolabel certifications, which evaluate a product's life cycle from raw material through to how it can ultimately be disposed of post-use. These and other external assessments help ISKOTM to hold itself accountable, ensuring that its work on sustainability is genuine and meaningful, with the mill working towards an avoidance of waste and zero discharge of hazardous chemicals.