Port's US editor, Alex Vadukul, explores what cricket means to a small group of dedicated sportspeople in NYC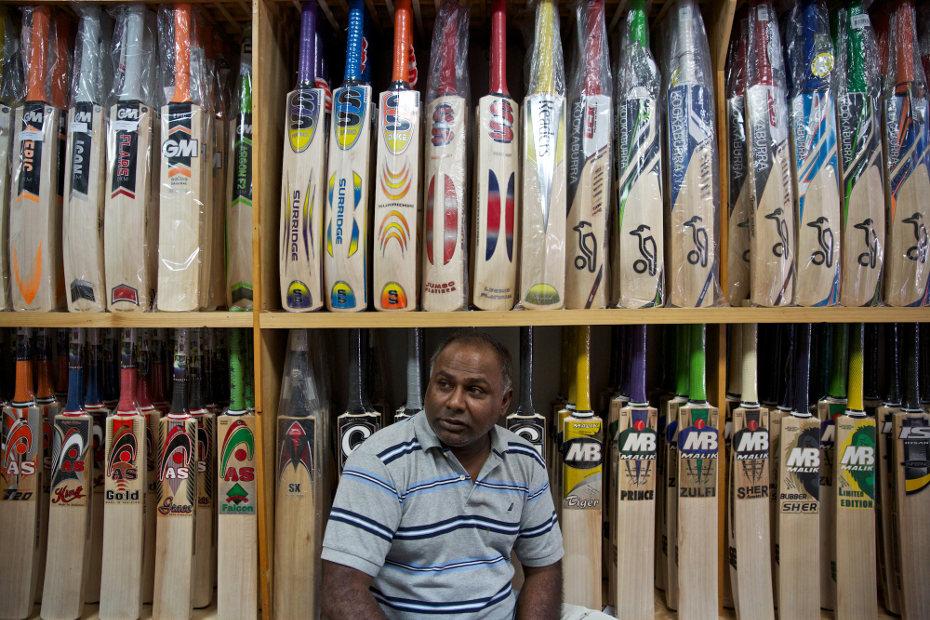 Brooklyn
After living in New York for 18 years I travelled two hours to a park on the borders of Brooklyn to watch one of the world's most popular sports – which, through a twist of irony, remains practically invisible in a metropolis known as 'the world's city'.
An hour-long subway ride from Manhattan placed me at a boulevard of Eastern European restaurants and shops, where I boarded a lonely bus. We blurred through avenues of brown houses. An old man sat near me with a fishing rod, presumably for catching striped bass in muddy Jamaica Bay. A West Indian man sat farther away speaking on his cell phone. "I'm on my way," he said before hanging up. "Let's have some Saturday cricket."
When I got off I heard the cries of children. Marine Park, a large, choppy grass-covered expanse, encapsulates everything they say about New York's diversity. The place feels preserved in time, a scene from an early Martin Scorsese movie. A playground with water-spouting fountains was overrun with kids. Mothers gossiped in Spanish. Orthodox Jewish fathers, sweating in dark suits, pedalled their infants around on bikes. Big men with borough accents slammed at balls on one of the baseball diamonds. But in the field's heart, taking up a surprising amount of space, was a perfectly adequate, if ragged and uneven, cricket pitch. The Jamaican men in crisp white uniforms appeared to shimmer mirage-like under the hot sun.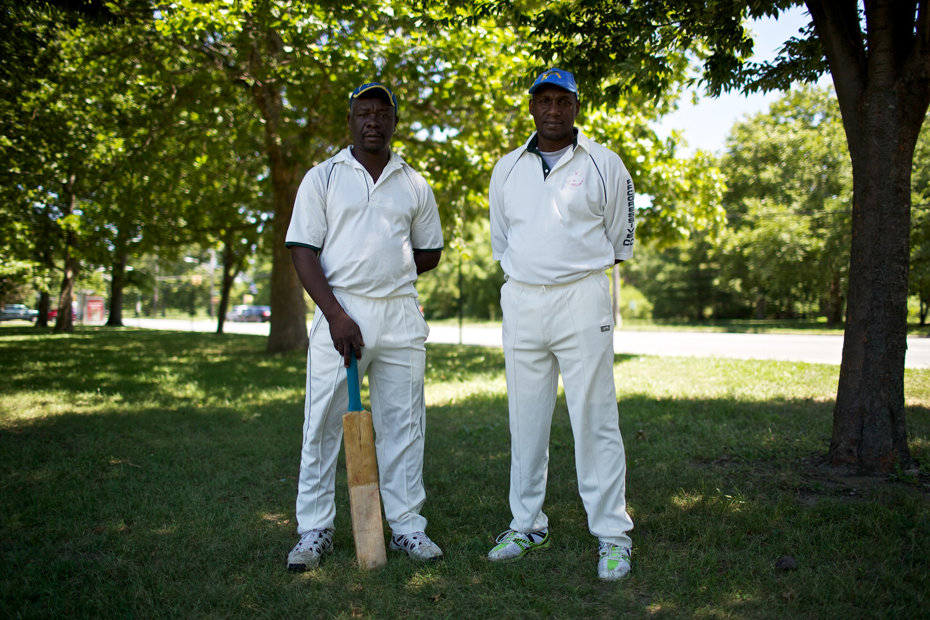 Their wives and friends watched from a distance, sitting in lawn chairs while sipping rum cocktails from plastic cups. A batsman beat his willow blade against the rocky turf. The bowler dashed and hopped, his arm swinging like a well-greased axle. The red ball, sharp against a blue sky punctuated by planes soaring into JFK Airport, travelled across the pitch. Willow cracked. The ball flew in the direction of one of the baseball diamonds. Teammates clapped. A man stopped playing catch with his son to watch with fascination.
The rich multicultural tapestry of New York has always interested me, and I've tried to see as much of it as I can: lavish Indian weddings in Long Island, giant Chinese dim sum halls in Queens, red-sauce joints in the Italian-American enclaves of the Bronx, vodka bars filled with tattooed men in Brighton Beach. But this scene felt so out of place, especially to me. Although I hardly know the rules of cricket, I've lived in the sport's shadow my whole life.
My father, Max, grew up in North London, in Enfield, and as a teenager was an impressive player respected for his fast bowling. The esteemed Middlesex league picked him up and he became a star bowler, dreaming of playing professionally and escaping his dull terraced house-lined street. But his career ended one day when a ball was bowled into his face, leaving his nose hanging from strands of bloody skin. His face still bears signs of the battering, yet his passion has endured despite having immigrated to a skyscraper-filled city whose denizens confuse the sport with the name of an insect.
I have seen him watch countless televised matches, heard him kick up conversations about cricket with any Pakistani cab driver who will listen to him, and will never forget returning from house parties during high school to find him wide awake in the dark living room, sipping a cup of tea, staring at the glowing television airing a game in Australia. Nonetheless, the sport has remained gibberish to me. But here I was, in Brooklyn, transfixed and calmed, witnessing a match in the flesh.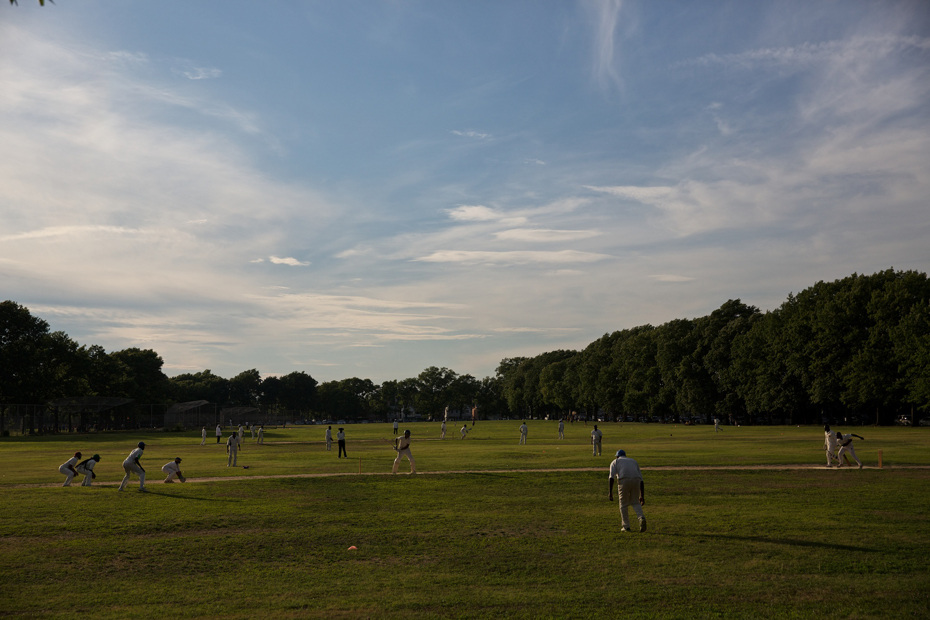 Cricket exists here because immigrants refuse to part ways with it. Its players hail from the West Indies, India, Bangladesh, Pakistan, England, New Zealand and Australia. They play outside of Manhattan, the city's cosmopolitan centre, in the more culturally diverse and less expensive parts of Brooklyn, Queens, Staten Island and the Bronx. A sport with more fans worldwide than any other (save football) exists on the fringes here, mutated by urbanity, defined by adaptation, and shunned by a country that doesn't play the game. Yet cricket predates baseball in America by over 150 years, when it followed its English forefathers to the New World. A 1751 newspaper article is considered the first record of a match in New York, and the game was at one point even played in Central Park.
Cricket in New York is trashcans as wickets in Bronx pickup games; taxi drivers playing with tennis balls in dimly lit parking lots during night-shift breaks; tournaments in rusty-fenced parks beside basketball courts alive with the sounds of skidding sneakers and trash talk.
Winters are long here, so the season is short. Five-day test cricket is an absurd concept in a town that spawned the expression 'in a New York minute,' so the game's faster Twenty20 format is the standard. (Each team has a single innings, batting for a maximum of 20 overs; play lasts about three hours.) At a match in the Bronx one coach told me: "You'd have to be retired or unemployed to play test cricket in New York."
Most parks have badly tended grounds that obligate the use of jute mats rolled across pitches to create a semblance of flatness. They are kept in large rusty lockers on park grounds and their removal signals a game's start. They also protect the batsman: a bowled ball that ricochets off a stray rock or piece of glass can turn dangerous and unpredictable.
But the game is now perhaps better organised and more popular in this small universe than ever before. About a thousand people play cricket seriously in New York (hundreds more play casually), and Queens alone has 16 weekend leagues. There are players who have competed professionally in their home countries, though the majority are passionate amateurs: accountants, cabbies, auto mechanics, doctors, engineers and bankers who await their weekend league games with the same itch Upper East Siders have for driving out to the Hamptons.
Fifty-nine cricket grounds exist in the city (vs. 634 baseball diamonds). Websites like newyorkcricket.com and dreamcricket.com chronicle the scene hungrily, posting game schedules and commentary. In 2008 the New York City Department of Education created the country's first competitive public school cricket program, which now has 30 teams. Whispers exist even of a potential cricket stadium in Queens, though it's worth noting America's only internationally recognised cricket stadium, Florida's Central Broward Regional Park, has yet to impress with its profits and attendance numbers.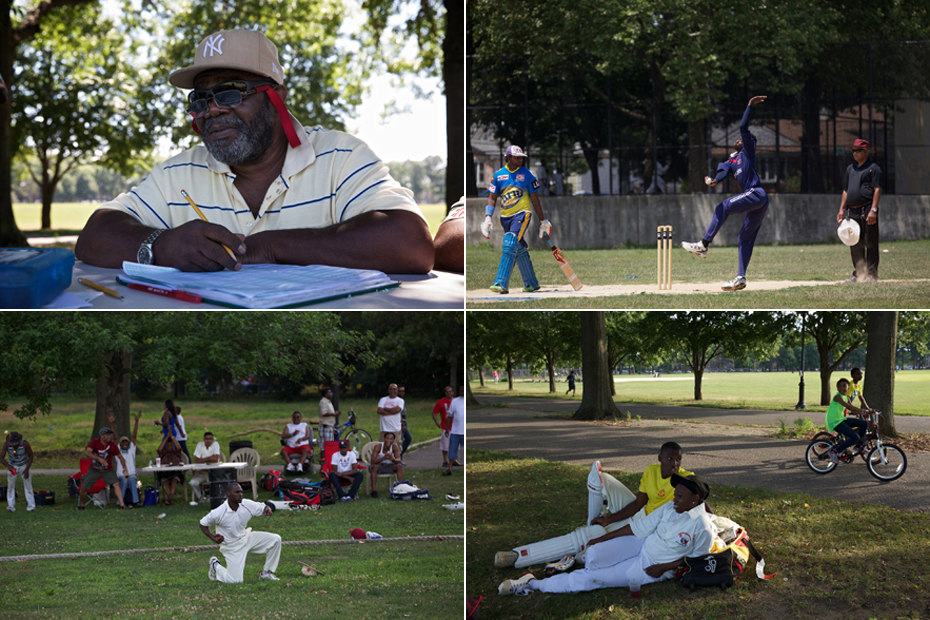 Manhattan
I spent June exploring the spectrum of New York cricket. I witnessed informal practices in parks, met players who once competed for Caribbean national teams, hung out with the 18-year-old star of the high school cricket scene, and visited a cricket shop in an area of Brooklyn so industrial and unwelcoming that I was certain I'd come to the wrong place: I found a business stocked with hundreds of bats and balls run by two Guyanese brothers who distribute a majority of all cricket products used across America.
Early on, the Columbia Cricket Club invited me to a Wednesday morning practice in a park on the west side of Manhattan. It was at 6 a.m. so members, some in finance, could make it to work. Manhattan has the smallest cricketing presence of all the boroughs, and I am confident this was the only place on the island where the sport was being played that morning. "I'd bet my house on it," one of its members told me.
The sun had just risen. Players arrived wearily, setting their gear bags on a bench beside the baseball diamond's cage. I sipped coffee and ate an egg sandwich. One member set up a plastic wicket near the cage. Another put on his pads and helmet. Jackhammers drilled in the distance. Nearby, a woman practiced tai chi.
The group moved far away enough so that they could have a decent run-up to bowl to the batsman. Some were not much better than me; others bowled with marksman-like precision, hitting the plastic wickets squarely, making them shake about like an inflatable child's toy.
Josh Webb was one of the fastest and fittest bowlers. He moved from New Zealand six years ago and works in media. "I don't really care, or think it matters, if others don't understand what we're playing," he said of the inquisitive passersby. "If people ask, we tell them it's like baseball, even though it really isn't."
Eager to show I possessed some knowledge of the game, I asked about 'bodyline' bowling. My father has an almost gleeful obsession with this aggressive technique in which, as I understand it, the bowler aims for the batsman's body, rather than the wickets, thus intimidating him and breaking his concentration. I've concluded that my father, in his youth, probably enjoyed having a socially justifiable way to injure someone. Did the New York cricketers share that proclivity? "We're just trying our best not to bowl a wide," said Webb. "You won't see bodyline bowling in New York. Most players aren't good enough."
A heavyset batsman started pounding balls into the far reaches of the field, creating a sad procession of sleep-deprived men jogging to collect them. He walloped another, sending it near the park's public restroom.
"Cricket was once the national pastime, people forget that," a long-time member, Madhura Gunasekera, told me. "Washington, Franklin, all those guys played cricket. The first international game was Canada versus the USA." Old teams in Boston and Philadelphia, he said, once boasted players of the same calibre as the best in England.
A historic cricket club in Philadelphia, he told me, keeps a framed article about Babe Ruth, the legendary baseball player, meeting Australia's Donald Bradman, his cricket equivalent. "It's about them together for the first time," he said. "They both knew about each other's fame." But 'The Babe' was surprised by Bradman's modest height. "I expected you to be bigger," he said. 'The Don' replied by commenting on Ruth's trademark paunch: "I expected you to be fitter."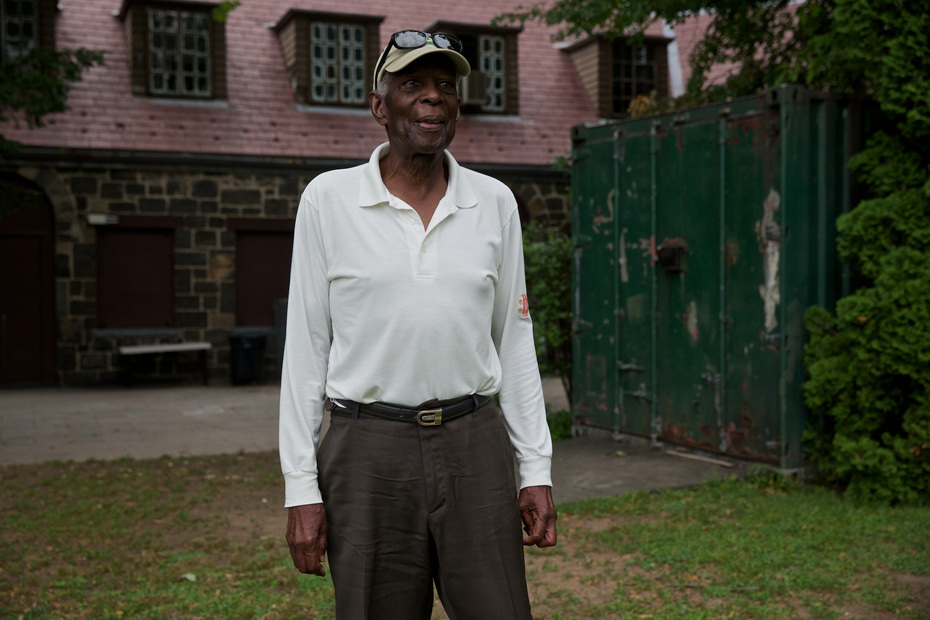 Staten Island
Cricket's early American origins intrigued me. It was hard to picture hundreds of people showing up for a test match in prerevolutionary Brooklyn. This led me, improbably, to Tom Melville, a 59-year-old scholar who lives outside Milwaukee, Wisconsin. His book, The Tented Field, is a comprehensive look at the history of cricket in America. He travels around the country to American history reenactment festivals, where he wears Civil War-era clothing and teaches adults and children how to play their country's original national pastime.
"It's probably the oldest sport in the country," he said when I reached him by phone. The earliest record of organised cricket on which most scholars agree comes in 1709, in the form of a diary entry by one William Byrd, a Virginian plantation owner. Records show important early Americans played: George Washington, one of Ralph Waldo Emerson's sons and, in Iowa, Ernest Hemmingway's great-grandfather. It was a game favoured by the rich and privileged, senators and congressmen. "What makes a game American?" Melville mused. "Who plays it? How old it is? Well, in that case, cricket wins in America. Hands down."
Cricket's US popularity peaked between the 1850s and 60s, when bigger games could draw thousands of spectators. Gradually, however, baseball became the bat-and-ball game of choice. The skill level of American cricketers was far from second-rate. "The 1898 team in Philadelphia? They could have easily beat England or Australia," said Melville.
But if cricket was so popular, how did it fade away so definitively, ending up relegated to overgrown parks in distant parts of Queens? Perhaps it had to do with Americans wanting a national sport without a British imprimatur. "Historians have spilled a lot of ink on that question," Melville told me, growing heated.
Some cricket scholars agree that the sport's British connection hastened its demise; others believe the game's length did not suit impatient Americans and still others say that baseball was simply less expensive to play and host. Melville's verdict? "Cricket failed in America because it did not establish an American character. I think that's what's holding it back today. It carries too much cultural baggage."
As for New York, he told me: "Cricket is an immigrant game there, and that is positive and negative. It is positive in that it maintains a presence. But the downside is that it has remained an immigrant sport. An invisible sport."
One relic of New York's cricket history exists. To see it, head to Staten Island, cruelly dubbed the 'forgotten borough' by some New Yorkers. Walker Park is home to the Staten Island Cricket Club, founded in 1872, the oldest continuous cricket club in the United States.
While other historic clubs have closed, cricket has endured in this modest park, situated in an Italian-American suburb. The club does not look as if it echoes with cricket history, but Donald Bradman once played here, as did such other greats as Gary Sobers and Everton Weekes. In its heyday, the Staten Island team competed internationally. It was once composed of wealthy British Wall Street men. Hundreds of fans would sit on its then well-manicured lawn to watch games. The club, and New York's cricket scene, enjoyed a brief burst of international attention when the Irish-born novelist Joseph O'Neill featured it in his 2008 best-selling novel, Netherland.
It's also the only cricket ground in New York with a clubhouse. The city has owned Walker Park since 1930, so much of the clubhouse has been repurposed, but faint traces of its cricket past are still there: its majestic redbrick Tudor-style architecture, two changing rooms (one for the home team, one for the visitors), and a large space that once housed a bar.
I went to see a game one Saturday in July. Most team members were middle aged. One man who appeared to be in his late 60s bowled with the gusto of a 20-year-old. The players changed into their whites in the locker room. A wooden scoreboard was set up (in most leagues players must keep mental tallies). Plastic chairs were brought out. Someone started smoothing the pitch with a rake-like instrument. Six men dragged the heavy jute mat from the clubhouse to the field.
Disagreement arose over where to rest the mat. Charu Choudhari, a 62-year-old who has been with the team since 1985, insisted there was a depression in the pitch and that it would interfere with the ball's trajectory. He was correct: a dent had appeared – perhaps from abusive football studs earlier in the week – and after five minutes of moving the mat back and forth they nailed it into place. "This is bush cricket," Choudhari said.
The club's president is a tall, elegant 80-something man from Tobago named Clarence Modeste. If a revered figurehead in the New York cricket community exists, it is he. Five interviews ended with the question, "Have you spoken with Clarence yet?" Modeste moved to the city in 1959 and joined the club in 1961.
"Even though there are what appear to be these stark differences between a lovely English cricket club somewhere in the countryside and the rough and tumble and noisy New York," he said, "there's not enough of this rough and tumble character to discourage cricket from being played here."
"The game came into my life early," he added. "If I shouldn't play cricket, if I dismiss myself from the cricket scene, it would be like losing a good friend, like cutting off an important part of myself and floating it off to sea."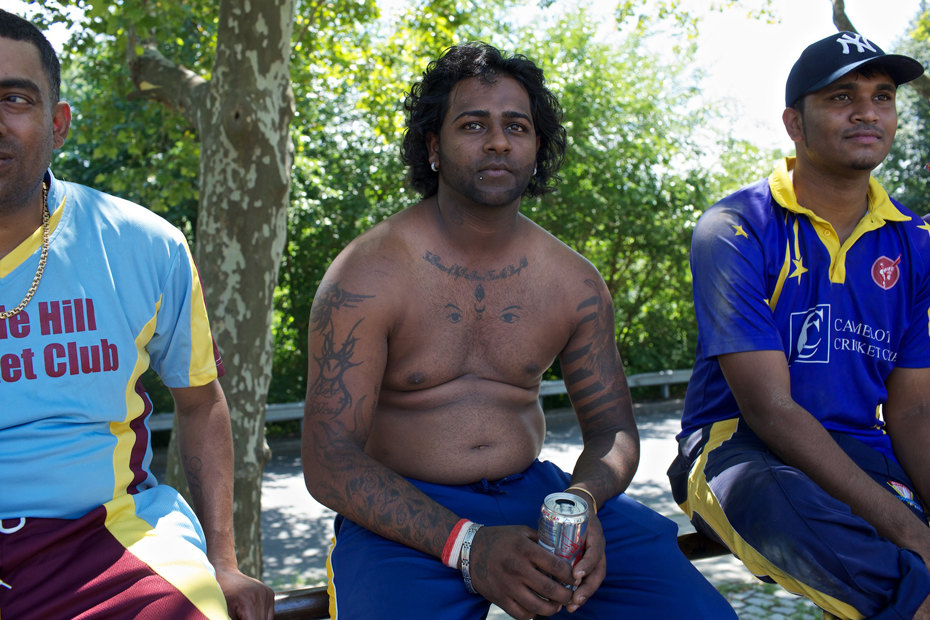 Queens
Until this summer I don't think my father had ever gone to Queens for any reason other than to catch a flight from LaGuardia Airport, but I dragged him there to see a match at Baisley Pond Park. I also had something else in mind. I was going to take him to the city's only indoor cricket batting cage so that he could bowl for the first time in 30 years. I would bat.
As we drove through the far reaches of Queens, Max talked of his cricketing youth.
"I used to do a very short run-up and I was always very successful at destroying them," he said of his bowling abilities. "We used to use briefcases as wickets. I thought that was going to be my future," he said wistfully. (Improbably, he became a portrait and fashion photographer.) When we arrived my father looked at the pitch: "What the hell is that?"
Baisley Pond Park is among the scrappiest of all New York's cricket grounds, with shabby overgrown grass and many littered patches, but it's an undisputed nucleus of the sport's Queens community. The granite stands were filled with Guyanese players. A family had pulled the backseat row from their parked van out onto the street to use as a couch. When a truck sped past, the driver yelled from his window: "Hit a six!"
"This is guerrilla cricket," my father said, somewhat shocked. He was out of place, as though the word 'Manhattan' was stamped to his forehead; but he quickly made friends and chatted with Derick Narine, 18, the star of the high school cricket scene. By the game's end he was impressed. "Those guys weren't mucking around," he said. "All they need is a decent turf."
The batting cage was in the middle of Queens. It was a ratty and poorly air-conditioned establishment – effectively a baseball batting cage. Its longhaired owner, Ross, decided to capitalise on cricket's rise in popularity, so he repurposed two lanes for the sport. He gave us balls, a wicket, a helmet and leg pads, before returning to his heavy metal.
We entered our lane and I put on my padding. I breathed heavily in the cage-like helmet. The first balls were warm ups. But then he moved back and introduced a short jog before his throws. The fluid arc of his arm was remarkable – a natural talent that has remained intact after all these years. The balls now stung, battered and bruised me. They zipped into the wickets. One ball rang right into my helmet.
"That's what we call chin music," he said – pleased with himself. "I'm going to throw a short one now. Don't be afraid."
In this sweaty dim-lit cavern we connected with something that had long escaped our bond. On the drive home I thought back to the match at Marine Park and felt closer to my city as well. I had watched the Jamaican cricketers, and the diverse scene anchored around them, from a quiet patch of grass. I was absorbing the full swell of New York's immigrant story and was reminded again, for the first time in a while, of its capacity for miracles.