Stuart Anderson-Davis on why we cannot allow Putin to take the heat off Qatar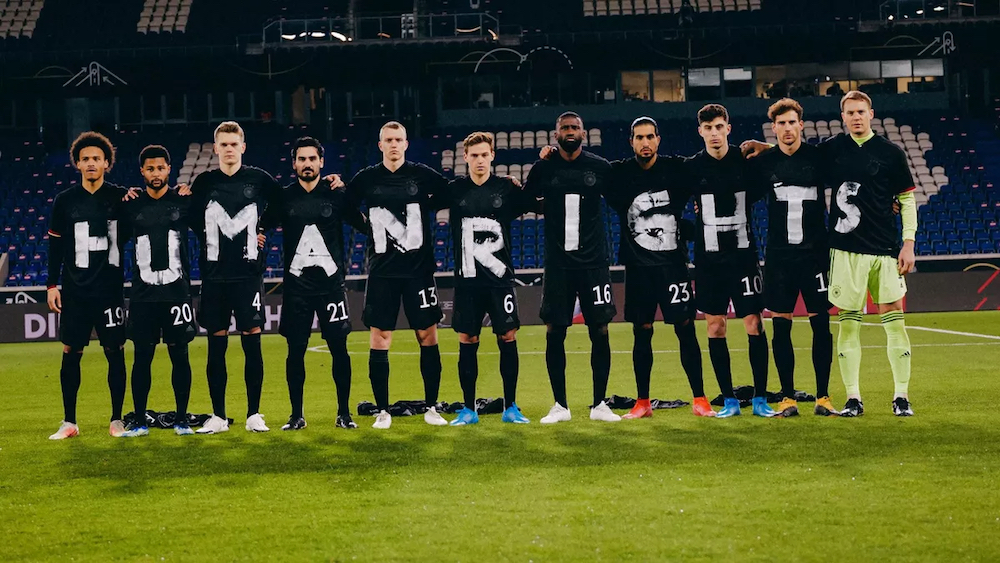 I wonder if the Emir of Qatar allowed himself a smile as he watched the Russian tanks roll into Ukraine?
The ruler and his small desert state were supposed to be in the media crosshairs by now. With the close of Beijing's Winter Olympics, the spotlight of scrutiny was turning to Qatar and its upcoming football World Cup. Then Vladimir Putin unleashed hell in Ukraine, and now we all have something more immediate and dangerous to worry about than yet another example of sportwashing. However, we cannot allow the horrors unfolding in Ukraine to destroy this unprecedented opportunity to save lives in Qatar.
As someone who worked in PR, I know that the Qatari regime is grateful for Putin diverting unwelcome attention from the build-up to this winter's World Cup – a spectacle somehow even more depressing than the tournament held in Russia four years ago. Like Putin before them, the Qataris have captured the perfect vehicle to reach an audience of 3 billion people; to project a duplicitous vision of the state that is based on sporting excellence, not the crushing realities of terror, brutality, and prejudice.
Qatar's two million migrant workers – a staggering 95% of the total workforce – have borne the deadly cost of this sportwashing. Since 2010, nearly 7,000 workers have died building the tournament's infrastructure in scorching, deadly conditions that endure to this day. There has been no accountability for their deaths, nor compensation for the families – only cover-ups and lies. Today, migrant workers still live in crowded, squalid conditions. The vast majority cannot leave the country or their abusive employers, while many have their passports and wages confiscated.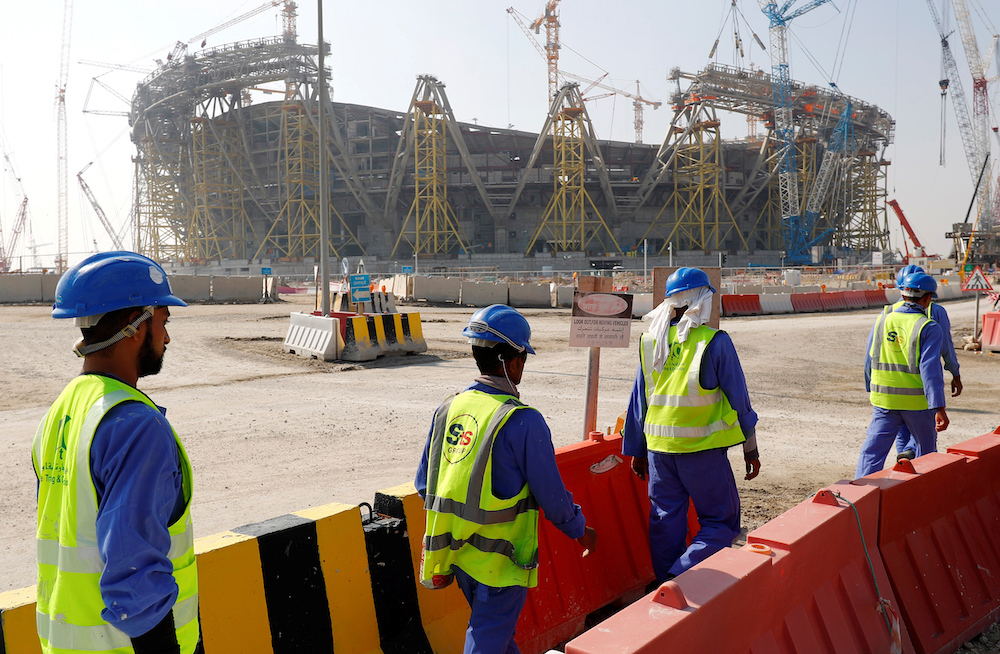 Across the state, women face gross systemic discrimination, including a "male guardianship" system that requires permission from their husbands or sons to travel or receive medical care. The regime also perpetrates deadly punishments against the LGBTQ+ community, including flogging and the death penalty. Australian Josh Cavallo, the only openly gay man currently playing top-flight football, recently admitted he would be "scared" to play in Qatar. Is this a suitable venue for the pinnacle of the Beautiful Game?
There is one glimmer of hope in this bleak situation. Qatar's rulers care deeply about their global image and they can be "named-and-shamed" into action. Indeed, public pressure has already brought about some improvements, but much more must be done to give migrant workers a fighting chance. The regime also has a track record of broken promises – not least its deceitful claims to have dismantled the kefala system of forced labor. Unceasing scrutiny and candid (but constructive) engagement are the only ways to compel meaningful change. But with eight months to go before the tournament kicks-off, the opportunity is shrinking by the day. When the final whistle blows, the world's attention will turn away from Qatar and the chance to protect and enhance millions of lives disappears.
Only those with global profile, political influence or serious financial muscle have sufficient power to shake-up the Qatari leadership. Corporate sponsors that don't want their marketing campaigns hijacked by protestors. FIFA executives are tired of seeing their "brand" dragged through the mud. And then there's the players themselves. Take the England team, for example. Manager Gareth Southgate has carefully cultivated an environment in which his young stars feel empowered on and off the pitch. Speaking out about everything from racial justice to children's nutrition and mental health, the team has made a nation proud by standing up for what is right and calling out injustice. So why are the players so silent on Qatar? Last weekend, Southgate spoke briefly to reporters about his concerns ahead of the tournament, but questioned whether his team would be able to make a positive difference in Qatar. Southgate has promised that his team will "educate ourselves" about the situation, but the clock is ticking and the facts are clear: 7,000 dead to deliver a football tournament.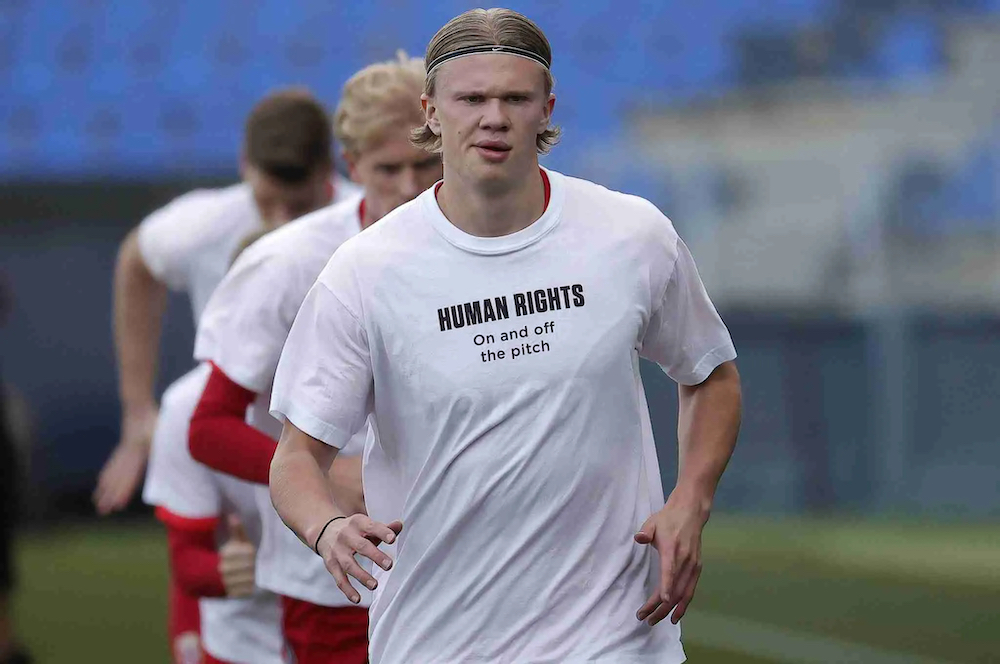 England and its Football Association (FA) are lagging behind Germany, the Netherlands, and Norway, whose players and administrators are successfully drawing attention towards abuses in Qatar. Indeed, the German Football Association (DFB) recently adopted a comprehensive human rights policy. The FA and Premier League, meanwhile, have only just admitted that human rights concerns should maybe become a factor in determining who can own an English football club. It took a war in Ukraine to get that far.
It's not good enough. The FA must support the global campaign for humane labour practices in Qatar. They must also demand a comprehensive, independent investigation into worker deaths connected to the World Cup. In his recent comments, Gareth Southgate stated bluntly that "the building of the stadiums was the first and there's nothing we can do about that now." However, the fight to deliver justice for the families of thousands of dead workers is far from over, and the players themselves must use their global reach and influence to shine a light on the forgotten victims of Qatar 2022. The Qatari regime treats migrants as if they do not matter – in life and in death. They think that nobody will care about the thousands who died so they can flaunt their wealth and power. This England team can prove them wrong by speaking up for all of us who love football, but cannot bear what's happening in Qatar. They must get off the fence and act before it's too late.
Putin and Qatar believe football has the power to change the world. It's time to prove them right.
Stuart Anderson-Davis is a Ph.D. candidate at Columbia School of Journalism and a former PR executive