In an excerpt from the literary magazine's seventh issue, guest editor Mireille Cassandra Harper celebrates the Caribbean through stories, essays, reviews and poetry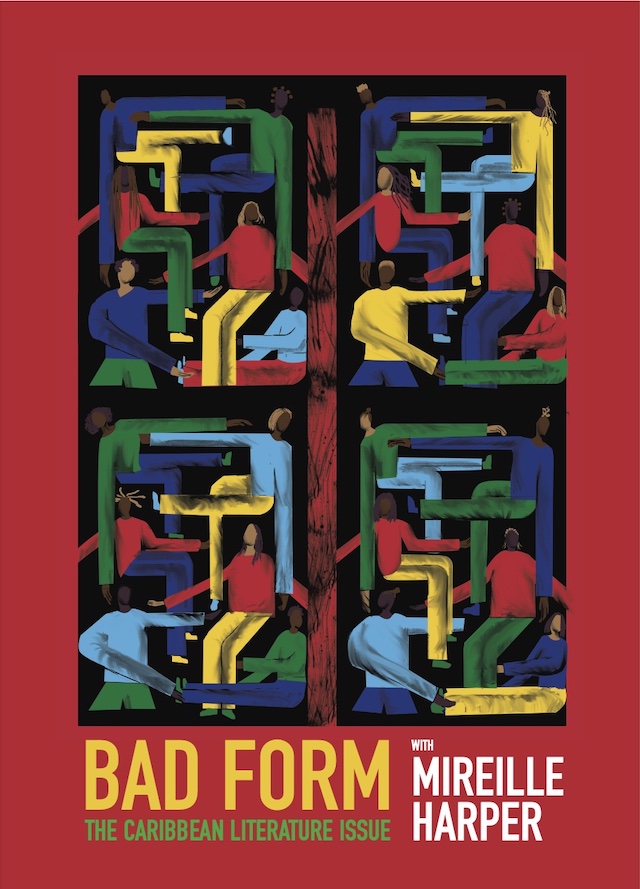 I am a second-generation Jamaican. Despite my grandmother moving here in the 1960s, my mother remained in Jamaica, a 'barrel child' and spent her childhood in the parishes of Clarendon and St. Catherine, raised by her grandparents and later her aunt. She has often entertained me with stories of her childhood, visiting then-untouched beaches, fond memories of picking fresh mangoes, oranges and cashew fruit (often surreptitiously), the goats, chickens and other animals that her grandparents reared on their farm, and the joys of a rural and idyllic childhood. 
I grew up with an intense love and appreciation of my Jamaican heritage, that was always supported and nourished. Our home was filled with the sounds of Morgan Heritage, Richie Spice, Tarrus Riley and other music icons. From Lover's Rock Sunday sessions and Vibes FM car journeys (those who are familiar will recall the hilarity of the incessant interruptions declaring that the station was 'the wickedest in the whole world') to late nights on holiday in southern Italy, where my parents would drive out to arid, empty locations in the middle of nowhere so we could enjoy open-air reggae concerts with the likes of Jah Mason, my mother and I belting out "My Princess Gone" without a care in the world. Storytelling and literature played a big part too. I was regaled by tales of Jamaican folklore, my favourite being the story of River Mumma, a mythical sea siren. A literary lover from a young age, my mother sought out books that put Caribbean literature front and centre. She travelled far and wide to buy me countless titles about the Caribbean, many of which I still own. My personal favourites, Kwame and Netta's Story, came from Black River Books, an independent publisher that sought to revive the fullness of Caribbean heritage by telling beautiful stories of the lives of Caribbean children, putting them front and centre of stories, rather than on the sidelines. I was taken to meet my heroes, John Agard and Grace Nichols, and cherish the beloved signed copies I went away with to this day.
As I've grown older, more complexities around my heritage have come to light. In recent years, I have grappled with difficult conversations with my grandma – if you have ever tried to persuade your grandma, especially a 92-year-old Jamaican grandma, to consider a different way of thinking, you'll know how challenging that can be. I've also attempted to reckon with the fact that my family is split across towns, states and countries – disjointed in more ways than one, and tried to reckon with intricate and at times, painful family histories and hidden secrets that inevitably have come to light as I grow older. At the same time, I have built deeper connections with family members, expanded my knowledge on my family history and heritage, and both listened and taken in the wisdom of my elders. Outside of my familial relationships, I am seeing what it means to be of the Caribbean diaspora, redefined through music, art and of course, literature.
When I came across Bad Form last year, I felt like I had finally found a literary space that encompassed the richness, vibrancy and sheer brilliance of Black, Asian and marginalised writers. Headed up by the phenomenal Amy Baxter (who will likely own her own publishing house one day, mark my words!) and the stellar team – Morgan, Sophie and Emma who are all immensely impressive in their own right – I found Bad Form's active and dynamic approach to platforming Black, Asian and marginalised writers a breath of fresh air in what can often be a stagnant, elitist and if I am to speak frankly, institutionally racist industry. I knew instantly that I would love nothing more than to work on an issue celebrating Caribbean writers and so the idea for Issue 7 (my lucky number, what are the chances?) was born.
We picked June by chance, but writing now, this publication marks an important time for the Caribbean diaspora. As this issue lands in your hands, Caribbean American citizens are honouring their heritage during Caribbean American Heritage Month and the UK celebrates the 73rd anniversary of the Windrush generation coming to Britain. This feels, in this moment, like a literary ode to what is a month of both remembrance and celebration. A celebration of the Caribbean and all its greatness, this issue boasts 17 stellar writers who each share their stories, essays, reviews and poetry for your literary pleasure. From opinion pieces on Jamaican patois and revelations on queer and non-binary defiance in contemporary Caribbean poetry to literary essays on West Indian revolutionaries and narrative poetry that bring folktales and legends to life, each piece is a gem in its own right.
Like Amy, I'm not one for favourites – each of these contributions is equally brilliant – but some left me reeling after reading. Ashley Roach McFarlane's spectacular piece on the historical development and exportation of homophobia to Jamaica and Desta Haile's breathtaking poem, Blue Blood – an ode to her late sister and her childhood years spent in Barbados are two I would recommend you devour instantly.
This issue's mesmerising cover comes from illustrator, Tomekah George, who creates colourful artworks which sit between collages and paintings. Her abstract design pays homage to the diversity of the Caribbean – across its peoples, cultures and landscapes – coupled with the connectedness of its persons. A huge thanks goes to Tomekah, who approached this with such care and love. 
Thanks also to Duppy Share who have kindly partially sponsored this issue. Many brands co-opt Caribbean culture without consideration for its people. It has been a pleasure to work with an organisation that appreciates the labour, effort and time that the team at Bad Form undertakes for each issue, respects how we choose to present our respective cultures and heritages and recognises the value in this work.
And, of course, thank you, Bad Form readers. Without your support, this issue wouldn't exist. I hope reading this nourishes your spirit. It has been an honour to work on this, to encounter incredible writers, poets and essayists, and to work with such a brilliant team of brilliant women. May you cherish it as much as I have.
Mireille x
Bad Form is available to purchase here