Since helping define the sound of 'underground' rap in the 2010s, the musician from Florida has been on a tear, showcasing a rare range and depth. In the wake of last year's soul-searching album, Melt My Eyez See Your Future, the issue 32 cover star discusses the clarity therapy has brought him, choosing feeling over words when creating records, and the influences behind his upcoming R&B project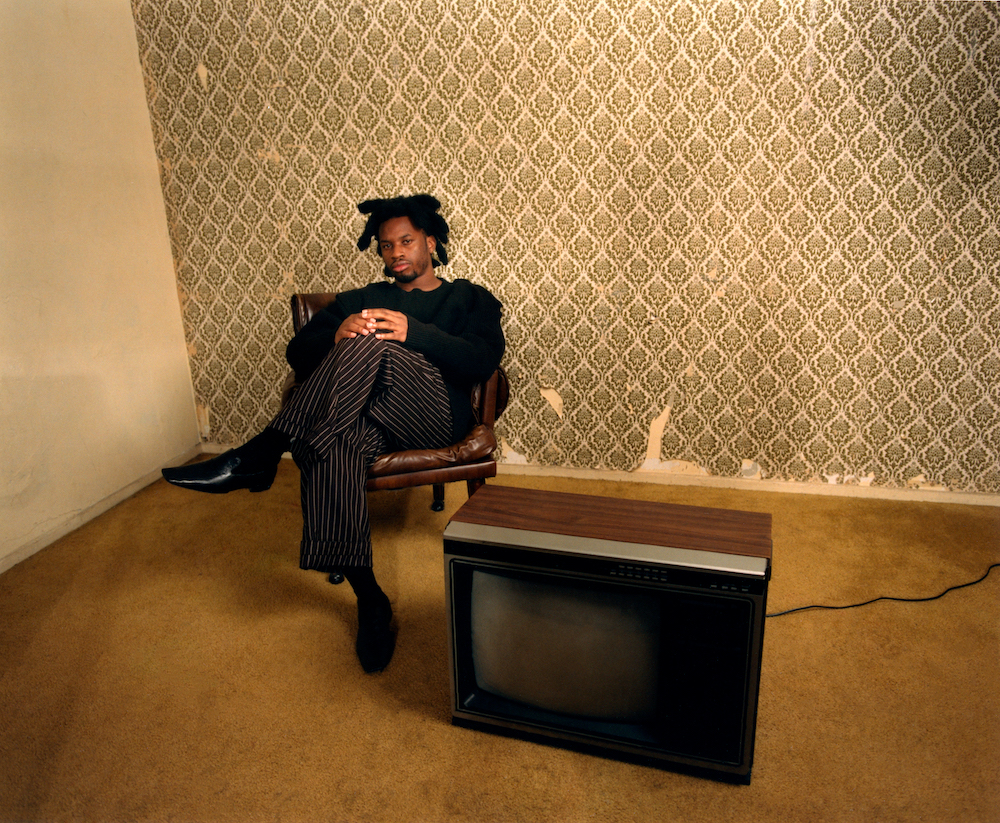 Denzel Curry is learning the value of self-control – of discipline and restraint. He speaks fondly of both his martial-arts training (in Muay Thai) and his therapy, finding symmetry in what he's learning. "My teacher said, 'I know you're capable of fighting, but sometimes you just need to get out the way', and then I went to therapy, and my therapist was like, 'you know, instead of trying to fight the urges that are inside you, sometimes you just need to stay out the way'," he explains on his way to physical therapy, pinpointing an epiphany. Clearly gregarious and effortlessly charming, Curry takes time to extol little mantras – "it's better to listen than to talk" – as he talks about putting his mental and physical lessons into practice. Now a Los Angeles transplant, the Carol City native has made a comfortable career as a rap polymath. He has donned many roles: phonk revivalist, bass-booster, SoundCloud trailblazer, regional representer, whirlwind freestyler, and young veteran, to name only a few. In a post-pandemic world, he is trying, somewhat diligently, to add enlightened sage to the mix.
Growing up scrapping with three older brothers, a rap culture war waged in his household. As the others listened to street stars like Lil Wayne, 50 Cent, The Game, and Jeezy, or mixtape favourites like Gucci Mane, Lil Boosie, and Future around him, he was more drawn to Lupe Fiasco, Kanye West, and MF DOOM, and hardcore throwback lyricists like RA the Rugged Man, Big L, and Big Pun. As he was getting deep into Kid Cudi, his cousin, Scrilla, was rapping locally, eventually signing to Rick Ross and presenting rap as a possible career path. "He was the first person I'd seen to come to my house with a donk that had the fucking butterfly doors on it," Curry says. "He was my first indication like, 'oh shit, you could really be a rapper,' because I'd seen him do it."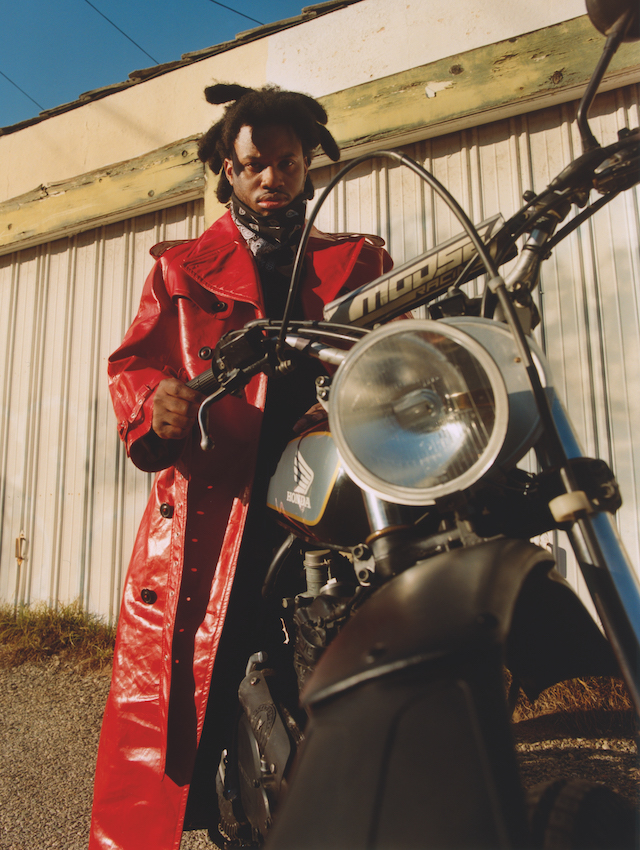 After getting kicked out of Design and Architecture Senior High School, a magnet school still recognised as a renowned institution in Florida, Curry's parents split up, and he was sent back to Carol City High, which he describes as "notorious for crazy shit". Though Curry condemns Design and Architecture for "dick-riding kids that had art skills… if they didn't see you had talent, they didn't give a fuck about you" – some teachers took interest in him. One in particular helped sharpen his talent. "She was taking me to all the poetry slams; she was really helping me harness my skills as a writer. She put the time in to make sure I was really good at writing to a point where there was only like five kids that got a six out of six writing on the FCAT," the standardised test in Florida. Relocating to Carol City High with his skills honed kicked off his rap career in earnest.
He started rapping with Mike Dece, who connected him with another rapper going by SpaceGhostPurrp, founder of a local collective called Raider Klan. "I would have to pass the hood in order to get to the suburbs to (Mike Dece's) house – take the metro rail, take the bus, take the metro rail, get to his crib; I brought my microphone, brought my notepad, and we would just try to make music in his house. He was like, 'We're going to make music with this guy SpaceGhostPurrp,' and I'm like 'aiight, whatever'." As Curry became enamored with Purrp's Blackland Radio 66.6 tape, he was coming into his own sound. "That's when I really got deep into Three 6 Mafia, and I stumbled upon Lord Infamous and the way he was rapping," he says. "I was like, that's how I got to rap. If I'm going to rap like anybody, it's got to be like him. And that's how I developed my flow."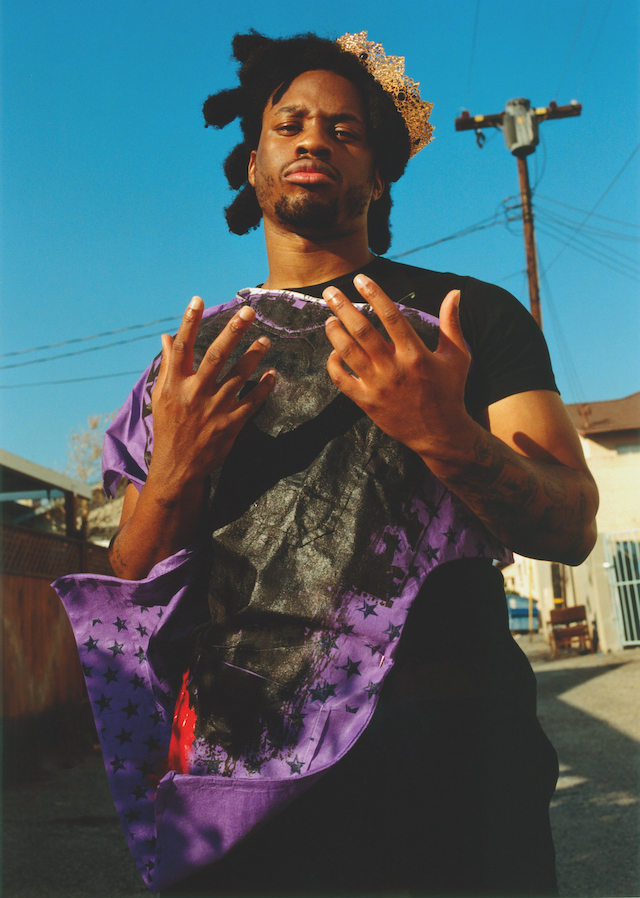 Curry's ascent was equal parts local fortune and online savvy. His explanation of his working process reveals signatures of the blog internet. He would tag dozens of people telling them to check out his songs. He posted on Facebook that anyone who liked the post would get a shoutout on a song called 'Raider Klan x Raider Klan'. He put the resulting re-released tape, King Remembered Underground Tape 1991-1995, on SpaceGhostPurrp's page, and a small movement was born. "I would record a song on Audacity, put it through Virtual DJ, put soundbites from Mortal Kombat, just like on Blackland, and like, put an echo on it, figure out the echo, and then press play and record at the same time. And it would run the whole tape through and then I would start doing my own shit. And then I'd put it out." But connecting with Purrp, a like-minded Carol City kid, was just serendipity (or kismet). After two more haunting 2012 mixtapes furthering the phonk resurgence – King of the Mischievous South, Vol. 1 and Strictly 4 My R.V.I.D.X.R.Z. – 2013's Nostalgic 64 ushered in Curry's breakthrough moment.
Nostalgic 64, which celebrates its 10th anniversary this year, helped to define the sound of 'underground' rap online in the 2010s. "When I did Nostalgic 64, that was supposed to be the hyper-good version of what I was doing before – once I realised the bars was intricate and what I was talking about was reality for me," he explains. "When me and MarkMC9 started working on a project with Ronny J, Lofty305, POSHstronaut, Klvn Tyler, Lil Ugly Mane, Mike G from Odd Future, Simmie and Robb Bank$, I wanted to showcase Miami and living in South Florida at that time period because we was influenced by good kid, m.A.A.d city," another regional, autobiographical record about putting your hometown sound on the map. Curry notes the album's influence on several of the younger local rappers that followed: Ski Mask the Slump God, XXXTentacion, Wifisfuneral, Smokepurpp, and Lil Pump. At 18, Curry was already an innovator.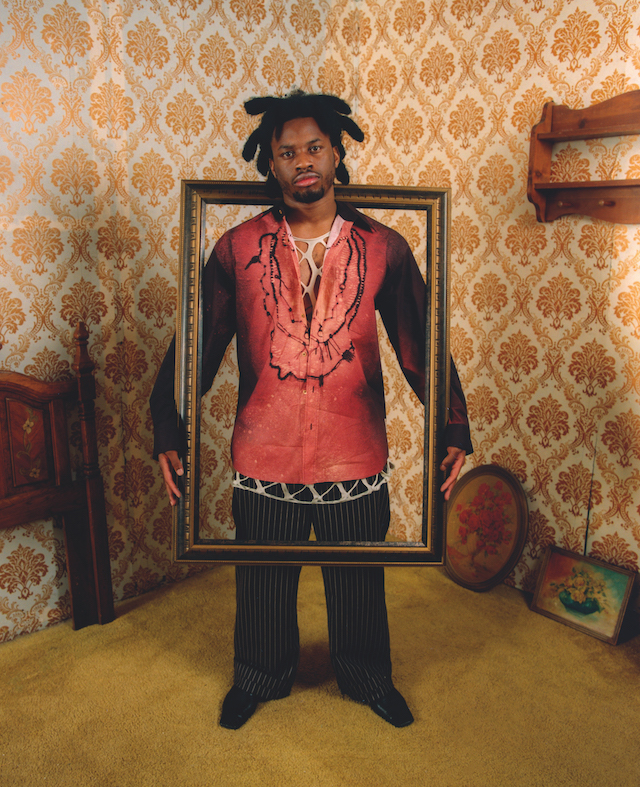 SoundCloud rap emerged from that moment. Though only broadly connected, the rappers inspired by projects like Nostalgic 64 went on to shape the late '10s. "I'm one of the pioneers of that shit," Curry says confidently. "But that doesn't define me. 'Oh, he's a SoundCloud rapper.' No, I'm an artist." Though he's not looking to be tagged, he is somewhat keen on keeping the respective lineages for modern rappers straight: "They were all descendants of either Raider Klan, A$AP, Odd Future, or fucking GBE."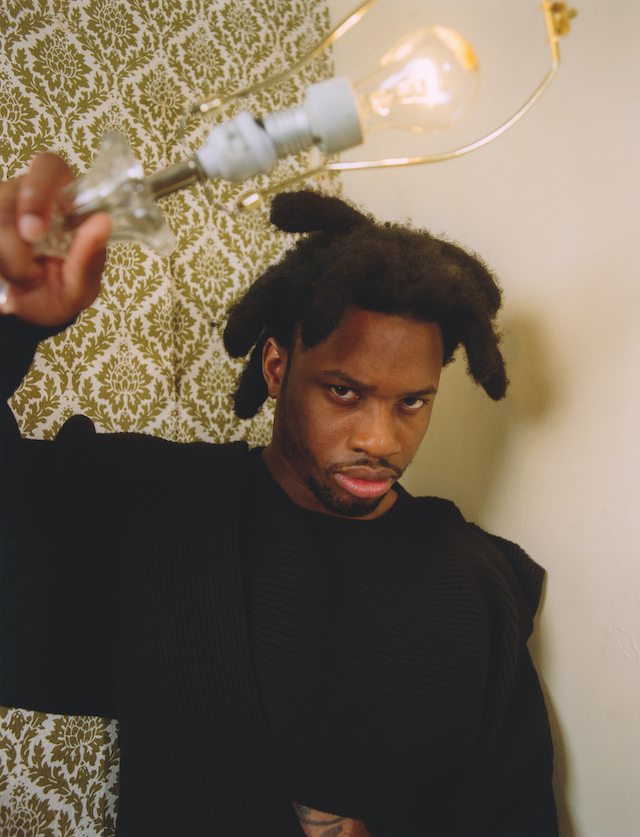 In the years since his debut, Curry has been on a tear, releasing stunning albums that continue to reveal his range and depth – 2016's shimmering, rapid-fire Imperial, 2018's dark, diffuse Ta13oo, and 2019's sweeping, homegrown ZUU. It is ZUU, in particular, that feels like Curry's masterpiece, encapsulating decades of Florida rap history and placing his music along the continuum. It is a byproduct of home. "When you grow up in Miami, you're going to get all different kinds of music," he explains. "I was exposed to, of course, Southern rap, like Trick Daddy and Trina. Living in Carol City, it's nothing but Jamaicans. So you're going to get Buju Banton, Red Rat, Mavado, Vybz Kartel. And then you go over to Hialeah, you're exposed to a lot of Latin music, a lot of music from Cuba, from Venezuela, from Puerto Rico. You getting Dominican music. All that shit. You go to quinceañeras and regular birthday parties and hood shit. Then you got people that was on that mafioso type of shit where they actually had bars, like Gunplay and Rick Ross, and you get that Jay Z-esque kind of thing going on. And despite all that was going on musically within the city, I felt like we didn't have too many things that were different coming out of the city, and I wanted to do something different."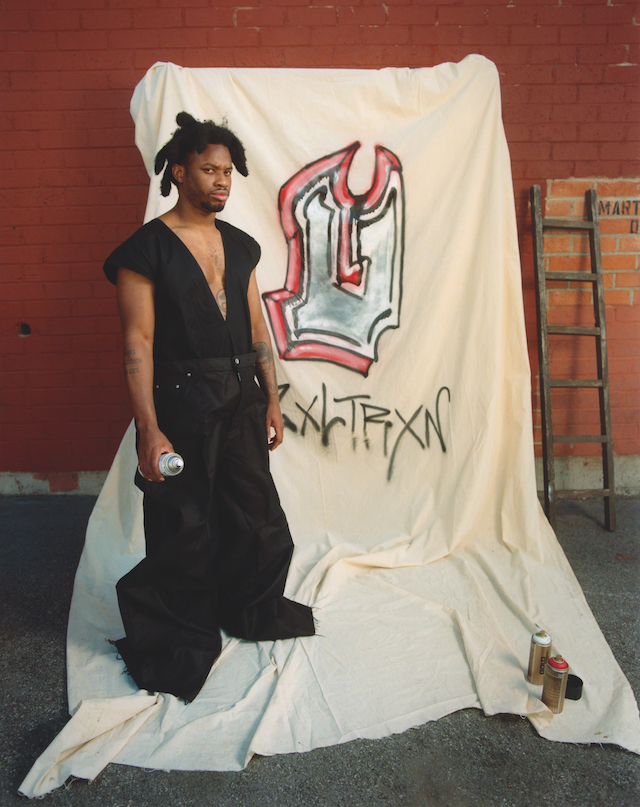 Being versatile is a point of pride for Curry. "If you don't adapt with the times, you're going to be considered archaic and obsolete," he says. "And then they gonna get somebody that is adaptable. They take the spot and next thing you know, you're falling into obscurity, and being like, 'I did it first.' But they did it better." Part of that adaptability, for him, has meant thinking differently about rapping, and how best to make rap songs. Once an avid writer, he now freestyles often. "I used to think it was just about words, words, words, words, words, words, words, and it's not about the words. It's about how it makes you feel. Does it make you move? Does it make you think? Does it generate any kind of emotion out of you? It's really based off the feeling, composing records."
No two Denzel Curry albums are alike, but his most recent album, Melt My Eyez See Your Future, reaches for something truly singular in his discography. It is a soul-searching album of sleight social commentary, which is not out of turn for an artist who rapped about Trayvon Martin in 2012 and lost a brother to police violence in 2014, but it is marked by a warm palette featuring pianist Robert Glasper, bassist Thundercat, and more. "Melt My Eyez See Your Future is basically an introspective record," he says. "I wanted to show the real me; what I go through on a daily basis. I didn't have nothing to talk about after ZUU. And then, next thing you know, quarantine happens, and all these emotions, and all these feelings, and all these thoughts just coming at me. Now all of a sudden, I have everything to talk about because there's nothing else. You got to face yourself. It was like a self-reflective project. It was a project about self-discovery."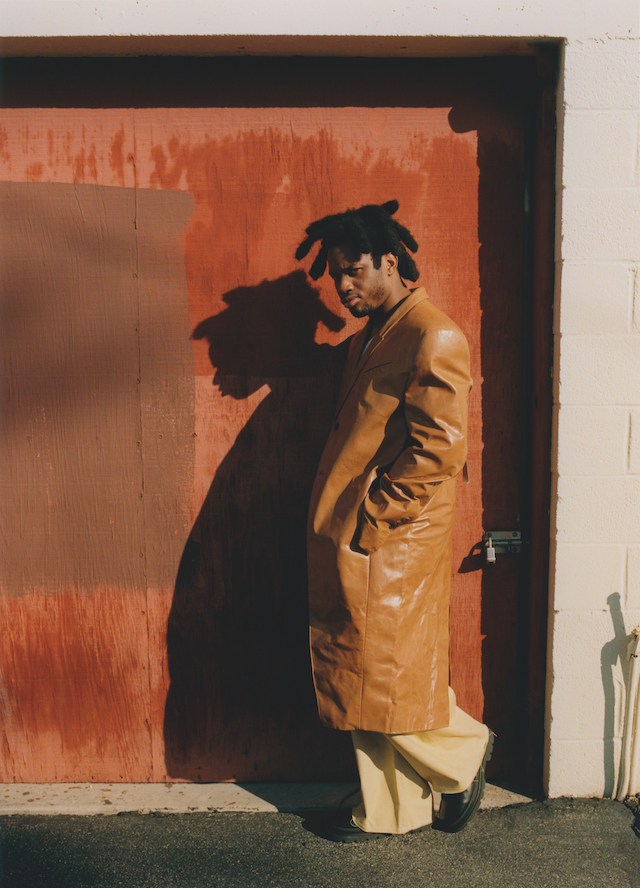 The album was inspired by the Soulquarians – hearing the Roots album Things Fall Apart for the first time led him to Mama's Gun and back to Voodoo. Curry was enthralled by the instrumentation and the way artists rapped through it. "The way it was rapping over stuff that sounded live; it was sounding great to me." That first day, he recorded 'Worst Comes to Worst' and 'John Wayne', songs that clearly embody that album's jazzy, alt-boom-bap vision. The deluxe version of Melt My Eyez See Your Future, played with the Cold Blooded Soul Band, realises the version originally imagined in his head.
Never one to stay in place, Curry wants to do an R&B album next. The yet-to-be-released Designed By Angels came into focus seeing all the albums made at Electric Lady studios. "I want to make a record how Frank Ocean would make a record. I want to make a record how Andre 3000 would make a record. Even the way Tyler, the Creator made IGOR. He did it his own way. He wasn't trying to be a singer. He knew what he was good at," he says. Fittingly, self-awareness is one of the key things Curry has taken from his therapy.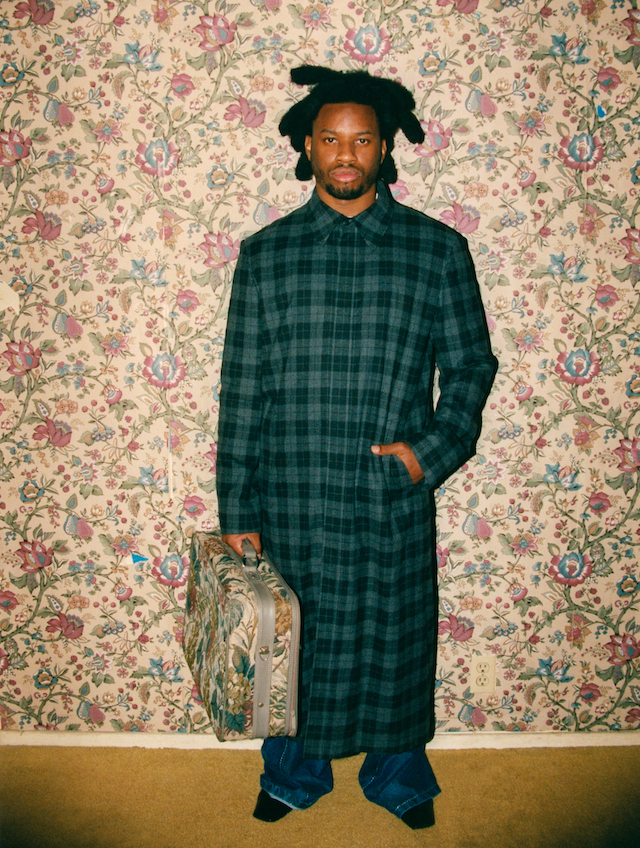 Therapy seems to have done wonders for the rapper, who, on a song called 'Black Metal Terrorist', once yelled, "I'm gonna live by my confidence, I'm gonna die by my arrogance." At the very least, it has centered a scattered mind. "I'm way chiller now. Way calmer. Less depressed," he says coolly. "The things I do have to deal with – I have to deal with my traumas for the rest of my life, my addictions – but that's something that's going to get easier over time. I just gotta put the work in and build that foundation. It made me want to focus more and more on the things that are important to me."
Among the most important things to Denzel Curry is his legacy. But he isn't disillusioned about prestige metrics and how arbitrarily they function. "The one thing that's gonna solidify the legacy is if I get a bunch of Grammys, but since I know the game was rigged already, it's like, fuck that, I'm just gonna get rich." He sounds almost zen. "I'm kind of content with not being super famous. Because I wouldn't be doing half the shit I'm doing (if I was)," he adds. "The one thing I'm going to manifest is not fucking up myself. No matter what it is, I'm not squandering my opportunities because I did some dumb shit." And it is in this way that Curry's tao of self-control comes full circle.
Photography Andrew Friendly 
Styling Reuben Esser 
Set design Ali Gallagher
Grooming Ramdasha
Photo assistants Danya Morrison, Brent Waterworth
Styling assistant Renee Old
Production Lock Studios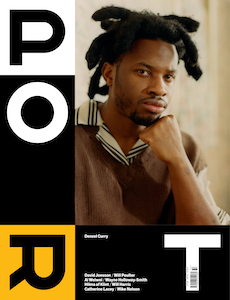 This article is taken from Port issue 32. To continue reading, buy the issue or subscribe here