There's the patience of its practitioners, then the pluck of its protagonists. But horology as we know it wouldn't be without another 'p': pride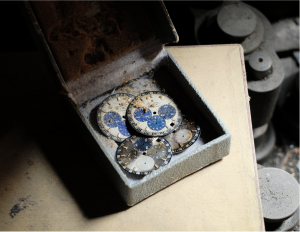 In 1975, the manager of Workshop 4 at Zenith's historic HQ, deep in the valleys of the Jura Mountains, exacted upon a bold and brave enterprise. In doing so, Charles Vermot secured the future of Swiss watchmaking's most pioneering 'chronograph'.
For the past six years, the component parts of every El Primero chronograph movement – the first wrist-worn stopwatch to wind automatically, and tick more precisely at 5Hz rather than 4Hz – had completed their nine-month journey through the factory, landing on Vermot's team of watchmakers' workbenches for final assembly, a full 2,500 operations and 300 artisans down the line. Rightly so, Vermot was about to retire on a high, after 40 years of service.
Dampening proceedings somewhat, an order came from Zenith's American mothership, Zenith Radio Corporation (nomenclature purely coincidental) to cease all production of mechanical watches. All efforts were to be redirected toward novel quartz technology, which meant scrapping the very makings of El Primero at the price of molten metal. Not to mention scrapping the IP of one of the most revolutionary chronographs conceived.
But Vermot had other ideas.
Refusing to see a decade of his life tossed on the scrap heap, over the next few evenings he furtively relocated the calibre's pressing tools, cams and cutting tools to a dusty attic. He made sure each part was labelled and listed, and for good measure copied out the entire production process into an accompanying file.
Come the '80s, with mechanical watches back in vogue, the Swiss consortium in charge of Zenith were struggling to find that dustcover to triumphantly whisk away, knowing that El Primero should be its comeback hero. Being a tight-knit cottage industry, even in retirement it didn't take long before old man Vermot was knocked up, no doubt by newcomers with caps clutched firmly in otherwise empty hands.
With a suppressed pride of his own, he retraced his commute back to Le Locle's town centre and led the new management up the stairs, to a dusty attic…