Motivated by challenging roles that allow him to think outside common archetypes, the rising young actor is drawn to transformation. Discussing his turn in this year's wonderfully unconventional romance Rye Lane – a cinematic love letter to the city that raised him – he considers the duty to tell different stories and pays homage to actors who paved the way for him to flourish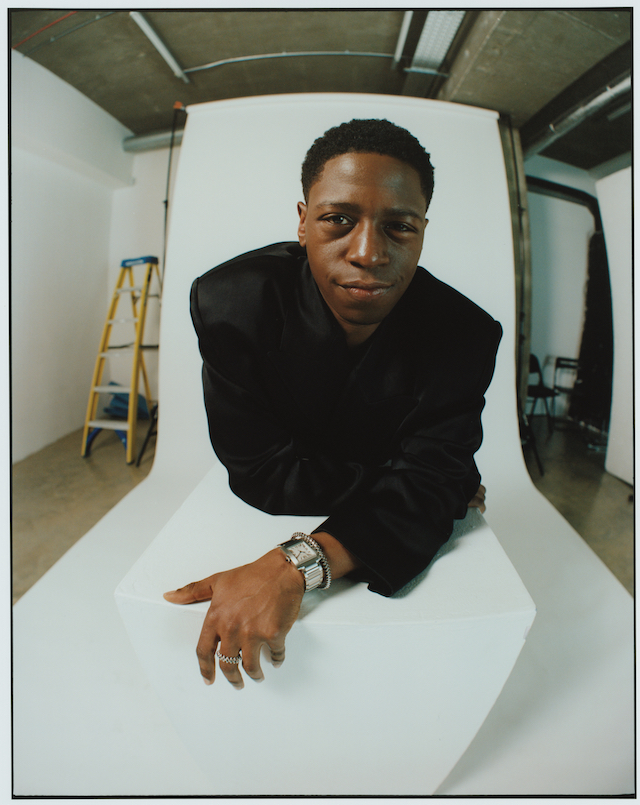 Separated by the thin walls of a toilet cubicle in a Peckham gallery, Dom, played by David Jonsson, has his meet-cute with Yas when she overhears him blubbering about his ex. While many will have had their own dalliances with the interesting characters that wander around Peckham's Rye Lane, very few of them have ended up with the wholesome adventure that unfolds in the rom-com named after the bustling high street. A day of magic realism, laughter, and hijinks ensues as the protagonists bond over their heartbreaks, settle scores with their exes, and find love in each other. It's unconventional, but flipping the script seems to be Jonsson's modus operandi.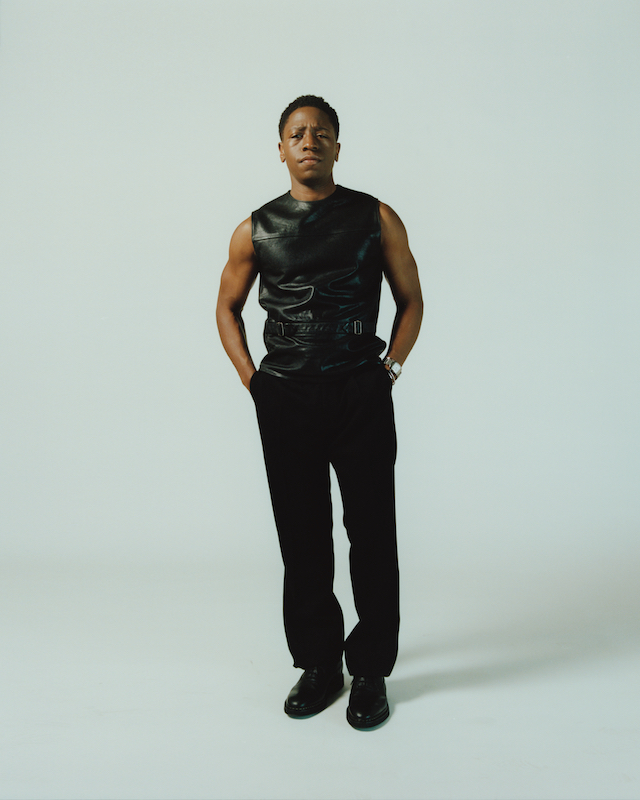 "I'm a helpless romantic," he says. His smiling face is bathed in morning light in his flat, his sentences punctuated by sips from the mug of tea that must be powering his upbeat mood so early in the day. "Life is hard. So finding optimism, finding romance, makes it move quicker." He's eager to add that he has "more game" than his on-screen character who can be described succinctly as a nervous nerd. Rye Lane depicts one of those seemingly endless London summer days where you can explore the city on foot and indulge in frenzied chatter in its parks and pubs. "I am in love with this city," he explains. His attraction to a wholesome romantic comedy, playing an awkward wallflower, serves as a love letter to the city that raised him. "A couple of my exes are actually from Peckham," he adds. "I've got so much time for Peckham and South London. There's something about the South that is quite special. It's still hella authentic."
Nevertheless, Jonsson recently moved to North London, away from his family home, so he can go for walks and learn his lines in green spaces. He describes his perfect day in the city: breakfast at a cafe – which he pronounces "caff ", alluding to it being a greasy spoon rather than a GAIL's Bakery – a walk in Victoria Park or Hampstead Heath, then heading somewhere for a Sunday Roast because he's "a big fan of pubs". "Then I might shake a leg on a Sunday, why not?" he says. Due to the film's whimsical romantic narrative, I ask when was the last time Jonsson fell in love. "I broke up with my ex just before I started shooting," he reveals. So, some of those heartbroken tears might have come from a real place.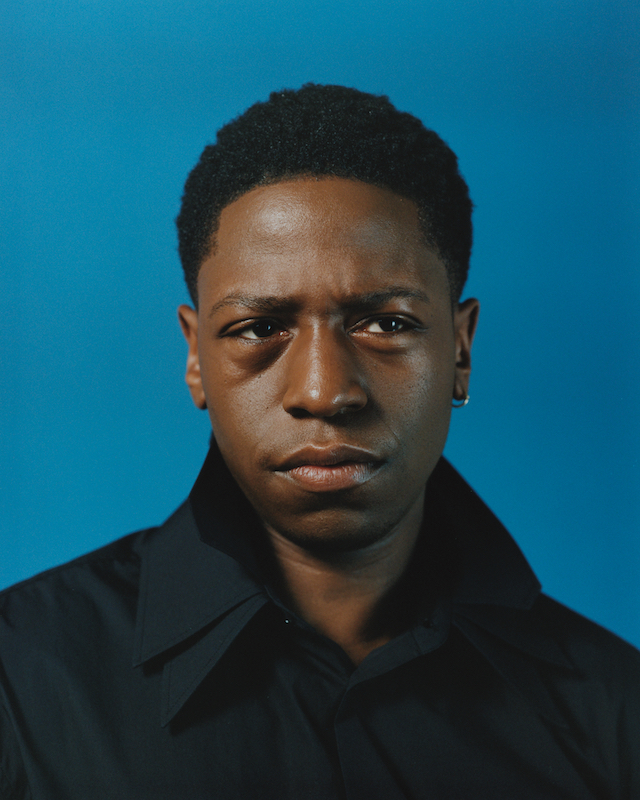 However, this is one of the few of Jonsson's roles so far where you can make easy like-for-like comparisons. You'll mostly recognise him as Gus in the sexy, sad banking drama Industry, where he plays a staunchly Conservative gay Etonian with hordes of generational wealth. "That's crazy for an East London boy like me," he laughs. "I'm definitely not a lot of those things." Elsewhere, he has been an MI6 agent in Deep State, embarked on a one-man play entitled and breathe… at the Almeida based on the poetry of Nigerian writer Yomi Ṣode, and will play the eccentric (and iconic) boxer Chris Eubank in an upcoming biopic. He was also supposed to be in Jeremy O Harris' "dangerous" fever dream of a play, Daddy, but his Industry filming schedule clashed ("I love Jeremy. He's an absolutely amazing writer and we're still planning on working on something.")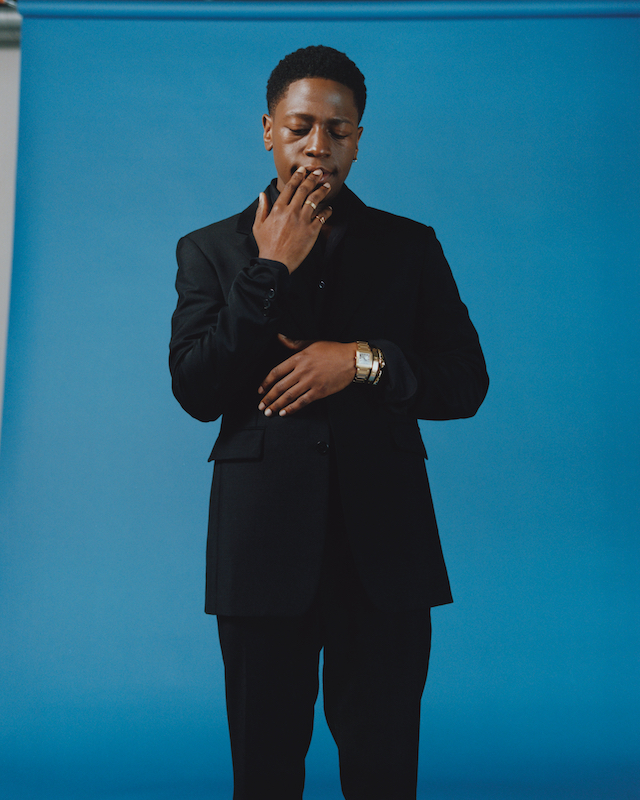 Industry was, of course, a runaway hit. "It came out in lockdown so who knows how good the show is really," he jokes. However, his humility should not overshadow that it is one of the most interesting BBC dramas for years. Not just because of all the penises on show, but also for its depiction of high-pressure workplaces in super-competitive industries. It's ostensibly about banking, but the egomaniacs, poor management, and class-A drugs are prevalent in PR, media, music and probably acting too. "That's an astute observation," he agrees. The show has served as a launchpad, propelling the careers of his co-stars Myha'la Herrold who starred in the clever horror comedy Bodies Bodies Bodies, and Marisa Abela who is playing Amy Winehouse in an upcoming movie about the late star's life. He adds: "We were all new young actors that didn't know anything really. We had no inhibitions so we just did our best."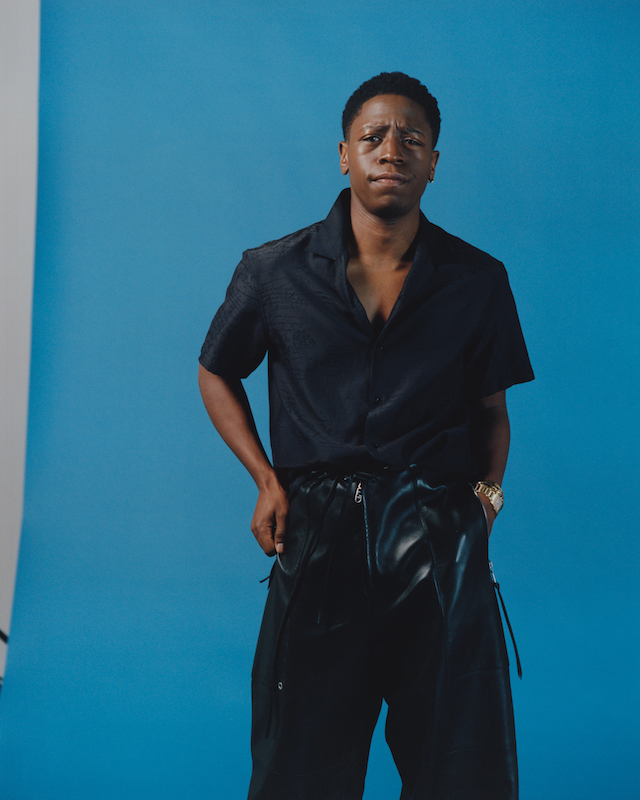 Even with his impressive spread of roles, he insists he hasn't yet developed a strategic gameplan about how to choose the perfect script. "I'm still new to this, Kemi," he says. He often says my name, which I note as being a marker of being both polite and attentive. "While I'm new in my career I'm able to switch it up a bit." Mostly the 29-year-old actor is motivated by "challenges" that allow him to think outside of the most common archetypes people from his background are asked to play. "I feel like some actors play themselves, and that's fine. That's cool, but I'm drawn to transformation, that's the actor that I try to be. I definitely want characters that are further from me, which means I can travel."
The journey he's referring to is an emotional one. For a noticeably positive man, one common theme in his projects is that the characters depicted are lost, burned out, or brooding. Is it just impossible to make a project about youth, especially in the UK, without the addition of misery? "I do like darker roles, but I also don't know if I just have that sort of face," he says. "But it is hard for us, we consume way more than our parents ever did. We have fuller identities now, but we don't know what to do with them."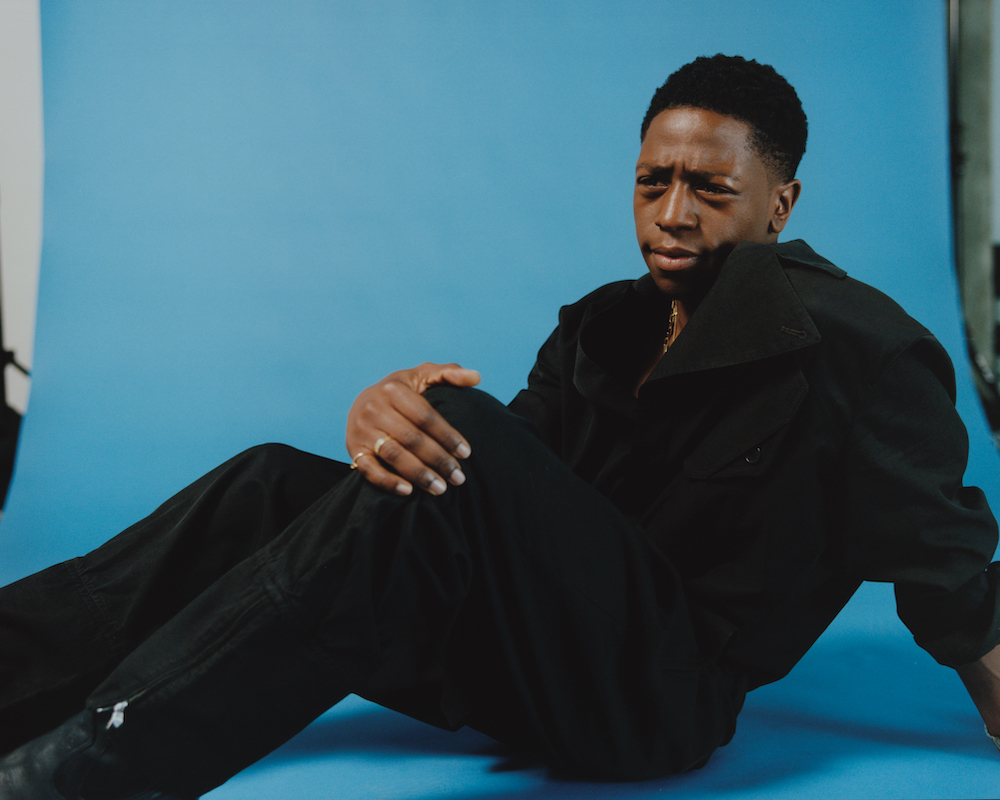 Born and raised by the docks in East London, to a mother who worked for the police and a dad in IT, his starring role was as the baby of the family. He wants to make it clear, however, that he is not a brat. ("I hate when people judge you, I'm responsible!") It does mean, however, that his childhood consisted of his three other siblings trying to get him to perform and dance at family functions despite the fact that he was "extraordinarily shy". First it was sports that helped him come out of his shell. His mother sent him to The Peacock Gym, which spawned stars like Frank Bruno and Lennox Lewis, and more recently Daniel Dubois and Charlie Edwards. "My mum sent me there as she didn't want me to get bullied," he laughs.
However, his reverence for performance grew from his family's love of film. They'd watch a lot of Black American cinema when relaxing at home. "I had my dad's generation of old great films, down to Lady Sings the Blues, Mahogany, Guess Who's Coming to Dinner, In the Heat of the Night – we'd watch all of the Sidney Poitiers. Then my siblings would be watching Love and Basketball or You Got Served." We excitedly bond over these classics which meant so much to Black British kids, given that there was much more variety and innovation in the stories being told across the pond. We agreed on our mutual love for Sanaa Lathan as one of the best Black rom-com baddies of all time and joked about the mid-noughties saturated landscape of films where the only way to change your circumstances or get yourself out of a bind was to dance battle. "I'm still doing that now," he laughs.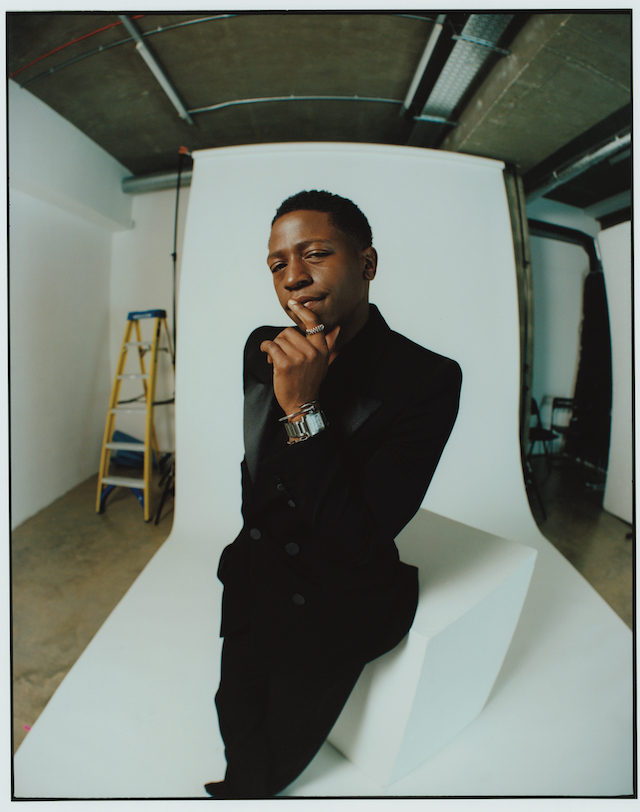 Jonsson might not have done GCSE drama, but the end of his school life took a dramatic turn as he began getting into fights with other children (no word as to whether he deployed his newfound boxing techniques). Sensing he needed direction, his mother asked him what he felt he wanted to do with his life. He decided he wanted to try acting and immersed himself in the National Youth Theatre which he describes as "an awakening". Having worked with the BBC, HBO, and now taking his skills to the big screen, he still considers himself to be "a theatre boy".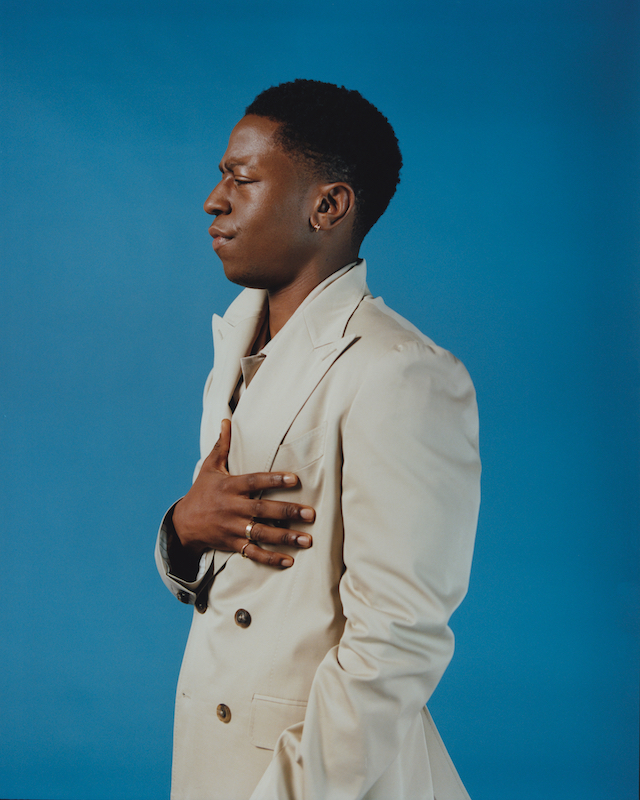 He hasn't taken his rise for granted, paying homage to actors who paved the way for him to flourish in the UK. "We definitely stand on the shoulders of giants," he notes. He recently attended a dinner with Kano, Ashley Thomas and David Ajala. "Honestly for the first hour they were just like shitting on me, endearingly of course. They were ripping me, but the heart of it was – 'look at what you're doing, you're on the BBC'." It highlights the fact that a decade or two ago the landscape was very different. "The opportunities I'm being afforded now weren't the same then; we're getting to tell more stories now. Unconventional stories – Rye Lane is very unconventional, very strange. I ride shotgun on a motorbike behind my female romantic lead. In Industry he's not the average young Black man."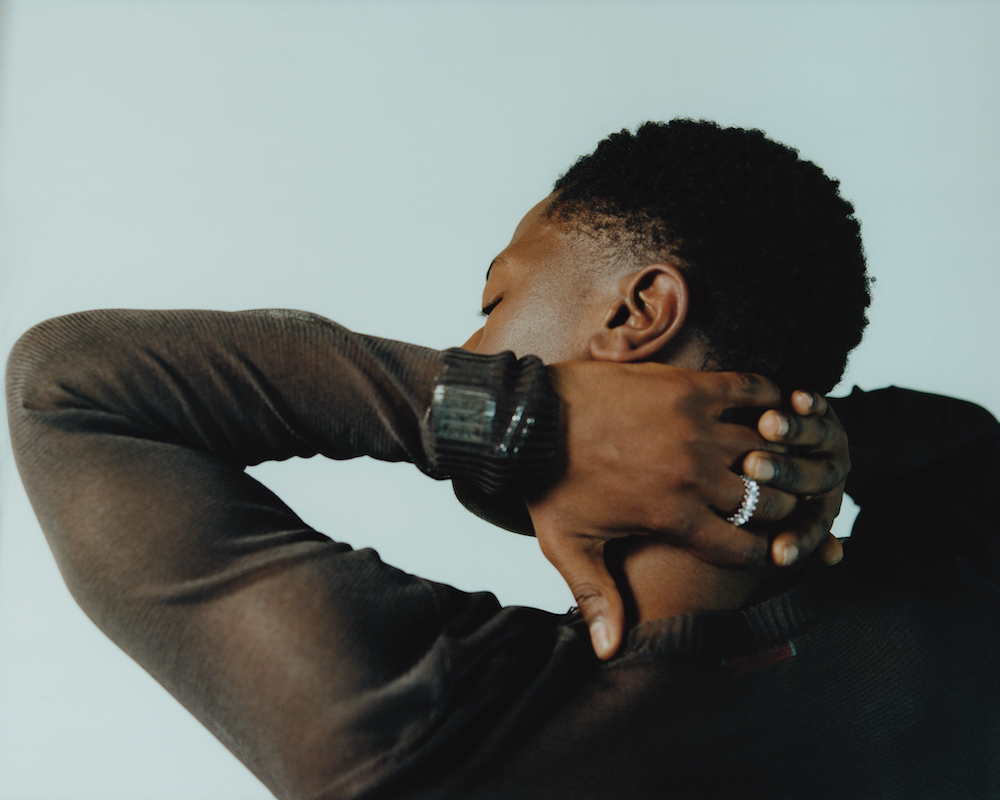 In his view, continuing to take and create roles that show the full breadth and potential of Black actors is a larger contribution to the industry he's still feeling lucky to inhabit. By pushing the margins with each role, he feels like he's rewriting the playbook on what young Black actors are expected to do. "Acting can be quite a selfish profession. You get all this – and I'm loath to say it but – star treatment. You get put on a pedestal. Coming from East London and due to my wonderful parents, it makes me question what we give. I think it's our duty to contribute by telling different stories."
Rye Lane is available now on Disney+
David Jonsson wears Cartier jewellery throughout
Photography Dham Srifuengfung
Styling Mitchell Belk
Photography assistant Jed Barnes
Styling assistant Matthew Duffy
Grooming Courtney Reece Scott
Barber Jhamal John
Production Lock Studios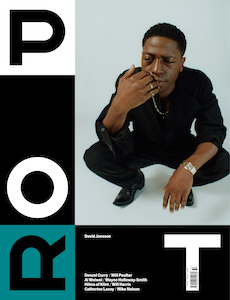 This article is taken from Port issue 32. To continue reading, buy the issue or subscribe here