John Varvatos and Kiss members Paul Stanley and Gene Simmons talk about music and fashion in Milan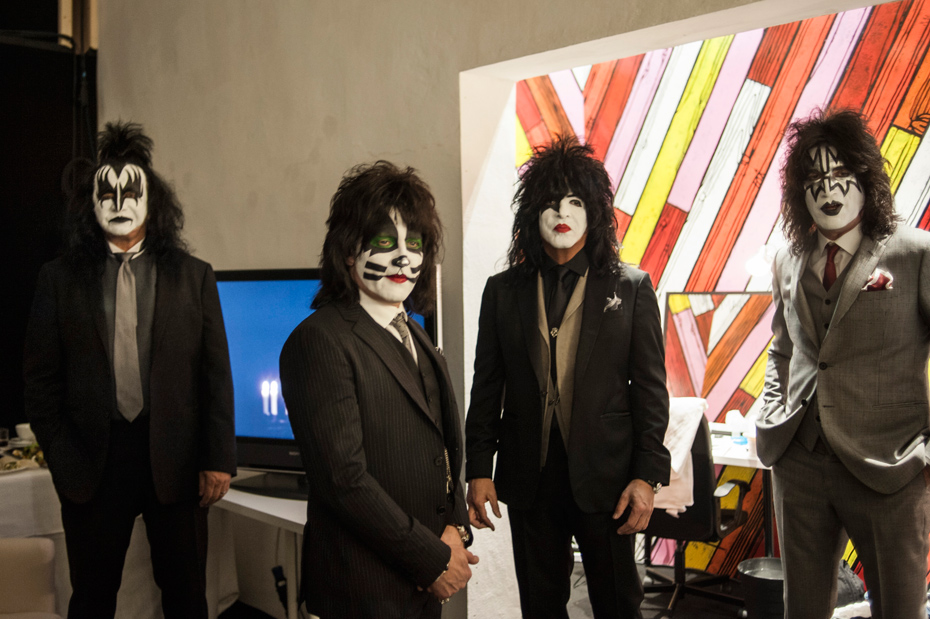 Text David Hellqvist
Photography Roberto Boccaccino
As the legendary American rock band take over from country star Willie Nelson as the poster boys of John Varvatos' Spring Summer 2014 campaign, this trio of well-dressed music lovers sat down for a chat ahead of the Varvatos show in Milan. Singer Paul Stanley and bass guitarist Gene Simmons share a long standing devotion to rock, and the way they dress is a direct consequence of that. Much of is down to Varvatos, whose rock-infused clothes define his own passion for rock. No-one else so seamlessly merge the two forms of expression, as proved by last year's book, Rock in Fashion.. So how did they meet, and what's the connection between the band and the designer?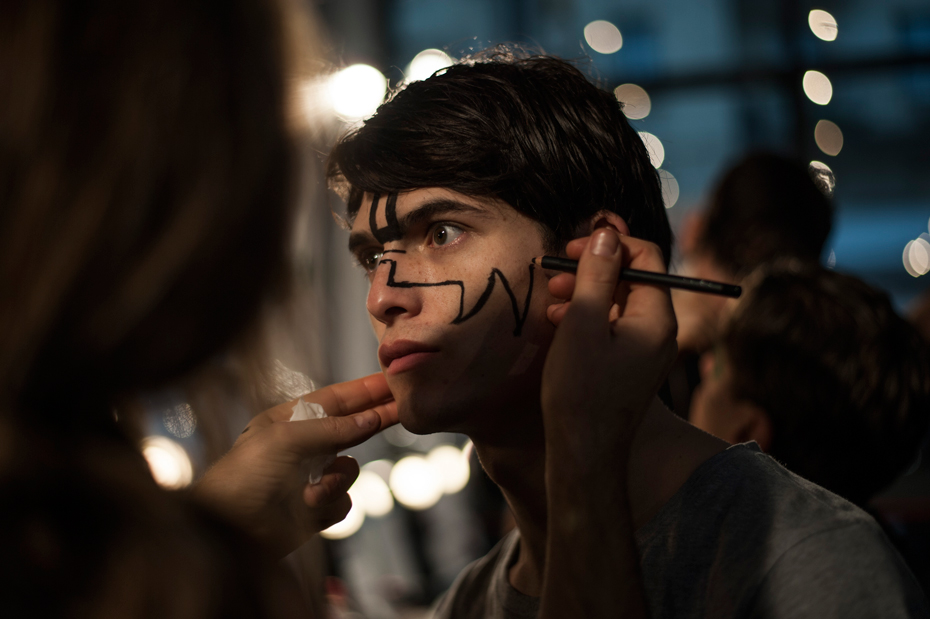 John Varvatos: I was invited to a Kiss gig here in Milan last year. I brought about 12 people from my staff. A lot of them had not seen Kiss before and they had their minds blown. One girl in her early 30s actually said it was one of the best days of her life, not just listening to Kiss but hanging out with the band.
Paul Stanley: We're just kindred spirits! I don't see John as part of the fashion community, he's part of the rock'n'roll community. The clothes are comfortable, they fit you like a good guitar. I love John's clothes because they are timeless. Fashion is useless next year whereas style is timeless. John's clothes always echo back to many of my heroes in the 60s and 70s without looking retro. That's the beauty with style, to be able to be influenced by something without copying it. It's like great cooking where you mix great ingredients in the right proportions.
Gene Simmons: Yeah, anything worth doing is worth doing well. The little Italian shoemaker on the corner – it's a thing of the past unfortunately – but he used to take pride in every nail he put into the shoes so that he knew that, when someone wore them, they stood the test. And when Kiss puts on the shows of shows, it's every show. People feel it when they leave. Pride. It's a word that's not used enough. You want to stand behind, in front of and in your work – whether it's art or digging a ditch.
John Varvartos: I'd say they are constantly raising the bar. Other bands on their level are just happy to continue as it is, but these guys just keep on making better and better music.
Gene Simmons: The work ethic here is unsurpassed. When I grew up, James Brown was the hardest working man in show biz, well we are the hardest working band in show business. Period.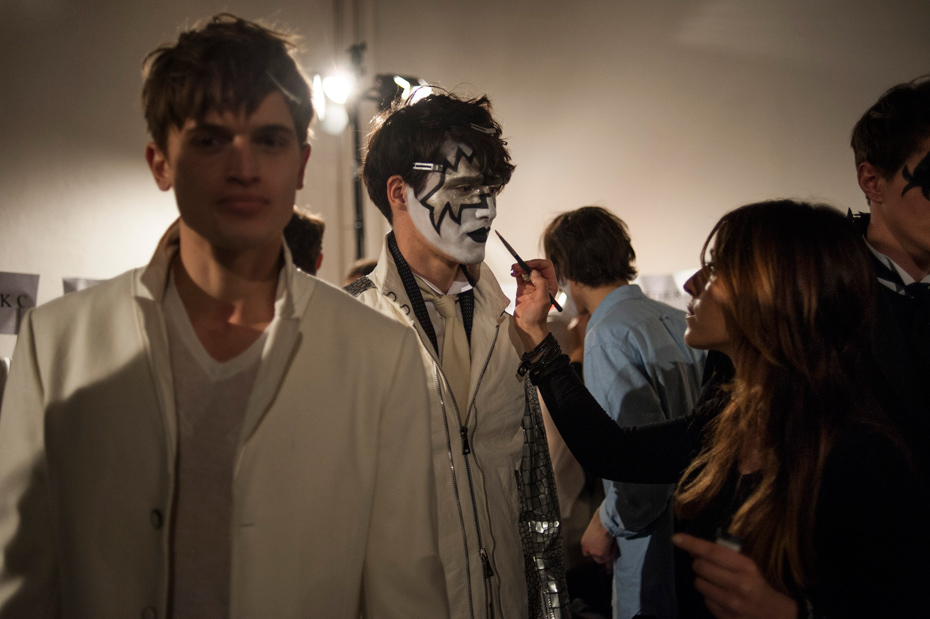 John Varvatos: People always equate you to someone else in restaurant, music and fashion reviews. But now people are starting to say that other things are reminding them of Varvatos. And it's the same with Kiss, their sound is being knocked off.
Paul Stanley: The ultimate judge will be time. Time will tell it all. It's not about how big you are today – it's what you are doing in 10 years time. Anything that has merit will sustain and rise to the top, regardless of the time. If Kiss came on to the scene today, would we survive? Yes, absolutely. Because when you are 100% committed to something you won't take no for an answer. When it comes from your heart then you will fight against the odds.
Gene Simmons: You don't want to be a follower of fashion, you want to be fashion. So what we wear is anti-fashion. Rock is individual. I am me. Rock is style, music, fashion, language… it's anthemic, it brings people together. It's sort of become the background music of humanity…
John Varvatos: Fashion and music are very much a like in the sense that you have to make it your own. A button down shirt has seven buttons, one or two on the cuffs, the length is always the same, give or take an inch. How do you make that your own? It's the same with music. It's based on basic riffs that are then made in a particular song, maybe with an added blues riff from Muddy Waters, and then made into rock'n'roll.
Paul Stanley: Good music and good style is synonymous. I remember listening to the first Led Zeppelin album but also looking at the shirt Robert was wearing and his hair. It wasn't just about the music. The tunes and the embodiment of the music became inseparable. The best looks doesn't come from a designer but from the person putting them together.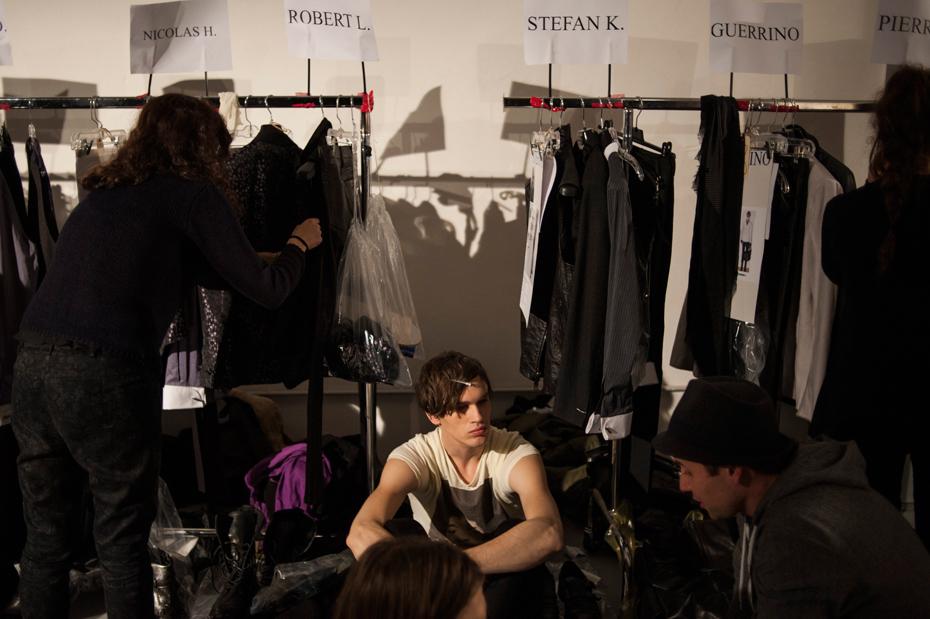 Gene Simmons: Well, I chose the wrong band. I should have picked the Stones or U2 – all you have to wear is a T-shirt and sneakers. What the fuck am I doing running around on eight inch platform heels at 64, wearing more make up than your mummy ever did? 45 pounds of armour, flying through the air and spitting blood and shooting fire out of my ass. What the fuck is that all about? But do I regret it? Hell no.
Paul Stanley: Any band with money can make a Kiss show but they can never be Kiss. Kiss is so much more than what is apparent. Kiss is the heart and soul of it. Other bands have tried it, they paint their faces and look like idiots. They didn't understand that passion is the key and core of everything great. You have to be on a crusade for something you believe in.
For us a concert is a pep rally, a day in church, a self-affirmation rally, a time for everybody to get together and remind themselves about their inner drive and going for gold. We never sang about how miserable we were, we sang about positive energy, celebrating life and the potential we all have to succeed. And that is contagious…