The American designer talks David Hellqvist through five rock icons from his new book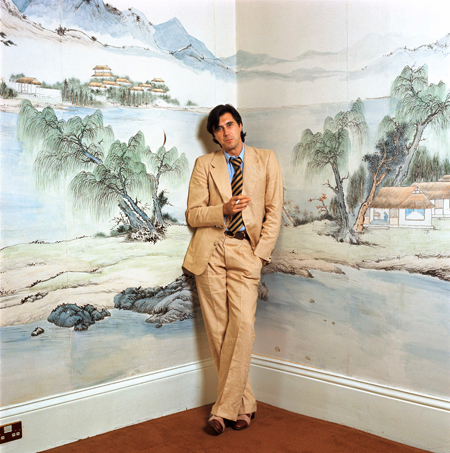 Bryan Ferry, singer in Roxy Music, photographed by Mark Hanauer
Working, as American designer John Varvatos does, in an industry where genuine and authentic references and inspiration sources are crucial, specialising in rock 'n' roll is a good move. Varvatos and his 13-year-old brand has always had its sartorial roots firmly planted in the heritage and traditions of rock music. Style, colours, attitude and poster boys (the AW13 campaign featuring Willie Nelson is a good example) are organically woven into the Varvatos fabric.
To celebrate the holy union between music and fashion, and to pay his respect to the musicians he loves, Varvatos is publishing a book that looks closer at the relationship. For his Rock in Fashion tome, Varvatos approached various music photographers and sought out the least well-known images of classic rock stars like Paul Weller, Led Zeppelin, Jack White and Pete Townshend. "It's about the cross-pollination between music and fashion," Varvatos explains. "It's my story through pictures looking at subliminal influences in Detroit and how they have influenced both my wardrobe and my brand." Here, Varvatos talks in detail about five musicians from the book…
The first time I saw Bryan Ferry was when Roxy Music opened for David Bowie in Detroit. The band was almost unknown in the US, but I was blown away – talk about looking flamboyant! The frontman was wearing a tuxedo. Bryan Ferry is one of the chicest guys in rock to this day. You'll never see him in a T-shirt, he's always in a suit or a sharp shirt. This photo tells the story of his great style, down to the two-tone brogues. It's a timeless look… he looks like he's in a Ralph Lauren ad! It's an elegant style, it's not fashion. He made me think about clothes that were made to last and transcend trends. To this day I refer to Bryan Ferry when I work on my tailoring.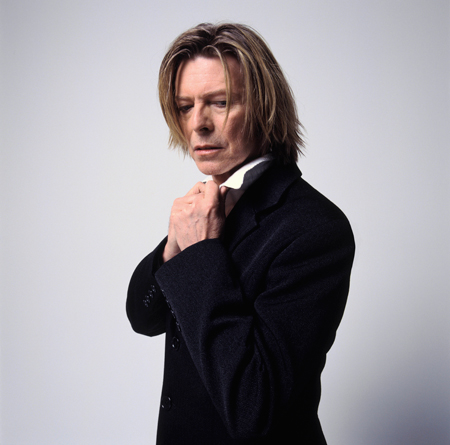 David Bowie, artist, photographed by Mick Rock
When I started my brand in 2000, I looked towards David Bowie for inspiration. He perfectly defines that mixture between casual elegance and rock edge. He's a chameleon… look at how he dressed as a pop star in the 60s and how it changed as he stage personas evolved into Ziggy, then The Thin White Duke etc. He'd didn't so much have a sartorial elegance about him, more a casual elegance. In this image, it's all about the simplicity of the outfit. The hair, the tailoring, the attitude… it's all simple, clean and modern. I think this photo feels 'right now', and will do so if you look at it again in 20 years time. It captures Bowie's timeless appeal, his true style. He certainly had an effect on me, not only how I dressed but also the direction of my brand.
This image is part of the black and white graphic section in the book. Across from Freddie, there's an image of Keith Richards, who obviously has a very different approach to his monochrome clothes. At the time, I was a big Queen fan and I saw Freddie wearing this particular outfit when he played the Masonic Temple in Detroit in 1974, touring the A Day At The Races album. Looking at this image brings back memories. Graphics is an important and timeless part of fashion, especially for stage-wear. That's why this look has stayed on my mind. It really stands out, the light catches it from all directions. There's not a lot of people who could wear it, but Freddie got away with it – he had the balls to pull it off. I would have loved to meet him, he was a musical icon for me at the time. Queen started as a rock band with an orchestral sound but they soon became more and more flamboyant and camp. That was the evolution of both Queen and Freddie himself… they went from pure rock to elaborate and produced bigger pieces.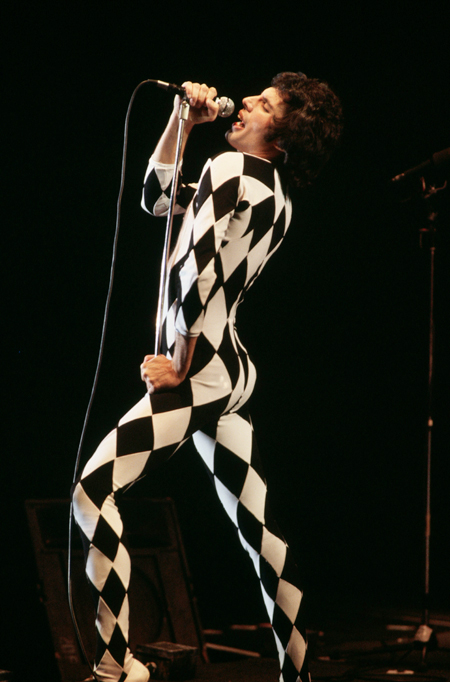 Freddie Mercury, singer in Queen, photographed by Neil Preston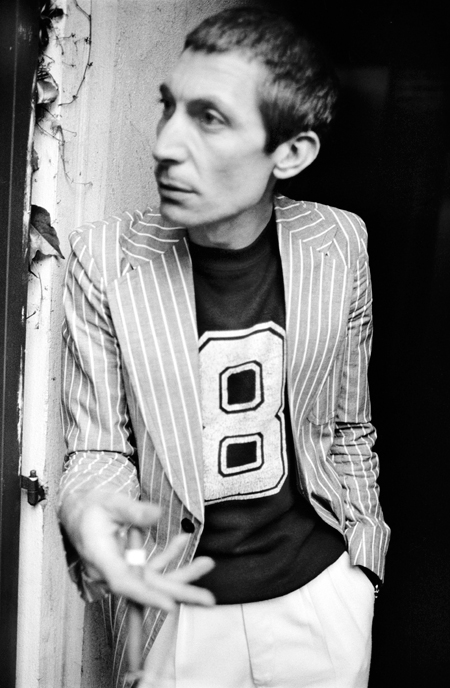 Charlie Watts, drummer with the Rolling Stones, photographed by Kate Simon
With those wide lapels and T-shirt, he could be anyone, but it's Charlie Watts. He's an intriguing character. I really liked the Rolling Stones because of their bad boy attitude. Beatles were a little bit too clean for me. But within the band, with crazy characters like Keith Richards and Mick Jagger, Charlie kept it straight and narrow. He not only kept the beat going but also kept the band together. He's elegant in a sartorial way. Here he's caught in the moment by Kate Simon, talking to someone. He's wearing an elegant pinstriped suit over a sportswear jersey! I love that juxtaposition, mixing vintage, formal and casual clothes and attitudes. At the time all the bands, like the Beatles and the Motown bands, were wearing uniforms, all looking the same, but Charlie stood out within the Rolling Stones, he opposed everything and rebelled against the other's flamboyant looks. Sometimes he looked like their accountant!
When I grew up there was a melting pot of music in Detroit. Rock and Motown dominated, it was the heart and soul of the city. I started listening to the likes of Led Zeppelin but soon found out that they were inspired by blues music. So I began researching that kind of music and found Pinetop Perkins. I saw him play in Detroit once to only 40 or 50 people. This photo is really one of an old age Pinetop, but I love it… it's got so much personality. In the book it sits in the hat section… these musicians always looked so smart wearing shirt, suspenders, suits and hats. They didn't have lots of money but what they had they spent on dressing up and looking great. They travelled and toured lots, but not in fancy jets, they barely made it but it was all about the music. Both the music and their personalities had style. His whole life Pinetop looked like this, he didn't just dress up for gigs, it was a lifestyle, but these kind of people are very much from a completely different era, they don't make them like that anymore!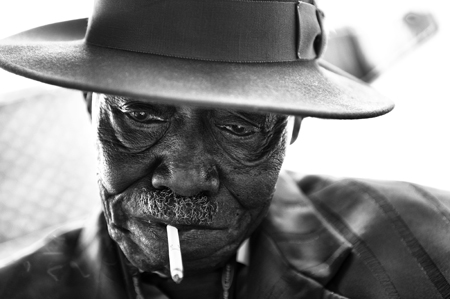 Pinetop Perkins, blues pianist, photographed by Jerome Brunet
More info on John Varvatos HERE. Rock in Fashion is out now