Moncler art director Francesco Ragazzi discusses the 3rd Genius Project presented in Milan, vandalistic art and his Palm Angels Fall/ Winter 2019 collection 
Inclusive yet reactionary. Skater culture itself is laced with a resistance to the nanny state – a prolific and historic appellation – fronted by Hunter S. Thompson and C.S. Lewis – but perhaps more symptomatic of the present political moment than ever before. This may be one reason, at least, for popular culture's revisiting of skate culture; Minding the Gap from Bing Liu, Crystal Moselle's Skate Kitchen and Jonah Hill's Mid 90s are but a few of many that probe America's youth and community through the lens of this subculture.
Palm Angels, Moncler art director Francesco Ragazzi's global clothing brand, positions skate culture at the forefront of luxury clothing, presciently forcing the industry to re-code its notions of high-end fashion when it launched its first collection in 2015. Evolving from Ragazzi's photographic account of downtown Los Angeles skate life, Palm Angels published by Rizzoli in 2014, the brand encapsulates the sensation and beauty of a sport, lifestyle and culture. 
The Fall/Winter 2019 collection, a capsule collection of the Moncler Genius project, is a nod to its roots, founded in subculture and reactionary art. Collaborating with Willi Dorner, a dancer and choreographer concerned with the human body and urban spaces, the showcase allowed audience members to spray paint onto the collection, itself echoing vandalistic art; incorporating jewel tones, graphic patterns and graffiti lettering into its line of metallic puffer jackets and boiler suits layered with t-shirts and fingerless gloves.
The futuristic vision formed one of the 9 capsule collections presented this year as part of the Moncler Genius Project in Milan, curated by Francesco Ragazzi . In a series of performance installations, Pierpaolo Piccioli, 2 Moncler 1952, 3 Moncler Grenoble, Simone Rocha, Craig Green, Fragment Design's Hiroshi Fujiwara, and Poldo Dog Couture responded to the Moncler ethos and philosophy "one house, different voices", Remo Ruffini's answer to the new consumer in the digital era.
Port spoke to Francesco Ragazzi on his Fall/Winter 2019 collection, the photographic gaze and his distaste for the term streetwear.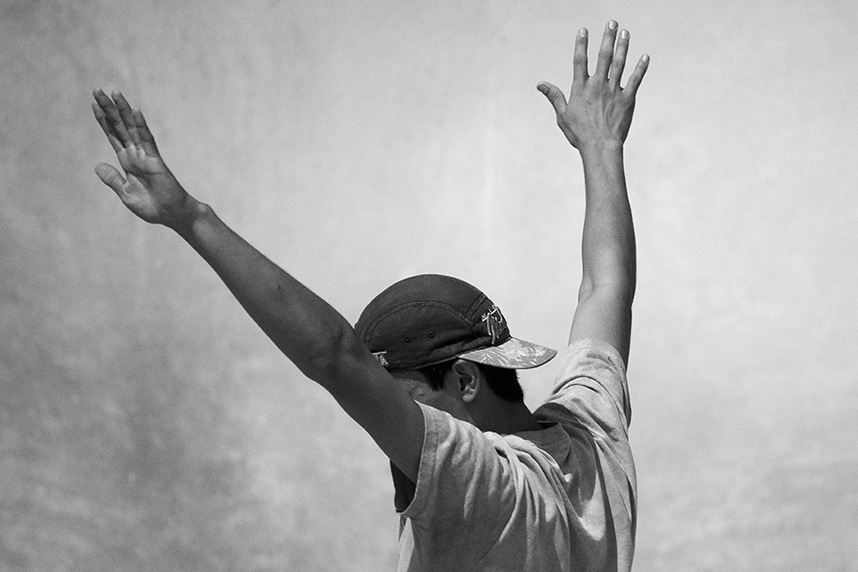 Palm Angels was born out of a fascination and love for Los Angeles skater culture and subcultures. What is it about skater culture that first resonated with you?
It really started with this photography project and book I established, Palm Angels. At the beginning, it was really my love for Los Angeles, the feeling and the vibe, that then translated into this photo series about skaters, that then translated into a photography book and then into a collection. It was really a personal process for me, from my love for Los Angeles to the collection. I think the starting point for me is that – the love for the city.
You are not only a creative director and designer, but also a photographer. Do you apply this same photographic gaze to your clothing line?
Yes, definitely. The book helped me at the beginning to shape the brand. But then drawing the brand and designing a new collection every season brought me to a process that I now have; taking something that exists and trying to tell my own story on it, from a different perspective. For me, it was really starting from a part of American culture and telling my own story through it. It is really about creating a vision about something existing with a different perspective.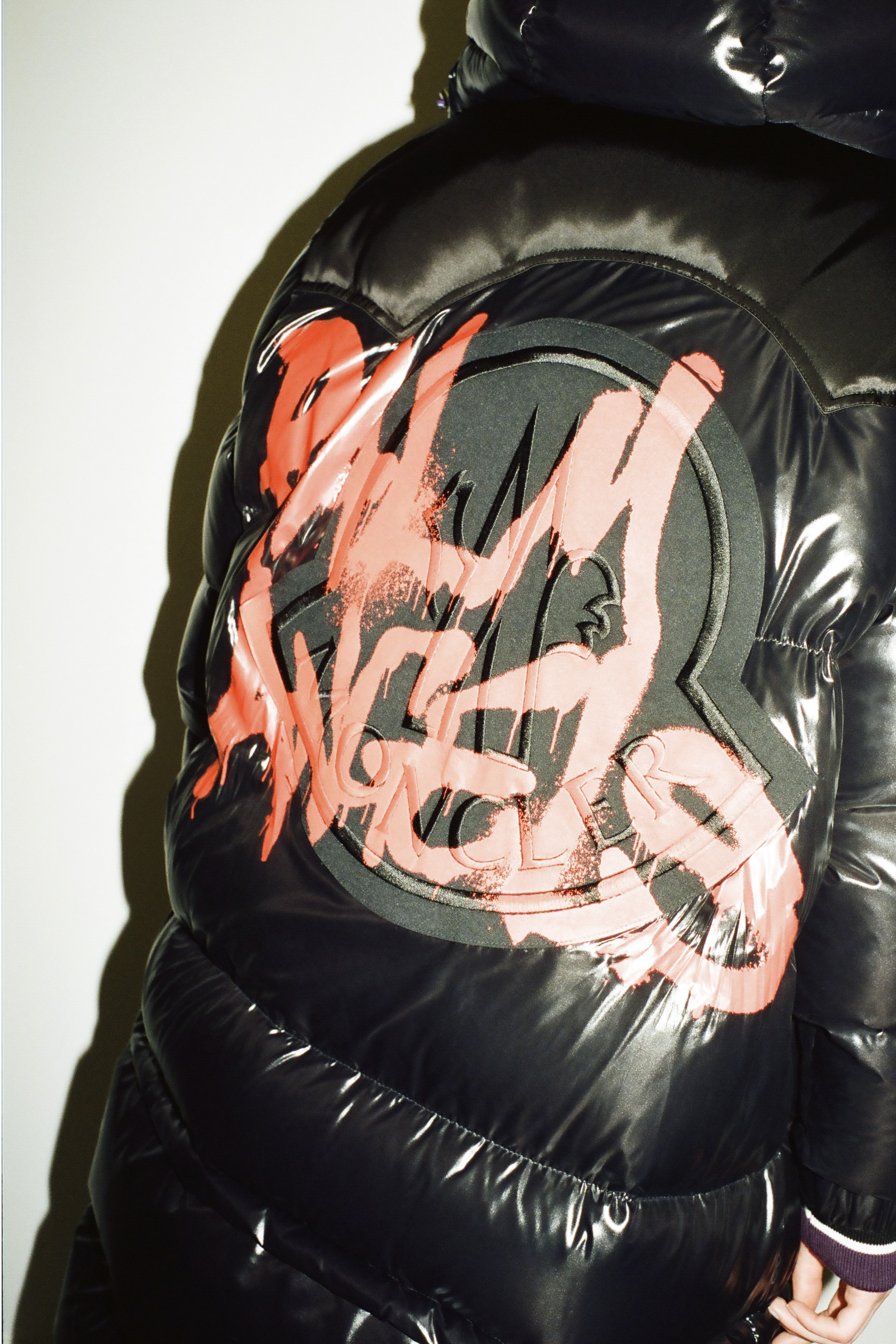 In this most recent collection you incorporate these themes of resistance that exist within skater culture, incorporating  patterns that evoke street art and graffiti. Do you think these ideas of subcultures, particularly within skater culture, still carry weight today?
I think there is a little less subculture than before, because internet and social media brought almost everything to the spotlight. It is difficult to have a subculture now, that nobody really knows about. It is really under the eye for everybody, which I think could be a good thing, but on the other side, it could also be a bad thing. I personally think it's interesting to be able to discover the things we were not able to discover before, and this is for sure part of the change that comes with social media and the internet.
You have talked about the departing point for this show as a Jeff Koons exhibit that was vandalised. What is it about Jeff Koons, as an artist, that resonated with you?
So, the whole idea of the collection started with the idea of the event. I was inspired by this picture of an exhibition of Jeff Koon's being vandalised. So, starting from that picture, I wanted to think about how I could bring that same experience to the audience at the event and design the collection around that idea. The idea for the collection was to break the purity of Moncler and to vandalise it. At the same time, I wanted  to do the same exact thing for the event – create artwork that then could be vandalised by the viewer. 
Sounds great. And, you collaborated with the artist Willi Dorner for the 8 Moncler Palm Angels collection?
Yes, so Willi created for me some artwork that I could then vandalise. These pictures were then displayed in the gallery space where I presented my collection that could then be vandalised.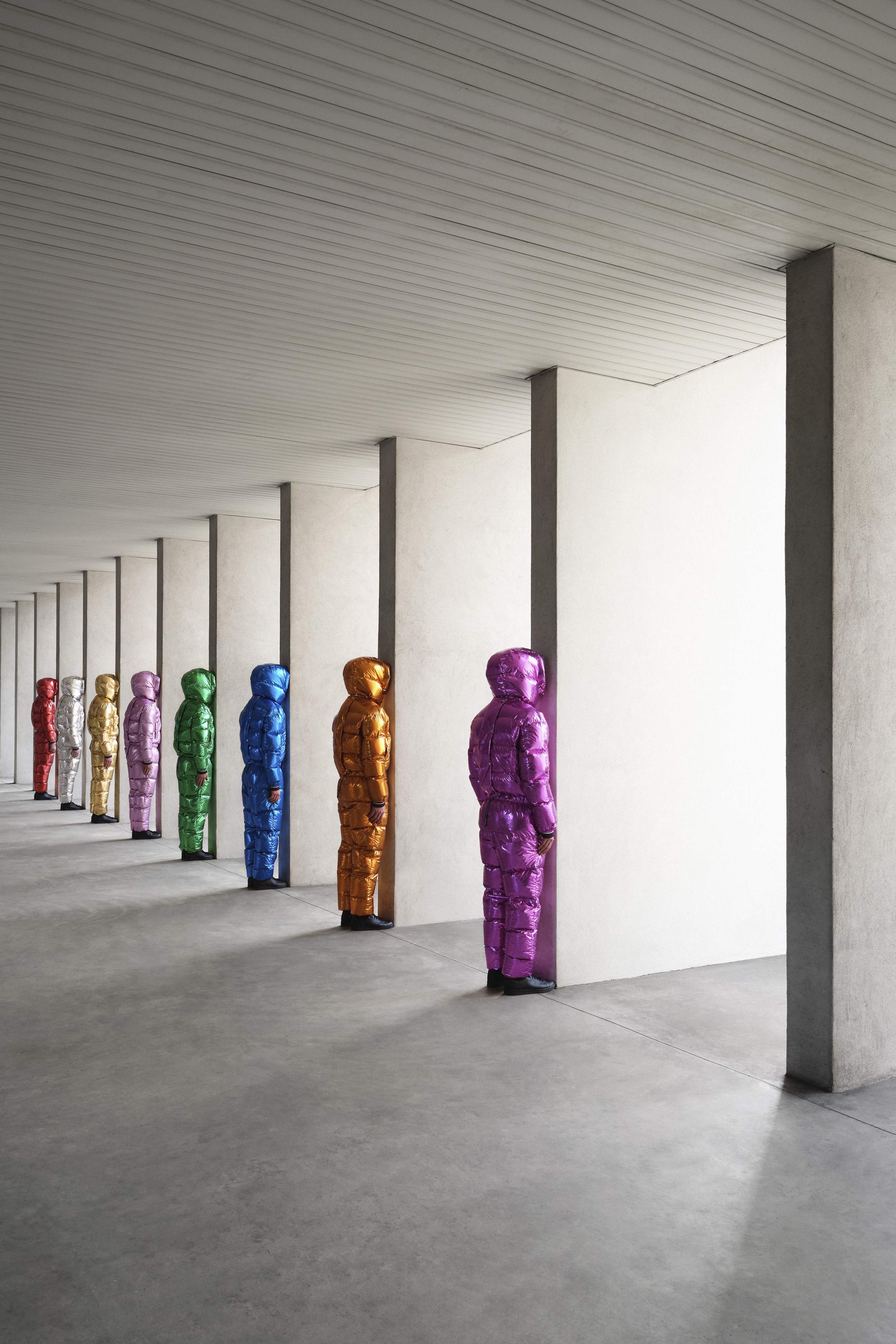 How did this collaboration come about?
I discovered him on Instagram and I contacted him to work on this project. His vision, his graphics, the way you can feel the artwork – because he is a choreographer not a photographer. I needed a simplicity because the work and the collection was already complex, so I needed somebody to bring a purity to what I was doing. And I think the pictures are exactly what I was looking for.
I'm interested in the ways in which streetwear has evolved, in the same way that graffiti has, within public opinion – both initially associated with lowbrow forms of art. Do you still encounter these same ideas today? What is your personal relationship to, so-called, "high-fashion"?
I think the world moves so fast now and most importantly, culture changes, so streetwear has become so big because of this overall growing culture in music and art, where everything, everyday changes. This is why we are in the moment where streetwear has gained such momentum. I do kind of hate the term streetwear, because I think it is a label that people who were not understanding of it would have given years ago. Right now, it is really part of the current culture, of art, music; it is an overall movement. So, yes, fashion has to change because of it, as fashion is a mirror of culture. I'm not mad at it. We created a brand based on this, so any critique of this movement is from someone who is not connected to reality.
You have talked about finding a new source of inspiration within Asia, what can you divulge about the future of the Moncler Palm Angels as a brand?
My idea of the brand now is a brand that needs to be global and talk many languages at the same time. Be present in every country as if it were from that country. So, the world is really my inspiration right now. But, that being said, the DNA needs to be there and I will always be an American brand with a different sensibility. So, that will always be my inspiration but I will try to be as global as possible with the message.
And finally, do you have any particular favourite piece?
I love the big metallic puffer jacket.
8 Moncler Palm Angels Fall/Winter collection is now available at store.palmangels.com
Palm Angels is available here (Rizzoli, $55.00)