Jasper Morrison CBE is a British designer whose objects fit seamlessly into everyday surroundings. The imperceptibility of his work in furniture, lighting, tableware and electronics for the likes of Vitra, Flos and Muji, however, belies their exhaustive research and unique sensibility. Charting his journey from the fringes of the art world and self-assembly manufacturing to mainstream mass production, here he reflects on discretion and the importance of an economy of ideas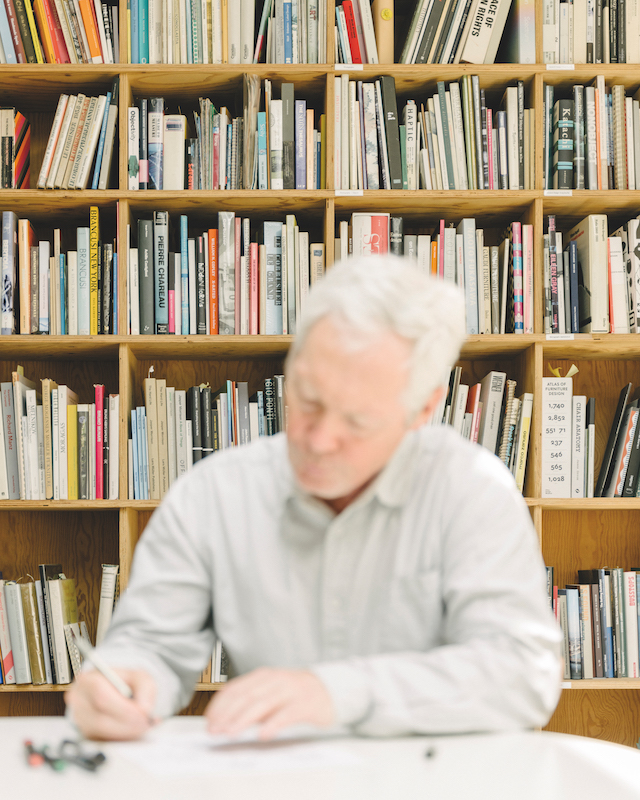 Even as a child Jasper Morrison understood that while some objects and certain pieces of furniture could create what he calls "an atmosphere" that put him in a good frame of mind, others did not. He remembers a room in his grandfather's West London house as the first modern space that he ever encountered. He noticed that it had bare floorboards, a shag pile rug, and a Dieter Rams designed Braun radiogram, a line-up that he later realised was the result of his grandfather's prolonged exposure to Denmark – for many years he ran Danish Bacon's marketing effort to Britain.
"It was an early revelation that a space like that could make you feel better. Subliminally I knew I felt good or bad in a place instantly. Discovering that design can cause a change in the atmosphere of a place was vital. Function can be handled, but the atmosphere of an object is its most important quality."
There were other family influences pushing Morrison toward design. His mother worked for the young Terence Conran, and his aunt Caroline became Conran's third wife. "'Not another bloody designer in the family', Terence said to me once over the dinner table. It made me determined to make it myself," he remembers.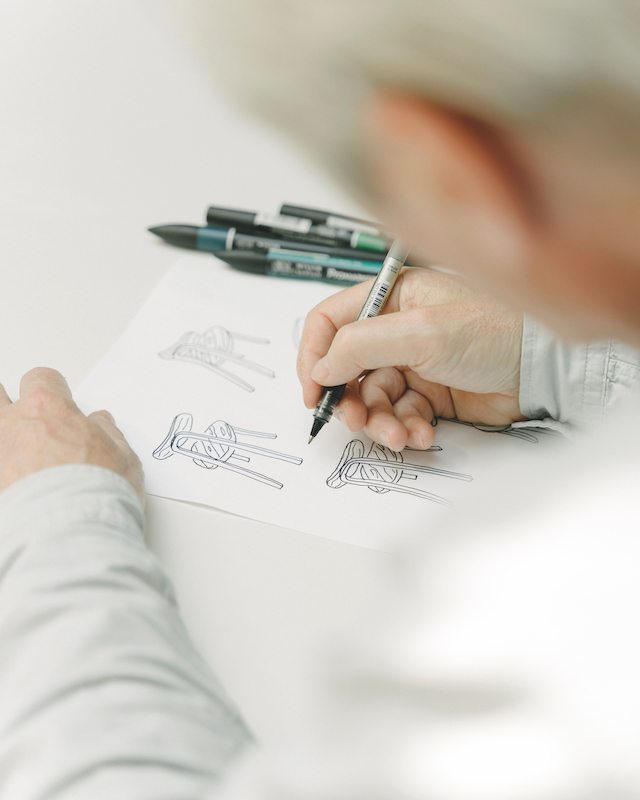 Morrison has done a lot of noticing in his life, it's an essential part of his approach to design. He once filled a book with photographs of things that he had noticed; anonymous concrete chairs, the ingenious repurposing of a slice of pre-cast drainpipe as a lobster pot, a massive, ugly and yet somehow charming bench outside a Japanese railway station. He accompanied each image with a brief speculation on what had brought them into being. He explored the reasons that so many of the fishing rods on Istanbul's Galata Bridge used the same crude but effective combination of a wooden bracket and a rubber band to hold them in place. He wondered about who the customers might be for a shop full of assorted wheels, some mass produced, others custom made, in the centre of Porto. All of them are good questions of the kind that any designer should be exploring.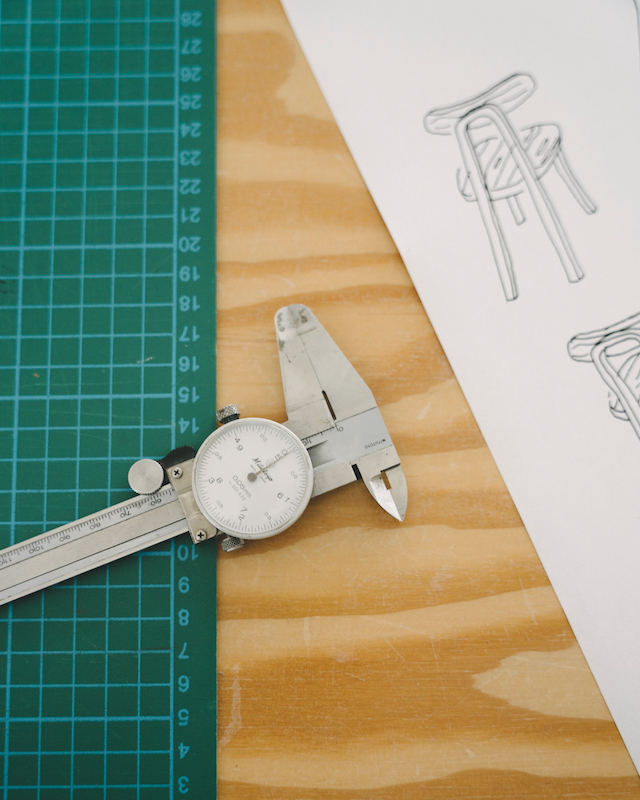 Perhaps because his own senses are so highly tuned, Morrison has developed a body of work which sets out to be as discrete as possible. "A certain lack of noticeability has become a requirement," Morrison wrote about his designs in Super Normal, the book he produced with his friend, the Japanese designer Naoto Fukasawa, as a kind of manifesto arguing for a slightly more deft, slightly less careless version of everyday ordinariness. "Design, which used to be almost unknown as a profession, has become a major source of pollution. It has become a competition to make things as noticeable as possible, by means of colour, shape and surprise," he says in the book. It does not come as a surprise that both Fukasawa and Morrison work for Muji.
He may be fascinated by the ordinary, but if there is a British furniture designer born after 1950 who stands comparison with figures from modernism's past such as George Nelson, or Marcel Breuer, it is Morrison. Even 20 years ago, when Domus magazine published a survey of what it called the roots of design, it was already giving him equal billing with Enzo Mari, the last surviving master of the golden age of Italian design.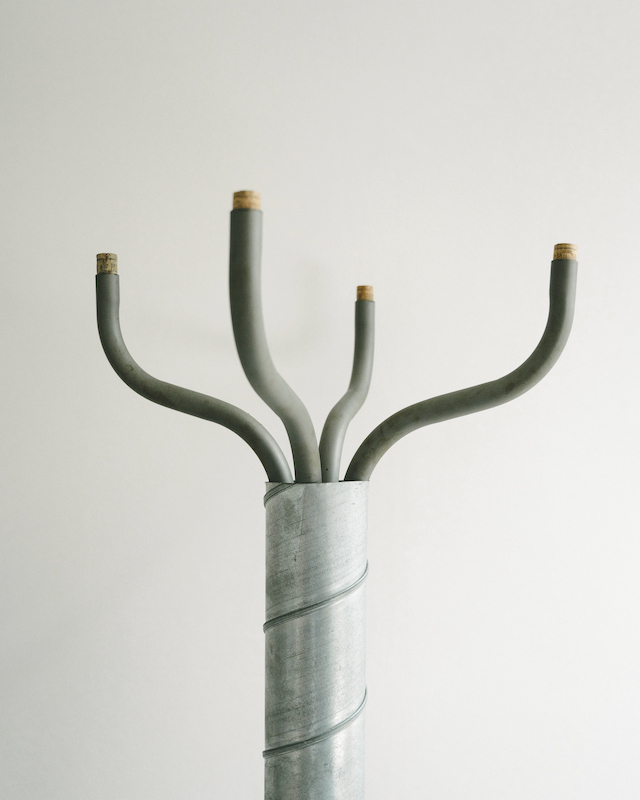 The largest object that Jasper Morrison has designed to date is the silver tram car that the German city of Hanover commissioned when it staged the 2002 Expo. 144 of them were built, and between them the fleet is capable of carrying more than 22,000 people. It is an object on an architectural scale, with Morrison and his team carefully considering its impact on the cityscape around it. At the same time, he also focused on the details: the handrails that standing passengers clutch as the cars negotiate sharp turns, the seats on which some of them can sit, the way in which window glass is framed. At the other end of the scale are his delicate wrist watches for Issey Miyake and Muji. Morrison looked to the Pleats Please clothing collection for references for the Miyake watch. The Muji wristwatch is based on a scaled down version of a wall clock, somewhere between Braun and Hans Hilfiker's clock for Swiss railways. In between these two extremes of scale is a remarkable range of work that encompasses domestic sofas for Cappellini and office chairs for Vitra, television sets for Sony, coffee makers for Rowenta, cutlery for Alessi and lights for Flos.
Morrison grew up with an Anglo-Saxon passion for Meccano and the dismantling of motorcycle engines that was the conventional starting point for a career in design for his generation. He went through a transformational experience at the Victoria and Albert's exhibition on Eileen Gray that he saw just before starting his foundation year as a student, and made a remarkably acute drawing of Gray's Transat chair afterwards. "I knew immediately what I wanted to be when I saw the exhibition." He went to Kingston, an art school turned polytechnic, and then to the Royal College of Art. But much less usual for a designer, he also spent a lot of time in the company of artists, gallerists and curators. He was a close friend of Paul Kasmin, son of David Hockney's dealer, John Kasmin, who became a respected dealer in his own right. They shared a space in Kensington Market where the younger Kasmin tried to sell art, and Morrison ran a second-hand art and design book business. The celebrated art dealer and heroin user Robert Fraser, famously portrayed handcuffed to Mick Jagger by painter Richard Hamilton, sold him books when he needed money. David Hockney himself was a customer. Of course, Morrison avidly consumed the content of his stock before finally parting with them. It provided as much of an education as his professor at Kingston, where he grew increasingly impatient with a course that, as he saw it, was reducing industrial design to the cosmetic repackaging of existing products, and the tracing of details from the work of other people.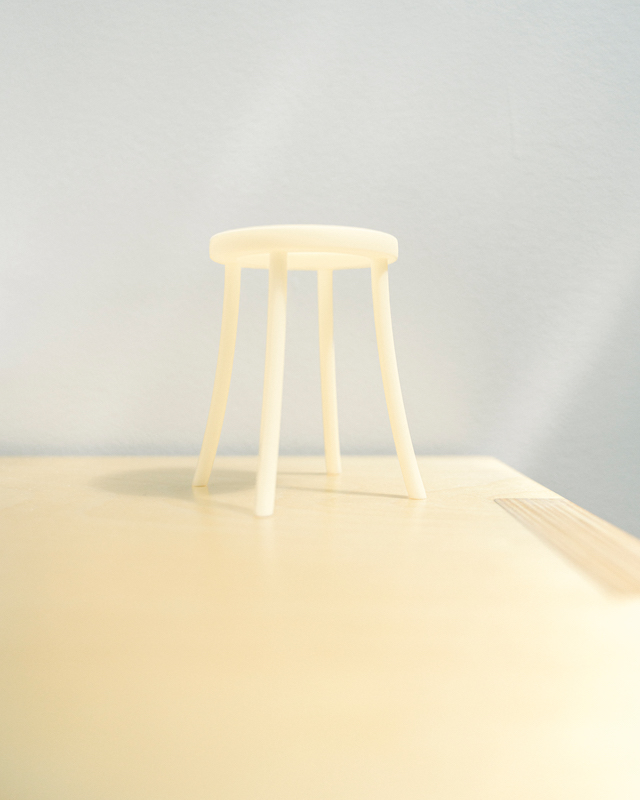 Morrison considered leaving. He went to see Ettore Sottsass's studio in Milan, and met Andrea Branzi who made a vague offer of a job. He found himself at the opening of the first Memphis exhibition. It was the very opposite of unnoticeable, but it had a profound impact on Morrison. Under its influence he even produced a vividly coloured and structurally unstable looking bookcase. It's an episode that he now writes off as a valuable if embarrassing lesson in failure.
In the end, Morrison stuck it out at Kingston and got his degree. He made a drawing for his final presentation for a side table, based on ready-made components, a sheet of glass, a thick timber strut, and two sets of bicycle handlebars, one to stabilise the table on the floor, the other to support the glass tabletop. It's a witty, clever and knowing reference to design history. Marcel Breuer is widely believed to have been inspired to design his cantilever steel tube chair by looking at the lightweight but robust frame of his bicycle as he negotiated the streets of Dessau while teaching at the Bauhaus. Achille Castiglioni made a lamp out of a band saw, a car headlamp and a fishing rod. After graduating, Morrison had ten of his tables made up and sold eight of them for £10 each. "It was reassuring to know that if the worst came to the worst, I could always support myself that way." One example of that edition was acquired by the Design Museum in 2009, with the help of the Art Fund.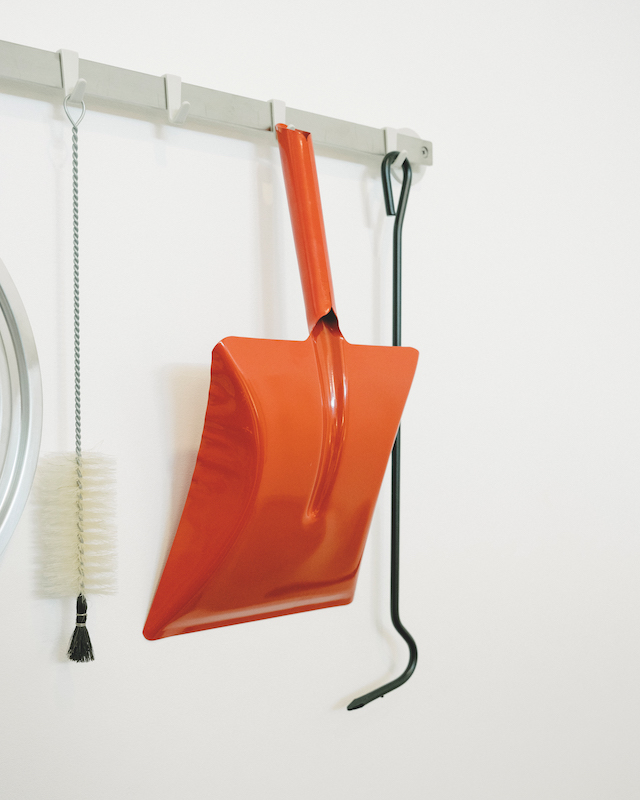 Morrison was equally restless at the Royal College of Art, and he took the chance to study in Germany for a year when he was awarded a scholarship on the recommendation of David Hockney. Morrison spent a great deal of time in the cafes and bars of Berlin, talking about design with his friends, but the experience also gave his work an injection of German seriousness. One of his professors was associated with the Ulm School, where the aesthetic that shaped his grandfather's Braun radiogram had been born.
Morrison's first major public exposure was at documenta, an exhibition staged every three years in the provincial German town of Kassel. In 1987 it was seen as perhaps an even more significant event than the Venice Art Biennale, and for the first time in its history a curator had been appointed to select a number of designers to take part alongside such artists as Joseph Beuys, Richard Serra and Ian Hamilton Finlay. Alessandro Mendini and Andrea Branzi represented an older generation of designers, while Ron Arad and Morrison were presented as new discoveries.
Morrison produced a slightly mysterious News Centre, with Reuters monitor screens on the walls and ticker tape spilling out the wire services. He created an interior setting with a few items of ready-made furniture, including an upended clay drainage pipe, and a coat stand made from a galvanised steel duct, with salvaged chair legs at the top and bottom. There was a map of the world on the wall, a floor made of peg board. The table came from his own flat and had been shipped out from London. There was just enough "atmosphere" to communicate that there was an idea, and an aesthetic sensibility at work.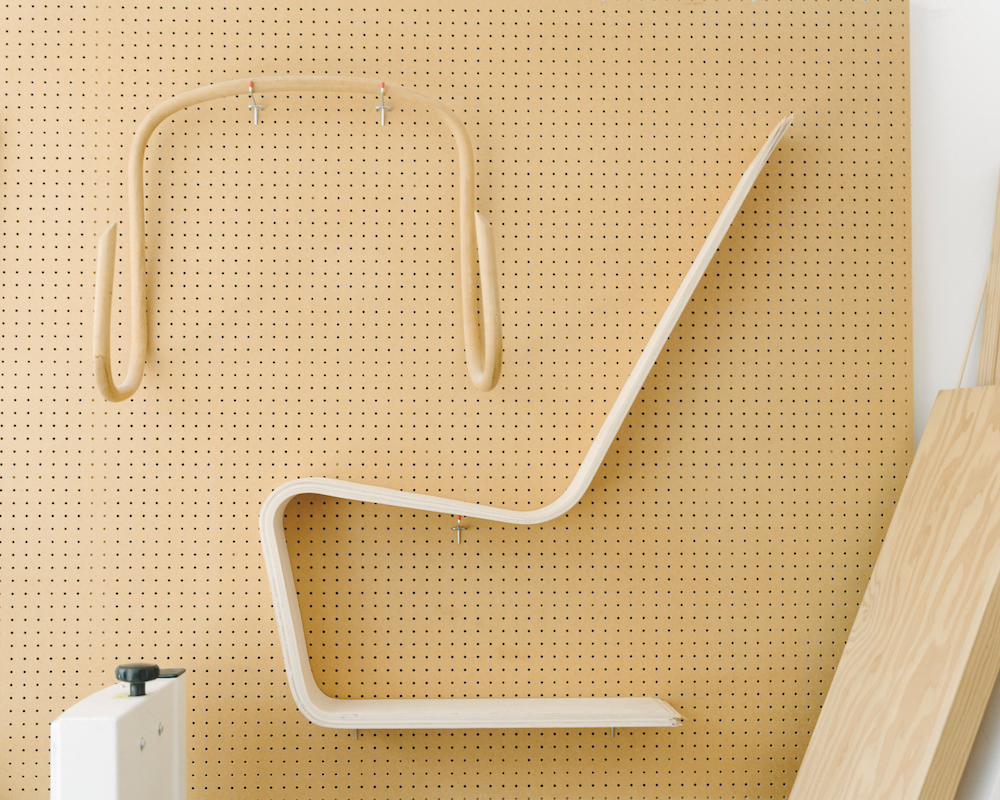 For the opening Morrison was on hand, snipping items from the constant feed of news spiralling out of the printer, and pinning them to the wall. "Naively I left scissors, and a bucket of pins, and hoped people would pin up news stories," he says. In fact, as soon as he had left, the display threated to be overwhelmed by aimless snow drifts of paper from the Reuters machines. "It was a bit of anti-art. I wanted to be completely factual, without artistic content," Morrison says now. "documenta was a big deal, I told Reuters who sponsored me that 300,000 people would see it. But I was trying to be clever, Norman Rosenthal from the Royal Academy told me, 'I just don't understand what you were doing'".
Much later, his experience of the art world equipped Morrison with the insight to be able to fence gently with Chris Dercon, the director of Tate Modern in 2016. In a conversation published by Tate discussing the furniture that Morrison designed for the gallery's second Herzog & de Meuron building, their somewhat tortuous dialogue captures something of the mutual misunderstandings between art and design.
"People coming to Tate Modern and seeing these different chairs, and different configurations, might wonder if there has been one of those new artists at work who are interested in mimicking design." Dercon ventured. "So there might be an interesting confusion, then."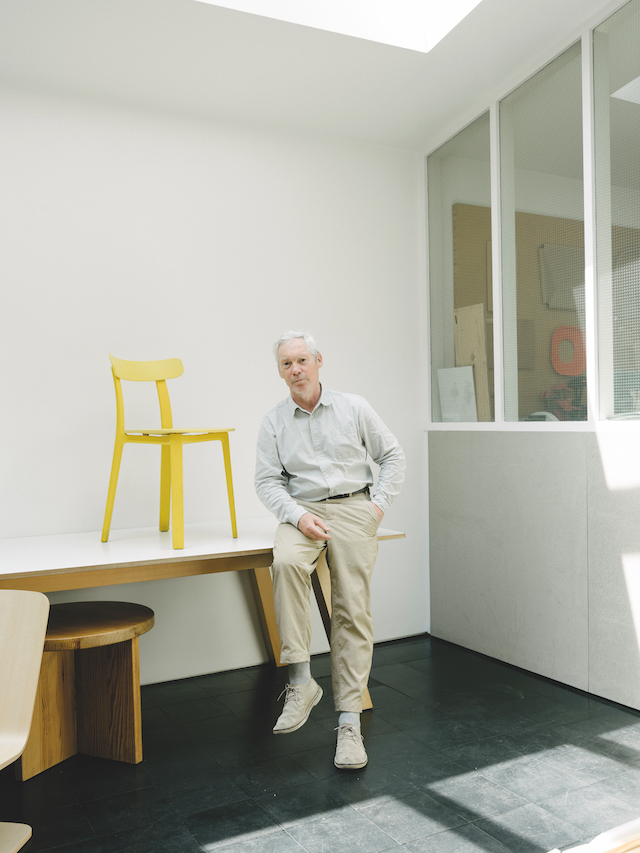 Morrison politely considers the suggestion before fending it off. "Possibly. I'm trying to think which object would create confusion – perhaps the wooden benches…" Dercon prompts him, "Because?" Morrison replies "Because they're so reduced, so basic in shape." Dercon falls into the trap Morrison has set for him and suggests "People might think they are minimal art!" Morrison dismisses the suggestion. "They might, but I think they've got a bit too much character." Dercon does not yet realise that he has lost the ping pong match. "Your furniture is often associated with minimal art," he claims. Morrison dispatches him. "I always hated being called a minimalist, and never understood why people did it."
In the end it wasn't his documenta exhibition that pushed Morrison out of the fringes of the art world and self-assembly manufacturing from ready-made parts and into mainstream mass production. It was a slide show based on his powers of observation. At the same time that Rolf Fehlbaum was commissioning Frank Gehry and Zaha Hadid to design their first buildings in Europe for his family company, Vitra, he asked a number of designers to produce experimental pieces of furniture for him. He had seen a version of World Without Words, a presentation that began as a slide show that Morrison delivered in silence and which eventually became a book. It was the first documented example of Morrison's way of noticing things. He showed, among a lot of other images, chairs by Enzo Mari, 19th century factory workers demonstrating the versatility of bentwood, the prime minister of Tamil Nadu in sunglasses, 19th century men in bowler hats, and the interior of the Maison de Verre.
Fehlbaum was intrigued enough to write to Morrison asking him to come up with a chair for him. Shortly afterwards the Italian manufacturer Giulio Cappellini saw the Thinking Man's chair, which Morrison had designed and was making to order to sell through Zeev Aram's showroom in London. He turned it into an industrial product, alongside a series of pieces manufactured in London by Sheridan Coakley of SCP – it was Morrison's first.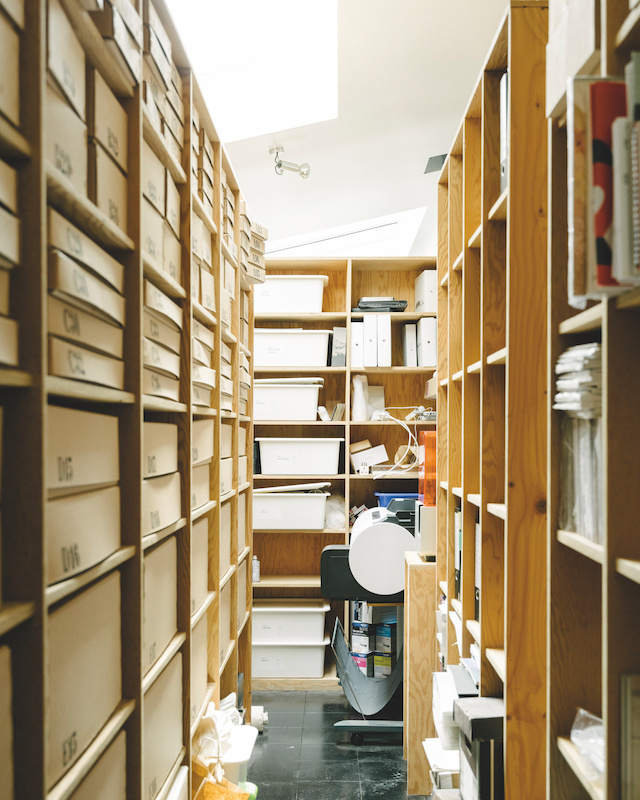 What sparked the Thinking Man's Chair, a design that Morrison invested a great deal of time and effort in perfecting, was the sight of a traditional 19th century armchair, stripped of its cushions, awaiting restoration. "It looked so modern, that I thought, I have to do a chair that is just structure." In that it got Morrison noticed in Milan it was an important chair, but it was not an approach to design that he repeated. "I did so many drawings, trying to figure it out, that I thought there must be more efficient ways to work. It really changed my way of thinking about how to do things. Economy of ideas is important, just like an economy of materials."
All the same, Morrison has not been afraid of experimenting. One of his chairs is entirely made of cork, another refines the plywood cantilever. The Air Chair depends on a technique borrowed from the car industry used to manufacture dashboards by blowing gas to force plastic material into a mould. A single squirt is enough to make a complete chair without any screws, bolts or other connections. The techniques may be revolutionary, but the visual language is familiar. "I want things to fit in with a wide range of spaces, which tends to knock out the radical," he says.
Rather than inventing something that had not previously existed, he refines precedents. "I have absorbed so much of the past of the international style, that it is in my subconscious, and in my memory. It's a kit of parts, to use, to reapply, to make things." It's an approach that has been consistently successful critically and commercially. "A product by (Philippe) Starck sells like crazy at first, and then slows. We generally have a slow take off, and then a longer flight," Morrison explains.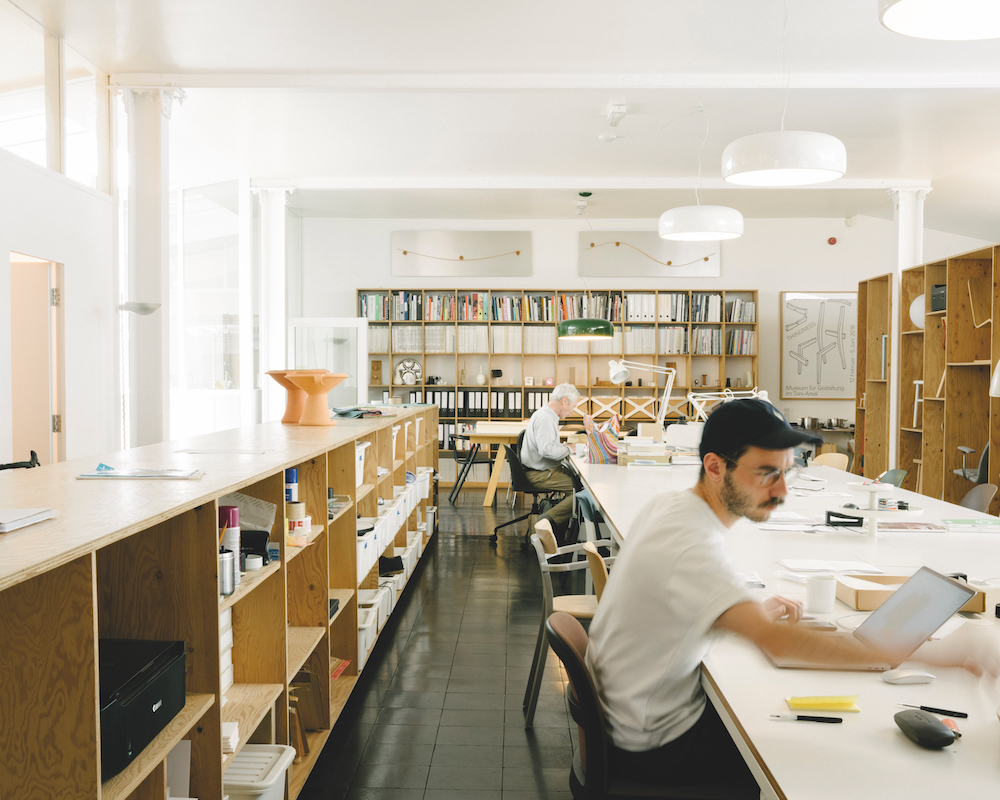 After years living abroad, most recently in Tokyo where his wife is from, Morrison divides his time between London and a country house near Hastings. He has had an office in Kingsland Road for 15 years, the latest in a series in and around Hoxton. One wall is made up of a set of display cases tailored to show some of the many chairs that Morrison has worked on. He has his own small shop there selling the kind of things that he photographs for his books: wooden spoons carved by the Bouroullec brothers' father. His personal studio space, up some stairs, is a careful and yet unselfconscious exercise in atmosphere. There is a beautiful Saul Steinberg drawing of San Marco in Venice on the wall dating from the 1930s, a West African solid carved version of a bentwood chair, and a well-stocked kitchen, the signs of a life well lived.
Morrison does not need to struggle any more. He spent much of the lockdown writing for Domus and cutting back on his commitments. "I will say yes to existing clients, but I am cutting out the disappointing things, where we are asked to do the same thing that we might have done before. Chairs I am ok with, but with requests for sofas, I tend to run dry of interesting ideas."
Fundamentally Morrison is a furniture designer, but he has also worked on some interesting bits of electronic equipment. The Sony hi-fi system looked beautiful but he knew it was never going to work – he had been commissioned by the company's British arm, not the dominant Japanese HQ. "If you have done furniture you can do a bit of product design, but I am better at furniture." However, you can understand why he was drawn to Punkt, a Swiss start up that manufactured the unsmart phone, a discretely handsome product that Dieter Rams would approve of, with a minimum of functions to avoid the distractions of always being available. "They came to me for an alarm clock. 'Why do an alarm clock when everybody has a phone?' I asked. 'It's for people who do not like electrical things," they replied. He said yes immediately.
Photography Thomas Martin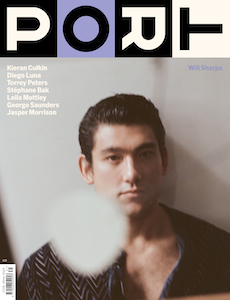 This article is taken from Port issue 31. To continue reading, buy the issue or subscribe here