Following the release of his 'Havana Cultura: Anthology' album, the dj, broadcaster and world music aficionado shares his favourite places to spend time in Cuba's capital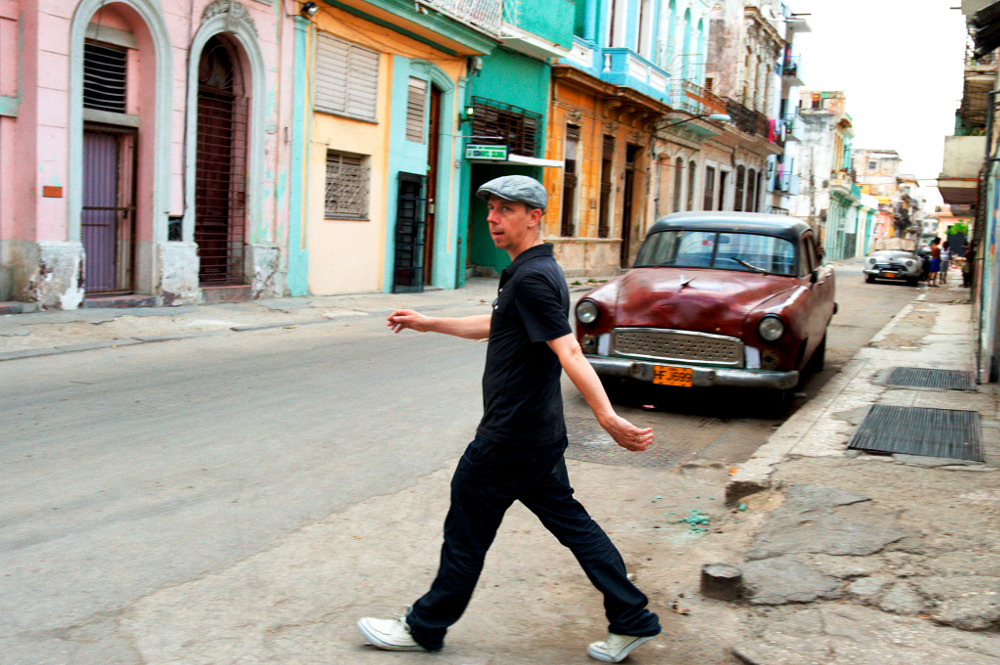 EGREM Studio cafe
I discovered this place inadvertently because we were recording in the studio upstairs, and I like it because it isn't too touristy. The studio itself is where all the legends have recorded, and that's why I recorded our first album there and returned to do the Daymé Arocena album there last summer. The space downstairs is nothing to look at, really, but they do fantastic rumba sessions there. It's definitely worth going to check out the music, and the good thing is that it all kicks off there in the early evening – you don't have to be there at 1 am to get the best of it.
Raices Profundas rehearsal space
This is the most magic place in Havana for me. It's not open to the public as it's a rehearsal space for the rumba dance troupe Raices Profundas, but for me it captures everything about the culture, music and dance of Cuba. I actually featured this place in a documentary series I made called Creative Class, and it's an old theatre that's falling to pieces, slightly off the beaten track near the centre of town. It's like the Cuban version of going to the Opera House. If you're heading that way, see if you can put your head around and you'll see how vast and glorious it is inside.
Seriosha Record Shop
People always want to know about record shops, but, unfortunately, in Havana there aren't really any apart from Seriosha. In all honesty, it's not a record shop per se, more of a bric-a-brac shop selling everything from sewing machines to to car parts, and it's right at the back of a little market. Because new turntable needles don't come into the country every month, many of the records aren't in great condition, but this place has all the gems – especially electronic fusion records from that sweet spot in the '80s. As a tip: for good quality Cuban records in London, I go to Cosmos Records on Hackney Road.
Miramar Hotel
One of the reasons I've been staying at the Miramar Hotel is because it is very close to the studio I've been working in. I guess you could say it's in the 'posh end' of Havana where all the embassies are, and when I stay there I always do a run from the Miramar to the old town and back. You've got to get up quite early so you get back before it gets too hot, but  I really recommend it because it takes you all the way through from the outskirts of the city centre to the Malecón, which is like Havana's Promenade des Anglais. You can go via Revolution Square on the way back and I'm always discovering new corners of the city. It's a great way to see Cuba.
Berthold Brecht Cultural Centre
It's a formality that I go here every time I visit Havana, and I suppose that's because it's the club where Roberto Carcassés' band Interactivo have residency. Roberto is the son of Bobby Carcassés, who is a legendary Cuban jazz pianist of the '70s and '80s, and he's got a great approach to music. He's very interested in trying things out and incorporating new styles like rumba, hip-hop and rap. The crowd is a lot younger, and it's a really interesting insight into modern Cuban jazz. It's really worth going to see them there.
Santy Pescador
People are always talking about eating in Cuba.  When I was first there, the food was really disappointing because, of course, the ingredients weren't coming into the country. I would come back home having put on weight from only eating fried chicken and drinking rum, so I was keen to find new places when I next returned. This place is a little obscure: a Japanese restaurant,  believe it or not. It's in the west of Havana close to the Marina Hemingway. It's quite a while out of the centre, but it's nice because the restaurant backs onto a river with lots of little fishing boats, and you can sit outside on a balcony overlooking it. The chef here is totally Cuban. He obviously must have travelled to Japan at some point– but the food is wild, it blew me away.
Gilles Peterson's 'Havana Cultura: Anthology 2009-2017' album is out now and features some of Cuba's newest musical talent. The record was created in partnership with Havana Cultura, a project by Havana Club rum.