Offstage Theatre's Cressida Brown is challenging traditional interpretations of Macbeth with a new production in the heart of Paris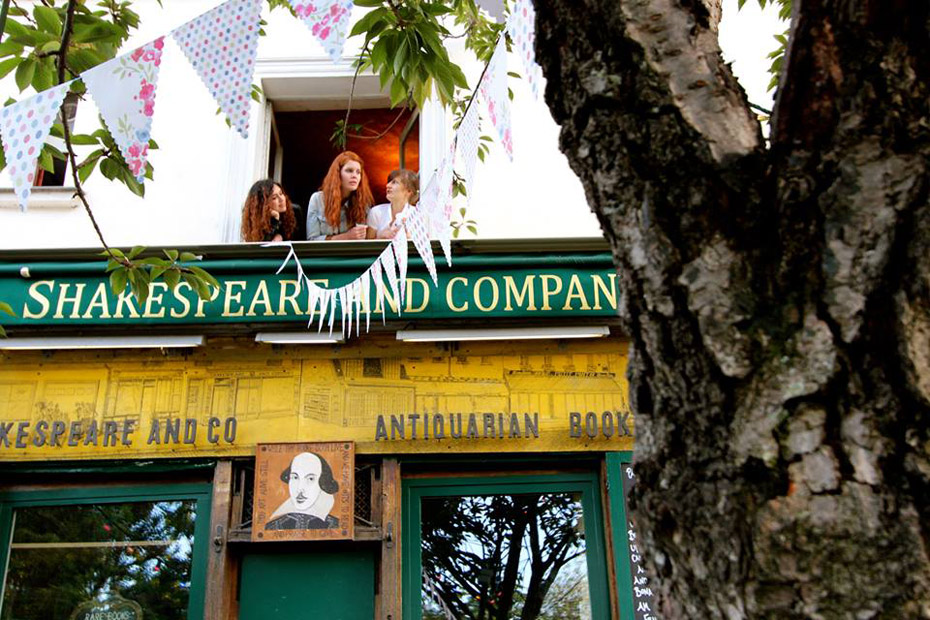 "One of my frustrations with Shakespeare theatre in general and the way it's done is that people don't read the play like it's the first time. Therefore people assume that if a character says they're something, they are something, which they would never do in a modern play." Cressida Brown, artistic director of the site-specific theatre company Offstage Theatre, feels Shakespeare's greatest tragedy has been misinterpreted up until now. "Macbeth is one of the most fearful and paranoid of Shakespeare's heroes and in my production he has every reason to be."
2014 marks the 450th anniversary of the Bard's birth and Offstage Theatre, in conjunction with Shakespeare and Company, Paris' most famous bookshop, will be leading the celebrations on the city's Left Bank with a production of Macbeth, staged in the Square René Viviani. The free production forms part of the bookshop's Bard-en-Seine festival. In keeping with Brown's previous work, which has been staged in swimming pools, tower blocks, anywhere but the stage, it will be highly interactive.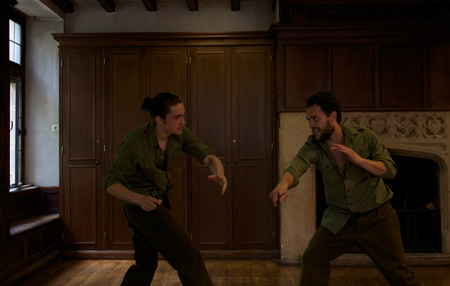 Top: Shakespeare & Co.
Credit Liz Jurey
Above: Macbeth rehearsal. Credit Rozena Crossman
Below: Much Ado About Nothing, last summer. Credit Liz Jurey
"My work is very experimental, space is as important to me as the words. All the fighting is very Hunger Games; anything you can grab in the park can then become a weapon. I hope it's incredibly exciting to watch because you never know when that little puddle is actually going to turn into something you can drown someone in." The square, in the shadow of Notre-Dame, is home to the oldest tree in Paris, "which is exciting for a play about a man who comes in and decides to chop all the trees down in order to win a war."
2014 is also the centenary of the outbreak of the First World War and Brown has chosen to set the play in 1914, with many of the soldiers played by young actors, who, like the rest of the cast, are all bilingual and Paris-based: "It's in the text. There are whole references to ill equipped soldiers, who didn't even have beards, being dragged off the street in order to fight for those in power."
But there are other, more pertinent, political parallels running through Shakespeare's text, Brown feels: "For me Macbeth is about nominating a tyrant. The Elizabethans would have viewed the Scottish as barbaric cannibals and would have been expecting a depiction of bloodthirsty Celts. What they get instead is a man with a conscience. Shakespeare was being a self-consciously clever playwright. Malcolm gives a very brief 'press release' in his final speech about "this dead butcher and his fiend like wife" which the audience, having seen Macbeth's decline and been privy to his innermost thoughts, would know doesn't tell half the story.
"The way the actors deliver the lines: the audience are being asked for their opinion, even if they don't vocalise the answer"
"At the time James VI and I had just been made king of England and Scotland. What you're watching as the play progresses is a very Machiavellian takeover of Scotland by the English. Malcolm invades Scotland with ten thousand men, chopping down the Scottish nature to claim power for himself. By the end of the play, Macbeth is the only person left wearing a St Andrews flag on his arm. Every single other Scottish lord is wearing a St George's cross."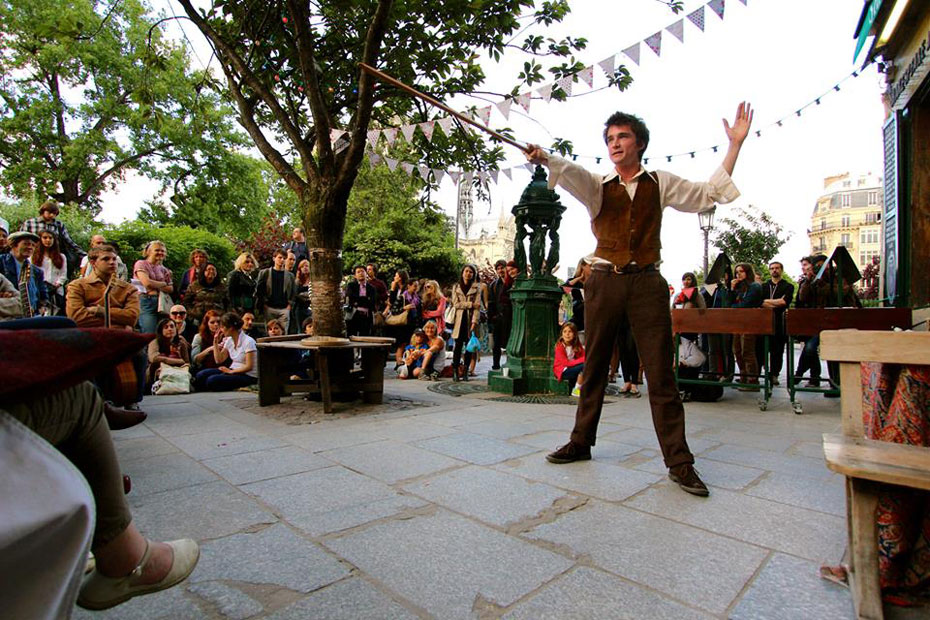 Brown wants the audience to understand every murderous choice Macbeth makes – to empathise with and even encourage him during deliverance of the play's famous soliloquies. "You can't get more interactive with an audience than you can with Shakespeare. Everything is a conversation, you can have people yelling and shouting. That's very much the heart of this production. The way the actors deliver the lines: the audience are being asked for their opinion, even if they don't vocalise the answer."
I imagine George Whitman, the eccentric late proprietor of Shakespeare and Company, would approve of Brown's production. An American GI who settled in Paris after World War Two, Whitman saw his shop as a socialist utopia, offering free cultural events and bed and board to travelling writers, regardless of status, providing they committed to reading a book a day.Brown is "very much entrenched with the make-up of the shop" as a good friend of Whitman's daughter Sylvia, who now runs Shakespeare and Company following George's death in 2011, aged 98. "Oh my God he would be causing havoc. He would be coming into rehearsals, he would be telling the actors what they've got to do. I'd have a very difficult job on my hands. He would definitely assume the role of director," says Brown, doing her best to stifle a full-on belly laugh. "He would absolutely love it. You know what I was saying about the audience talking back? If George was in the audience we'd have it ready made."
Words Tom Jenkins
Macbeth at Bard-en-Seine runs for four nights, from 23 to 27 July. More details HERE