The documentary film maker on how music got him hooked on filmmaking, and has facilitated his dream-encounters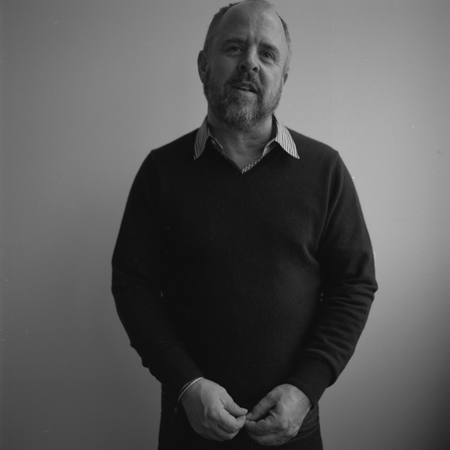 Words Hazel Saunderson
Photography Graeme Mitchell
Gary Hustwit is the independent filmmaker who produced and directed what has become known as the Design Trilogy. He tells Hazel Saunderson how Helvetica (2007), Objectified (2009) and Urbanized (2011) enabled him to meet his heroes, and how crowd-funding helped to complete the project.
Hazel Saunderson: When did you first get involved in filmmaking?
Gary Hustwit: It all started with music: when I was in college a lot of my friends were in bands and I started helping them to produce records. Music has been something that has run through most of my projects, and I originally got involved in filmmaking by helping friends to make music documentaries. Graphic design has been another constant in everything I've done, and that's how I got the idea for Helvetica. It's such a polarising font and a lot of people are either fans of it or not. Looking at what designers do through the lens of one typeface is a chance to talk about modernism, postmodernism and visual communication.
Hazel: The films in your Design Trilogy deal with very specific subjects. Is your intention to open these subjects up to a wider audience, or to provoke discussion within existing communities?
Gary: The primary reason I made them was to answer my own questions. They're really very personal films. I'm always interested in asking why… Why are certain decisions made about graphic design? Why is this chair designed the way it is? Who are the people behind it? I think that most people just take things for granted. Like when you are using your computer and you open the font menu, a lot of people don't realise there were human beings who actually drew those fonts. When you know more about the process – whether it's how fonts are designed, or cars or cities – you are more informed and you can be more critical when it's not done well.
Hazel: The film that really struck me was Urbanized, because of the powerful human aspect to the stories and the effect that large or small planning decisions can have on people's lives.
Gary: There are so many different people, agendas and visions that go into shaping a city. I am fascinated by how people walk out their doors and how everything they do the entire day is dictated by the design of the city – but people just accept it and don't question it. We need to try to look at things in a different way and to question the status quo. Some of the most inspirational projects we encountered while making Urbanized were community-driven, with ordinary citizens just identifying some issue in their neighbourhood, then organising people to change it. That's the kind of effort and energy that needs to go into changing cities. Everybody has an idea of what they want in their neighbourhood, or what makes them happy, or how they would love their city to be – and they can all be involved in making that happen.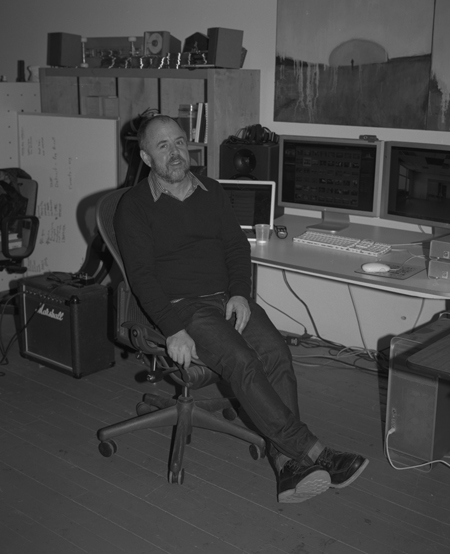 Above: Gary in his studio. In addition to film equipment, he also has a collection of guitars, amps and music equipment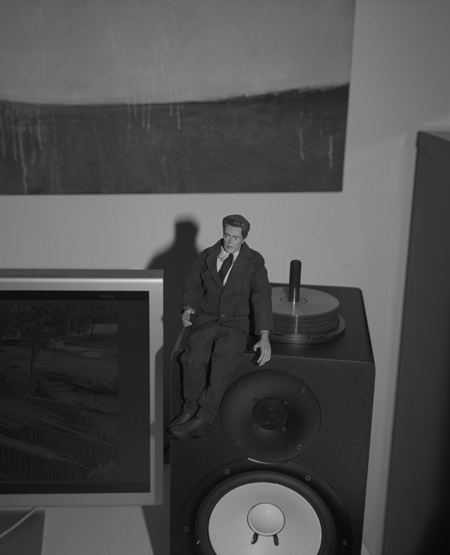 Hazel: Urbanized was part-funded using Kickstarter – what were your motivations for using crowd funding?
Gary: Well, all three of the films have kind of been crowd funded – even before the term crowd-funding existed! Helvetica was mostly funded by people buying posters, prints and T-shirts. Then the money from Helvetica went into producing Objectified, and both those films helped to get Urbanized started. But Urbanized took longer and had a larger budget than the other two films. Involving the audience in the project is something I've done with all the films, but Kickstarterformalised that process.
Hazel: I wondered if the objective of using crowd funding was purely monetary or if it was also about gaining support for the vision?
Gary: The great thing about crowd funding is it can do both. It is about raising money, but it's also about including people in the project. We got so many ideas, suggestions and outright help from the 2,000 people who backed Urbanized. When we were travelling we met people who had backed it, and when we were trying to find a cameraperson in a new city often one of our backers would know someone! Then you've suddenly got 2,000 people who want to help get the word out about the film and they become part of your outreach. I'm the first person to admit I'm not an expert on the subject of a film when I start it, and I'm more than happy to ask people who know more than me for help and ideas. Kickstarter is a way to do that, as well as a way to raise funds.
Hazel: Each film features a long list of inspirational interviewees, including many of the world's top designers, curators, architects and urban planners. How did you choose these contributors?
Gary: It's really hard. I spent about six months before starting each film doing research, and then each interview I did would frequently lead to another one – so a lot of it happened organically. Urbanized took three years to make, and I often think that if we'd had a large broadcaster or corporate backing – and were able to make it in six months with a bigger budget – it wouldn't be the same.
Hazel: What were the stories that really stood out for you?
Gary: Well, I got to meet Oscar Niemeyer in Brazil. He passed away recently and he was 104 when we interviewed him, so that was a big event for me. I've been really lucky; I've had the chance to talk to and spend time with some incredible designers through the films. I guess that's a benefit of making a documentary – I can't just ask Rem Koolhaas to go out for lunch with me, but if I'm making a documentary people want to be involved. So if there are any people that you really want to get to know, just make a documentary about them!