Legendary musician Ryuichi Sakamoto reflects on his three-part symphony for the storied champagne house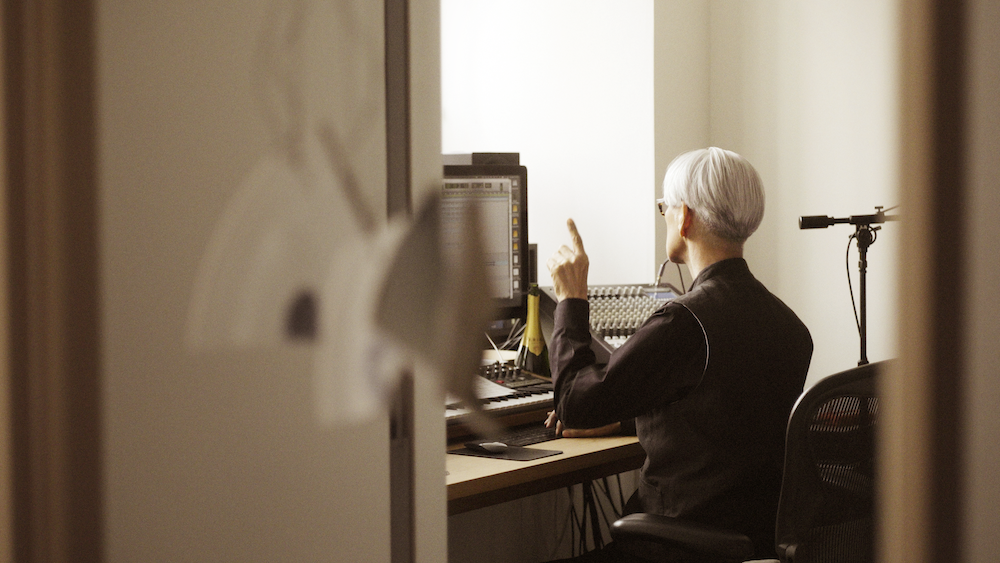 Ryuichi Sakamoto, the Japanese sonic titan, has created some of the most affecting soundtracks to moving images, working with film directors such as Bernardo Bertolucci, Pedro Almodóvar, and Alejandro González Iñárritu. It is a curious and exciting project for him, then, to be translating a trio of champagnes into music. At the end of 2019, the Oscar-winning composer and producer met with the House of Krug, and over the course of 18 months, created a three-part symphony in response to three creations from one single year: 2008. These included Krug Clos du Mesnil 2008 (drawn from a 1.84-hectare vineyard has been protected by stone walls since 1698), Krug 2008 (nicknamed "Classic Beauty" by the winemaking team) and Krug Grande Cuvée 164ème Édition (a blend of 127 wines). Informed by frequent tastings of the cuvées and discussions with cellar master Julie Cavil, the 'Suite for Krug in 2008' was also shaped by on-site field recordings of Krug's vineyards and cellars in Reims, France.
Starting from September this year, the storied champagne house is hosting concerts in New York, London and Tokyo for attendees to experience the end result with a glass in hand, aided by a live orchestra of 36 musicians selected by Sakamoto and his long-time concertmaster. 15 local events around the world will then reproduce the show through 3D music technology, with the symphony's work also accessible to everyone via Krug.com and streaming platforms, presented in stereo and surround sound.
To celebrate, Port had the pleasure of speaking to Sakamoto about the project, as well as causes close to his heart.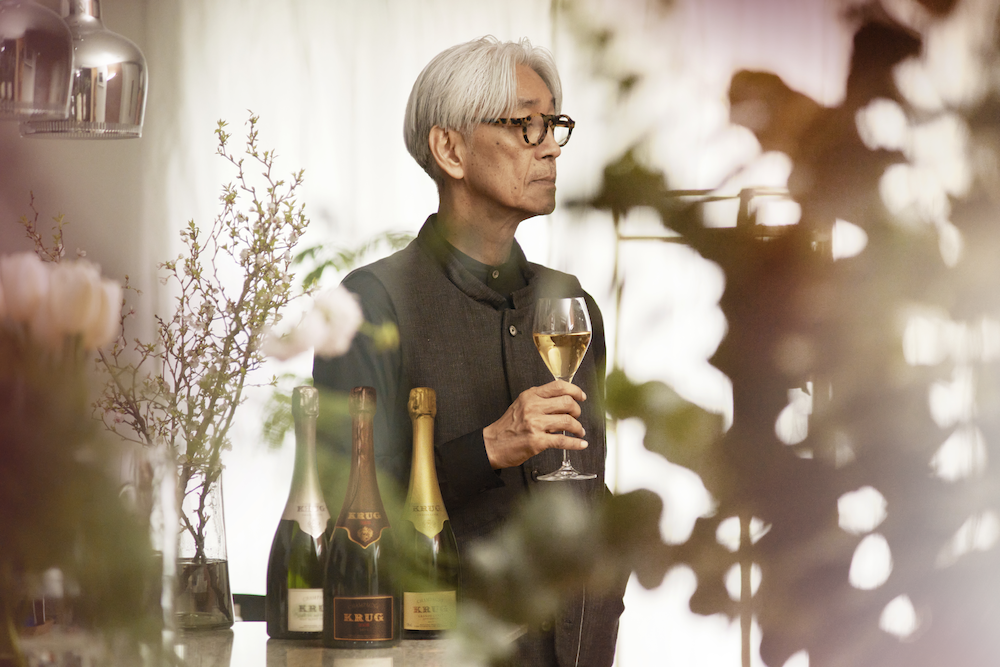 You have a wonderful body of work connected to the moving image – I listen to 'Merry Christmas Mr. Lawrence' when I want to find peace – how did you approach responding to something physical, sensory, like the 2008 Champagnes, translating that into sound?
I like the concept of making the impalpable tangible. It is well said that we are "touched by music". I deeply believe in the sensory power of music which provokes emotions in us. At Krug, it is the opposite: the champagne is palpable in your glass and also provokes emotions. I like the idea that Krug wants people to listen to its champagnes. I listened to Krug's champagne, and it led me to where I should land musically.
What did you discover from your team's field recordings in Reims, and how did they inform the symphony?
During their time in Reims, my team captured the sounds of each step of creation, with microphones, and even the silence of the cellars. We wanted to understand how Champagnes are created at Krug and see the parallels between this art and mine. While I took in Krug Cellar Master Julie Cavil's words and tasted the cuvées, I immediately understood the great care that goes into each bottle of Krug. Because they used a music analogy and vocabulary, everything was easy to understand: we share a similar language. And that was the genuine experience of "Seeing Sound, Hearing Krug."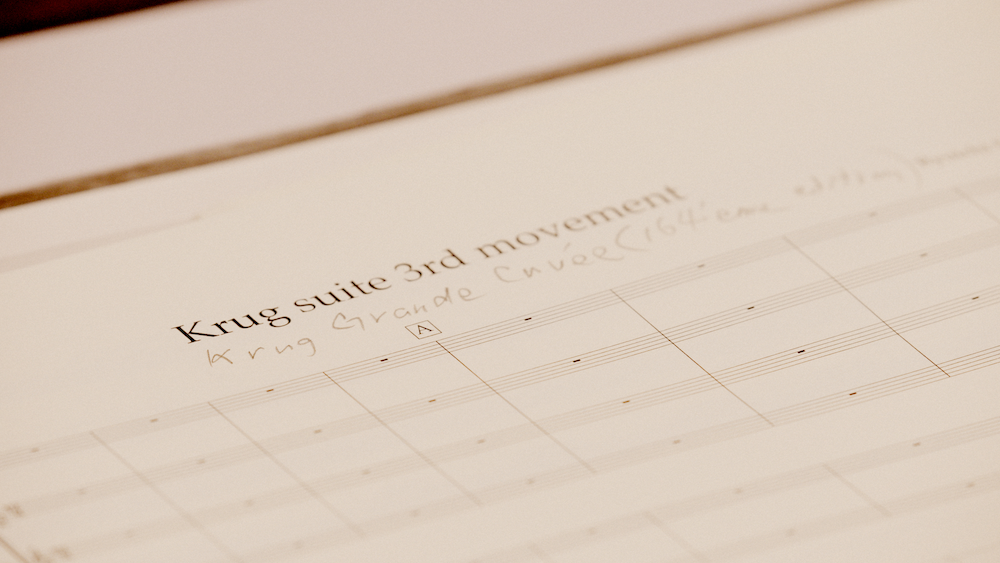 How would you describe the three movements?
I strongly believe less is more. The first movement is a Solo, echoing the purity of Krug Clos du Mesnil 2008. A single grape variety. A single year. A single parcel. A soloist. I was inspired by the Champagne's minimalist aspect, excellence pushed to its extreme with great precision. A piano solo was an obvious choice, but when I considered the system of natural exchanges that give birth to this Champagne, I wanted to add another voice and accents supporting the solo piano.
The second movement brings a small ensemble together around Krug 2008, performing the music of the year 2008. Krug nicknamed this Champagne "Classic Beauty", and I think it means both timeless and elegant. Not too disruptive to break the rules, not revolutionary, but enough to be in the annals of history. For this balanced and elegant Champagne, I chose an ensemble of violins, cellos, and other stringed instruments but also added woodwinds for depth.
In the last of the 3 movements, I wanted to express the generosity of Krug Grande Cuvée 164th Edition, performed by a full symphonic orchestra. I actually composed this third movement first as it best expressed the raison d'etre of Krug. To translate into sound the most generous expression of Champagne, I was on a quest for harmony, intensity, and generosity from multiple sounds, both instrumental and electronic.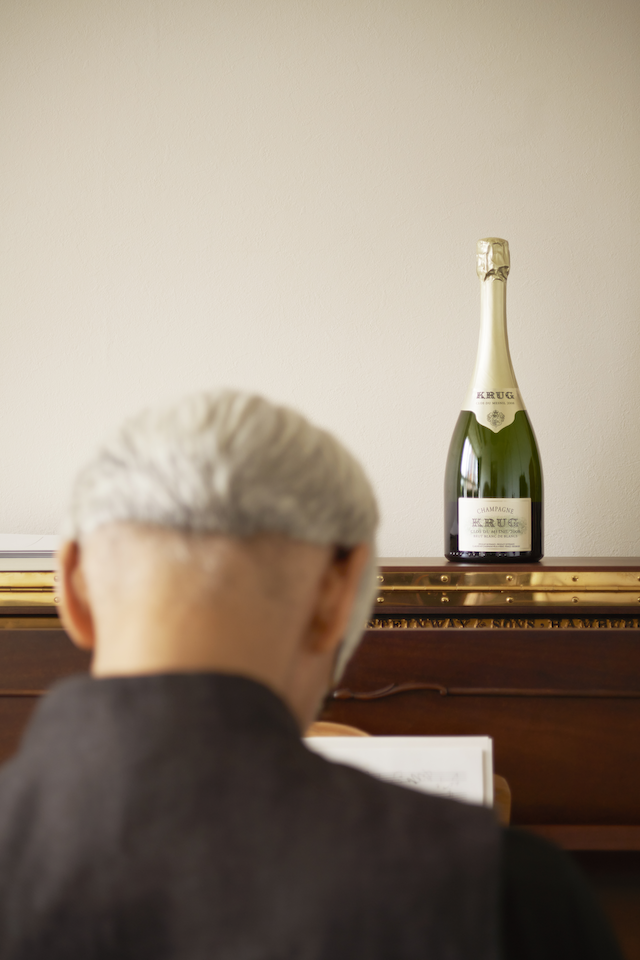 When do you most enjoy a glass of Krug?
I most enjoy a glass of Krug when I'm working in my studio, as it helps translate the flavours and aromas into music, and what the Champagnes would sound like. A very didactic approach, maybe. But when I sat down to compose the three movements, I also placed a bottle of Krug in my studio where it would catch my gaze. Its elegant shape and colour also inspired me. And my inspiration was driven more and more by sensation. 
How did it feel to work in a large studio, with a full orchestra? What possibilities open up when you work at this scale?
I am in my studio most days making music. But to be back in a large studio, making music with many musicians, the feeling of joy and elation is on another level. It's been a while since I last savoured this. It's a bit of cliché but there really is something special when an orchestra plays together in one room.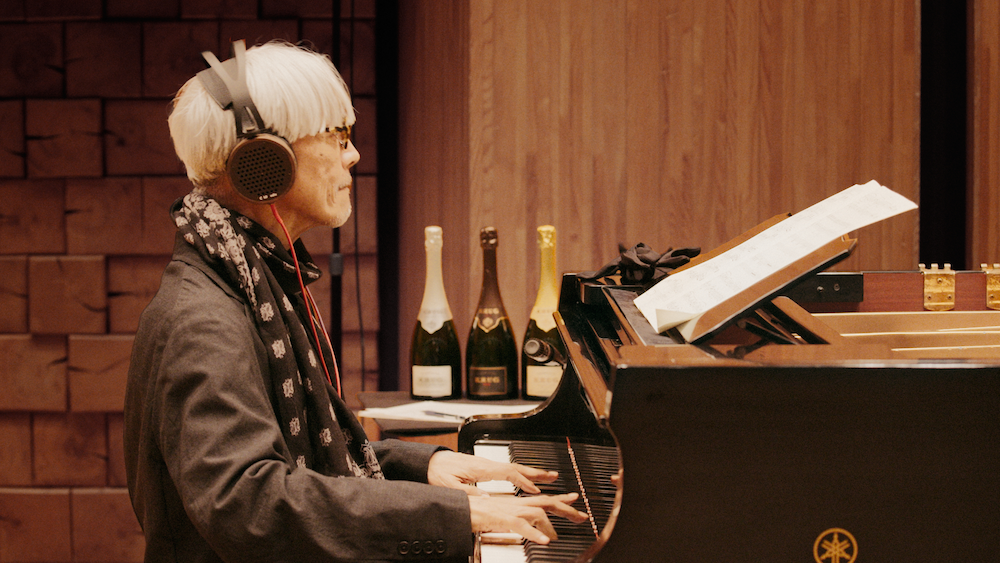 In addition to anti-nuclear and environmental activism, what other causes are close to your heart?
I think that becoming a researcher in the anthropological field would have definitely been my career choice, if I hadn't become a musician. I have always been interested in anthropology, in finding out about our ancestors and in the cultural side of history in particular.
Given this project happened during the pandemic, did that shape your process or the end result in any way?
During the pandemic, Julie and I shared ideas remotely via video, and I learned about her craft, shared thoughts, and vision of creating the three cuvées of 2008, called "From Soloist to Orchestra in 2008". Not only the pandemic prevented me from traveling to Reims in person, but I was on hiatus from my illness, so I sent my team to Reims to record the sounds of Krug. The pandemic delayed things but also enabled me to take the time and get to know the House and Julie better.
In a recent statement in response to your health difficulties, you said, "Since I have made it this far in life, I hope to be able to make music until my last moment, like Bach and Debussy whom I adore." What solace does music bring you at this point of your life, and has its meaning changed at all?
Despite my health difficulties, I aim to find new possibilities for music, while making meaningful contributions to culture and society. Each creation is a new challenge. I could say that music brings me solace at this point in life, by allowing me to continue to create something unique that, once it is born, no longer belongs to me.
In addition to being accessible via Krug.com and streaming platforms, Suite for Krug in 2008 is the foundation of Seeing Sound, Hearing Krug, an immersive symphonic experience which reproduces the live-orchestra sound using 3D music technology and Devialet Phantom speakers. Featuring a tasting of the three Champagnes and accompanying light design, the event will come to London on 22 November with tickets available from Clos19.com