Port meets rock musician Lenny Kravitz to learn more about his photography, parties and friendship with the Chef de Cave of Dom Pérignon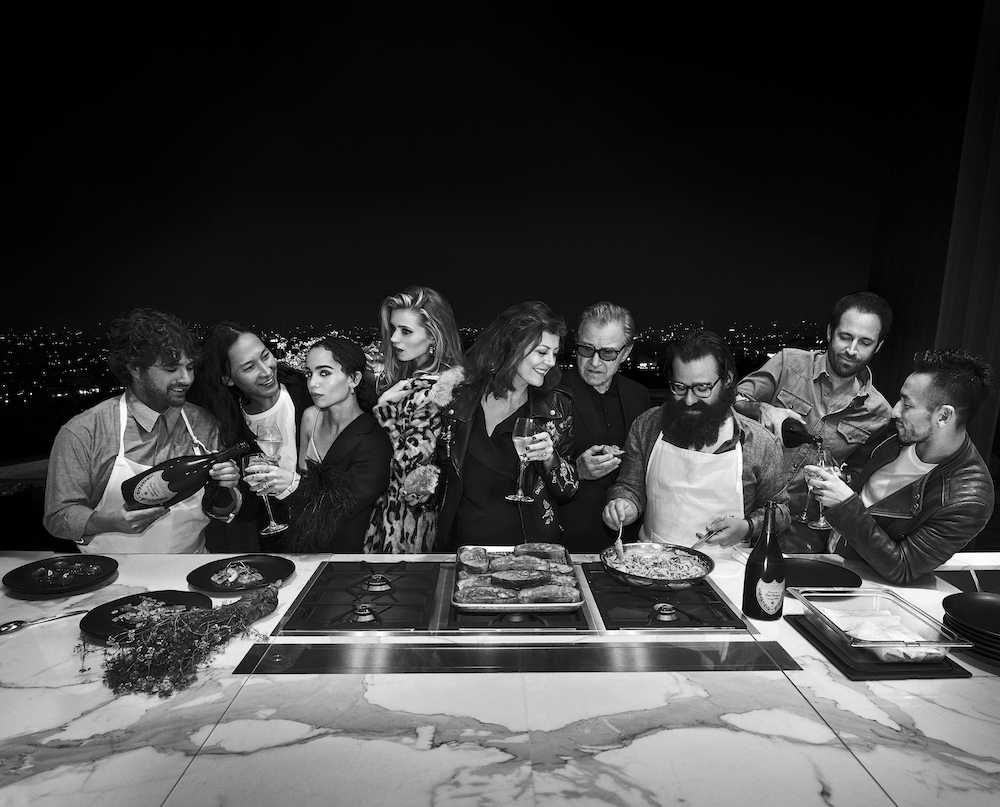 When Lenny Kravitz first met Richard Geoffroy ten years ago, he immediately sensed that he was in the presence of a fellow artist. As an infamous rock star and Chef de Cave of Dom Pérignon respectively, the match was by no means obvious, but when pressed on the matter a grinning Kravitz gestures at his open shirt and flared jeans and deadpans, "what, you don't think we're alike? I borrowed this outfit from Richard." Unshakably smooth, his manner becomes discernibly enthused when he proudly relates, "we're both very disciplined, we both have so many ideas about things, we both enjoy the creative process… we just realised we were more alike than different."
Deeply respectful of Geoffroy's work, which he describes as "a whole science", Kravitz sees his new role as creative director as an opportunity to invoke how the Dom Pérignon experience matches that expertise. A classic champagne, for him the brand is most associated with something "you're going to remember… it marks a time, an event, an occasion". It is with that vision in mind that Kravitz produced Assemblage, a series of photographs in which he captures the fun and fleeting sophistication of such moments with an intimate gathering of friends at Stanley House in Hollywood Hills, a product of Kravitz Design.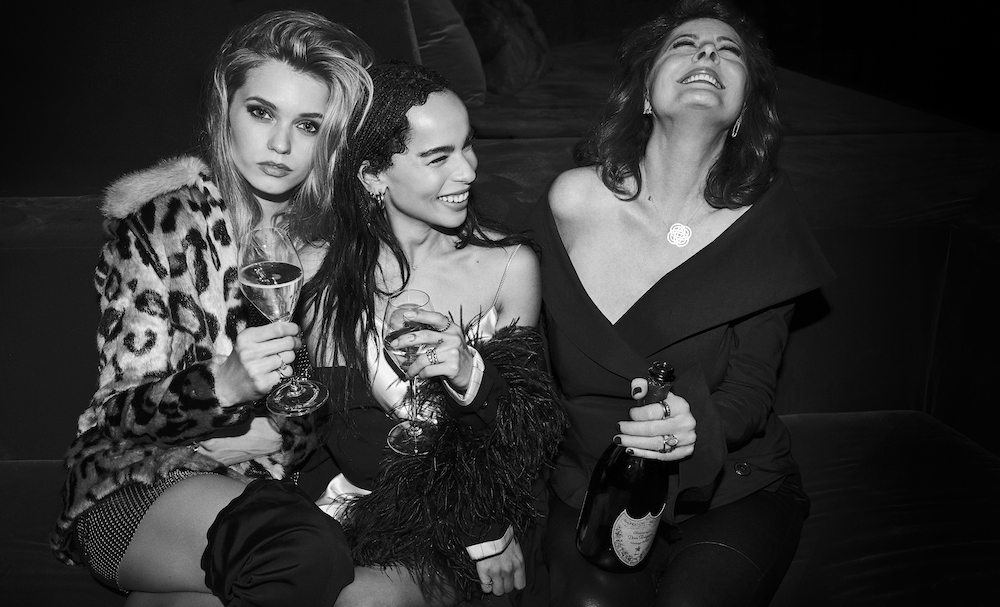 Kravitz's delightfully blasé descriptions of the evening, which, like many others, began with cooking in the kitchen, became a dinner party and ended up at the nightclub downstairs, belie the eminence of his guests. "We just started to hang out and talk – my daughter was the catalyst… It was just this eclectic group of artists hanging out and getting to know each other." The group of artists in question included daughter Zoë Kravitz, Susan Sarandon, Alexander Wang and Harvey Keitel, among others, and they do indeed seem to revel in each others company more and more as the night wears on.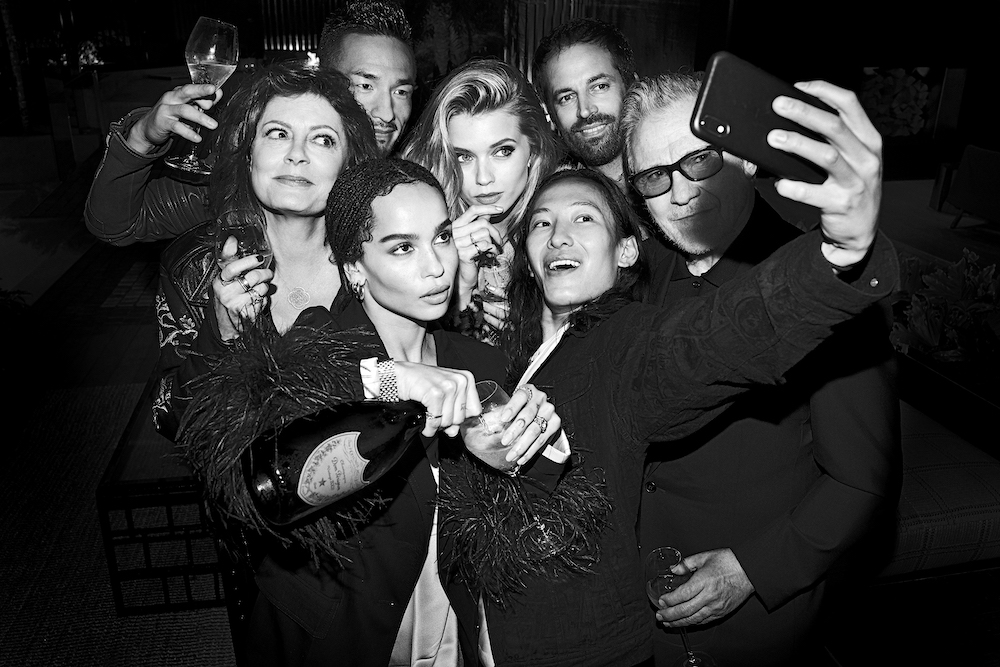 Kravitz was "very much inspired by this book of Studio 54 photographs by Ron Galella," an early paparazzo known for his shots of New York's nightlife, so staged the series "inside, in the dark, with the flash". Producing Assemblage has allowed Kravitz to develop a lifelong curiosity for photography that was sparked when his journalist father presented him with an old Leica camera on his 21st birthday. 
His music would soon place him inside a frenzied arena of pointed lenses but he remained more interested in "what was going on behind the camera". On visits to the studios of Mark Seliger and Jean Baptiste Mondino he picked up a few techniques, but ultimately Kravitz learnt how to use a camera like any other of his instruments, "getting it, putting it in my hands and figuring it out".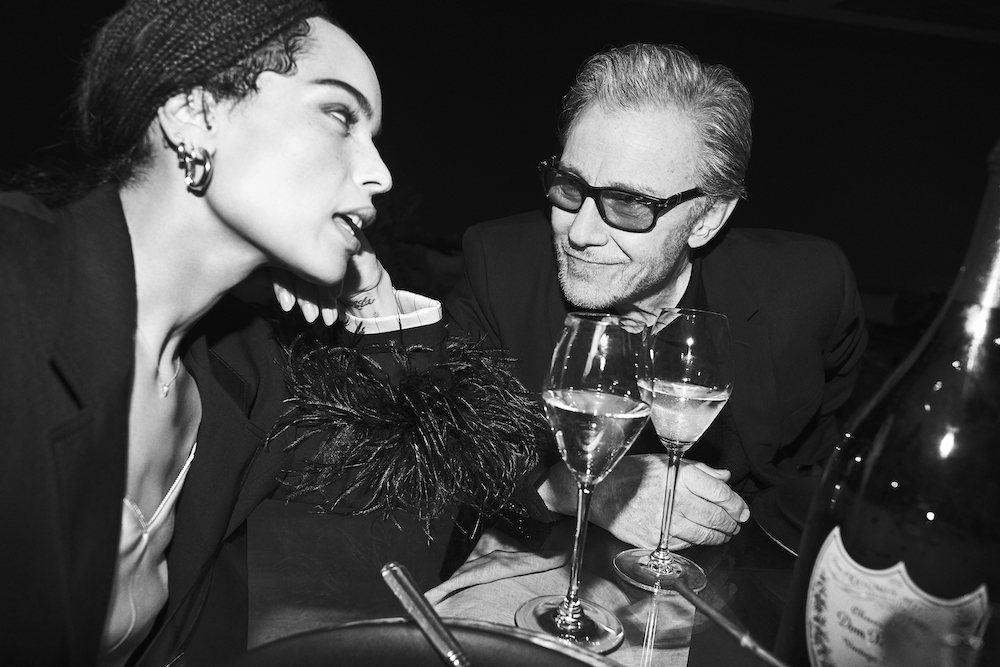 The collection was launched at New York's Skylight Modern on Friday evening, with limitless 2009 vintage champagne and a captivated crowd of models, actors, journalists and artists drawn from across the city and globe. No buzz was greater, however, than that for the arrival of Assemblage's stars, who were paraded around the room behind a thicket of mics and flashing phones. 
Still, there seemed little left to add to the story already being told along the gallery walls. Shot in black and white, the images are a glimpse at rare, unguarded moments and include charmingly candid stills from scenes steeped in joie de vivre. It's an energy that seems to follow Kravitz wherever he goes and fully infuses his collaboration with Dom Pérignon, which sees a limited-edition bottle released next year. "Even if its a legendary brand… we're all having a great time, and thats what makes it work for me."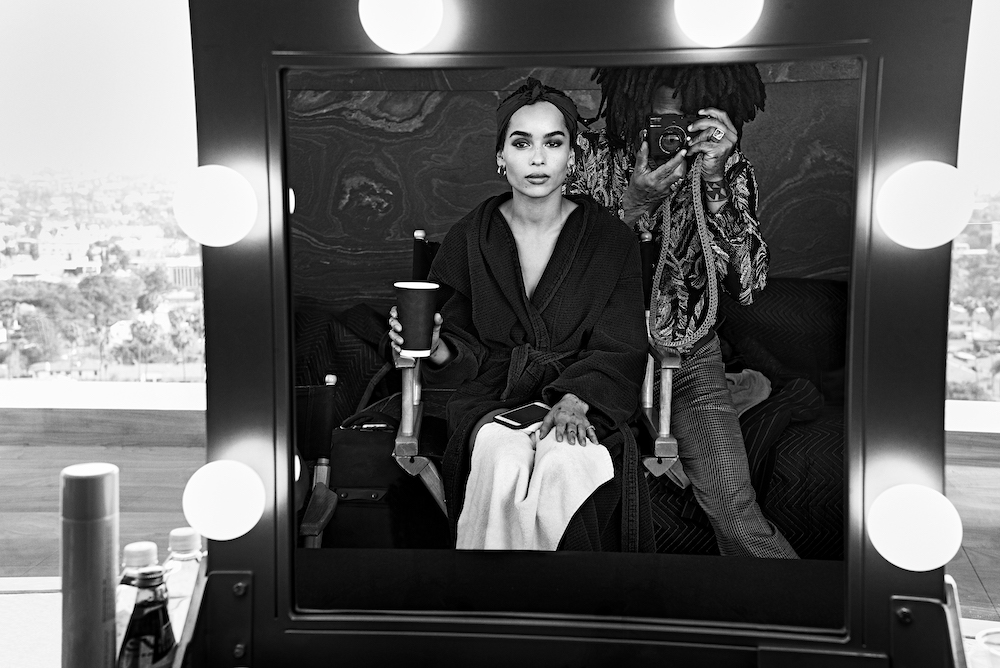 'Assemblage' is exhibited at Skylight Modern in New York until 6 October. It will then travel to London, Milan, Tokyo, Hong Kong and Berlin. 
domperignon.com