Danish artist Jeppe Hein reflects on his participatory installation for Ruinart's annual Carte Blanche commission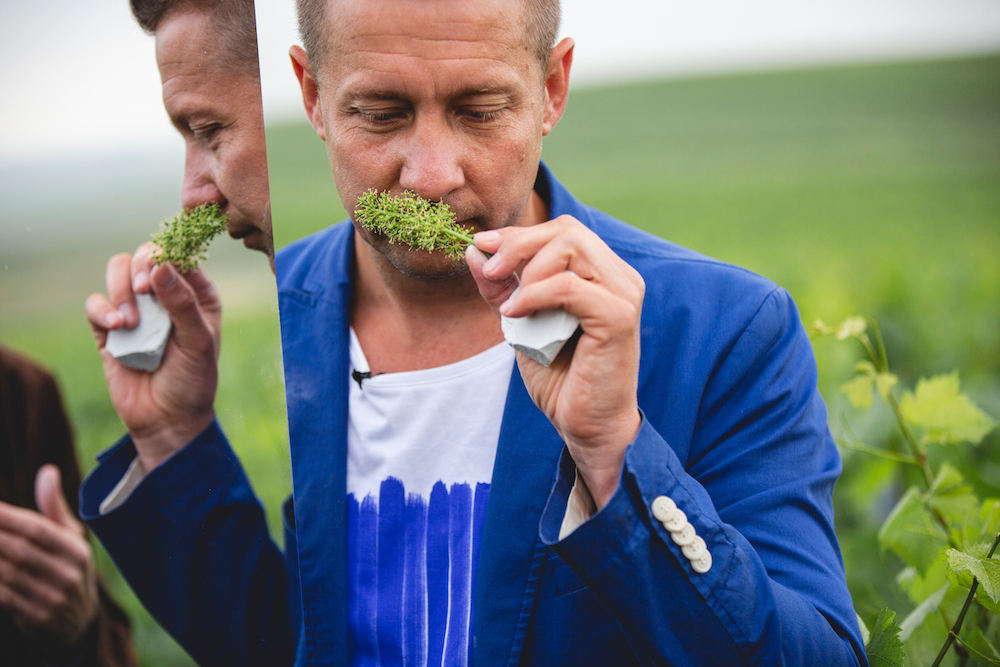 At the world's major art fairs – bustling mazes of white-walled booths draped in blue-chip art where gallerists and collectors gather to see and be seen – Ruinart has become a classic staple. It is served at a dizzying list of fairs internationally, including Art Basel and Frieze, as well as the Venice Biennale. Amid the frenzy of activity found there, RIGHT HERE, RIGHT NOW, a new participatory installation by Danish artist Jeppe Hein, asks us to pause for a moment and transports us to the peaceful and scenic vineyards from where the champagne originates.
The idea came to Hein on a visit to Maison Ruinart at Reims, where he spent several days walking through the vineyards in the early morning observing the harvest taking place. Following the cellar master as he checked the ripeness of the grape, Hein began to taste new depths of sweetness, bitterness and acidity. "It made me realise how difficult it is to make a bottle of champagne and how much work it involves", he says. In some sense, it reminded him of his own artistic practice at a small studio by Grunewald forest in Berlin. "The process is about creativity, precision and inspiration."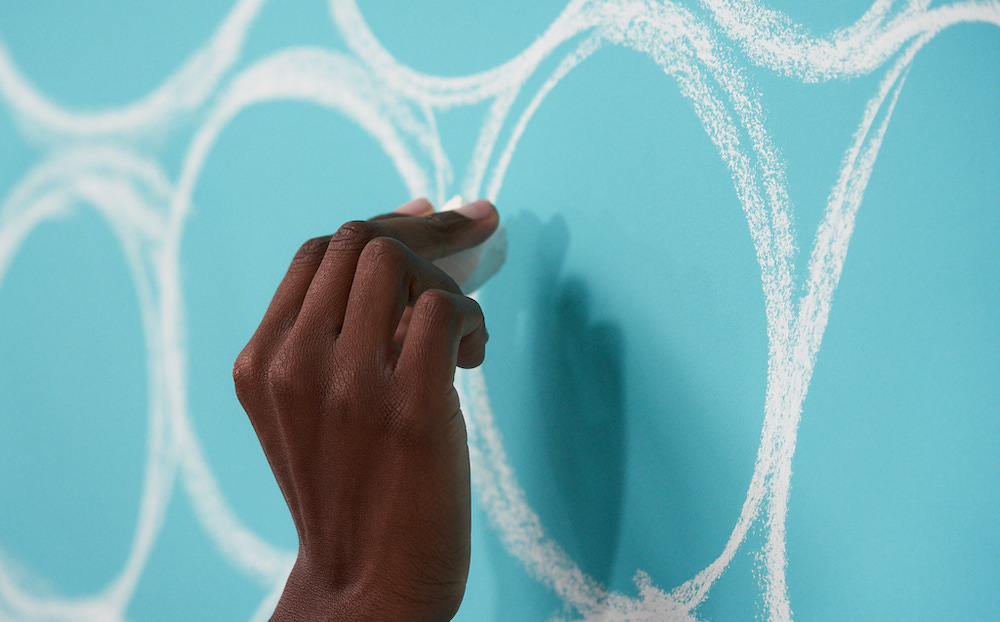 Later, Hein walked through the towering chalk caves of the underground crayères, where the champagne bottles are stored, tracing his hand along its soft, damp walls. The trip had awakened a range of his senses, including smell, taste and touch. "All these physical experiences got me totally engaged with trying to bring that into the art fairs and to the people there", he explains.
The idea formed the basis for RIGHT HERE, RIGHT NOW, the fifth of Ruinart's annual Carte Blanche commissions, which was unveiled in March at the Palais de Tokyo in Paris. The title, a slogan so important to Hein that he had it tattooed on his arm some ten years ago, ties into his wider practice, which uses playful, interactive experiences to inspire viewers to be more present. Inspired by conceptual artists of the 1970s, Hein takes a more meditative approach. "I'm not trying to be up in your head", he says. "I'm trying to bring you down into your body, especially into your heart. It's a practice that I do everyday to try and be in the moment."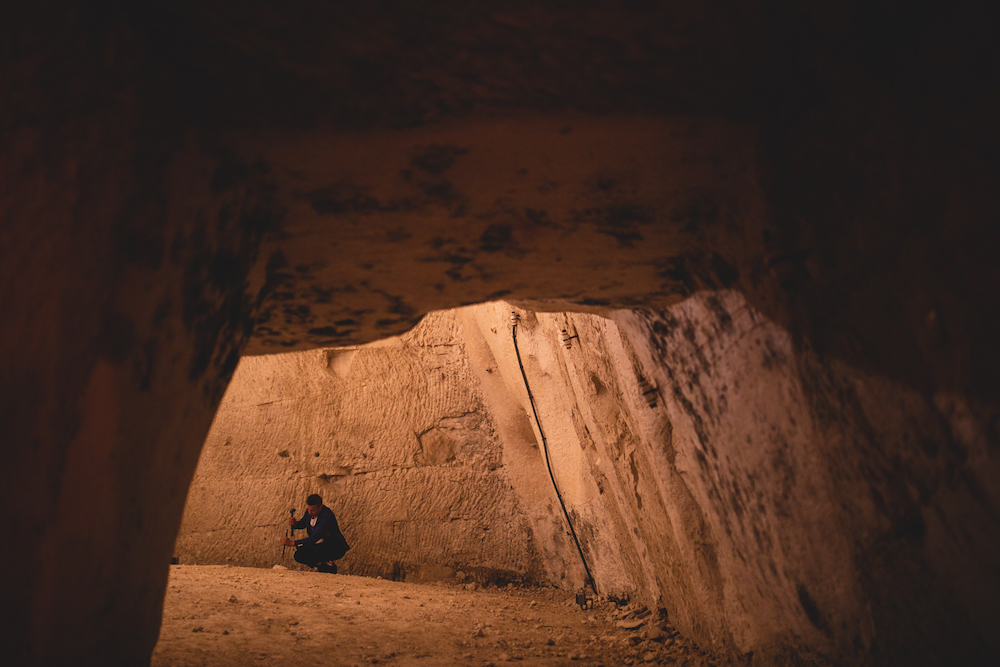 The new work invites audiences to pick up a piece of chalk, carved out from the crayères, feel its texture and feel free to express themselves by drawing a portrait of their emotions onto the brightly coloured exhibition walls. Elsewhere, visitors can listen to the spritz and smell the citrusy scent of the Chardonnay flower. Finally, they are encouraged to savour the taste of a sun-ripened raisin, presented to each guest like a pearl. In every case, we are eased into a state of contemplation. "When we are working with the senses, you can activate a lot of feelings", says Hein.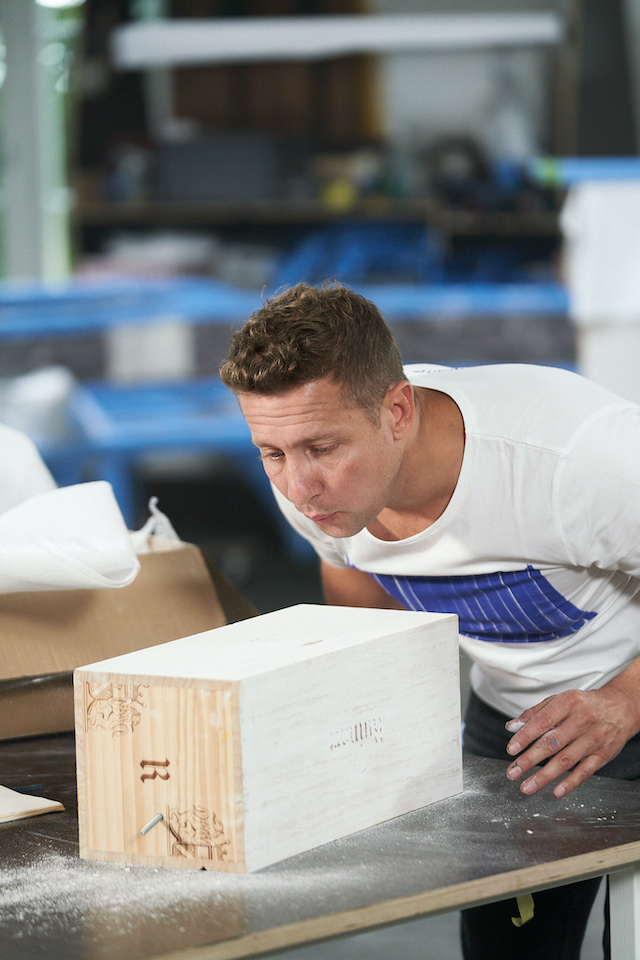 Carte Blanche commissions are also opportunities to address the importance of sustainability and the climate crisis, a conversation at the very centre of Ruinart's process, which functions in equilibrium with the environment. "Nature is of paramount importance in our lives, even if we are sometimes distant from it," says Hein in a statement. "To find and experience it, we can use "tools" that awaken our senses." By introducing city-hopping art world audiences to the grape that their champagne has come from, Hein hopes they will feel closer to nature.
Hein himself grew up on an organic farm near the ocean and now embraces a vegetarian diet, the benefits of which he plans to share with audiences through a special series of Food for Art dinners. Each course offers unusual opportunities for creativity, such as painting sauces straight onto the plate, and has been paired with a Ruinart cuvée. Hein has also released 25 limited edition signed and numbered Ruinart Rosé Jeroboam bottles. Each bears his specially designed text-free label of suggestive pink bubbles and comes inside a wooden box rubbed with white chalk from the crayères.