Hermès' Clamp Dye plaids pay tribute to their non-industrial origin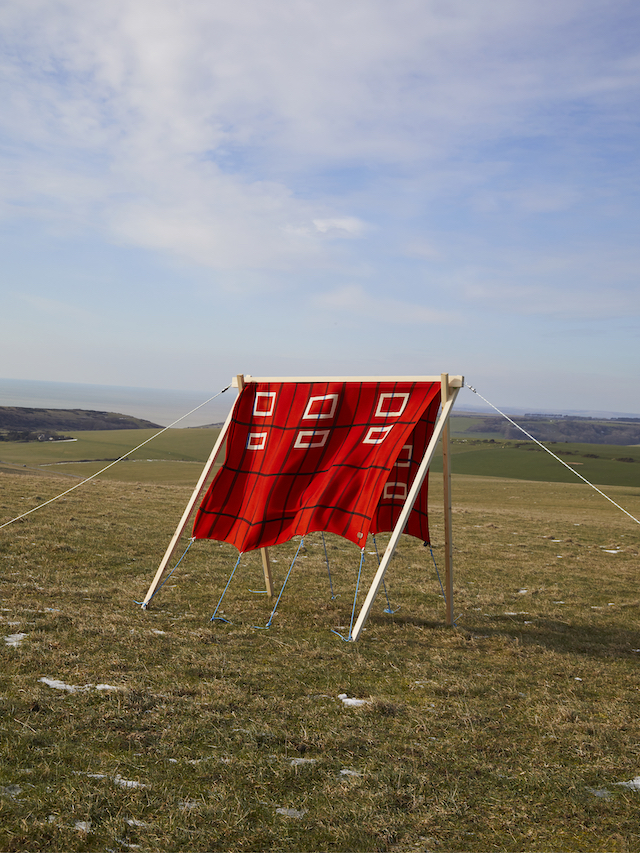 Florence Lafarge likens the undulating surface of woven fabrics to an "infinitely small form of architecture". She had long been a champion of all things handmade when a fascination for cloth led to her specialising in textile design. "Weaving, warping, dyeing, printing, cutting, sewing, embroidering, colouring – all are universal gestures and languages," Lafarge enthuses.
And so, once she had graduated from Paris art schools the École Boulle and École Duperré, she eventually worked for French designer Primrose Bordier. Doyenne of whimsically printed linens, Bordier had by then made history as the first female designer to be awarded the French Legion of Honour order in 1976. Lafarge left Bordier in 1998 to oversee the homeware business of Japanese designer Kenzo Takada as its style director. In 2009, she joined Hermès.
At the French house, Lafarge's initial role came with a rather poetic sounding job title: as creative director of art de vivre, dreaming up the heritage brand's collection of decorative objects (lacquer boxes painted by hand, paperweights and change trays) fell within her remit. "Art de vivre is a way of orchestrating objects in the home," she explains.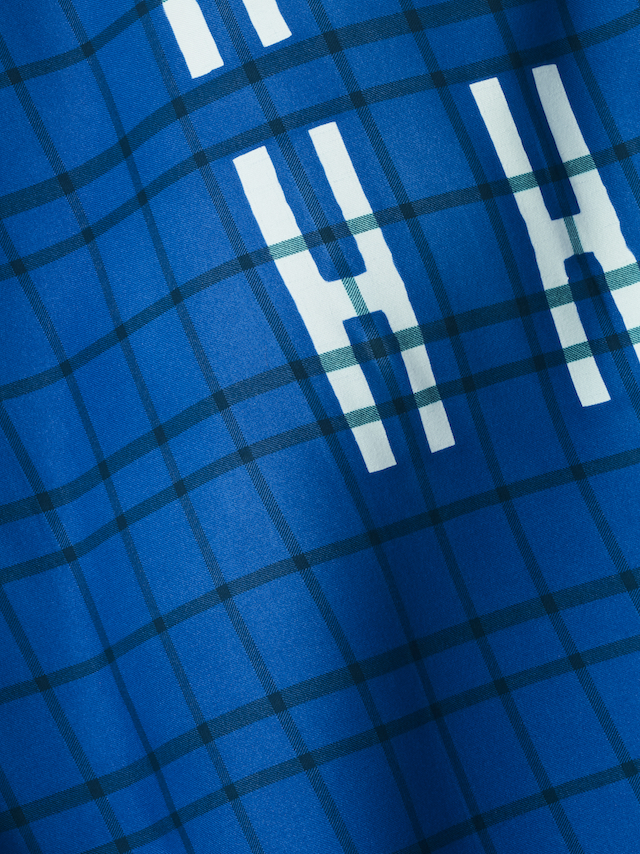 Much like a conductor directing an orchestra, Lafarge today harmonises the work of a creative team, among them graphic designers, architects and illustrators. "It is a constant search for appropriate know-how, technical innovation, singularity, daring," says Lafarge, who has since been appointed creative director of home textiles, furnishing fabrics and wallpapers. At the brand's master ateliers, and when partnering with external workshops, she acts as a translator of sorts, concretising creative flights of fancy into products. She notes that, "I am the link between the idea and the realistic translation of the idea, the material realisation of the object."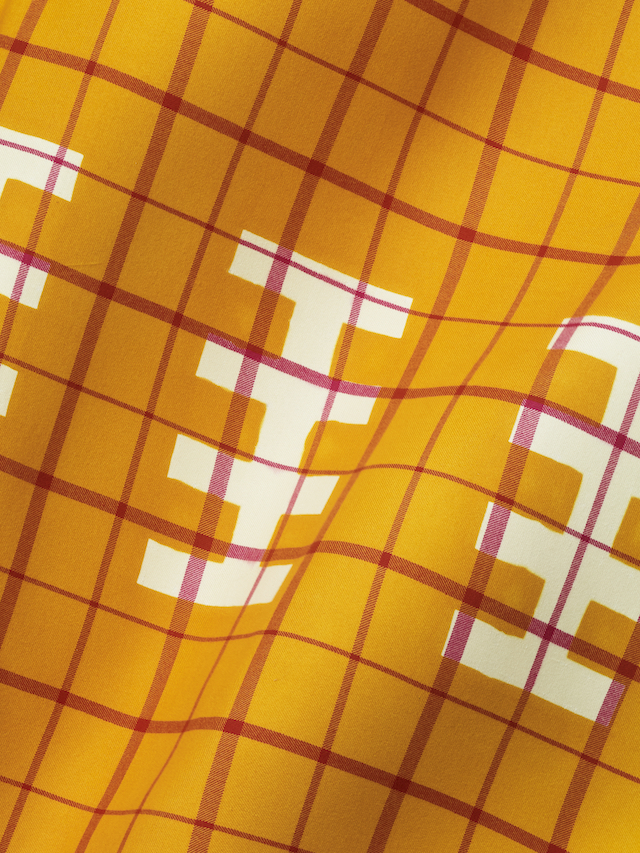 Most recently, Lafarge tasked expert makers in Nepal with realising a line of blankets crafted from hand-woven cashmere. "Natural materials such as cashmere are our first choice," says Lafarge. "The care we take at each stage of its metamorphosis – spinning, weaving, dyeing, finishing – amazes with its beauty." A labour-intensive technique to work cashmere, hand weaving was chosen to achieve a lightweight cloth that is cloud-like to the touch. The result is a choice of blankets that comes in six two-tone plaids. All are superimposed with stamp-like geometric prints, their striking shapes the result of traditional clamp dyeing. 
A variant of reserve dyeing, when clamp dyeing, Nepalese artisans pinch, fold and tuck Hermès' cashmere cloth, which is then tightly clamped between purpose-carved and moulded pieces of wood. Once this wooden reserve is in place, the bundled fabric is submerged in liquid dye and left to soak. "When unfolded, the fabric reveals the replica of the pattern made by the reserved shape," Lafarge clarifies, outlining the method's final step.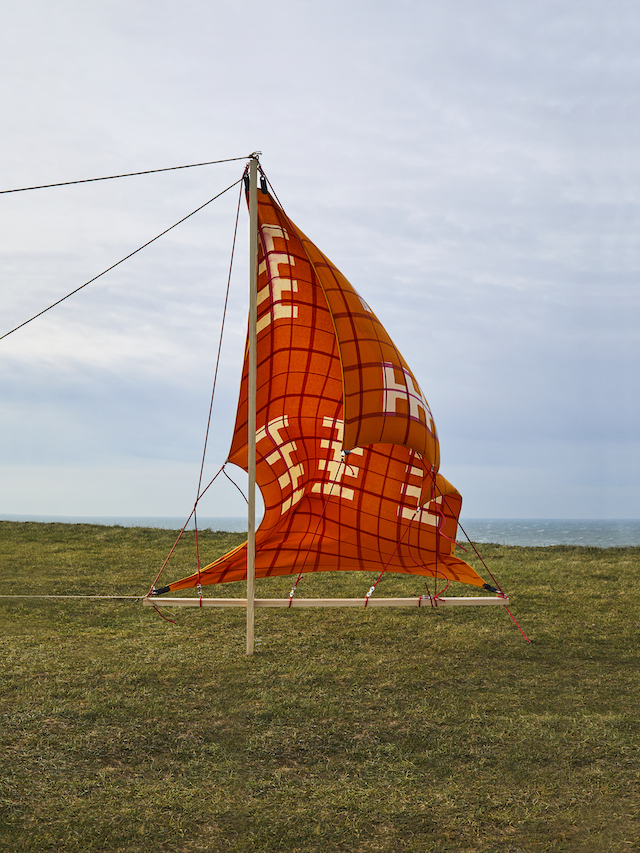 The blankets' designs pay tribute to their non-industrial origin, finding timeless beauty in simplicity and the artisan's hand. Christened Géranium, a warm orange tone is emblazoned with rectangles arranged in three neat lines of five. Gris perle – a pale grey hue that has become something of an Hermès speciality – features a sextet of pale squares; Bougainvillier – a rich magenta hue – is contrasted with pale circles; an impressionistic letter 'H' is spelled against a Bleu de Nîmes background of deep azure. Then, there is Emeraude, a gem-like green tone interspersed with two lines of criss-crosses, while elsewhere a yellow Maïs base with red plaid grid also features a pattern of fantastical shapes.
At Hermès, blankets count among the brand's pillars. For an example, look no further than its best-loved Rocabar throw: Its striped motif inspired by 19th-century racehorse blankets pays tribute to Hermès' equestrian heritage and its 1837 beginnings as a harness workshop. "All our fabrics are exceptional, whether printed, dyed or embroidered," says Lafarge. "Nothing is left to chance. Every step in the creation of a textile is guided by beauty, timelessness, contemporaneity and accuracy."
Photography Benjamin Swanson
Styling Paulina Piipponen

This article is taken from Port issue 28. To continue reading, buy the issue or subscribe here