Design duo Amber Siegel and Wouter Baartmans discuss their Marks & Spencer collaboration, childhood memories of shop floor biscuits and school uniforms, and the futuristic architecture that inspired the capsule collection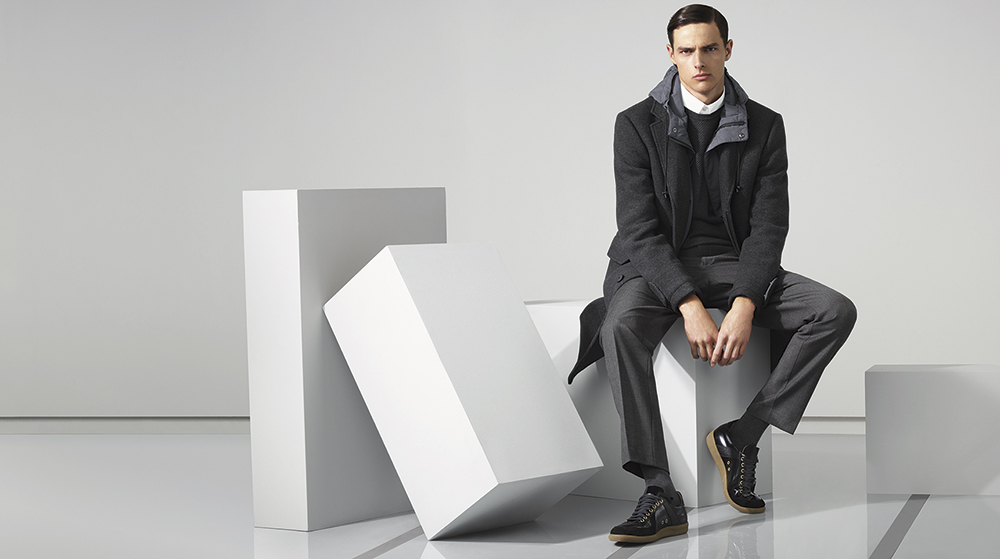 Talk of collaborations is rife in fashion today; most brands aim to reach new consumers by partnering up with labels that are different enough to bring something new to the equation. It's easy to spot the ones that are too much of a marketing exercise, only dreamt up to work as blog fodder. The trick, it seems, is to find a partner that produces something you can't do yourself, be it in terms of quality or quantity, an expert craftsmanship technique or a signature garment/product. British high street giants Marks & Spencer's collaboration with niche LCM-showing Baartmans & Siegel is a good example of that.
Based around key Baartmans & Siegel pieces, such as casual tailoring, bomber jackets and car coats, it's an excellent opportunity for the national retail institution to expand on the widespread notion that it 'just' does wardrobe staples and underwear. The partnership proves that M&S can explore a more directional aesthetic, without losing focus on who its core customer is. This is, essentially, a collaborative collection that none of the involved partners could have done by themselves – just the way it should be.
Ahead of the collection's launch, Port sat down with Amber Siegel and Wouter Baartmans to find out what they have learnt from collaborating with M&S and how they've developed a new fabric from scratch for the collection.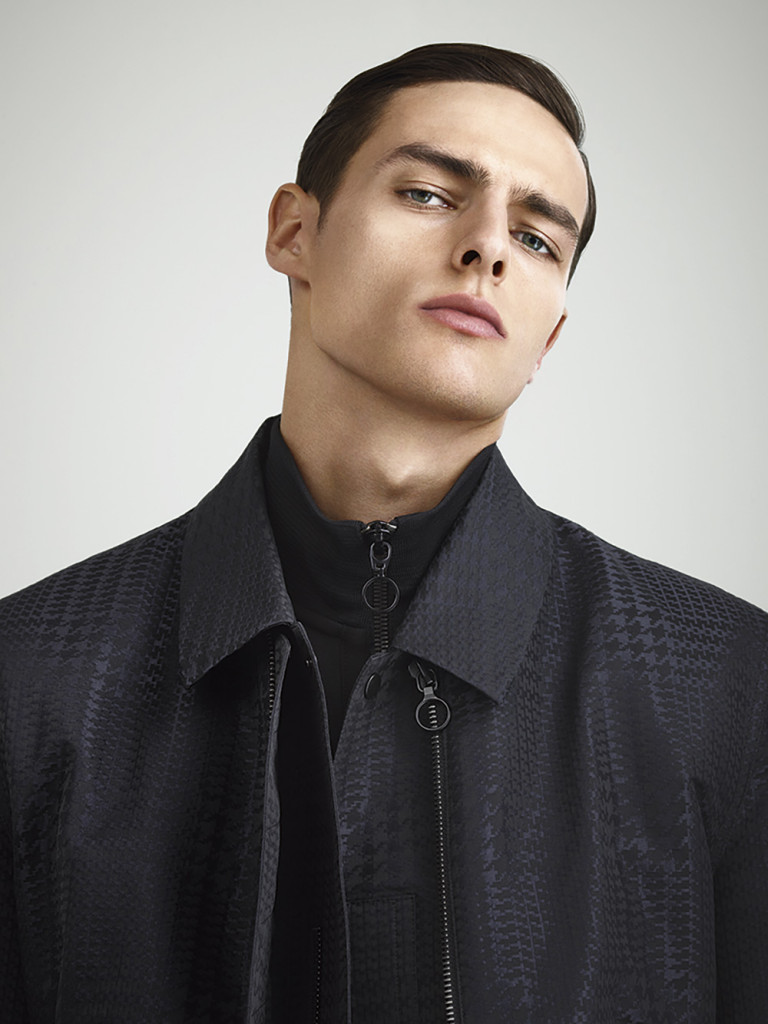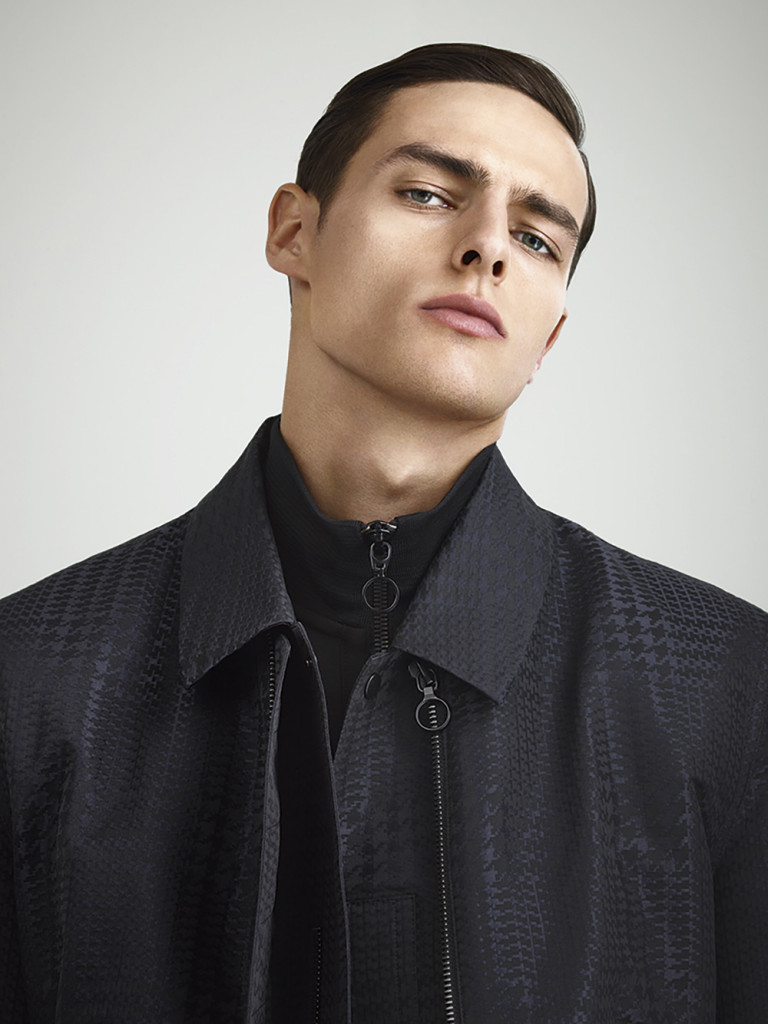 Did you find that there's an overlap in your design process when working with M&S? 
Amber: Fundamentally there's a lot of crossover in terms of wanting to not only sell products, but products that have longevity. I think that when you buy something from Marks & Spencer, that's really engrained into the brand DNA.
Wouter: Yeah, that's what M&S have always been about, going back to the days when you'd buy a nice jumper and it would last ages and not fall apart after a couple of washes.
What are your own personal memories of M&S?
WB: In the mid-90s, there was a Marks & Spencer food store in Amsterdam and I remember my mum buying these amazing English cookies from there… it was a very special treat.
AS: For me, it was my first school uniform, underwear and all those childhood lifetime staples that you start off with! The other thing I remember was when it called St Michael; the M&S on our high street had a very specific type of lighting and flooring, so for me it has a very nostalgic feeling.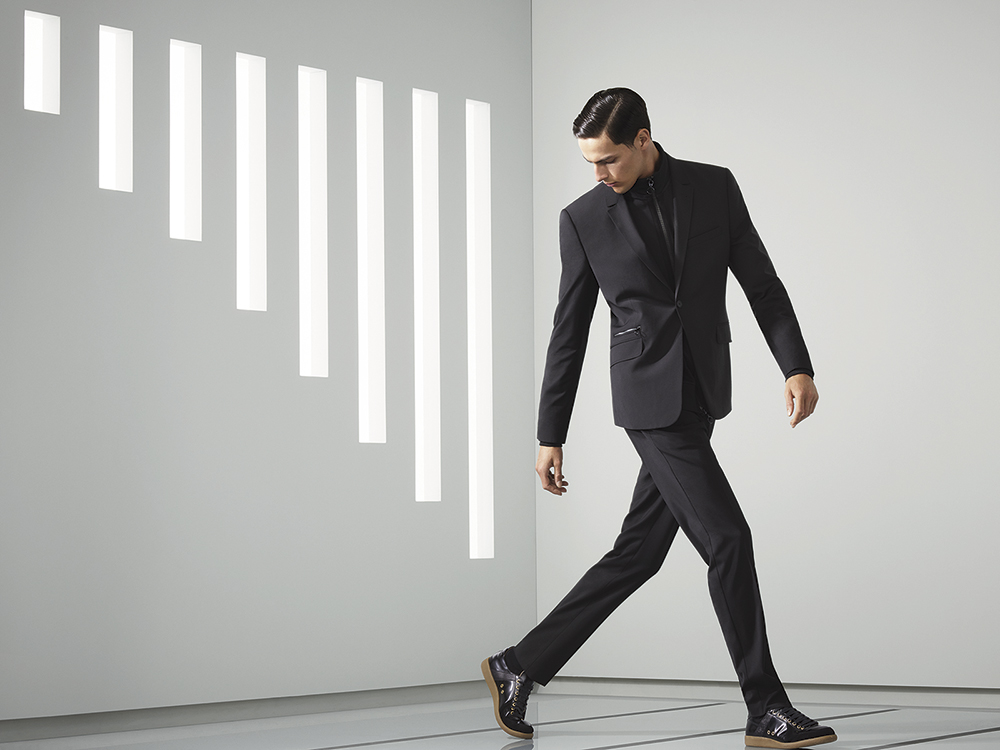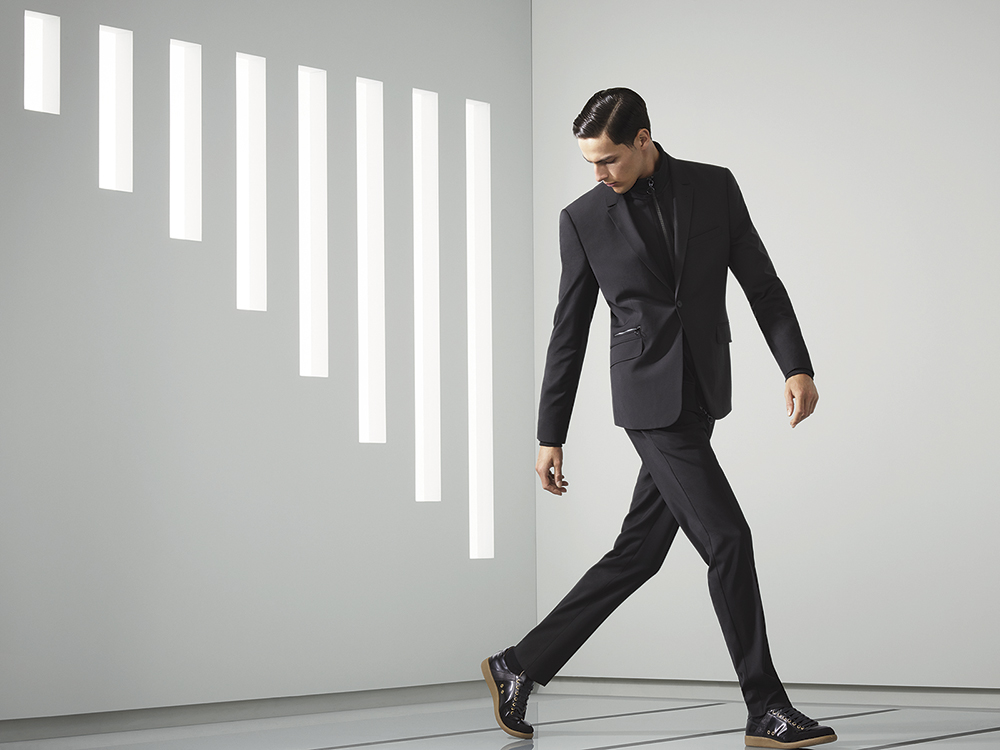 Your collection notes talk about being inspired by futuristic architecture. Where did that come from?
AS: When you sit in the lobby of the M&S headquarters and look upwards, it's an amazing sight. Richard Rogers designed the building and it looks a little bit like a British conservative version of Centre Pompidou in Paris. If you sit in the middle and you look up, you can see the lifts whizzing up and down and everything is exposed. We were really absorbed in this kind of 2001: A Space Odyssey-esque cinematic, architecture with a lot of compressed materials. That's essentially how we started approaching the project.
Tell me about the fabric. Was it specifically developed for this collection?
WB: Yes, we started looking at jacquards and then we came up with this idea of having the small houndstooth mixed with a bigger houndstooth, and having a kind of explosion of little patterns. That check was then built up with different fragments to give it texture. That's definitely something we aren't able to do ourselves, within our own collections. 
AS: It was partly because it had a really long timeline, whereas usually we have a three to four months to turn everything around in terms of development, finishes and techniques. We wanted it to have this raised feeling, but also a lunar crater aspect in a very subtle way.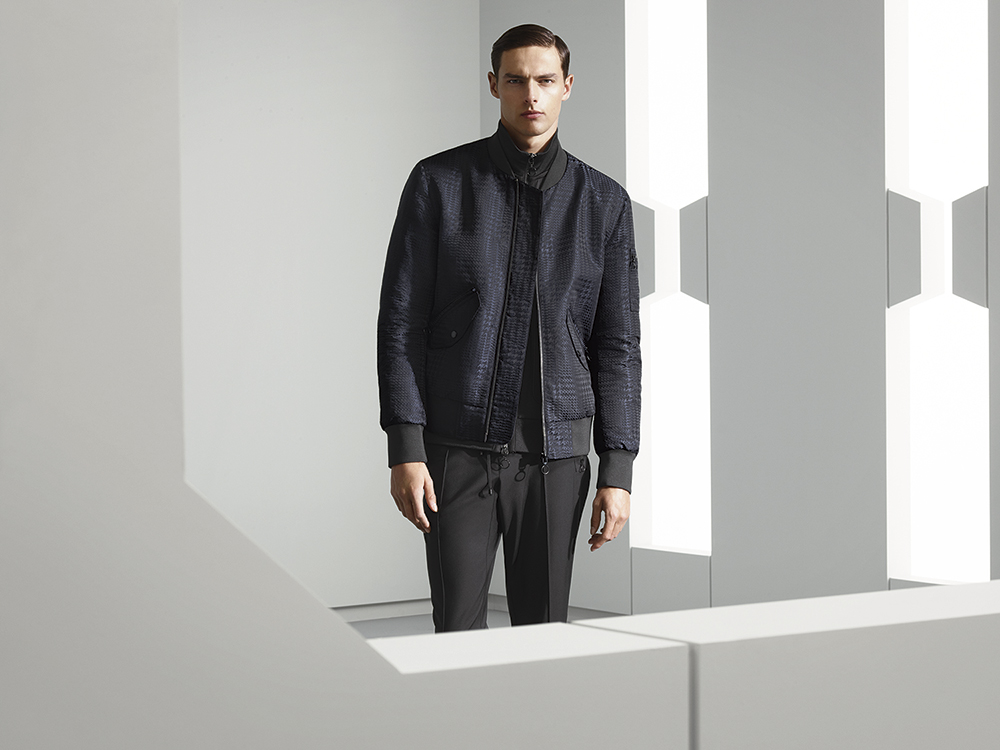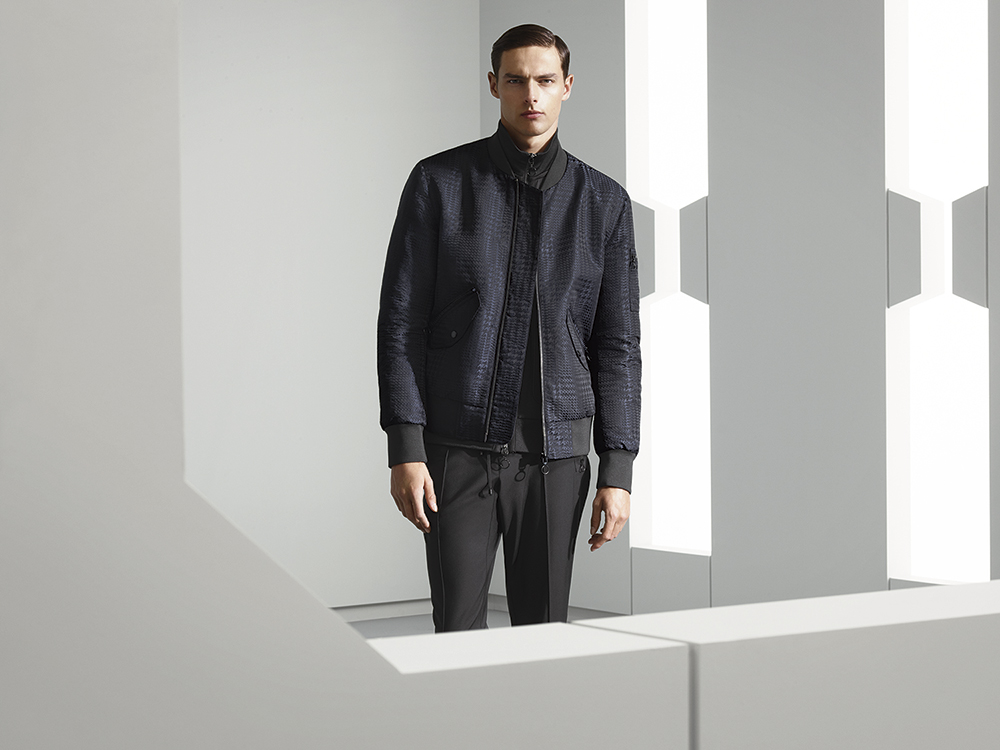 The collection feels very product-focused even though the colour scheme (basically black, navy and grey) means it all matches…
WB: That's how we've designed our own collections for the last three seasons or so. We always think about the layering and we always design garment-by-garment and not so much outfit-by-outfit. After that, we then create the looks with our stylists, and that's why a lot of layering happens last minute. We never design an outfit: it is always piece-by-piece.
AS: But we're not minimalist designers. I think we are mostly about maximalism in the sense that there is something nice about having options and variety. I'm not a minimal person anyway, I need to be able to know I have a Plan A, B and C – that way I can shed or add. I can't live in a purist T-shirt and jeans like that, and I think a lot of people want the sense of security that comes with options.
Baartmans & Siegel's capsule collection for M&S is available in stores and online now