A musician with a shortcut to the human condition, Joan Wasser talks feeling, touring and singing the doos with Lou Reed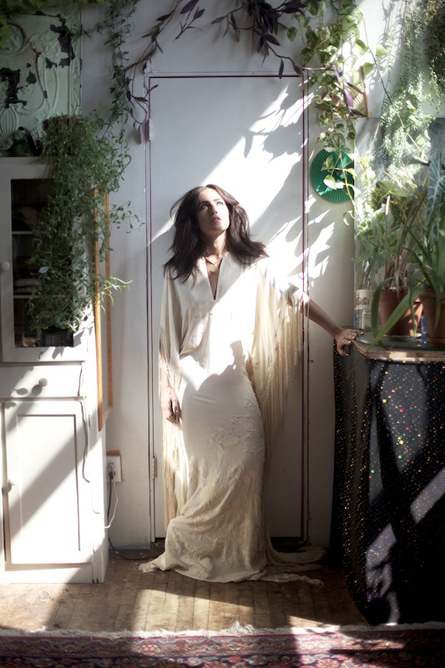 Joan wears silk fringed caftan BOCHIC
Words T Cole Rachel
PhotographySamantha Casolari
Styling Kathryn Typaldos
The first time I saw Joan Wasser in person was at some point in 1994 – a statuesque woman with a pile of tangled dreadlocks on top of her head, playing the violin in a rock band called The Dambuilders as if the instrument itself were on fire and she were trying to beat out the flames with her fingers. She was a very memorable figure, particularly at a time when it was possible to count the number of women playing in indie-rock on one hand. Although The Dambuilders were a good band (they released over seven albums throughout the 90s before calling it quits), it was Joan Wasser – the swaggering punk rock violinist – that cemented them in people's memories.
Sitting down with Wasser in a Brooklyn coffee shop in 2012, the person sitting across from me – suntanned and smiling, wearing a pair of bright blue overalls, auburn hair pulled back – hardly seems like that same woman I remember stomping across the stage in 1994. "It's true," says, Wasser, sipping a cup of tea, "that feels like a million lifetimes ago."
Indeed, Wasser has done enough living and non-stop performing to fill up several lifetimes. A classically trained musician ("I can play keyboards, guitar, and violin… and viola and bass guitar, badly, which doesn't mean I don't play them"), Wasser cut her teeth playing in bands like Lotus Eaters and The Dambuilders before going on to perform with the likes of Rufus Wainwright and Antony and The Johnsons, both of whom she would record and tour with for several years before eventually striking out on her own.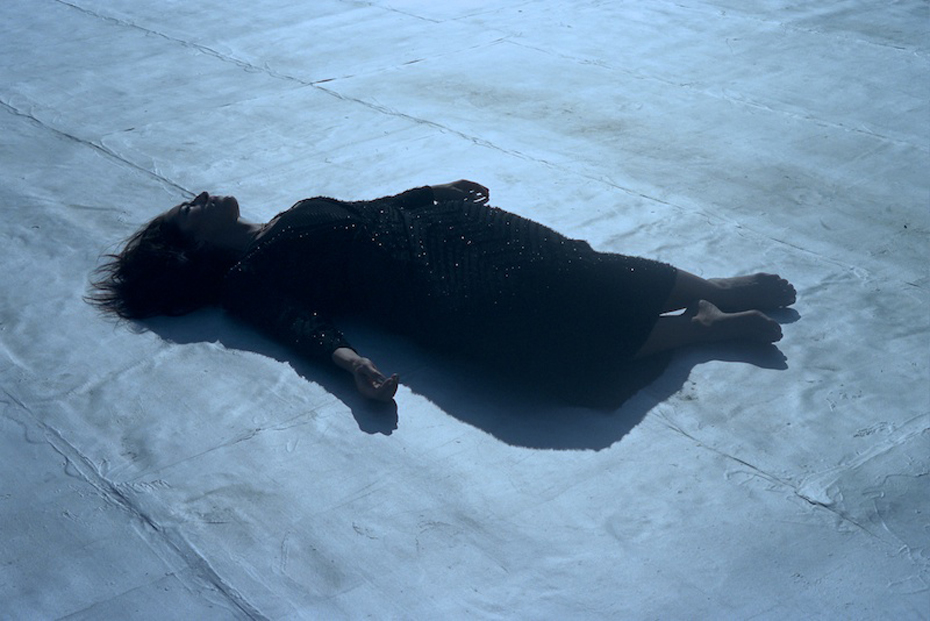 Above: Joan wears vintage dress from Southpaw
In 2005, well over a decade into her career as a professional musician, Wasser released her first solo effort under the moniker of Joan as Police Woman, a move that would ultimately radically change the direction of her life. "It was incredibly frightening," says Wasser of her early solo days,"Liberating and terrifying would also be good ways to describe it. In the beginning, it was something that I just had to do for me – and other than my family and my friends, I never had expectations that anyone else would need or want to hear my songs. To this day, when I go out on stage I feel like, Oh my god. These people left their houses to come here and see my music! It's really emotional for me. I have to contain myself sometimes when I see the audience. It's not like I have huge radio play or anything, so somehow all of these people have found out about me and have gone to the trouble of paying money to come here and see me. That is what really keeps me going. The fact that people have paid attention to these records lets me know that someone out there feels like me, which is a kind of validation that I think everyone wants… even if you don't always realise that you want it."
If Wasser has grown increasingly more comfortable in her current role as a songwriter and a front woman, it's a growth that is also clearly reflected in her music. Previous solo outings like 2006's Real Life and her 2008 breakthrough album To Survive are imbued with a kind of restrained angst, each album a kind of beautifully orchestrated treatise on life and loss. Having overcome several personal losses in her life, the subdued nature of her work makes sense. In 1997 Wasser's then boyfriend – celebrated singer/songwriter Jeff Buckley – accidentally drowned in a Tennessee river. It was experience that would influence much of subsequent work for years to come. Then, during the recording sessions for To Survive, Wasser's mother passed away from cancer.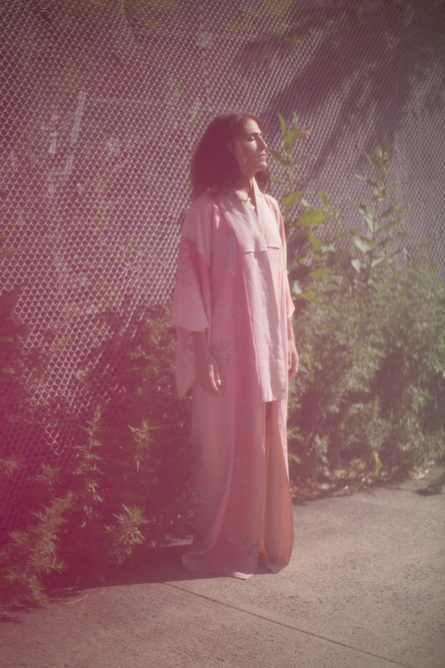 Joan wears vintage kimono from Southpaw
"It was not a good time for me," she says, "Those songs are the only good thing that happened during that period of my life." Such devastating losses could easily set the stage for music that is, at the very least, incredibly maudlin, but even at her darkest, Wasser's music is infused with a kind of warmth – a profoundly humane yearning for compassion and understanding – that saves it from simply being sad. One can only imagine that it's this very same quality that made her such a sought-after collaborator for so many years – and the reason why fans have such an emotional connection to her work.
Last year Wasser released The Deep Field, the third proper Joan As Police Woman album and what is arguably the most upbeat collection of songs she has ever recorded. According to Wasser, the vibe of the album was no happy accident.
"I took some time with this record," she says, "I had about eight songs written and I had played some of them on tour. I looked at what I had and then made a decision about what the record still needed, which felt like more pop stuff. I wasn't just following my mood by, you know, sitting down and asking myself How Am I Feeling Today? and then just writing that. I set a goal for myself to write things that were a little more upbeat and a little more… uplifting? It turned out to be really helpful just working with a specific goal in mind. When you are writing songs, you are always creating from nothing. It feels totally new every time. Logically you can tell yourself – Joan, you've done this before and you can do it again. You've made albums before and you always figure out how to write new songs, so just calm down and do it. But there's always that voice in your head that worries that you'll never be able to do it again, that you'll never be able to write anything as good as what you did before."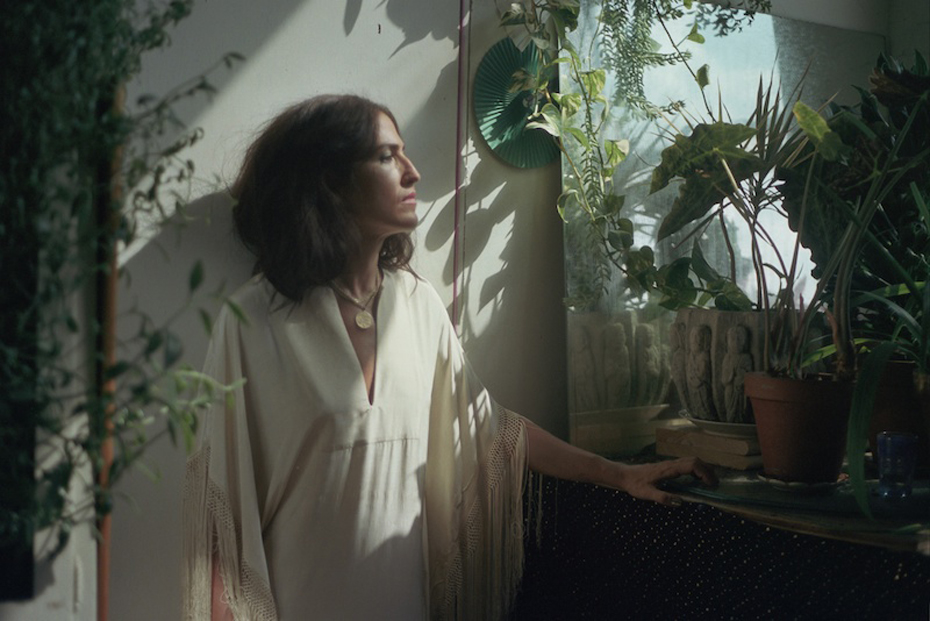 Joan wears silk fringed caftan BOCHIC
Hair Chris Miller
Makeup Lisa Aharon
Given the sanguine, hopeful grooves of The Deep Field—particular on tracks like "Human Condition", where Wasser sings that "Being a human being / It makes me cry / oh why / 'cause I feel the bliss / And I won't resist it anymore / not anymore" – it's nice to imagine that this record serves as a kind of barometer of where her head is at these days. "The record was definitely informed by making it through that difficult period of my life and feeling like I was ready to be out of mourning and feeling so dark," she explains. "My songs will always have an undercurrent of darkness because, you know, that's life. Life is hard. But these songs feel like there's more blood moving through my body. It's that feeling you have just before you start running or something, it's that impetus to move – like something good is about to happen. I was in a really good place and really happy when I made these songs and I think that shows."
"The past year has been so kind to me," she says, "I got to travel to Africa with Damon Albarn and a bunch of other musicians, which was life-changing. I just got off tour with Lou Reed, where I was both his opening act and a member of his band. When he played Walk on the Wild Side I got to be the person singing the 'doo doo doo doo doos' in the background, which was basically the highlight of my life."As for what happens next, Wasser is unsure. One thing that seems certain is that she'll be touring, something that she has been doing in some way, shape, or form for the past 22 years. "I always have a suitcase open – either unpacking or packing – which can be a little tough," she says.
"I love being home in New York City. All of my closest friends are here, so it's always a race to try and see them all before I leave again. I also happen to like having a routine, which is one of the good things about touring. When I'm home it's tough, as soon as I get a routine going and I start to feel settled, it's time to leave again. The two constants in my life are playing shows and writing songs. As a songwriter, there are always more songs to write. It's always happening, so no matter what else is happening, I can always jump back into that."Unlike so many artists who can't seem to hide their neurosis and anxieties about the way they are perceived or who appear to suffer from a constant, abject fear about their career trajectories and album sales, Joan Wasser is remarkably Zen. When pressed about what she'd like to see happen next, she pauses and thinks for a while before answering.
"The fact that people have paid attention to these records lets me know that someone out there feels like me, which is a kind of validation that I think everyone wants… even if you don't always realise that you want it."
"You know, I don't think about that stuff. Any attempt at hypothesising about what might happen just seems to do me and the rest of the world an injustice. For example, I would have never imagined myself singing with Lou Reed… and then it happened. Mostly, I always want to try to make a better record and write better songs. I want to write songs that penetrate to a deeper, further place. But the fact that I am able to make music and go on tour… I mean, I honestly could not want for anything else."