With a new album on the near horizon, the eight-piece band shares insight into their journey and new sounds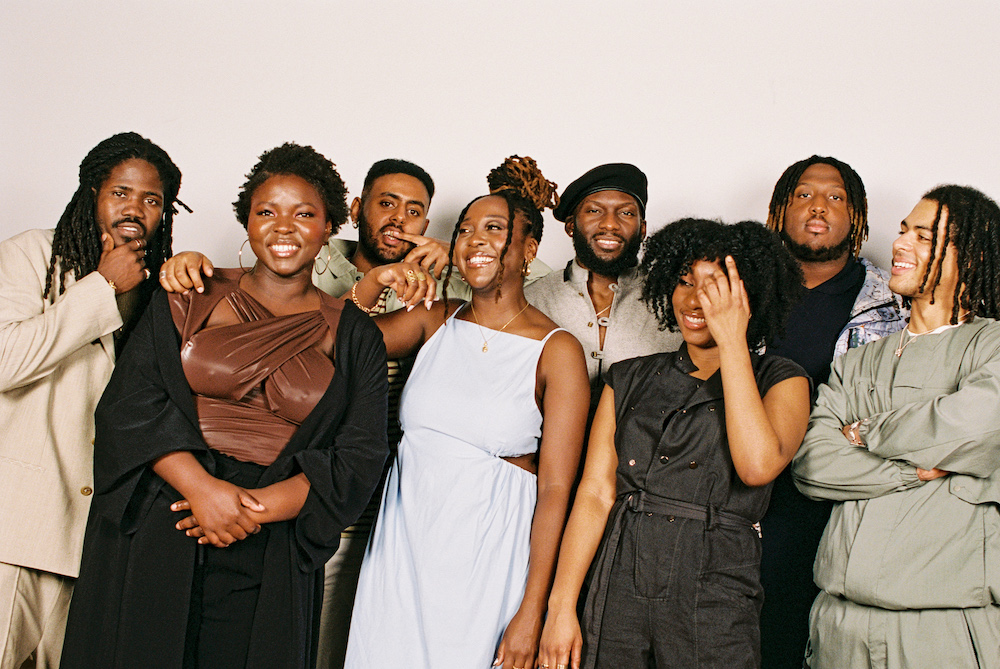 Likely a familiar name to UK dwellers and even those living further afield, Kokoroko is an eight-piece London-based band that's gone from strength to strength in recent years. Fitting the bill of the old saying "like music for my ears", the band is indeed something that anyone will be happy to hear as it fuses Jazz and Afrobeat into a harmonious merging of rhythms, improv and honey-dripping melodies. Fronting the band is Sheila Maurice Grey – vocalist and trumpeter – who plays alongside her musical family: Yohan Kebede (synthesisers and keyboards), Cassie Kinoshi (alto sax and vocals), Onome Edgeworth (percussion), Tobi Adenaike-Johnson (guitar), Ayo Salawu (drums), Richie Seivwright (trombone and voals) and Duane Atherley (bass, synthesisers and keyboards). And honestly, it's important to think of them that way – a group of kins who each share different interests and insights. Because when they come together, no matter their differences or likeness, the music is what binds them. Below, in anticipation of the launch of their new album Could We Me More, set to release in August, I chat to the band about their journey and what we can expect from their new sound.
I'd love to hear about how you all met.
We all met at different times and in different places. Clearly we all met for a reason, though! That reason is something we're still exploring.
To those who haven't heard your music before, how would you describe it?
Dopamine. 
What are you all like as individuals, do you all share the same music interests and taste? 
We all have different music interests and taste, I think that's the special thing about the band – it's taking the things that make us individuals and marrying them together as a celebration of who we all are and where we come from.
As an eight-piece, what's it like being part of such a big group? What's the dynamic like?
It's amazing. When you find one person jarring, there's another seven people to talk to, ha. Working and playing in a big group is amazing, but it also has its challenges. This includes learning how to allow space for others as well as figuring out where you fit into the equation of a song. It sharpens you as a musician, and forces you to simplify and revisit the essence of the craft, which is songwriting.
You're currently on tour, which sounds incredible! Where did you play, are you teasing out your new album?
We just finished an incredible run in the Netherlands and Belgium, with highlights being two sold out shows at Paradiso in Amsterdam and Ancienne Belgique in Belgium! We appreciate the love we get shown all over Europe and we're looking forward to the France leg of tour next week! We might play a new song here and there.
We've been teasing bits of the new album and reworking some classics that kind of tell the story of why and how a band like us exists. 
Speaking of, can you share some details about your new album? What can we expect to hear, and how does it compare to your previous releases?
Our album is a reflection of where we are at in our creative process; it's an honest album in every sense of the word. Expect to hear mistakes that capture the essence of the song better than perfection could. 
The album is a moment of time captured, similar to our first EP. It's hard to compare them – they're from a very different time and a very different place. I think we would all encourage people to try to be present when listening to the album or any album, rather than listening comparatively. It's not a sequel, it's a different story.
Can you pick out a couple of favourite moments from the new album and talk me through them?
We Give Thanks was special; it's a song that really captures the energy of the band. It was amazing to watch Sheila step out of her comfort zone, being adventurous with the way she sang while also paying homage to the 70s and 80s Afro rock/psychedelic bands that paved the way. Another moment is the outro to Somethings Going On; it was the last thing we all recorded together in the studio and the energy in it perfectly sums up the weeks we spent together writing and recording the album. I think a favourite track might be Good Times, I'm torn between that one and Home.
Is there a certain feeling or emotion you're hoping to evoke from the new album?
There is no specific feeling or emotion we are trying to evoke, we just want people to connect with our stories. Different people will connect with different things and that's something we've learned from each other. That's the exciting thing about creating something – it kind of takes on its own life as soon as you let it go. We all have different favourites!
What's next for the band?
Hopefully to start working on another album, a film maybe; some people want to delve deeper into fashion. We are quite ambitious as a collective ha, but basically whichever medium allows us to express ourselves in the best and most fulfilling way.