Taking his lead from nature, the Japanese sound artist on his latest performance at the North East festival, which sees him finding 'sound spots' around Newcastle city centre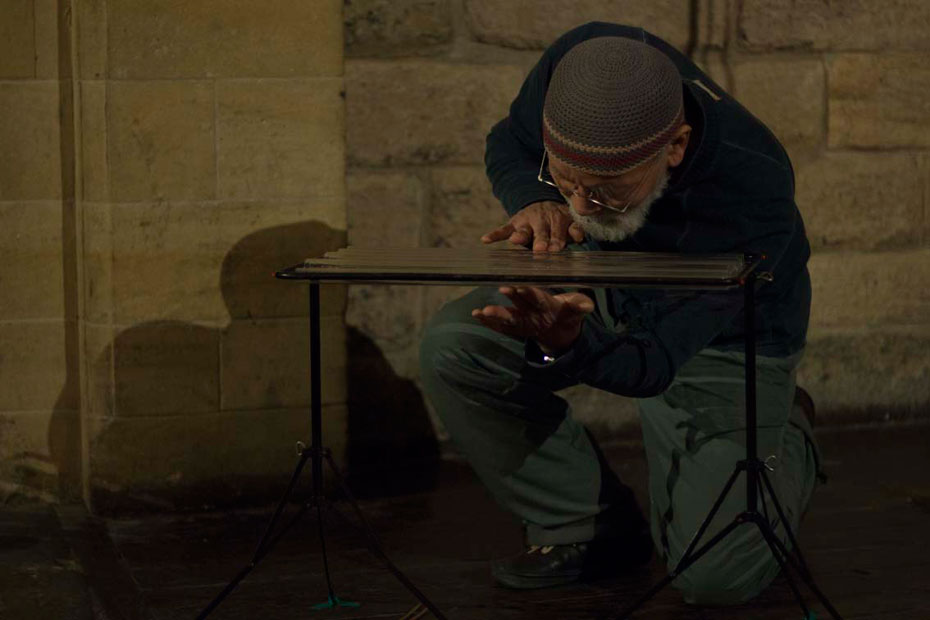 Akio Suzuki began experimenting with sound in the 1960s and is now recognised as a forerunner of the international sound-art scene. Despite of his numerous exhibitions and performances across the globe, Suzuki is a modest man modest who lives a humble life closely connected to nature. His gentle personality is reflected in the meditative nature of his work, which encourages listeners and viewers to experience an alternative perspective of the world.
This month, Akio Suzuki brings his work to Newcastle upon Tyne for AV Festival 14: Extraction. The biannual festival runs throughout March, and marks Suzuki's first major solo exhibition in the UK featuring new work inspired by his visit to the North East coast. In keeping with the central focus of the festival, a re-imagining of the geologic through the exploration of the earth's raw materials, Suzuki has created original artworks, both visual and aural, that make use of stones taken from the local pebbled beaches.
Millie Walton: When did you first begin experimenting with sound?
Akio Suzuki: Originally I was studying architecture, but somehow I gave that up and became a sound artist. I'm not really sure how it happened! As an architect I was always working in a space and developed a fascination with the relationship between sound and space – that's really the foundation of my art.
Millie: All of your sound is created using instruments you have constructed by hand, the most significant of these being 'Analapos'… how was the idea conceived?
Akio: I didn't learn about sound in school, but from nature. Nature was my teacher. I would immerse myself in the surrounding environment and play around with natural sound phenomenons. For example, I would go to the mountainside or shout across the valley and listen to the way the sound came back. My interest in natural echoes then led me to start thinking about an instrument that could also create that kind of sound.
At the time I was collecting lots of junk in my studio, pieces of metal I found on the streets, and then one day when I was playing around with a metal can I attached a metal coil, and found that together they could create an echo effect similar to that of nature. So it was really by chance that I conceived the basic idea of analapos. I am always searching for these chance encounters and moments in life. It's a bit like chemistry between objects, similar to that between a man and a woman. Sometimes there's chemistry, sometimes there isn't. If you just take a metal can it doesn't make a sound but if you just attach a coil it creates a sound.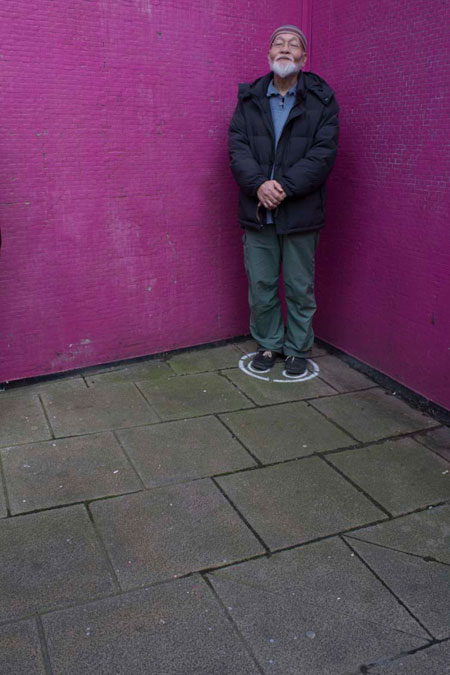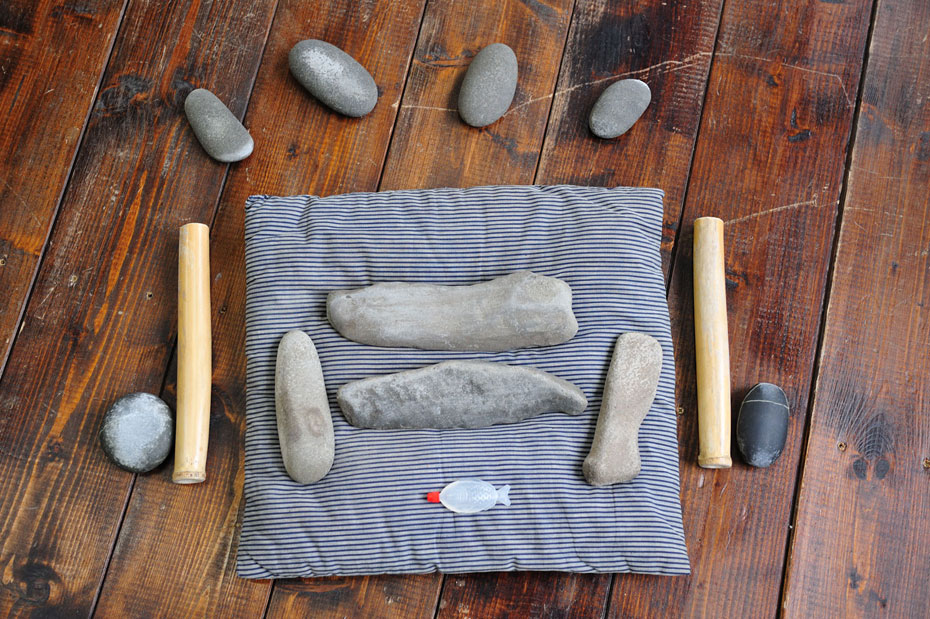 Millie: In the late 80s, for the 'Space in the Sun' project, you spent sunrise to sunset listening to the natural sounds of your surroundings. What was the purpose of this project?
Akio: I had no intention to become a performer, but in the 70s I somehow became one through people requesting live performances and exhibitions. 'Space in the Sun' was really about returning to my starting place, which was nature. I began learning from nature not as an artist, but just as a human being, and I wanted to be reminded of who I really was. I was listening to 'La Mer' a composition by the French classical composer Claude Debussy and I formed this idea that to create the piece, Debussy had sat on the beach for a day listening to the ocean. Debussy was actually inspired by Japanese print, but I was very moved by the idea that I had imagined so I started to build two red brick walls.
Cont'd It took two years to build the walls, which I then sat between for one day listening to the sounds of nature. In that time I didn't create any other artworks but just channeled all of my energy into this one project. It was a way for me to reconnect with nature.
Millie: The AV Festival is very much centred around natural resources and landscapes this year. How is this theme explored in your solo exhibition at the Globe Gallery, and live performances?
Akio: I really love stones. I have a big selection of stones collected from beaches all around the world. When we visited Newcastle last July, we went to a local beach and collected specific stones for the exhibition. I found 'stone-flutes', stones with natural holes in them, which I will be playing in our duo performance.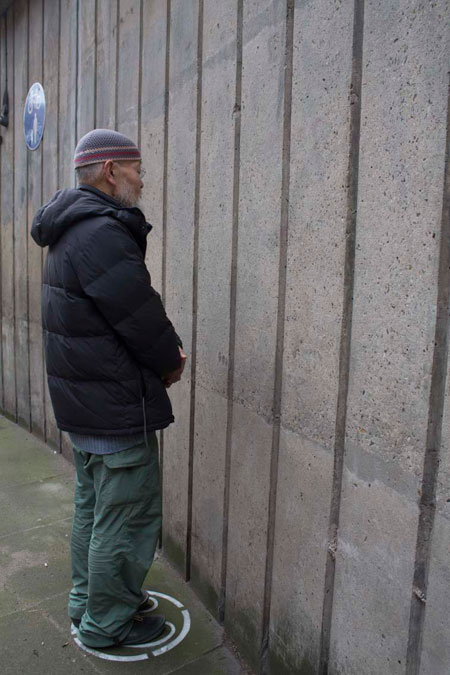 Above: Aiko Suzuki. Photograph Janette Scott, courtesy of AV Festival
Millie: Your exhibition Na Ge Ka Ke meaning 'to cast, to throw' reflects on the general idea behind your artwork but also includes a collection of installations that are 'of sound but are soundless'…
Akio: All of the pieces make sound but I have arranged them at the point before sound, the point at which I imagine the sound. I want visitors to imagine the sound before they actually hear it.
Millie: This interest in provoking other's imaginations seems to be at the centre of your work: tell me about your oto-date project, which invites people to explore their cities in unique ways.
Akio: When I was in my 20s, I started walking around various cities looking for echo points and specific locations, which have interesting sound phenomenons. It started off as a personal project, a 'Self-Study Event' before it developed into something I could share with the public. On our visit to Newcastle last summer, I walked around the city exploring the different sounds, but I didn't actually choose the spots for the oto-date project until returning this time. Newcastle is a great oto-date city because the geography and architecture is very complex. Especially around the centre, there are lots of layers of stairs, big wide buildings and unusual sound spaces.
Akio Suzuki's solo exhibition runs at Globe Gallery for the duration of the festival (until 31 March) along with the oto-date project. To find out more about the festival, and the performances, click here