Felix L. Petty talks to the band about their new record, and how improvisation keeps their music spontaneous and fresh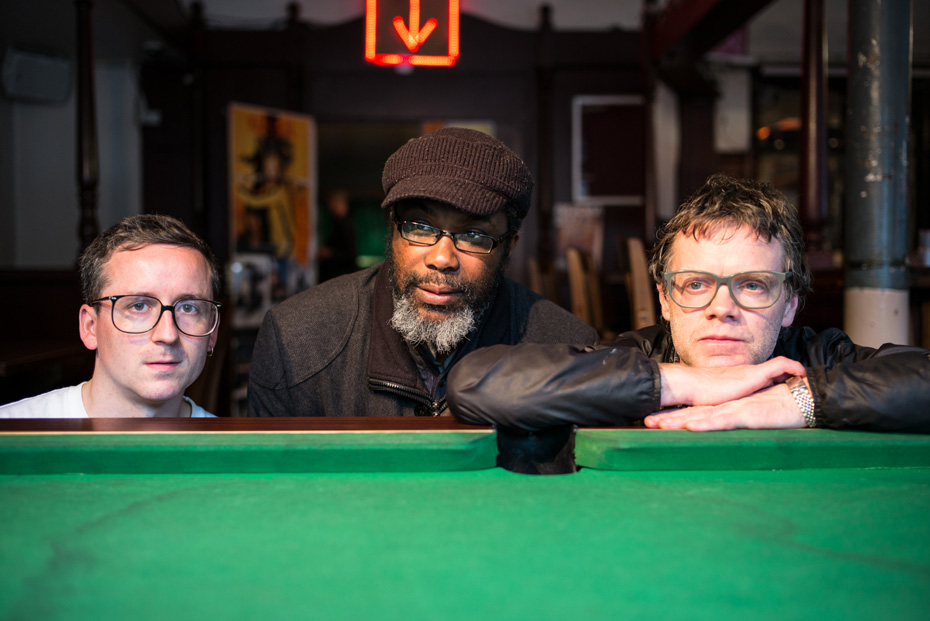 Left to right: Alexis Taylor, Pat Thomas and John Coxon
Words Felix L. Petty
Photography Robin Sinha
About Group's most recent record, Between The Walls, has come to be defined by their psychedelic deconstruction of the Bacharach / Hal David standard Walk On By. Superficially bearing no relation to the original, it finds singer Alexis Taylor intoning the opening two verses before the band collapse into a crashing abrasive symphony of improvised noise. It's a sinewy, anti-funk piece of work, relentlessly digging at a groove that almost doesn't exist, yet probing it into life.
About Group are something of a super group, though they are adamant they aren't ("not until Flea joins", Alexis jokes). Formed of the aforementioned Alexis Taylor of Hot Chip, This Heat's Charles Hayward, John Coxon of Spring Heeled Jack and Spiritualized and jazz pianist Pat Thomas, who's played with likes of Derek Bailey, Tony Oxley and Steve Beresford, About Group, if nothing else, are a formidable CV.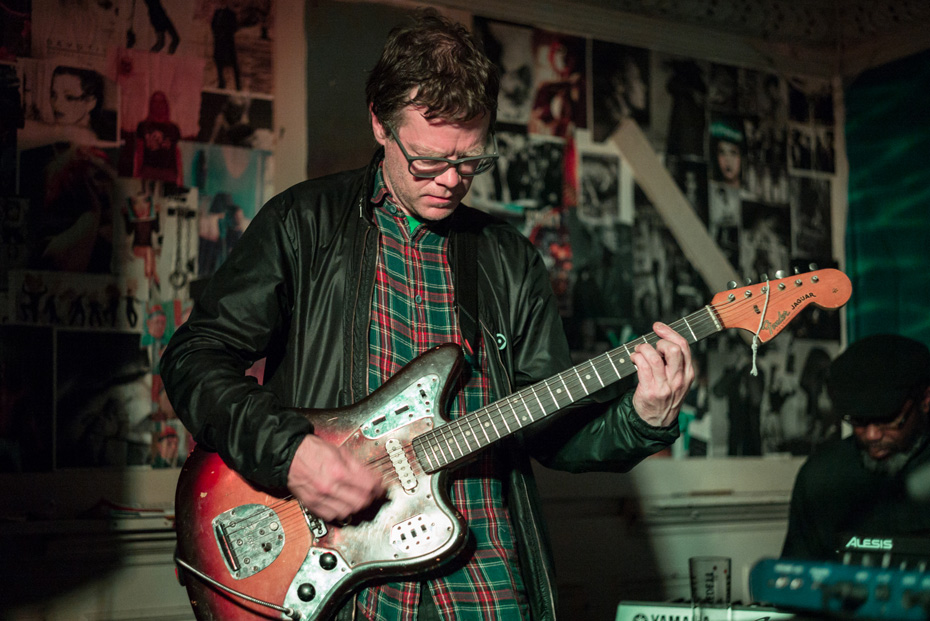 Above: John Coxon
Started initially as a diversion from other projects they were all working on, About Group was conceived as a place to expand on their "shared ideas about music", according to Coxon. All friends, they initially came together to record an album for Coxon's Treader label in 2009 and went into the studio and recorded series of improvised tracks in a single day. The group then signed to British indie powerhouse Domino Records, went in to Abbey Road and again, pressed record and saw how fleshed out.
That initial ideal, of quickly laying down an album without rehearsing, in a day or two, hasn't changed. The current album was recorded in four sessions. Alexis had sketched out a few songs beforehand but the rest came together in the studio and with a few overdubs. They extol the ideal of just recording them in a room playing together. Despite being, on the surface at least, an improv project, they say they are more interested in recording something good than simply being a slave to the processes and Thomas explains that it's merely "improvisation that keeps the music spontaneous and fresh." A means to an end, rather than a means in itself. "This isn't meant to be a concept band," Coxon says, "we're quite pragmatic."
"Most music that isn't read directly contains improvisation in one form or another" Coxon continues, "the fact that we record quickly though is an important part of the way the records work. We'd like people to enjoy the records for whatever reason, however they were put together.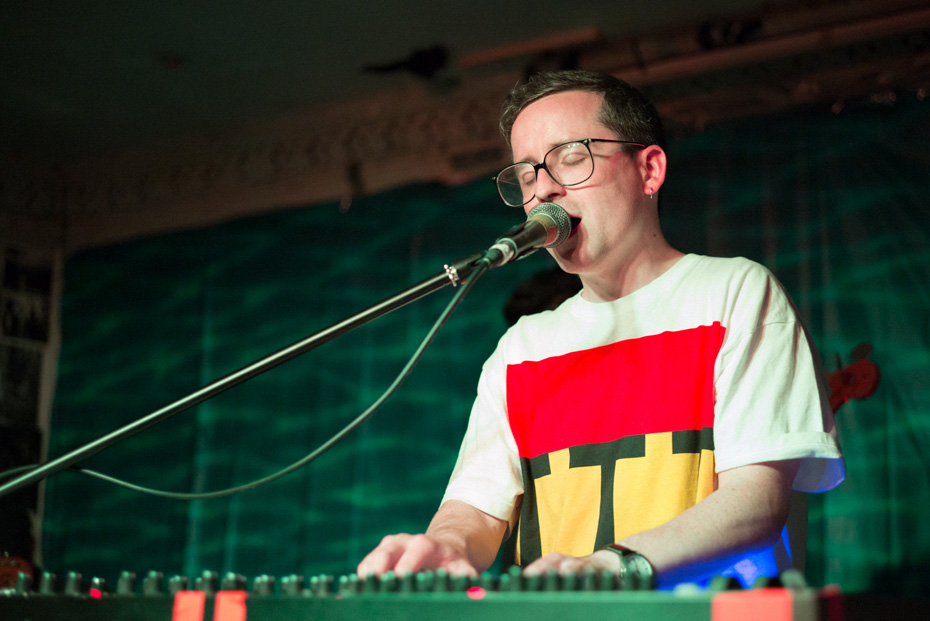 Above: Alexis Taylor
It's this speed with which ideas are finalised that gives the record a lurching spontaneity; it shifts between kraut rhythms, expansive symphonic jazz, crushing noise and densely textured moments of ambient reprieve. Hayward's formidable drumming is a constant reference point through, which in many ways ties everything together, and Taylor's voice, so familiar from Hot Chip, is transformed into an uncanny rendition of itself, backed as it by the crunching swirl of noises, instead of the sweet pop-dance hooks of his other band.
The most recent development for About Group has been Hayward's departure, unable to commit the time to record any more, or play the live shows. It's seen Zongamin and Rupert Clervaux of Sian Alice Group come into the fold for recent shows, although they admit the dynamic of the band is unlike anything they've worked with before, they've only just started practising, having only ever played gigs and recorded before.
"We don't have a plan to fall short of." Alexis explains. "We try in a short space of time to come away with something good – we don't allow ourselves time to get bogged down in things or over think them." Between the Walls stands as a masterpiece of this itineration of this decidedly not-a-supergroup.