50 years on, the mighty Royal Oak's woven dial and octagon form are still utterly up-to-the-minute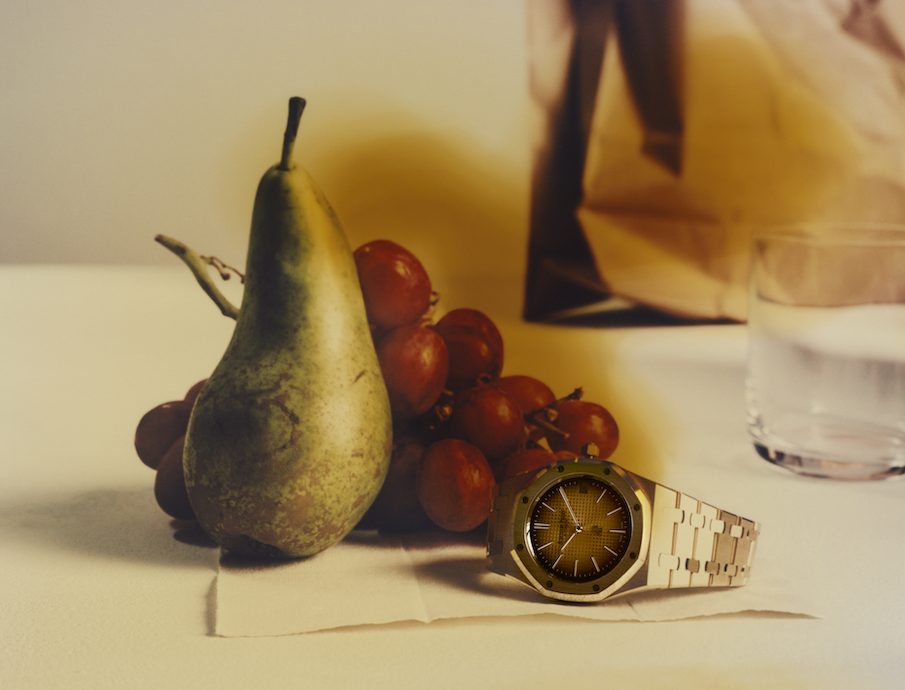 Apparently, it was the decade that style forgot. But clearly the watchmakers dotting the valleys of the Swiss Jura – where, if not in Geneva, you'll find the world's finest – missed that memo.
The '70s was a challenging decade on many fronts, from fuel crises to equally challenging plaid shirts. Those in the business of mechanical timekeeping can be added to that list too, given the devastating toll of 60,000 jobs and 1,300 companies by 1980, entirely at the hands of Far Eastern quartz technology – first looming onto wrists in 1969 in the guise of Seiko's Astron (hardly cheap from the outset, launch-price famously matching that of a Toyota Corolla, but swiftly industrialised to cereal-packet freebie status).
Just as the '60s ran from 1964 into 1972 or thereabouts, the '70s watchmaking revolution started in 1969. Only, it was a revolution with many faces, both technical and design wise. For a start, before quartz had even got its hooks in, 1969 witnessed the three-pronged birth of a long-gestated form of mechanical wristwatch: the self-winding chronograph. Three of them from Breitling, Heuer and Zenith, in a single year.
So how, to the backdrop of quartz ruination, global economic crises fuelled (or not, as the case may be) by oil shortages, as well as tanked-out R&D departments, did the '70s see such an exuberance of creativity? Not only that, but lasting creations, far more resilient than the fickle increase of flares we're seeing in high-street windows this season.
If nothing else, we're talking about Audemars Piguet's Royal Oak of course, whose 50th anniversary is being marked this year with admirable reserve: a hen's-teeth clutch of period-correct, if novel colourways, given away by the stencilled-out "50" in the gold winding rotor, which you can watch spinning through the sapphire caseback.
It was penned by original horological disruptor Gérald Genta (now regarded as watchmaking's Andy Warhol) in response to AP's sudden request for a sporty but luxurious number that would appeal to the era's young, Italian, well-to-do Riviera gadabouts. It cemented Genta as a chalet-hold name and evolved into his other two enduring masterpieces for Patek Philippe (the Nautilus) and IWC (the Ingenieur).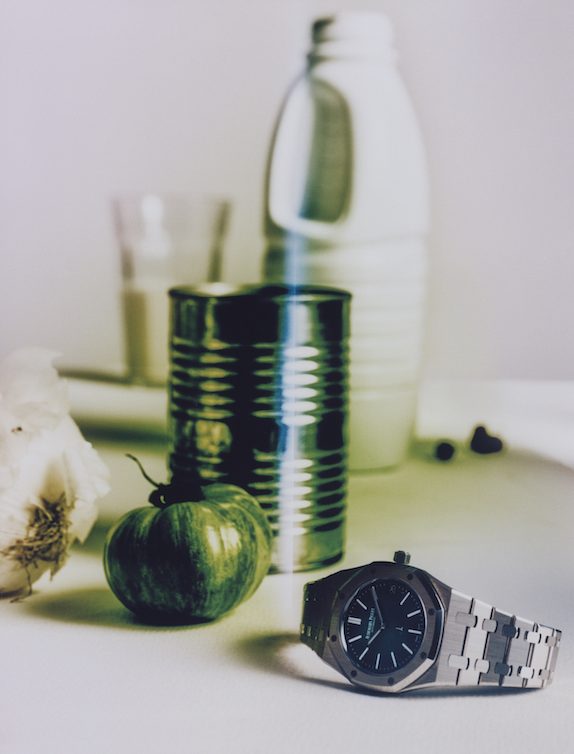 The mighty Oak was named after an old Royal Naval boat whose octagonal portholes inspired a circumferential bezel and its eight exposed screws. An 'integrated' steel bracelet flows in seamlessly – but so tricksy was it to machine and finish with alternating polish and brushed facets that it was prototyped in gold, then advertised, literally, as "the costliest stainless steel watch in the world".
Were it not for Audemars Piguet's blue-blooded pedigree – still the only Swiss behemoth that remains in the hands of its founding family – the Royal Oak might have eaten itself, with a profligacy and stratification worthy of a brand in its own right. The pumped-up '90s 'Offshore' phenomenon singlehandedly coined the oversize 'It' watch, as mediated by Arnie et al.; then the sci-fi 'Concept' series formed an eight sided crucible for AP's skunkworks, Renaud & Papi and their horological alchemy. You wouldn't have Richard Mille, MB&F or anything with an open-dial, flea circus for a movement, otherwise.
The new, golden-anniversary Royal Oaks – in admirably restrained, faithful fashion, stoking the feverish wont of collectors and flippers – leans back on one of its oft-overlooked aesthetic motifs: the guilloché-etched 'Tapisserie' dial.
Most of the 2022 Royal Oak novelties in 34, 37, 38 and 41 mm are endowed with a 'Grande Tapisserie' pattern achieved through a complex manufacturing process based on a rare know-how no longer taught in horology school: a 'pantograph' machine whose 'finger' runs across a manhole-scale template of Genta's cross-hatched relief pattern, feeding the movement back to an etching tool via a series of precisely ratio-ed gears.
For every watch, a matrix of hundreds of small, truncated pyramids with square bases are carved out on the dial's thin metal plate by a battery of these antique 'guilloché' copying machines, chattering away in a darkened workshop at Audemars Piguet's remote Le Brassus factory.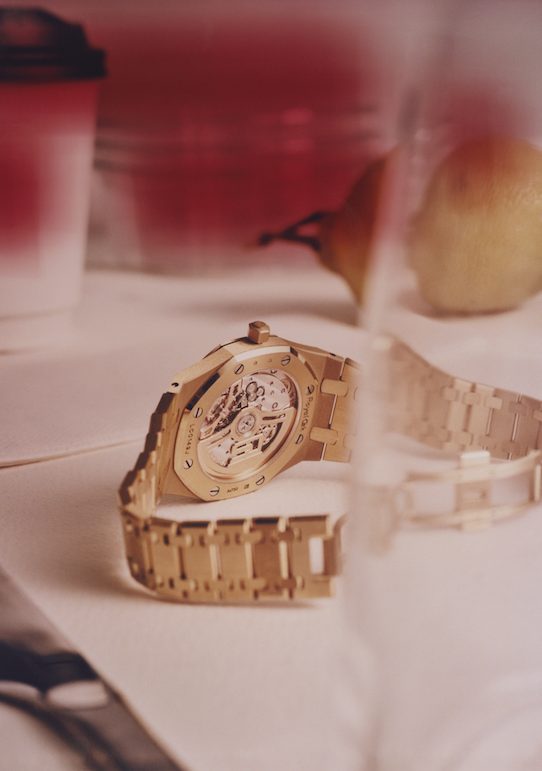 It's not all rheumy-eyed nostalgia, though. The Audemars Piguet Royal Oak 'Jumbo' tribute (it says everything of watch sizes now that 39mm seemed 'jumbo' in 1972) may be faithful outwardly but this year sees the wholesale replacement of Jaeger-LeCoultre's ultra-thin calibre 2120 of 1967 with an all-new, future-proof and powered-up movement, calibre 7121. 
Five years in gestation, 7121 is self-wound by the only gimmicky nod to the Royal's Oak's milestone birthday: a rotor skeletonised into 2022's '50 years' logo. The 2120 remains the thinnest-ever automatic movement with full-width rotor at 3.05 mm high, invented by Jaeger-LeCoultre in 1967 and supplied white-label ever-since, to the great and the good of Geneva and the Vallée de Joux, AP's bucolic, high-altitude nest since.
Measuring just 3.2 mm in thickness, the new 7121 isn't out for Slimmer's World bragging rights; it's been specifically conceived in AP's mountain eyrie to fit the 8.1mm Jumbo case without altering its aesthetic and thickness.
Furthermore, the driving stem is now endowed with a rapid date-corrector, the balance wheel ticks robustly from beneath a dual-anchored bridge rather than a 'cock' – gleaming in parallel with the hand-finished bridges – plus a bigger spring barrel means that power's up to 55 hours.
Those 39 or 41-millimetre diameters may not be 'jumbo' anymore by watchmaking's modern standards, but its bulletproof design coherence means the Royal Oak Extra-Thin will surely reign for many more half-centuries to come. Forget about investment value, this is what fine watchmaking is all about: legacy in integrity.
Photography Leandro Farina
Creative and set design Serene Khan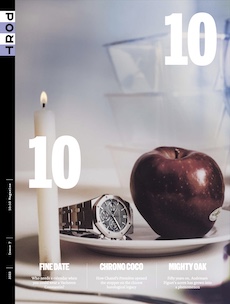 This article is taken from Port issue 31. To continue reading, buy the issue or subscribe here