Pandemics, athleisure and nomadic desk space have all relaxed men's formal attire to the point of horizontal. But with every revolution comes a backlash and, sure enough, a leather-soled, sartorial élan is creeping in again, on wrists as well as heels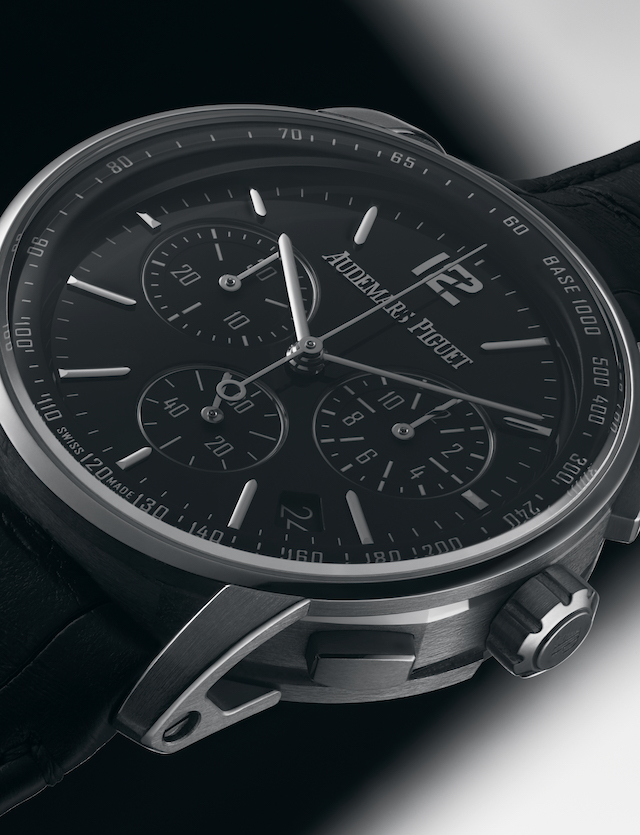 Audemars Piguet Code 11.59 Selfwinding Chronograph
Launched in 2019, Code 11.59 was a long-awaited contemporary evolution of a classic round watch, from a storied maison many feared had become overshadowed by a singular, decidedly non-circular cash cow (see our feature on the Royal Oak's big five-oh, if in doubt). It seemed like a compromise at first, given the tension of round upper and lower, sandwiching a case-middle of Royal Oak octagonality. Vapours now dispersed, the sense and long-termed intentions are now crystallising; viz. double curved sapphire crystal, in combination with AP's historic complications: tense, arched profile playing with depth, perspective and light for a unique optic experience.
£46,500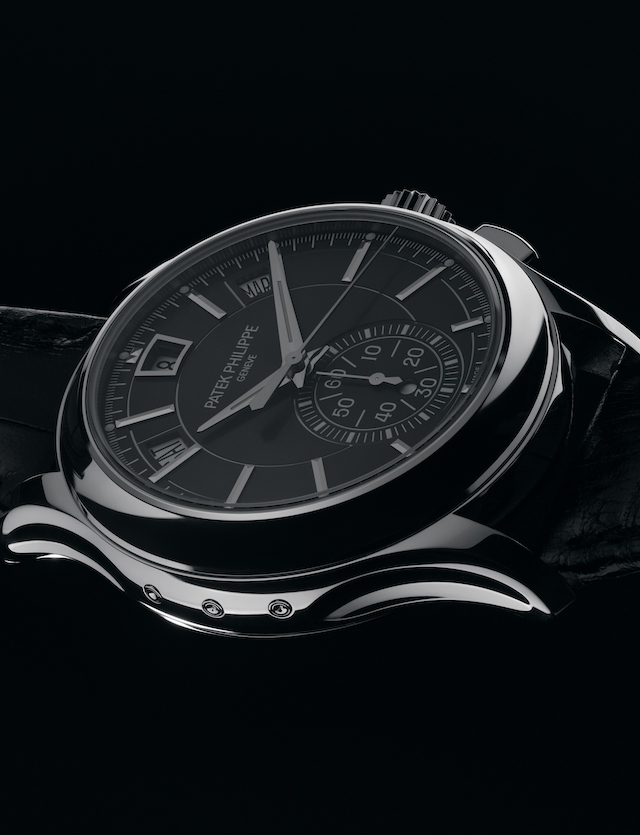 Patek Philippe Ref. 5905R
"Never brown in town," they say – an adage clearly lost on Patek Philippe's current generation of designers, given this sumptuously chocolate-toned update of its flyback chronograph in combination with annual calendar, which only need be adjusted on March 1st. A gleaming rose-gold case frames a brown sunburst dial, gradated to black where it meets the bezel – an aesthetic cleanliness that might have been compromised by conventional chronograph counters, on top of day, date and month windows, were it not for Patek's ingeniously hybridised hours/minutes subdial at 6 o'clock.
£59,050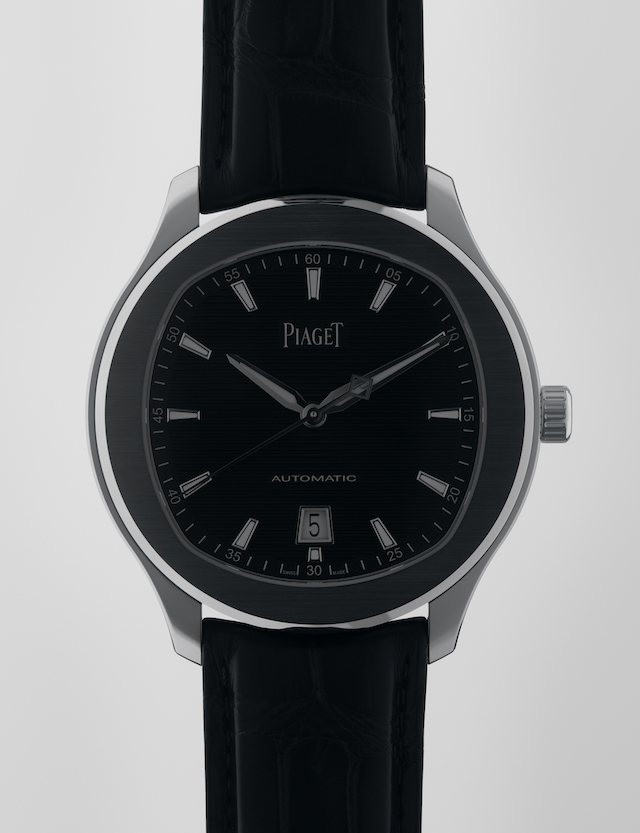 Piaget Polo Date
The horological king of ultra-thin applies its in-house Calibre 1110P movement to one of the most – if not the most – elegant sports watches on the luxury scene. 'Polo' by name, polo by nature, this squared-circle update of the '80s jetset's must-have is like a fresh pony for a new chukka: substantial on the face of things, but deceptively lithe and relentless, thanks to 1110P's 4mm slenderness and its super-efficient winding rotor spinning flush atop.
£9,400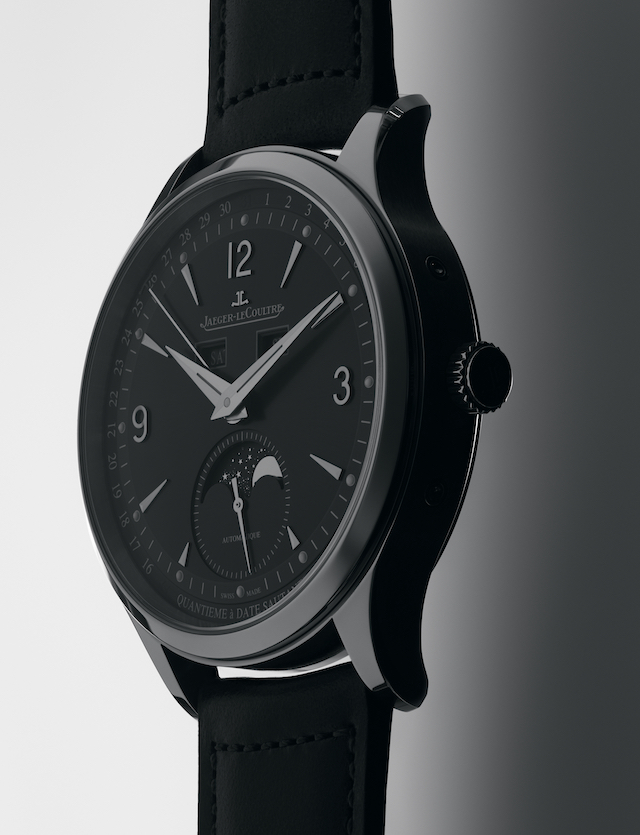 Jaeger-LeCoultre Master Control Calendar
The sleek lines of J-LC's Master Control collection draws from the classic designs of the golden age of watchmaking – in a word, the '50s. Pop may not have yet exploded, but the well-to-do were well ahead of their young in post-war exuberance. Echoing the colour of the calfskin strap, the dial's shimmering contour of royal-blue shades are all the more captivating in the evening, when the dots of the minute track and Dauphine hands glow luminescently in the night. Enough to make you forget about the autonomously crafted complexities ticking beneath.
£12,400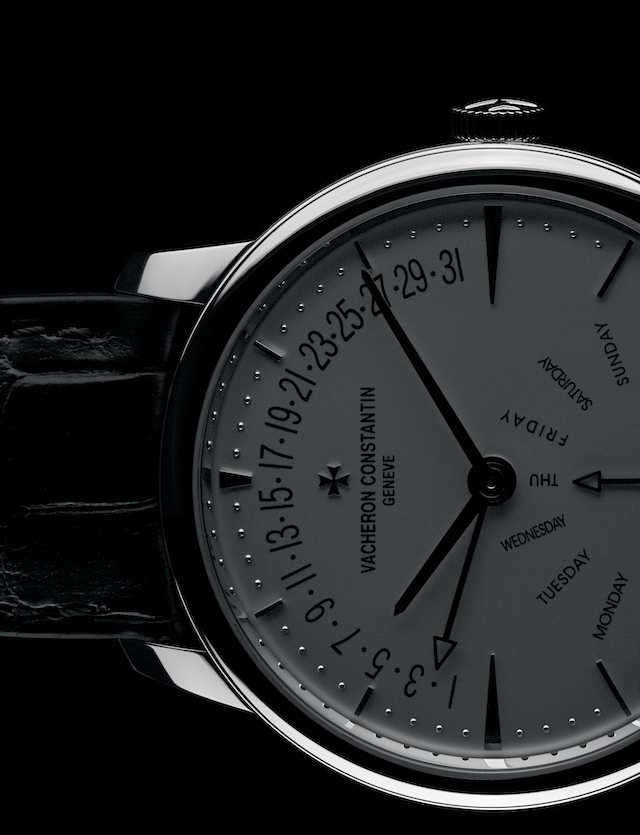 Vacheron Constantin Patrimony Retrograde Day-Date
This exquisite, entirely original conceit of date display combines a 'retrograde' or fly-back 'pointer' day display, as well as date. Both of these hands as well as the hours hand are gently contoured to follow the shallow camber of the dial. The applied gold hour markers and minutes hand are curved too, slipping between the mere one-millimetre void between dial and sapphire crystal dome. This delicate 3D jigsaw is entirely hand formed and adjusted, making an otherwise tricky operation – dial making being second only to watchmaking itself in complexity – particularly painstaking. Visually imperceptible, almost, but subliminally sublime.
£39,300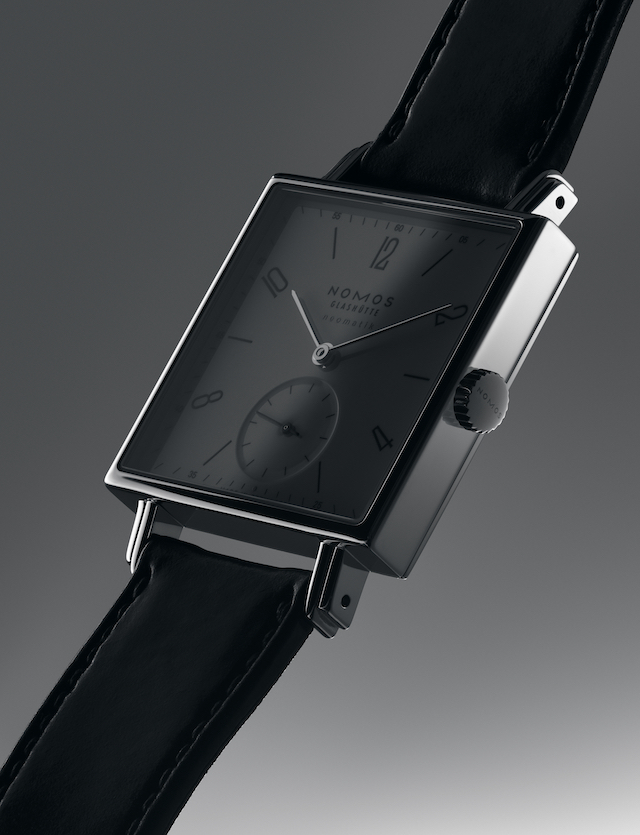 NOMOS Glashütte Tetra neomatik
Two years back, the tiny but tough village of Glashütte celebrated the 175th anniversary of its recovery and renewal as Germany's hub of fine watchmaking – when Adolf Lange officially set up his workshop and began recruiting out-of-work miners at the behest of Saxony's government. It's Nomos who remain the most disruptive and representative, arguably, basing their main factory within the old railway station, over the road from more reminiscent concerns, pushing things forward on the affordably mechanical front, but also design-wise, thanks to its ice-cool Bauhaus design DNA. Saluting the 175th, this piece is enamel-glossed in an off-white shade, because… Nomos chose to.
£3,060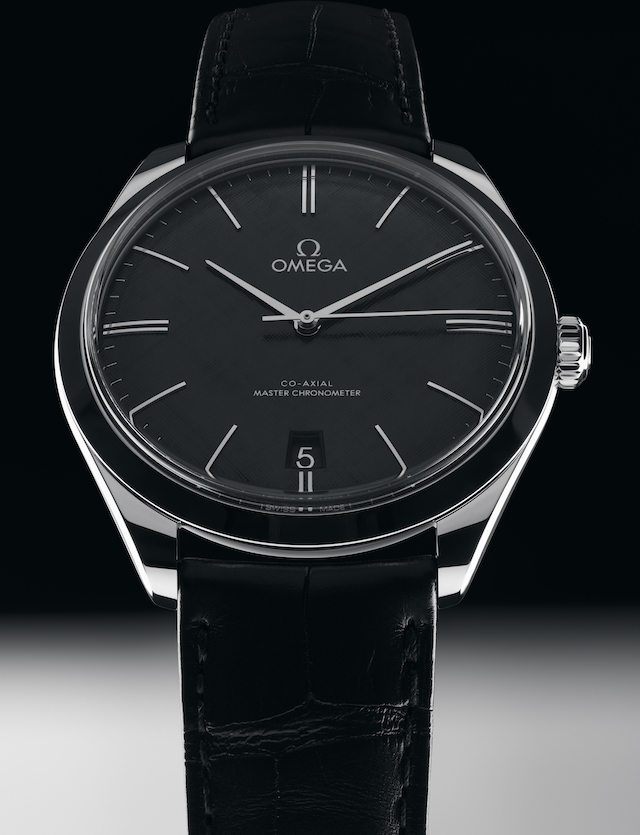 Omega De Ville Trésor
The Trésor line was first launched by Omega in 1949, and all those restrained, classical lines feel as effortless as ever – a tough design brief to pull off when all you have is a circle and three hands to work with. What's even harder is legitimately combining such traditional heritage with one of today's most advanced mechanical movements. Calibre 8910 not only resists MRI-scanner levels of magnetism, while maintaining chronometric precision, but service intervals are relatively glacial thanks to a lubrication-free 'Co-Axial' escapement ticking at the heart of things. 
£6,100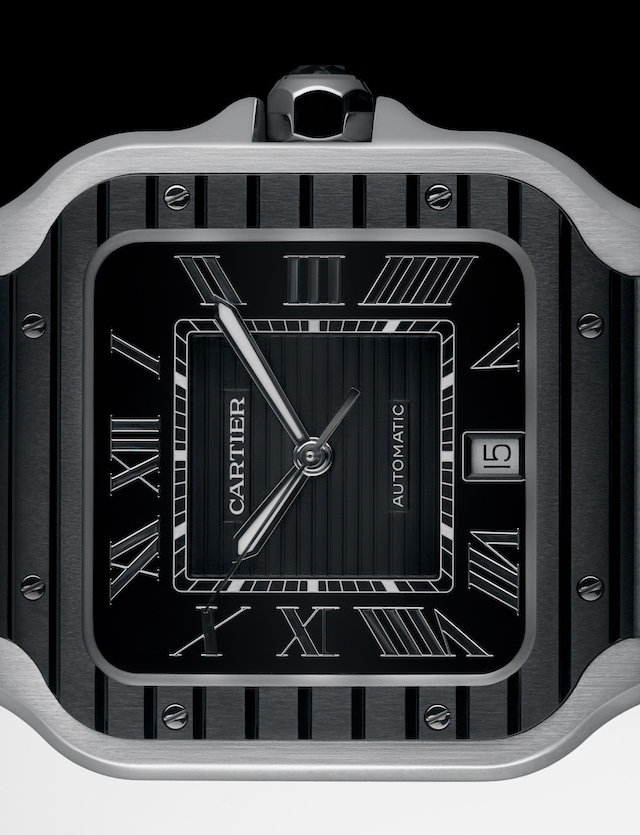 Cartier Santos de Cartier
Of course we've included a Cartier. Just as 'Rolex' is a synonym for 'aspirational sports watch', Cartier is your default, blue-blooded dress option. It has been since the turn of the century, practically inventing the practical notion of a wristwatch, over the onerously pocket-born timepiece. The serial-produced 'Santos' of 1911 took its flamboyant, Brazilian aviator namesake's request to Louis Cartier for a hands-free cockpit timekeeper, then flew with it. It's still inspired by both friends' home city of Paris's nouveau stylings, yet now proportioned contemporarily and adorned (in this case) with PVD-coated go-faster striations that Señor Alberto would certainly approve of.
£6,750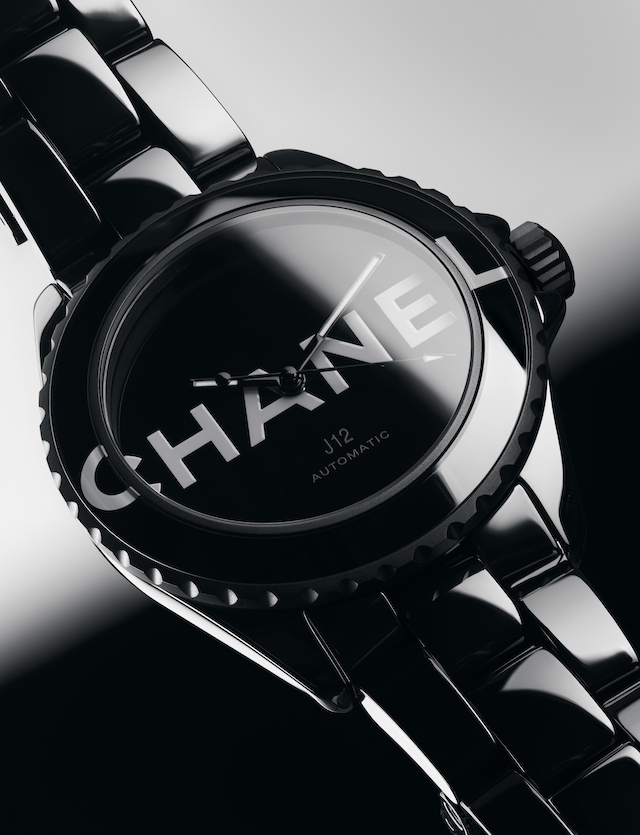 Chanel J12 Wanted de Chanel
20 years after its creation at the hands of Jacques Helleu, Arnaud Chastaingt, director of the Chanel Watch Creation Studio, gave the J12 a makeover while managing to not undermine what made this such a phenomenon in the first place: a fashion watch with horological clout that also brought something to the table. In 2019, almost nonchalantly, ceramic cases and bracelets were tabled for fashion's sake (resemblance to quilted handbags not entirely coincidental) and now we have high-level precision mechanics thanks to Chanel's characteristically canny investment in Kenissi Manufacture, alongside Tudor – Rolex's blossoming sister brand. For once, the shameless sloganeering can be justified here.
£6,700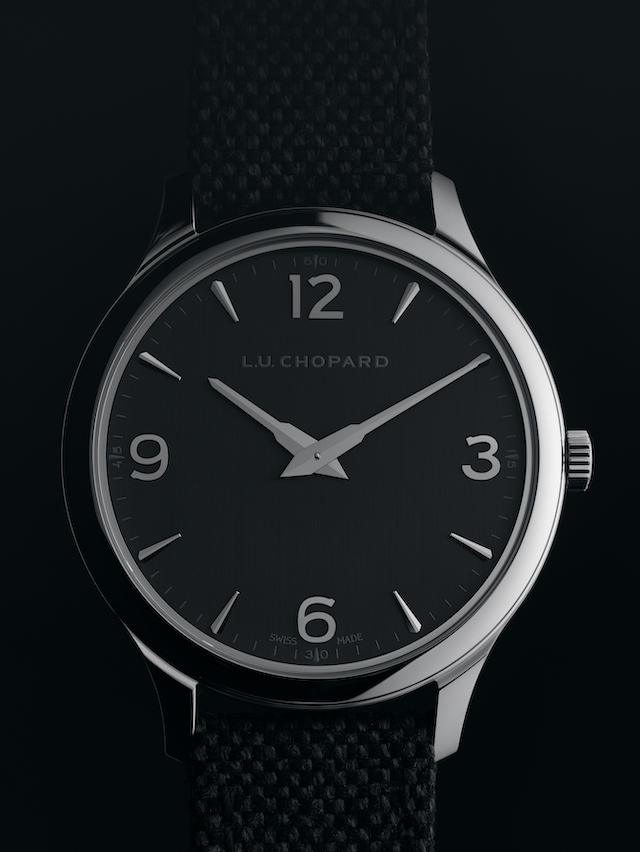 Chopard L.U.C XP
The hours and minutes hands of Chopard's purest 'tuxedo' watch seem to echo the architectural silhouettes of Fritz Lang's Metropolis, but like the aforementioned Omega Trésor, the texture of this dial is like the virgin wool of its strap: a nod to the gentlemanly codes of Savile Row and its tailors. It's a navy cashmere flannel suit in wristwatch form, but certainly not style over substance; for over 20 years, Chopard's co-president Karl Friedrich-Scheufele has nurtured his ambitious vision for reviving Louis-Ulysse Chopard's enterprise, and something as pure and simple as this creation is all the validation he needs.
£7,720
Photography Baker & Evans
Post production Sam Stuller at Stilletto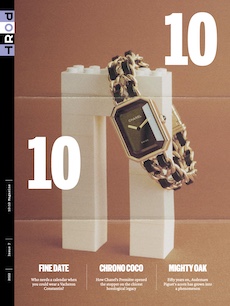 This article is taken from Port issue 31. To continue reading, buy the issue or subscribe here