Jolyon Webber talks to the British author and journalist ahead of his reading at Book Slam (F)East about the event, fears of postprandial somnolence and Margaret Thatcher
Ahead of his appearance at Book Slam (F)East, the literary night club's first foray into gastronomic entertaining, we asked Will Self  some boring questions, and some smart-arse questions, about his involvement with the event and received typically witty, loquacious answers. And things, inevitably, came back to Mrs. Thatcher. Self is the author of nine novels, five collections of shorter fiction, three novellas and five collections of non-fiction. A regular contributor to Port, he once wrote for us a particularly withering open letter to Capitalism that he described as, "my poor deluded old fuck-buddy".  His last novel, Umbrella, was short-listed for the Man Booker prize.
Jolyon Webber: This is your third appearance at Book Slam. How did you become involved with the event?
Will Self: There was a fellow Bloomsbury author – Patrick somebody-or-other, sweet guy – who was mixed up in it, he got on to my publicist, she got on to me. The advantage of the Book Slam format is that people come who genuinely want to read – I think a book discount is included in the cost of the ticket – whereas nowadays a lot of public readings for writers are the antithesis of this (i.e. people go to them precisely because they can't be arsed to read, and this is a way for them to be spoon-fed their kultur).
Jolyon: What do you enjoy about the event and, more generally, about doing readings? Conversely what, if anything, do you not enjoy about them?
Will: Well, I do think giving a good reading is important for authors nowadays. It has become increasingly so throughout my career. Time was readings were in bookstores (back in the 1990s), now they tend to be a literary festivals or events like Book Slam. There are upsides and downsides. Really authors have to be able to read well now, it's correlative to live performance for downloaded-to-death musicians and soon enough writers will be in that position – but worse off. I trained a little as an actor, and know how to project myself. I also do the police in different voices, so to speak. As for my enjoyment, well, it is a métier and as such I enjoy it, but I always stress to organisers et al that this is work for me. There's a tendency on the literary circuit to try and gussy these events up as 'fun' for the authors. But I wouldn't know what fun was if it inserted an electrified loofah in my anus and I haven't a sociable cell in my body. This is graft.
Does your own experience of a text alter when reading to an audience? 
Will: Yes and no. It tends to show up the weaknesses in a text. Conversely, you can come to enjoy a text more through reading it (I say 'more', but since I enjoy my own work about as much as a glass of cold sick, 'at all' might be closer to the truth). It is uncanny getting to the point of familiarity in reading a text where you can do it, listen to the babble of your thoughts simultaneously, and also check out the poor guy in row four's psoriasis…
Some of your writing about modern 'food culture' is typically acerbic – "Arguably gastronomy has replaced social democracy as the prevailing credo of our era", "food has become the defining attribute of both class and culture in 21st century Britain". Any qualms about performing at an event where the guests will have noshed through a three-course meal before your spot?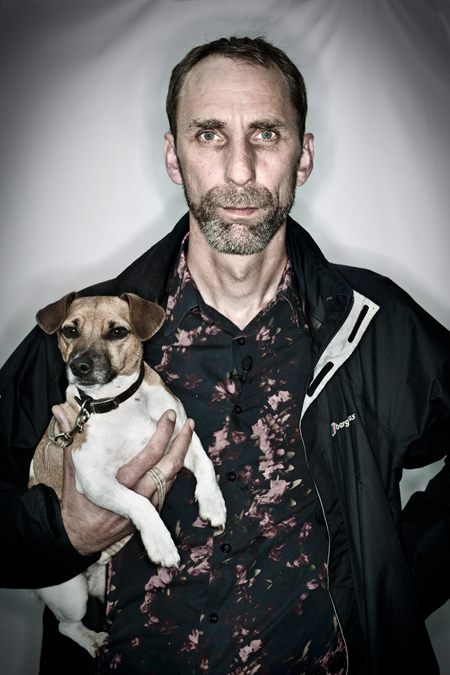 .
No, people lavish attention on their cars, vote Tory, regard place as fungible, don't know an Upmann from a Hoyo de Monterey. In short, do all sorts of shit I wouldn't dream of doing. But I'm Mister Tolerant, that's me…
Jolyon: And in light of this – any worries about postprandial somnolence?

Will: I welcome somnolence. The difficulty of reading to large groups of people is battling against extraneous noise. So long as they don't snore and aren't subject to bruxism, I'm only too happy for all the little lambkins to frolic away into bye-bye land.
Jolyon: As a professor of contemporary thought (Self has been appointed the post at Brunel University), what are your thoughts on contemporary thought? 
Will: The crucial moment for contemporary thought was the fall of the Berlin Wall in 1989. We are still seeing the aftermath of this playing out. In the past week we've seen the beginnings of the iconisation of Margaret Thatcher – a deeply divisive, and deeply destructive political figure – why should this be? It's part of the failure of ideology – thought – to respond to changing reality. In lieu of the constructions of ideology that preceded the collapse of the Soviet Union – all of which, both right and left, were threadbare by then to the point of transparency – we are thrown back on earlier, pre-rationalist forms of thought, such as worshipping St Margaret when the big buff squaddies pull her through town on her mobile catalfalque.
Will will be reading at Book Slam (F)East at The Round Chapel, E5 0PU on April 20th