Food meets interior design at our Charlotte Street neighbour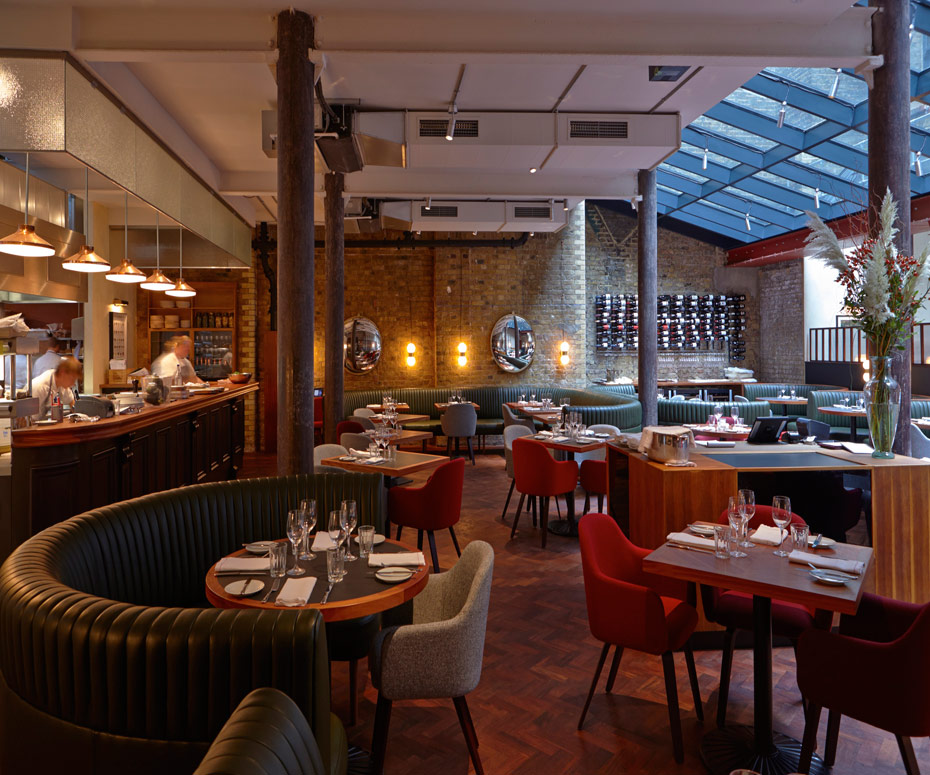 A collaboration between Angela Hartnett, Neil Borthwick and Canteen co-founders Dominic Lake and Patrick Clayton Malone, Merchants Tavern is a restaurant founded on the principle of simplicity. From sumptuous décor to simple, rich food, it weaves between the homely atmosphere of a beloved British pub and the rich and confident interior stylings of a mid-century New York bar lounge. When I met Clayton Malone, also of furniture manufacturers Very Good & Proper before the restaurant had opened last year, he described the interior decor as "Mad Men-like". With its warm hardwood furniture and parquet flooring, and its tasteful use of robust leather, it's easy to see what he meant.
I was struck first by the interior design. Quite simply, it's a class act, with furniture by VG&P that fits seamlessly into this mid-century aesthetic. We dined in a generous corner booth that simultaneously offered a sense of privacy, and a voyeuristic outlook onto the dining room and open-plan kitchen area. Joining the bar and the dining room is an atrium-style glass ceiling, which floods the room with light, lifting the space whilst providing a window out onto the bones of the building above.It's a clever treatment for what could easily be a dark interior, and where the natural lighting ends in the main restaurant, artificial, accented lighting steps in, first in the form of the copper lampshades which are elegantly – though practically – employed in the kitchen, and secondly through the globe wall lights that run throughout the dinning area. Large, fish-eye mirrors are also hung around the walls, further reflecting light around the space, complementing the warm colour scheme.
The food too is every bit as well-considered: we dined on the very reasonably priced lunchtime menu, enjoying a starter of courgette soup with Parmesan cream. I firmly believe that if you get your basics right, everything else follows suit. The soup was testament to this; rich and filling, with just the right balance of saltiness from the cheese.
Our mains were similarly well executed. As a pescetarian, I ordered from the meat-free side of the menu, dining on a main of cauliflower risotto with wild mushrooms and truffle vinaigrette. The dish was delicious, (though a little too much truffle oil for my taste – a point shot down by my dinner guest, who's an out and out truffle-enthusiast).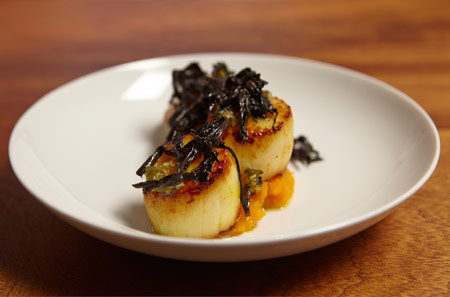 Which brings me to her main: a fillet of bream with gnocchi a la Romano, peas and broad beans. The bream was an absolute treat, its skin crisped and seasoned to perfection, and I'll admit, I was filled with more than just a fleeting moment of food-envy. The gnocchi too was brilliantly executed, both flavoursome and firm, and an excellent accompaniment to the meatiness of the bream. We washed it down with a crisp glass of Soave Classico, which came recommended by our hostess, Céline.
For desert, we split the difference and went for the Amalfi lemon rice pudding with poached fruit and the Rove de Garrigues, which was accompanied with sliced granny smith apple and a wicked fennel chutney. I have a pronounced sweet tooth, and the poached fruit and creamy rice pudding was simply sublime.
Simplicity is what Merchants Tavern do best, and it's a theme that threads its way through head chef Neil Borthwick's seasonal European menu: what is essentially flavoursome 'comfort food' is presented in a really classy way, just like its surroundings.