As the iconic hotel bar undergoes restoration, head bartender Colin Field heads to London for a week long residency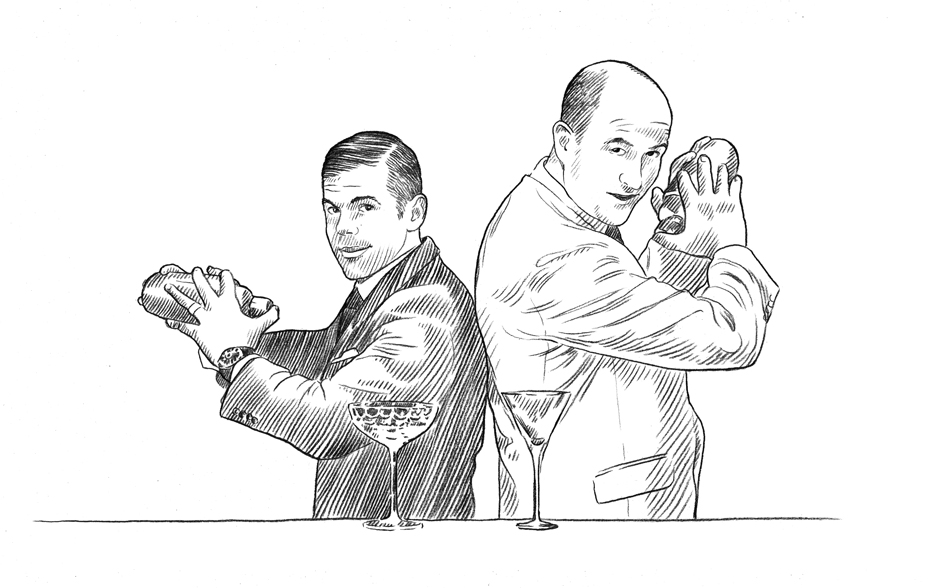 Colin Field is a celebrated mixologist and longstanding head bartender at the iconic Bar Hemingway at the Ritz Paris. Twice voted world's best bartender by Forbes Magazine, from 7-13 April he'll be mixing drinks at London's Connaught Bar alongside the Connaught's own Agostino Perrone. The Bar Hemingway is currently undergoing restoration.
Here, Field and Perrone discuss their favourite tipples, summer 2014 drink trends and 'inspiration' as a vital ingredient – and share a delicious cocktail recipe.
In your experience, how do drinking habits and tastes in London and Paris differ?
Agostino Perrone: They're such different cities it's difficult to say! London has a very strong cocktail scene, with experimental cocktail bars opening in East London all the time. There are also the classics such as the American Bar, and Dukes Bar. Paris has some fantastic bars with some great new ones opening in the last five years, including the innovative Candelaria tequila bar on Rue de Saintonge.
I do believe that the 'gin and tonic' (the quintessential English summer drink) is much more popular here in London than in Paris.Colin Field: London and Paris are such multicultural cities – I don't think there's a particular cocktail that stands out more in one city than the other.
What are your favourite cocktails to make and drink?
AP: Oh where to start! The Connaught Bar version of the Mulata Daisy is a modern take on the golden age of the 1920's and one not to be missed! It has lime juice, Bacardi Superior Rum, crème de cacao liqueur and was the winner of the 2009 Bacardi Legacy Competition. It's the star of our menu!
CF: One of my favourites to make is the Serendipity (mint, apple juice, Calvados and Champagne) created at the Ritz Bar Hemingway.
If a bartender can be considered an artist, the cocktails they create must communicate an emotion, a sensation and not just be 'a cocktail'. Serendipity does just that. You could call it 'France in a glass' as it brings the aroma of the French countryside to life using locally sourced ingredients. Over the years it's become the Hemingway Bar's most popular drink, making up around a third of the orders each night.
"Part of the craft of professional bartending involves experimentation – nowhere is that more true than in the world of gin"
What are your favourite spirits to work with?
AP: Gin. All gins are juniper based and have botanicals superimposed, which can be quite diverse. Part of the craft of professional bartending involves experimentation – nowhere is that more true than in the world of gin.
CF: I have to say 'inspiration!' All ingredients are special in their own right, but there's no cocktail without inspiration.
Can you predict what the big drinks trends will be this summer?
AP: I see a return to simplicity, lots of fruit, sours and spice. We're using black cardamom; the sour comes from sherbet – always refreshing during the summer.
Do you think they'll be a healthy competition between you next week?
AP: We're here to create magic and I can't wait to get behind the bar with Colin to share our skills!
CF: I don't believe there'll be any competition between us – our aim is to create memorable experiences for guests, and with two at the helm we hope it's that extra bit special.
The Connaught Hotel, Carlos Place, London, W1K 2AL. More info HERE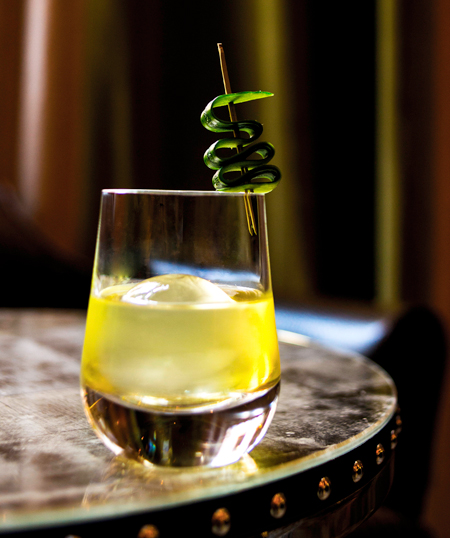 YELLOW SUBMARINE (above)
40ml Gin
15ml fino sherry
10ml Galliano L'Autentico herbal liquor
2 dashes celery bitter
Stir all the ingredients with ice and serve in a rock glass with ice sphere. Garnish: Oils of a lemon zest and cucumber skin.