The head chef reflects on his long-standing collaboration with the legendary Anne-Sophie Pic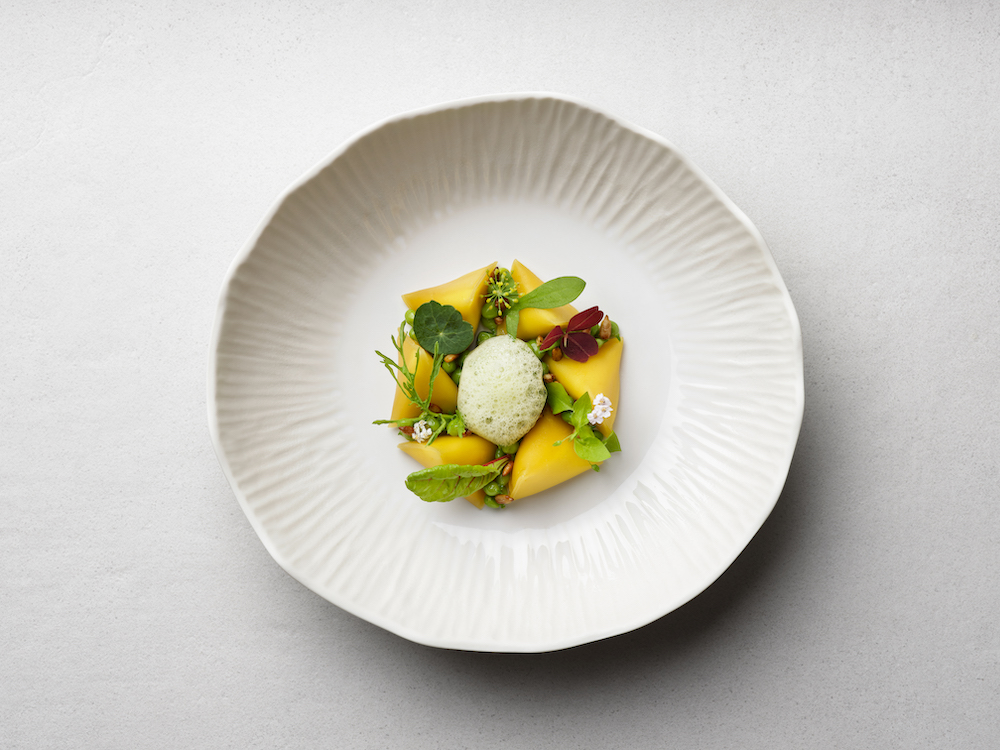 You would be hard pressed to find a better mentor than Anne-Sophie Pic, the most decorated Michelin starred female chef in the world. Holding eight across five restaurants, two can be found in her UK offering, La Dame de Pic London. Housed within the capital's Four Seasons Hotel London at Ten Trinity Square, it celebrates contemporary French cooking at its most refined and intuitive. Heading up the illustrious kitchen is Marc Mantovani, who hails from mountains of Valence and has worked alongside Pic for nearly eight years, soaking up her love of undervalued ingredients, aroma and bold, boozy flavour pairings such as Hereford beef fillet marinated in gin, dill seeds and coffee; smoked eel and kabosu ice cream; heritage tomato marinated with Nikka whisky; Cornish turbot glazed with pastis, as well as pure decadence in the form of wild seabass with caviar or berlingots (pasta parcels) filled with geranium, shisho and chartreuse.
Currently preparing for a hectic early Autumn season, Mantovani caught up with Port to discuss his long-standing collaboration with Pic, how to make disparate elements cohesive, and the daily focus their Michelins bring.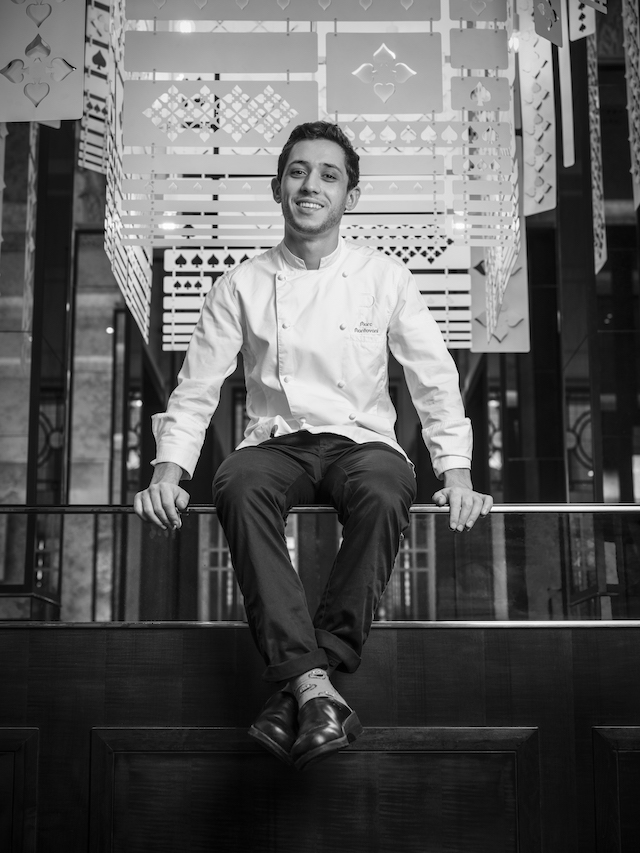 What are some of your earliest memories relating to food, and how does your early life spent close to the natural world inform your approach to cooking today?
I will never forget the taste and smell of Nước mắm, a Vietnamese sauce that my father always used to prepare and use in his dishes. I still have his wok at home, which I keep with the utmost care. I also remember when I was a child spending a lot of time with my mother preparing dishes, such as Crudites and Ravioles du Royans with blue cheese sauce. These dishes bring back happy memories and this is where my love of cooking and food first stemmed from.
My culinary memories are often linked to family meals and celebrations such as Christmas and New Year's Day. Every year we would have foie gras. My stepfather, originally from the South of France, prepared braised bull and freshly-shucked oysters. As for my grandfather, he would always bring baskets full of vegetables and citrus fruits grown from his garden. Fresh produce makes good dishes! Our family always exchanged and enjoyed highlighting products from our terroir.
I am constantly inspired by the environment in which I grew up in, the proximity to farms and animals that were around me. I fondly remember the sheer diversity of my stepmother's garden and walking in the woods with my family, picking mushrooms.
You've worked with Anne-Sophie for a number of years, what are some of the benefits of spending a long time with someone in the kitchen?
I have been working with Anne-Sophie for almost 8 years now. This long, successful collaboration has allowed me to evolve and progress as a professional and as a person. That time has really given me the chance to know her tastes and expectations. She has definitely passed on her rigour and strong attention to detail. The precision of taste and flavour is essential in the kitchen, as it is the last memory you will take away from a dish. I learnt to be determined at Maison Pic (Pic's three Michelin-starred restaurant, which he joined at just 20 years old), one of the core values in cooking. It is like a family home; I am grateful that Anne-Sophie has benevolently accompanied me on my journey.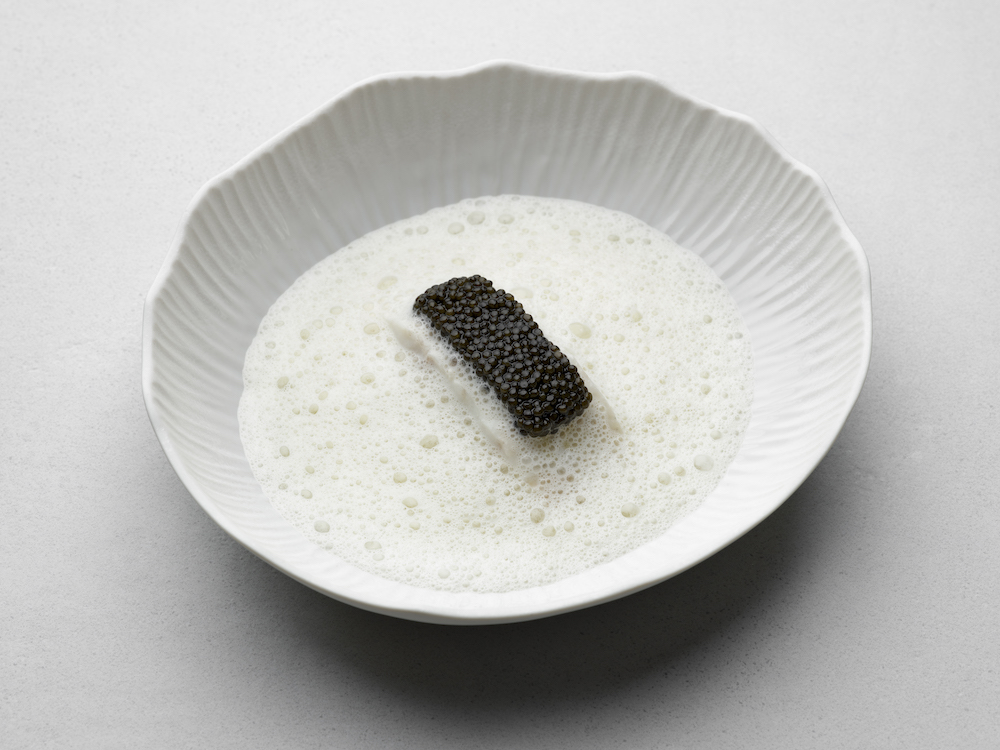 What is the process between you two when it comes to creating the menu?
It is a well-defined process consisting of two phases – reflection and experimentation. We begin with sourcing. I identify the local producers: how they work, how they grow the products. This phase allows us to make many discoveries and create dishes relating to the identity of the terroir. Anne-Sophie then shares her inspirations and desires with us. Little by little, the dishes are beautifully crafted. The intention and the aromatic framework are defined. I then carry out tests where I rely on the regular advice from her when I have doubts or make any exciting discoveries! Finally, I spend a week with Anne-Sophie in her test kitchen in Valence. We experiment and taste the dishes together before finalising our recipes.
There's wonderful British produce through a French lens, but I also spotted plenty of Asian ingredients – sakura leaves, shiso, dashi – how are these different elements made cohesive?
We find coherence with the passionate individuals behind the incredible ingredients they produce. We often gain inspiration by their meticulous methods, from feeding to harvesting. The sakura leaves, for example, come from Kiona Malinka, who provide us with different teas. Tasting this tea regularly allows us to discover and better understand its aromas and palate. So, we identify certain associations of taste, and find a coherence between two products, then sublimate this harmony between ingredients, making it memorable. We also use the sakura leaves in the Cornwall Lamb dish as the almond and tonka both work very well with it.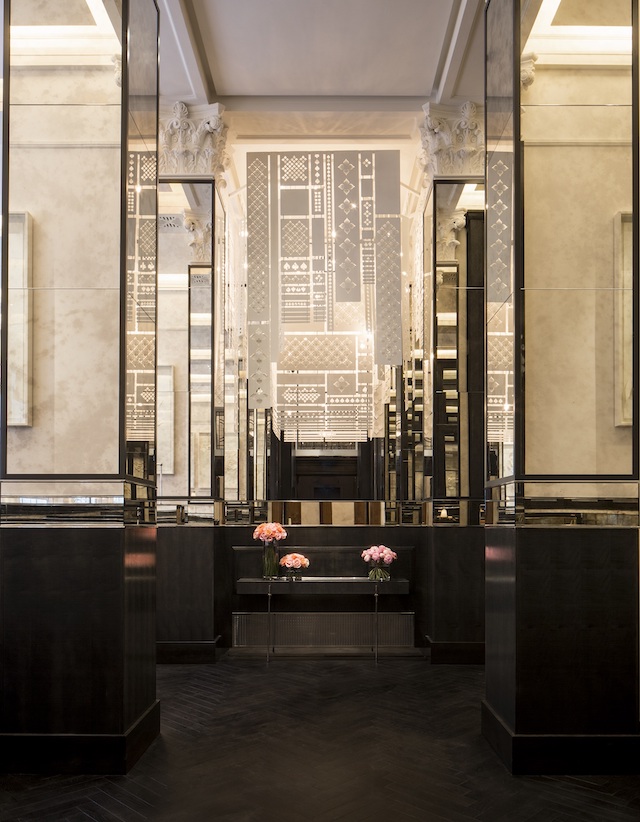 Having started and trained in classical, old-school French cooking, would you say what you're currently doing is contemporary French cooking, and if so, are there differences between the two? 
I started work and studied in a Classical Cooking School where I had the chance to spend five years of my training as an apprentice. This allowed me to find myself in the culinary field whilst working two weeks per month, which was a real benefit for my learning. In my opinion, there is not an old or contemporary style, but only good cuisine. On the other hand, it's important we build a solid foundation and acquire as much knowledge of French cuisine as possible, in order to develop it further and push boundaries. The kitchen offers us infinite possibilities and Anne-Sophie is very inspired by her travels, the discovery of perfumes, of citrus fruits, and many more wonderful things.
What dish do you particular enjoy making, and eating, at the moment?
At the moment, after an intense day, I love to cook carbonara pasta.
Winning Michelins and sustaining them is presumably stressful. Given La Dame de Pic London has two, how do they focus your efforts?
It is indeed a daily pressure, but a good one. I think that this pressure should not be a burden because the Michelin is a fair institution. If a restaurant wins a star, it has earned it. The only reason to lose it would be to do less well than before. We taste absolutely everything, always, relentlessly. I also focus my efforts with my team. I want to be there for them, to inspire them with desire and good humour in the best working conditions. It gives me great satisfaction to see them proud of their accomplishments, to see them grow.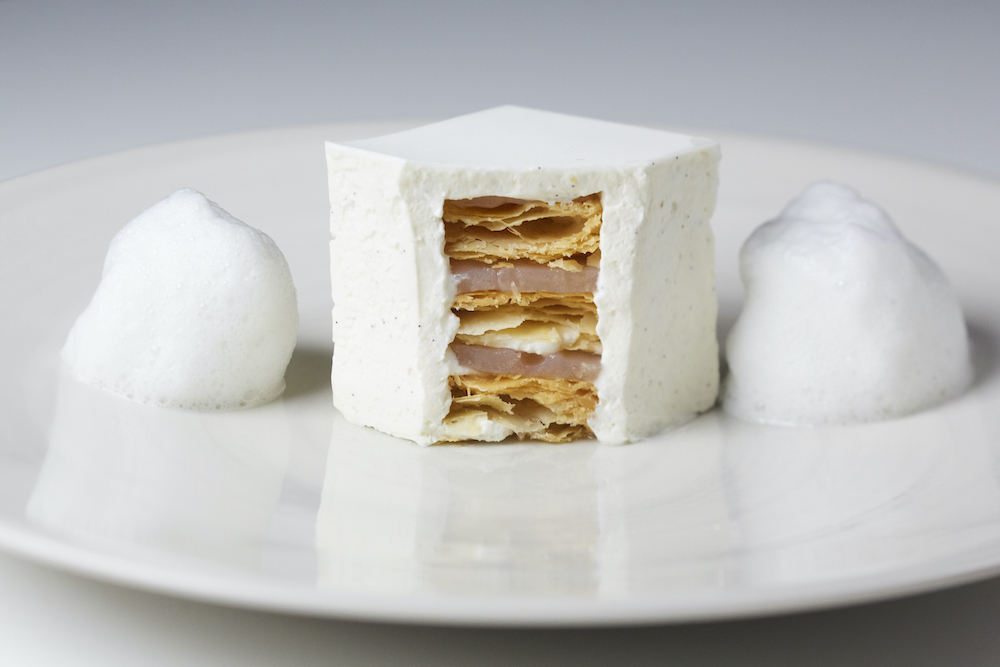 What is the secret to running a harmonious kitchen?
In my opinion, the secret to managing a kitchen harmoniously is above all to have the respect and admiration of your team. Anne-Sophie is my mentor. I admire the person she is, her knowledge, her skills, technique and care for her team. She creates a real cohesion.