We meet British chef and Fat Duck alumnus James Baron to discuss how he went from being a waiter in his hometown to a head chef at a top Austrian hotel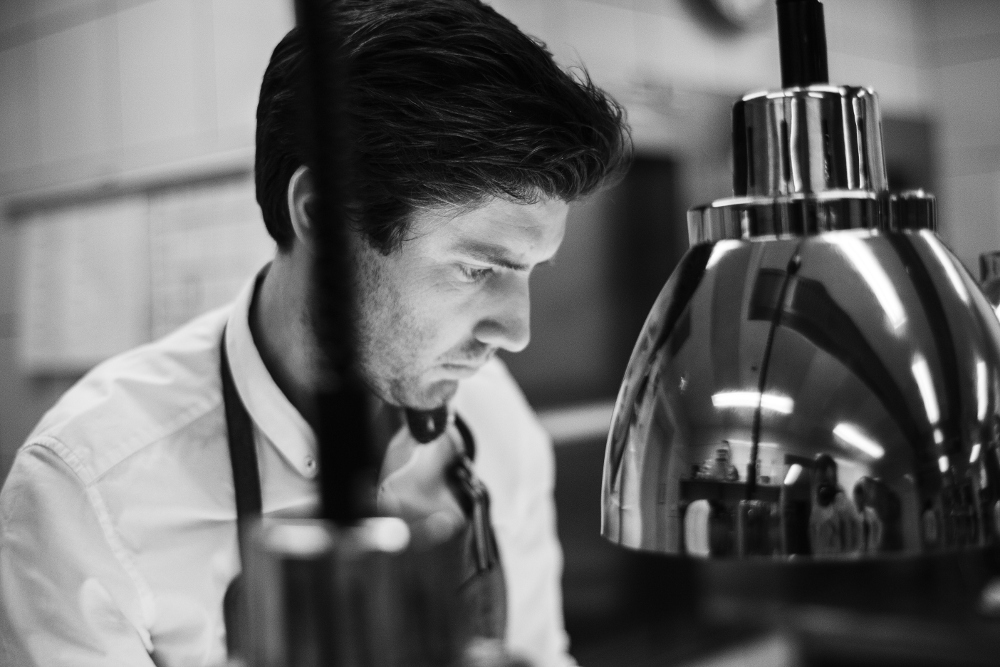 The dining room at Hotel Tannenhof, where British chef James Baron has recently come to reside, looks out onto a panoramic of mountains. It is located in the scenic St. Anton – a dichotomous 'town', which balloons to a city of 25,000 in the winter for the ski season, and shrinks to a village of 2,500 in the summer. The location is ideal for a creative chef: the mountains are not only beautiful themselves, but provide immediate access to traditional Tyrolean ingredients. Alpine herbs are easily foraged from within a 20-minute radius, and the cowbells from the local dairy can be heard clanging from the hotel's reception desk.
James Baron began work at Michelin-starred JSW in his hometown, Petersfield, England, before completing work experience at Heston Blumenthal's Fat Duck (his job was assembling a dish of oysters, passion fruit, and black pepper). Encouraged by a desire to travel, he turned away from the London restaurant scene and worked his way up in Michelin-starred kitchens across the Continent, and learning both French and German along the way. In late 2015, he was announced as head chef at Hotel Tannenhof, a five-star residence in the Tyrolean Alps that contains only seven suites. Within his small team, Baron is responsible for providing consistently excellent and imaginative services for the hotel's diners, whether that's a barbecue on the mountains or an eight-course evening menu. The hotel insists that no returning guest can be served the same dish twice, meaning Baron must often come up with menus on a quick turnaround.
Here, we sit down with James to discuss his local suppliers on the mountain, the benefits and challenges of running a kitchen in a five-star hotel, and why he gave up a potential career in architecture for food.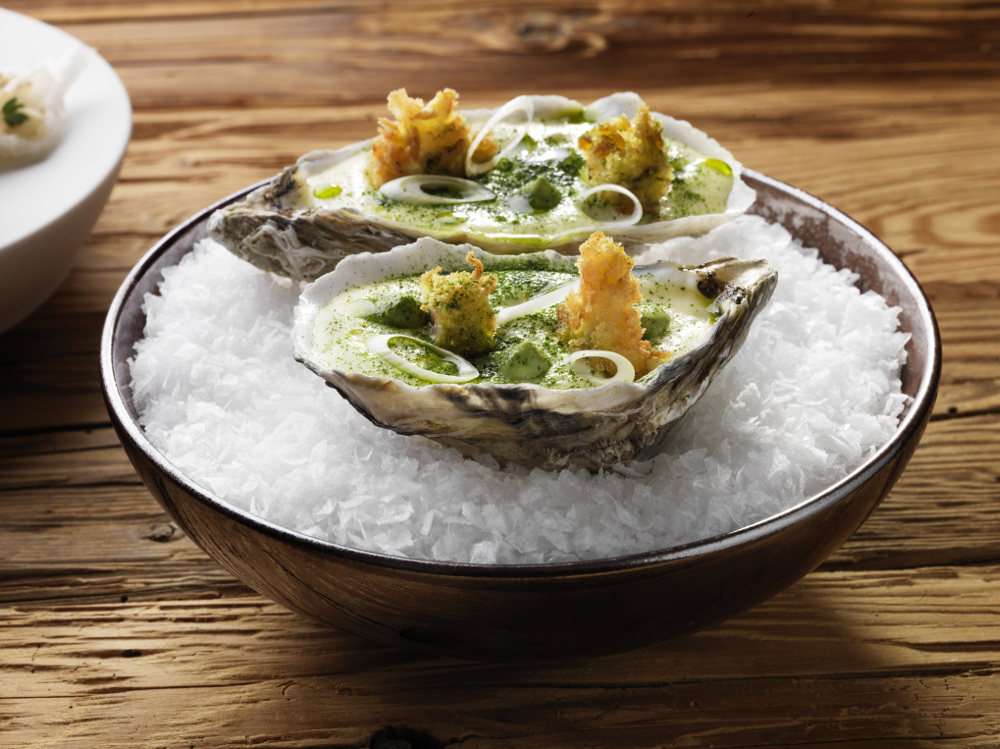 When did you start cooking?
I had a position at university to go and study architecture. I was working at a Michelin-starred restaurant, JSW, when I was doing my A-levels as a waiter. I decided out of the blue that I didn't want to go to university, much to the shock of my parents, and that I wanted to be a chef. I had a year out and started as an apprentice at JSW, then stayed there for almost four-and-a-half years.
The first time I worked there was in the kitchen, because the head chef, Jake Watkins, was on his own. He didn't have a Michelin star at the start, and on a Friday and Saturday night, he just had a student to help him out – I was that student. I got the bug from that, but I was always interested in cooking… how my parents cooked, how my grandparents cooked, etc. I suppose that was the real thing that lit the fire.
What did you do after that?
After that, I knew I wanted to travel. I had a few choices of where to work in London – there was a place in New York, but I knew I wanted to do something completely different, and learn a language. That's why I ended up in Switzerland. As a chef, you have a great opportunity to travel and learn new languages, because it's a craft you learn with your hands. If you can't speak the language at the start, people are patient. And you can still do the job.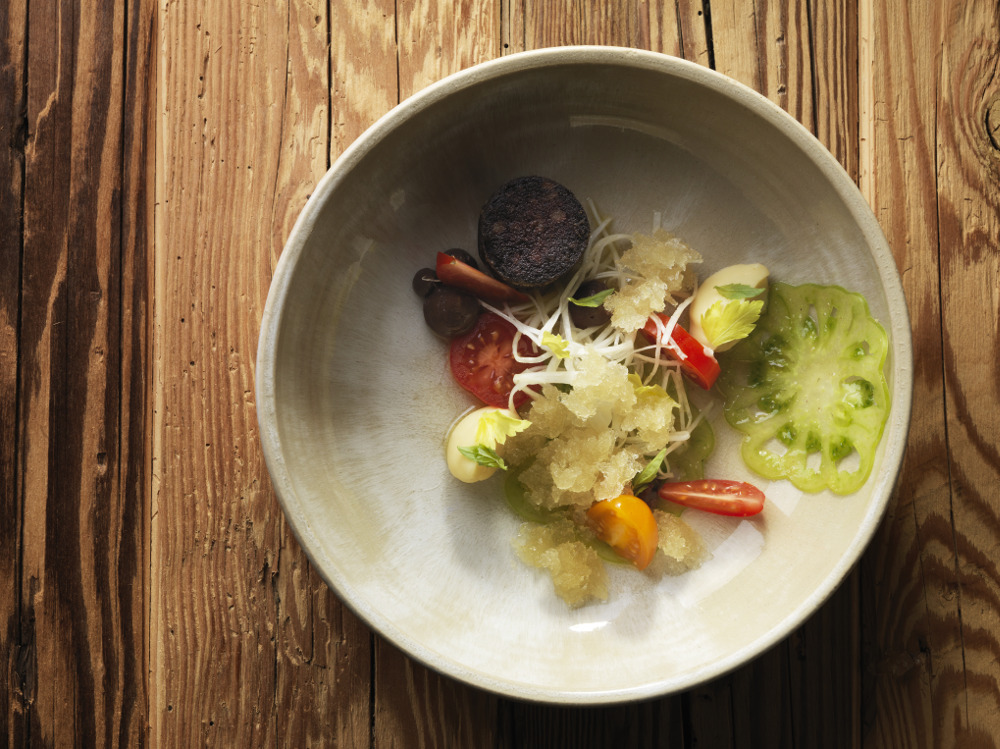 How do you find communicating with suppliers?
When you talk to suppliers, then it gets hard. You really have to speak the language. We only use local suppliers. My German is now perfectly fluent, and I've got a very good relationship with them. Tomorrow morning, I'm going to the top of the mountain here to meet the man who makes cheese. He supplies us with our cream to make butter, which we churn at the table when serving. We have our own cow up there too: Liza.
We have a guide who does a tour of the mountains. She knows all the herbs that grow around here, or, she says she knows 90 per cent of them because there's so many. It's impossible to know them all, there's so much to learn.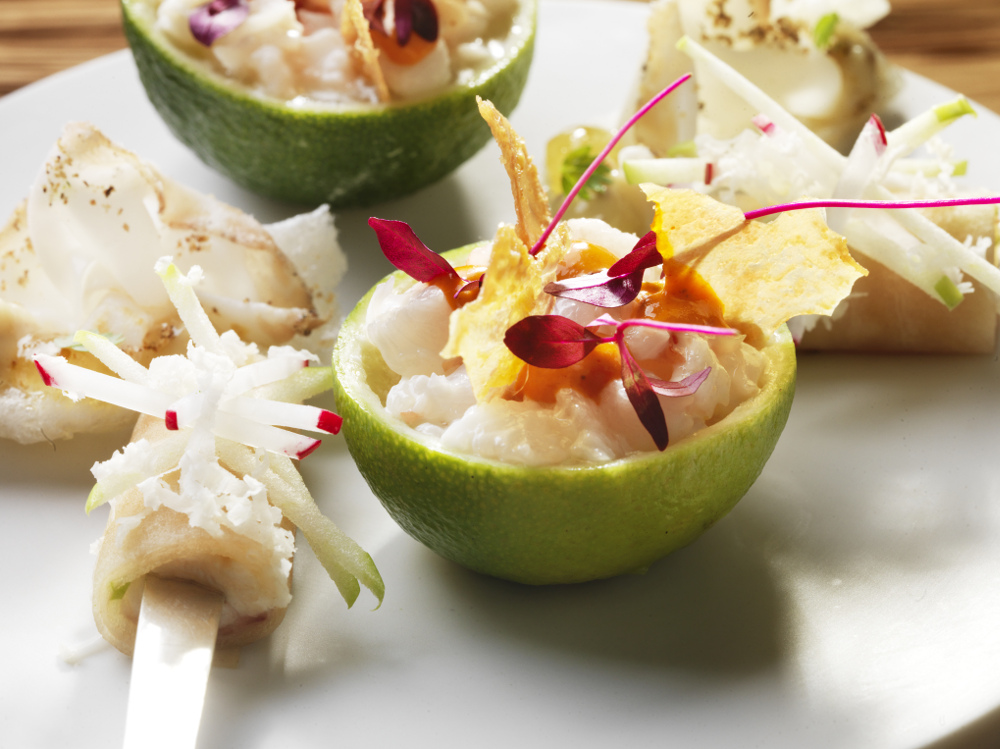 How do you create a dish?
I start with a blank sheet of paper – I draw, I write notes. I don't think anyone could understand it except me. It goes up, down, round the other side, then back again. I think everyone has their own unique way of working. You can be creative anywhere. Sometimes it just comes to you, and you take advantage of it.
Often, I start with an ingredient or two. The tortellini dish is a good example, as it began with a walk on the mountains and I wanted to have one dish that represents the mountains rather than the whole menu. We got everything from within a 20-minute radius, so the idea of that dish is that it's everything from here.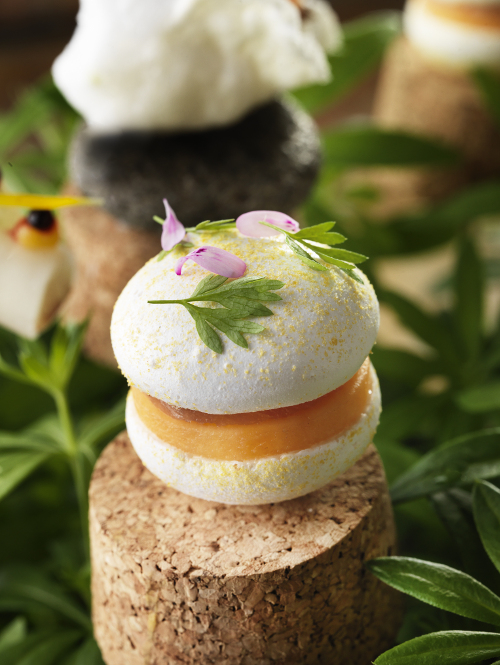 What specific Tyrolean influences can you see on the menu?
We try and use a few traditions. In winter, a big tradition here is a doughnut filled with sauerkraut. Sweet and sour, basically. I had one at the Christmas market in St. Anton – I think the owner here gave it to me – and at first I thought, this can't be good. And then I tasted it, and it was great! We made our own version, a mini one. We used our own sauerkraut, and made a vinegar powder which we rolled the sweet dough in. It's a classic thing in this region. With what we create in the kitchen, we want to evoke memories for people eating here, relating moments to when they were at a Christmas market.
We try and use products from here, but I believe that we need to have broader sources – so we can keep the consistency, and keep surprising people. I feel a responsibility to deliver something quite special every evening. I don't want to just say, 'it's herbs again', so it's a challenge. We try to use the Alps – from Nice to Vienna. That's the area we try to source a majority of our products from.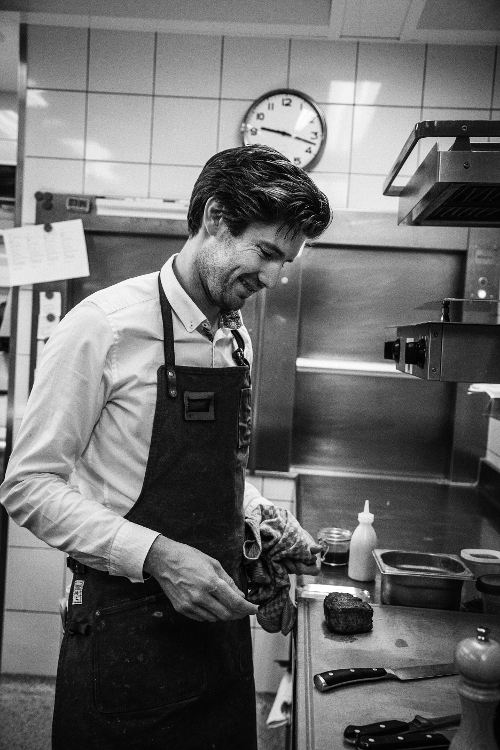 How do you think taste and visual senses work together?
I like art and design, but at the same time, there's a happy medium to be found. My food has got to look nice, but it's got to be warm too. There's no point having three chefs round the plate with tweezers putting different herbs on a dish. I'd rather it look rustic, but still in an interesting way.
I really admire a few Swiss architects, particularly Valerio Olgiati – I've got lots of books of his. Photographers, I had a really good photo shoot recently with Rene Reiss. He's also a big influence on me – his work and his person. We spoke for hours, and it reaffirmed my feeling of not too much fuss around the plate. The most important thing for me apart from the taste is that it's hot as well – sometimes people forget the basics.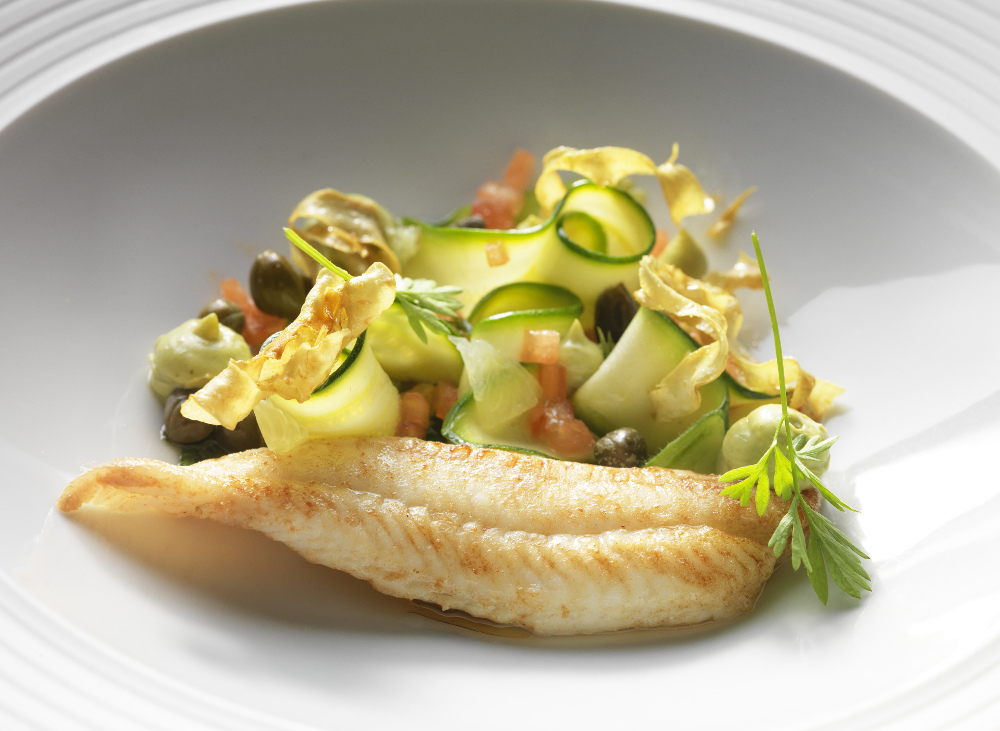 How do you find working in a hotel kitchen as opposed to a restaurant?
There are so many five-star hotels you can go to, and they're so big that the head chef cannot see everything. Here, everything is in my line of sight. It's easy to control and we make fewer errors.
We try to have a working environment where it's friendly: we want creativity and we need creativity. We want to be innovative in what we do too. I think it's really important not be shouting and screaming, because there's no one who's going to want to be creative in that atmosphere. Of course there's times where there has to be discipline, that's very important in a kitchen. But discipline can be achieved through normal methods.
It's strange working in a hotel so small. There's only seven rooms, so there's a massive personal feeling and a personal touch. When the guests arrive, I talk to them directly, ask what their preferences are. One evening they might have the full eight courses, the second or third, I might ask if they have any special wishes. That's all part of the challenge. Someone might ask for a barbecue on the side of the river, and we think, okay, let's do it! It's all part of the planning and the execution. We enjoy it and look forward to it. There's not many hotels of this size and this standard around, so it's a very unique place.
James Baron's seasonal eight-course tasting menu is available from the Hotel Tannenhof restaurant in St. Anton, Austria