A homegrown talent with an exotic touch, the contradictions that make up Nigella Lawson are many. The woman who hated food as a kid – only to end up as a TV chef – explains why she's compelled to feed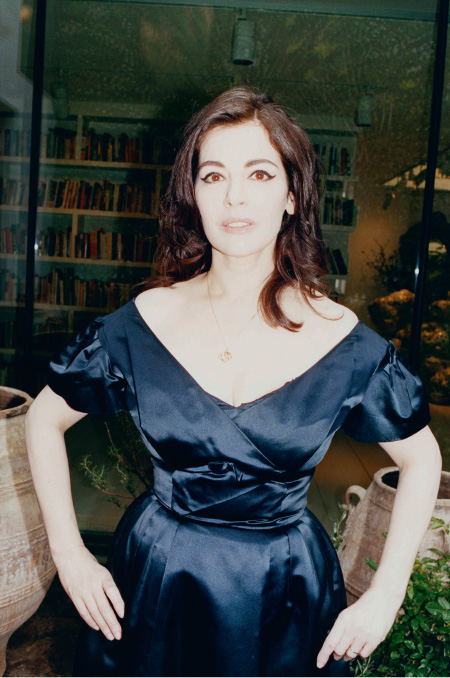 There's a luxurious exoticism to her name, those three silvery syllables evoking images of a safari sojourn, late evenings on the savannah swapping notes of the day's sightings over a sumptuous meal and sips of Chenin Blanc. Nigh-gel-la. The vowels compel the tongue to dance along the roof of the mouth, a spirited push upward bookended by a pair of delicate taps. Nigh. Gel. La.
Yet it's also inescapably traditional, the feminised version of her father Nigel's name, former Chancellor of the Exchequer under Thatcher. Therein lies the rub, the thing that keeps Lawson in a sect of her own: she's both indigenous British specimen and unidentified new species. The televised, photo-documented, and madly successful published form this all takes is a thoroughly joyous embellishment of a familiar archetype. In her role as voluptuous provider, there is of course a case to be made for Oedipal desire's role in her success, but then again – to borrow a term of hers – perhaps she is just a "domestic goddess" uniquely capable of communicating the joy food brings her to the audience at her disposal.
"I never intended to be a food writer, I kind of fell into it by accident. I just lurch from one thing to another without great forethought – maybe that's better." This is the same woman who, over the course of this conversation, describes cooking as "a productive way of putting off the work you are meant to be doing". She puts forth no grandiose notions regarding her line of work. For those unfamiliar with the path that has led her here, Lawson began her journalistic career writing for The Spectator, first becoming the magazine's book critic and then their restaurant critic by 1985. She went on to become deputy literary editor of The Sunday Times in 1986 before leaving in favour of the freelancer's life, and released her first book How to Eat at the age of 38 in 1998 – to the tune of 300,000 copies sold in the UK alone. She proceeded to follow that up with How to be a Domestic Goddess, which sold 180,000 copies in its first four months and earned her 'Author of the Year' accolades at the 2001 British Book Awards.
Shortly thereafter she made her television debut with her show Nigella Bites, and if she was a hit in print, her onscreen persona only served to further her draw exponentially; suffice it to say she's the victim of her fair share of bawdy YouTube parodies, in no small part due to the über-colorful verbiage she passionately applies to all things edible. "Food is like a language, really," she says. In this era of Top Chef, Iron Chef, et al – in which cooking has been relegated to a spectator sport in which the final product is made to look so elaborate that attempts to duplicate it at home would simply be futile – it seems Lawson is speaking a language more readily understood by the average viewer. "They think it's more complicated than it is," she says. "Someone only has to see me cook in my incredibly clumsy way… I am always burning myself or cutting myself." Lawson's presence seems to be a welcome counterpoint to the antiseptic "expertise" currently being practiced across all major networks.
The household she grew up in was positively food-obsessed. "When I was a child it was considered not quite correct to talk about food at meal times but, of course, I come from a family where at meals you'd sit and discuss what you had yesterday, what you have today, what you will have the next day." This collective fixation proved to be a bit of overkill for the young Nigella, and left her a bit repulsed by the whole affair. "The odd thing is that I really hated eating as a child, so my memories of food are fraught; I didn't really discover food until I was in my teens. The certain things I did like were rather odd. My grandmother was always amused that once, in the middle of summer, I asked to go somewhere for spinach and hot chocolate." As is often the case with teenagers, she eventually found her own point of entry into the family's area of infatuation: "I suppose it's interesting that I became more interested in food as I started being in control of it myself."
The notion of control seems to remain paramount in her enjoyment of cooking. She bristles at the thought of being a full-time professional chef. "Not that I could be (one)," she says in typically self-effacing fashion, "but I am very grateful not to be because – unless you really are a great chef – it becomes formulaic." She sees tyranny in the expectation to repeat recipes to the letter on a regular basis. "I love the liberation of not really knowing how it's going to turn out. For me, uniformity doesn't feel very creative – but maybe that's the balance." Lawson sees the artistry in functionality, the beauty in practicality. "I always say to people that all art is defined by its constraints. The sonnet is only a sonnet because it has to fit that, in the same way the constraints of the home cook – technical, time, resources – can make you creative."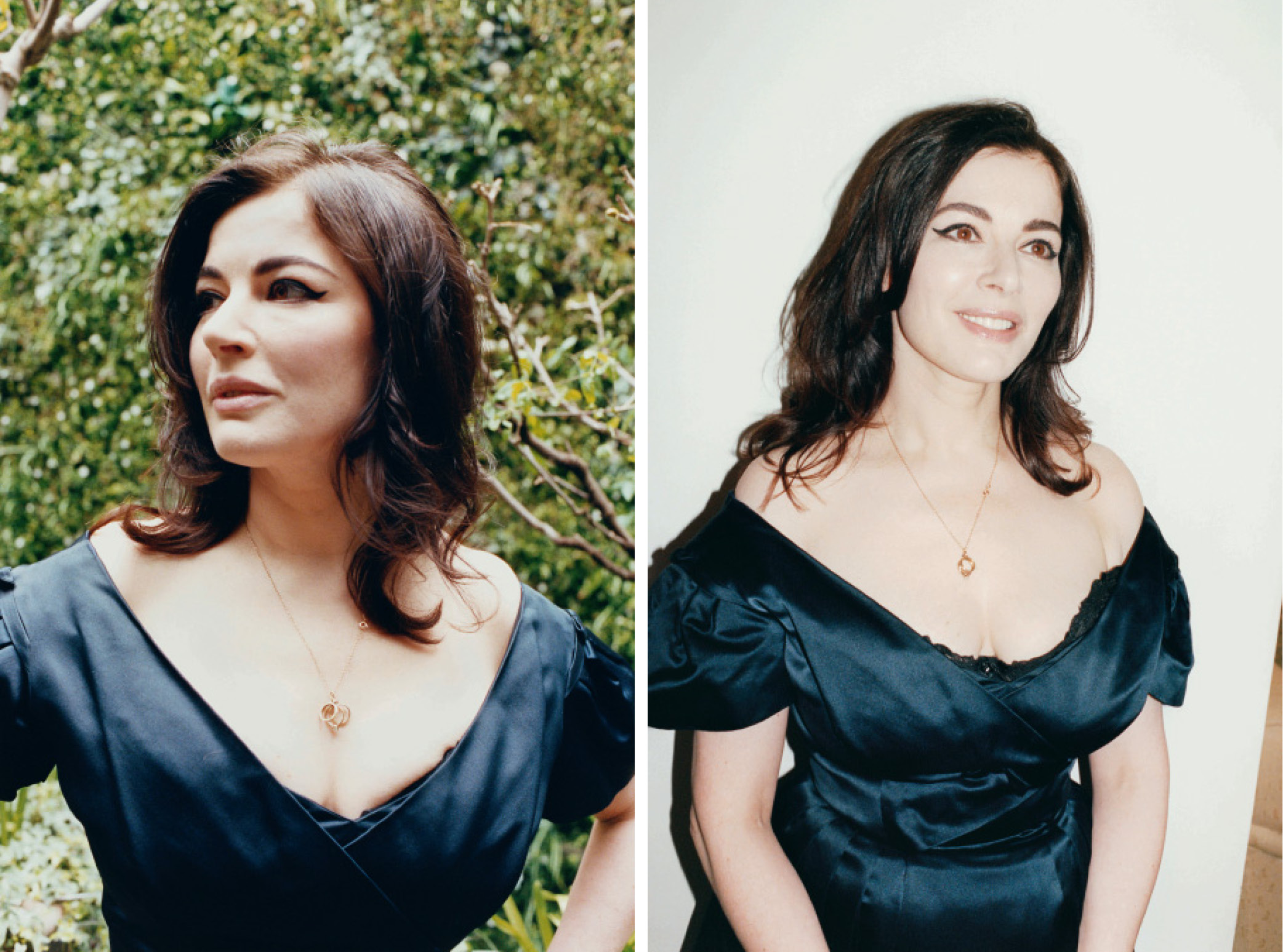 This recent trend of imbuing every nuance of what she thinks of as an everyday task with an aura of unattainable mastery troubles her. "I think there is a great belief in the expert. Where people might have turned to priests for how to live their life, now there are experts in fields – I don't know which is better. The idea that somehow there's always an expert view that's better is very detrimental." She's a glamorous populist, a celebrity perfectly fit for the modern tabloid era in that she is fabulous yet outspokenly one of "us". There's also something about the very nature of her image – natural beauty sans the oppressively thin runway model physique – that enhances the sense of connectivity with her audience.
Lawson inexplicably considers herself to be lazy. "I'm actually happiest either lying down or running about – I find I've got a limit of sitting time and, in fact, if a meeting's gone on for too long it's quite embarrassing. I have to get up and suddenly start making cake or something. These days I'd probably be classified as having ADHD." Whatever the condition may be, it's quite an enjoyable one for those around her. "The desire to feed people is something you either have or you don't have. It's not something you can acquire. My children know that whatever time of day or night it is they only have to ask for something to eat, or say they are hungry, and I will drop everything to feed them. I would feel very stressed not doing so. I suppose you could argue it's a neurosis."
In fact, she claims anxiety as her most marked characteristic. "I get extremely anxious but, at the same time, I am also very relaxed. I feel that expectation is really anxiety provoking. People expecting you to succeed is really frightening because you can disappoint. I always felt that as a child as well." Generally, she is not anxious when she cooks. "The modern world believes in doing nothing and relaxing, and that in itself is so unrelaxing, whereas when you cook you are occupied, but cooking isn't difficult. I think that if someone is a worrier, it is very difficult to be as you are meant to be, and just live in the present. But when I cook, I am."
What could be more au courant than a character too restless to occupy simply one niche, someone intent on endless roving in pursuit of building some impossibly all-encompassing oeuvre? "It astonishes me that this is the way my life has turned out, but I enjoy it so I don't question it. But there is enough fear – the fear of not delivering a manuscript on time or filling the silence when you are on a television program – to keep me propelled. I've always had an idea that one day I want to write a book called Feel the Fear and Cook It Anyway." Fear seems to be a cornerstone to her operative life philosophy.
"The whole thing in life is that you have to tread a path between boredom and fear. You have to have enough that frightens you to propel yourself forward but not so much that you want to cry before you go to work. "You want to have enough cosiness and structure that is familiar around you, but not so much that you're actually bored. I used to feel I had overcome my fears but now I feel they are what define me, so I'm all right about it."
Interview Dan Crowe
Photography Juergen Teller
Styling David St John-James
Photographic assistant Maxim Kelly
Hair Tyler Johnston at CLM using Bumble and Bumble
Make-up Shama at CLM using Sisley
This story was taken from issue 6 of PORT. To subscribe or buy a back issue, click here