Anthony Demetre, chef at Wild Honey in St James, shares a classic cocktail through his specific vision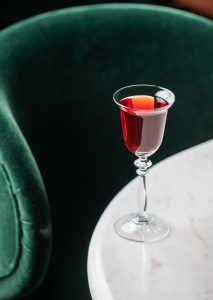 When I opened Vermuteria in Kings Cross, people asked why I was opening a vermouth bar. My answer, aside from the fact that I'm a keen cyclist and vermouth is a key sponsor of cycling races, is that I am very specific with my Negroni. We typically make it at Wild Honey St James using our house-made vermouth (fortified with no less than 24 top secret ingredients, all sourced from the UK), but for those recreating at home I'd recommend any good quality red vermouth.
Ingredients
– 25ml gin
– 35ml red vermouth
– 15ml Aperol
– 5ml Amaro liqueur
– 3 dashes Oregano bitters
Method
Pour all the ingredients into a mixing glass. Top up generously with ice cubes. Stir well before pouring neat into a Nick & Nora glass. Enjoy.