Simo Simpson, founder of the Soho restaurant, explains why his cocktails are made with a specific dish in mind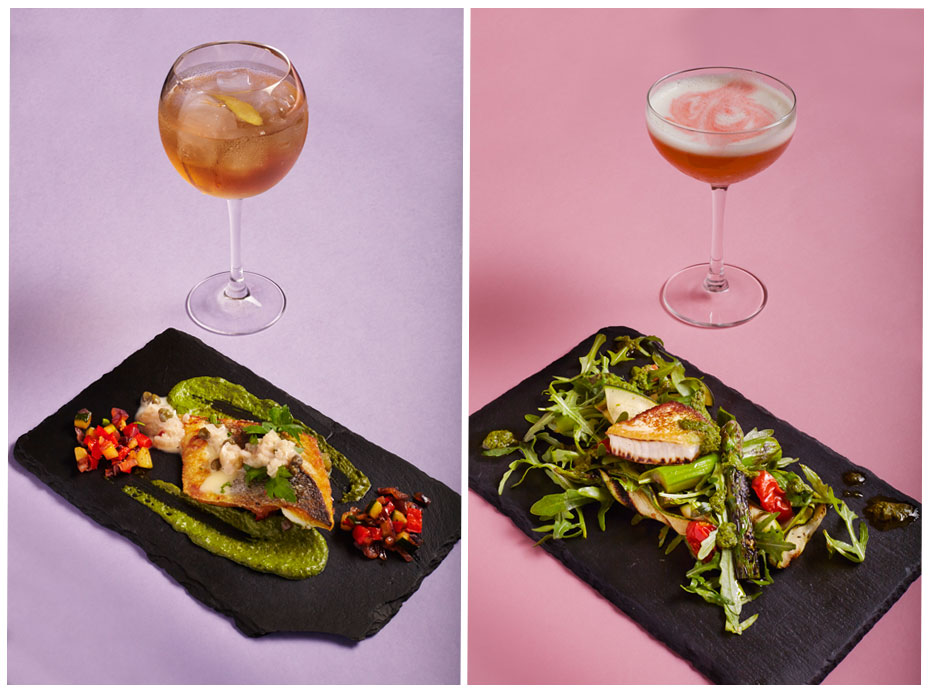 Photography Lydia Whitmore
Slightly hidden in a basement on Wardour Street, the Coal Vaults space was originally used for storing coal in the early 19th Century. Now, restored and transformed using materials from copper, timber, steel, and old London stock brickwork, the restaurant serves small dishes that are matched up with home-brewed and flavour-infused cocktails. Co-founder Simo Simpson here explains the culinary set-up…
We serve grilled lamb cutlets with a fig and parsley salad, which we pair with our Minimalist cocktail. The drink is made from green apple-infused white rum, lime juice agave syrup and mint. We also braise our lamb in mint which reflects the mint in the Minimalist cocktail. The combination of lamb and mint produces a classic taste and by using mint in our cocktail as well, we're really taking it to the next level by adding a layer and modernising this English classic (image on this page).
Our pan-fried sea bass is served with Mediterranean vegetables, spinach and anchovy puree, and paired with a Byrrh and lemon spritz. Byrrh is a French aperitif vermouth which we add citrus to – it goes very well with fish, specially the citrus aspect. Also, traditionally any sort of dry fizz brings out the taste of the fish over your tongue. The fish is cooked in a beurre blanc which is a reduction of white wine vinegar and shallots (an old French recipe) which is then drizzled over the sea bass. The beurre blanc de blanc goes really well with the Byrrh (an old French aperitif). This pairing marries an old French recipe with a classic French vermouth (previous page, to the left).
The charred asparagus and courgette salad with roasted tomatoes and seared goats cheese is, we suggest, perfectly paired with a White Velour. Our White Velour is made with Little Creatures and Orange Blossom Reduction, Prosecco and White Chocolate. Little Creatures is a light ale which we like to use as it's not too overpowering in flavour and depth. It's a high-end ale so there aren't any horrible flavours in there. This gives us a chance to add orange blossom and make it into a reduction. The drink goes very well with the asparagus and courgette which always go well with an orange. Add the prosecco, which cuts through the taste of the cheese nicely. We've added the chocolate because it's nice to use white chocolate on top of a drink and it's compatible with each component in the salad (previous page, to the right).
More info on Coal Vaults HERE