Jack N. Green's cinematography for Clint Eastwood's masterpiece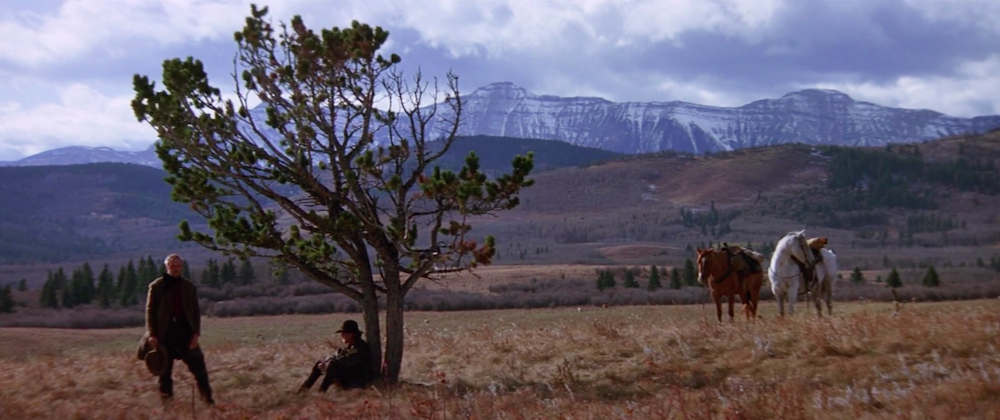 Few films are quite as revered within their genre as Unforgiven is within the western. While it renewed interest in the genre it also set a high standard in doing so, leading to many critics referring to it as the last great western and some filmmakers' avoidance of the genre for some time after. Said to be Eastwood's last for fear of repeating himself, it was a landmark film when it opened in 1992, netting four Oscars, a BAFTA for Gene Hackman and a Golden Globe apiece for he and Eastwood.
Fellow Californian Jack N. Green was Eastwood's go-to cinematographer at the time and the man who captured one of the most beautiful portraits of the old west in doing so. The two had already worked together on a number of films, going back to Green's role as a camera operator in the late 70s on "Bronco Billy", striking up a professional partnership that would extend into the 2000s.
Set mostly in Wyoming but primarily shot in Alberta, Canada – as westerns often are for budgetary reasons – Green's lensing of Unforgiven married the traditional pillars of western filmmaking: close portraiture, gun-heavy camera angles and expansive landscape shots, but with a painterly sensibility for the environment and a willingness to try something new. The landscape was always part of the genre, but in Unforgiven this was taken to another level.
Green's insistence on natural light and the challenges of that resulted in some incredibly striking imagery. A pitch black foreground against the sun appears several times in the film, most significantly in the opening scene. As Eastwood's figure slowly crosses the top of the static picture, it is immediately apparent that this is not a typical western.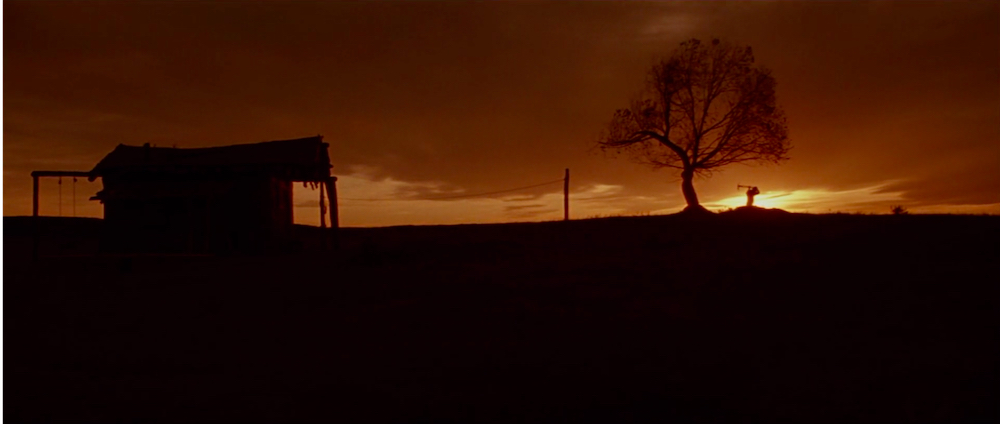 As the story unfolds we follow William Munny (Eastwood), a widower and former gunslinger taking on a bounty to support his children and failing farm. He reluctantly travels from the breadbasket of Kansas to a cattle and horse wrangling community up North with friend Ned Logan (Morgan Freeman) and a fellow bounty hunter by the name of "Schofield Kid" (Woolvett). Heading for Big Whisky, Wyoming, they hope to collect a large reward on two rogue cowboys yet to be brought in, then return to their peaceful lives in Kansas.
Their journey is of course cinematic, but the horsemen actually play a rather small role in it. The composition of the shots as they traverse Northward are overwhelmingly natural and there are few people or much evidence of civilisation along the way. As the cornfields become snow-capped mountains, Green and Eastwood show us that this is a land barely settled in, and their protagonists' footprints are insignificant at best.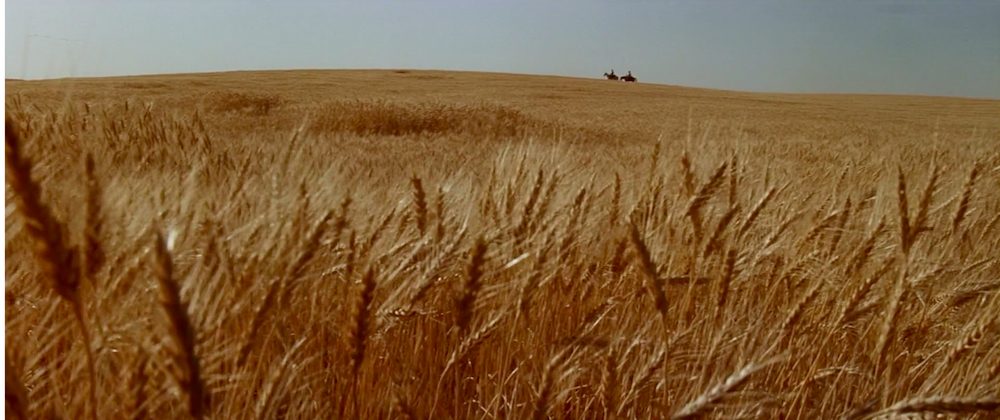 As the film moves into inevitable conflict there are the usual shots from any self-respecting western; hip holstered guns and faces gurning into the hard sun, though the effects are somewhat more significant with one of the greatest grimaces in film history – Clint Eastwood, to frame. It's worth noting that Unforgiven was made decades after the heyday of the western. Filmmaking had moved on considerably, yet Unforgiven still borrowed heavily from the conventions of the classics, inspired by the likes of Howard Hawks, John Ford and Eastwood's mentor and King of the spaghetti western, Sergio Leone – to whom he would dedicate the film.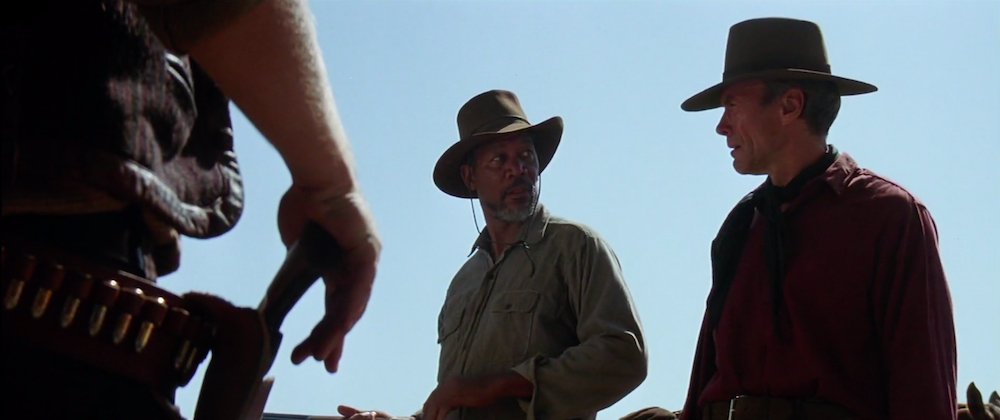 Many of the artistic shots in Unforgiven view more like a beautiful exposed photograph than a scene from a film, comparable to photographer William Albert Allard's cattle wrangling subjects of a full hundred years after the film's setting. Or perhaps more recently, Wally Skalij's LA Times photographs of farmhands and livestock fleeing endless California wildfires. Even at its most abstract, Green maintained a very grounded perspective for his camera, as shots like below – while dramatic and picturesque, are not technically complex or contrived.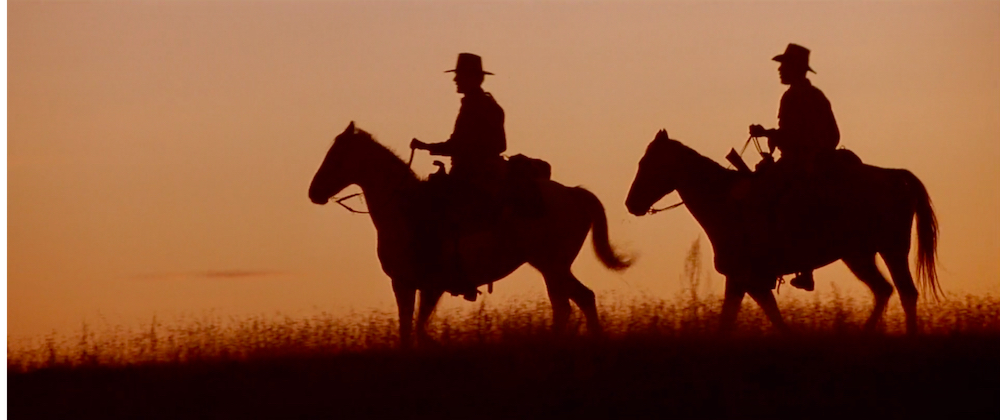 There is never less colour or contrast in Unforgiven than the scenes which take place indoors, a bleakness in these buildings that for the sake of gold or oil, wouldn't even exist. The hiding of Munny's face in darkness here is almost like a dreary contemporary European painting – the lone whisky bottle a give-away that we're far from civilised society with the luxury of options. Green, again choosing to work with minimal lighting to give a natural and authentic image when it would be all too easy to light Eastwood more cinematically.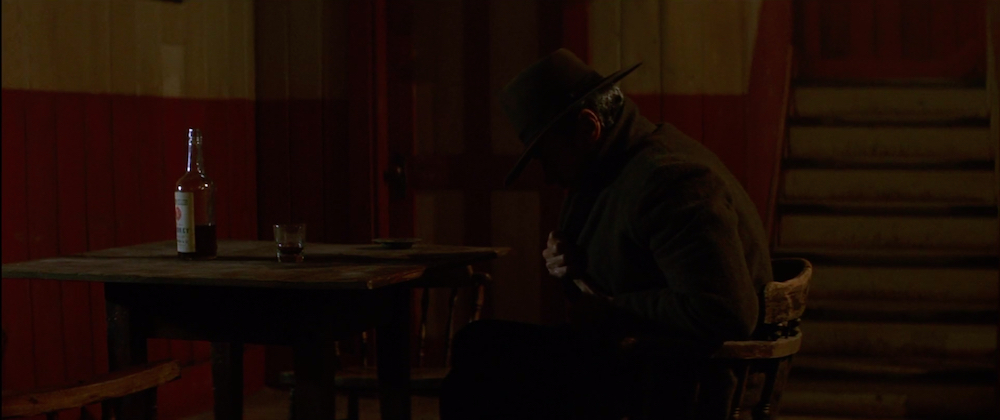 There is something very temporary and fragile about some of the more staged cinematography of Unforgiven, particularly the scenes which involve man in the elements with plant and animal life around him. These shots, while fairly mundane in content, act almost like pauses for breath to the difficult story. When considered independently as little snapshots they make even the most mundane lifestyles look incredibly dignified, often one of the most difficult tasks for a filmmaker to pull off.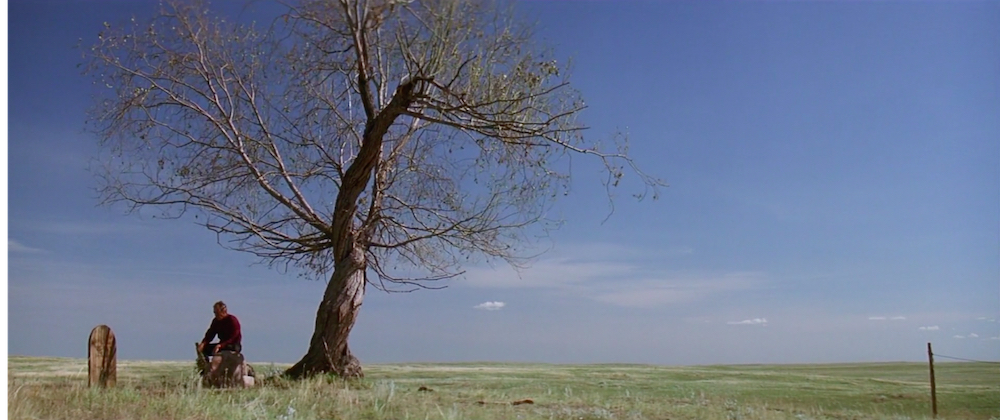 Green's camerawork on Unforgiven is hardly without praise, yet he would still lose his Best Cinematography Oscar nomination to Philippe Rousellot for A River Runs Through It, a film much less celebrated than Unforgiven is today. Though perhaps that in itself is a fitting legacy for a film about acting on survival and duty rather than praise or gratification.
Green would continue to work on a variety of different films with Eastwood including romantic drama The Bridges of Madison County and buddy comedy Space Cowboys before a slew of more commercial films with other directors. Still, Unforgiven remains the peak of his career stylistically, a major reference point in the history of the western and and a significant film in the cinematography honour roll.