The photographer on how a rooftop in Serbia brought the idea of "suspended belief" into full focus
I took this photograph on the roof of the Hotel Jugoslavija in Belgrade, Serbia. The hotel was being used as a set during the filming of Coriolanus in 2010 (the directorial debut of actor Ralph Fiennes). Rather than go for a traditional Jacobean context, the filmmakers felt a modern setting – against a backdrop of 21st century politics and conflict – would work well for this adaptation of Shakespeare's play. They drew on photographic research from recent conflicts, including that of the Kosovo War in order to shape the film's scenes.
What was particularly poignant about this hotel was that it had been bombed in 1999 by NATO during the Kosovo War, and a whole section of the hotel was still a mass of rubble more than a decade later.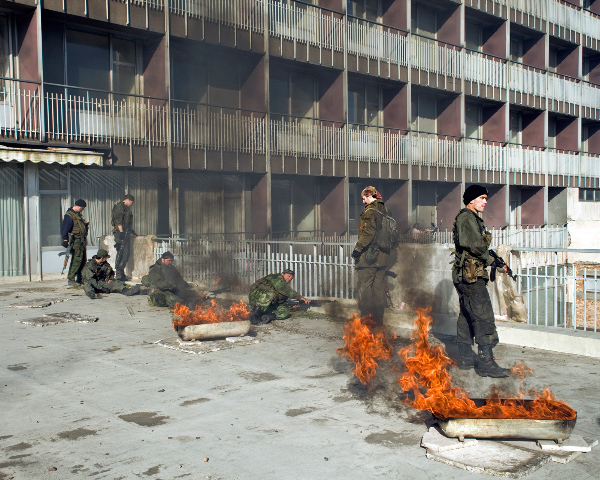 I took photographs in Afghanistan whilst embedded with the British Army, and this photograph will add to a larger body of work that explores the idea of truth and fiction in conflict zones I'm currently working on. This film-set tableau fits into that. I met with director Fiennes whilst on assignment, and we became friends. When he decided to make Coriolanus, I approached him with my idea, and he introduced me to Barry Ackroyd, his DOP. Ackroyd is an amazing man who's worked on Green Zone (2010), The Hurt Locker (2008), United 93 (2006) as well as numerous other projects with Ken Loach.
What I really found fascinating taking this photograph was seeing how the scene of conflict was constructed, and then filmed. It was an insight into the development of suspended belief – understanding what the audience will see and feel when they are watching. I hope, ultimately, that the series will question our own ability to tell truth from fiction, and explore the impact images have on us, whether in the news or entertainment.