We head to the Hackney illustrator's studio to talk Top Cat, cartooning and why, some mornings, getting out of the house is like 'wading through porridge'…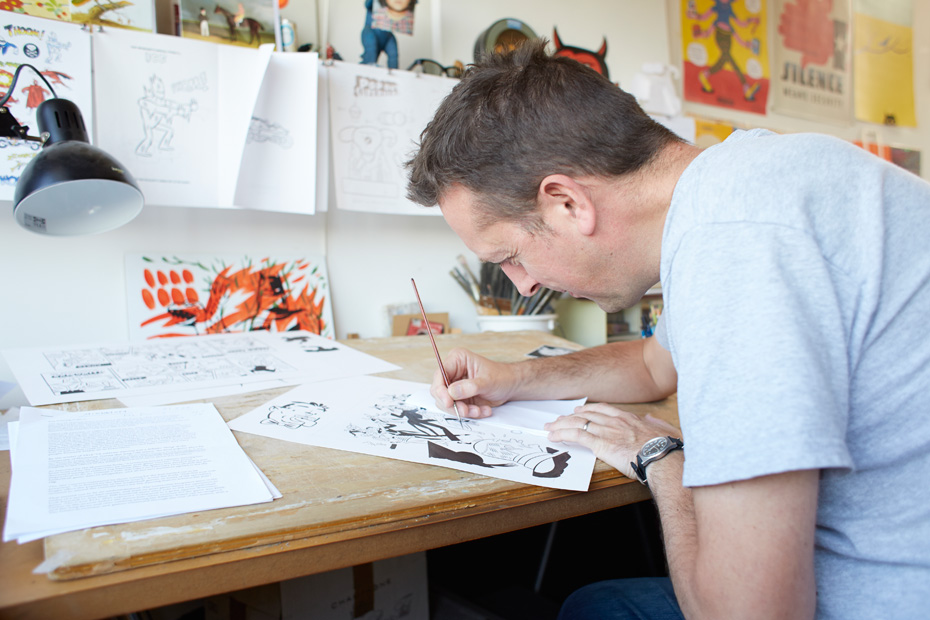 Cartoonist Jason Ford is probably best known to Port readers for his humorous commentary section illustrations. From cigarette-puffing post-coital Nietzsche readers in issue 10, to Adam, tempted by 'Chez Eve's daily apple special' in the garden of Eden in issue 6, Jason's worked on all but one of our issues. As an illustrator for 25 years, we went to Jason's Hackney studio to find out what makes him, and his work, tick…
First things first, how did you get into illustration?
Both of my parents went to art school in the 60s – my dad taught ceramics, and my mum was involved with textiles. I was encouraged to draw, and although I wasn't very good at reading books [as a kid], I was really interested in reading comics, and cartoons on TV, like Tom and Jerry, and Top Cat. As I got older, it became Tin Tin and Asterix books. I loved looking at the drawings; the line work, the colour and the clarity were fascinating to me. In a way, I wanted to copy how they were drawn.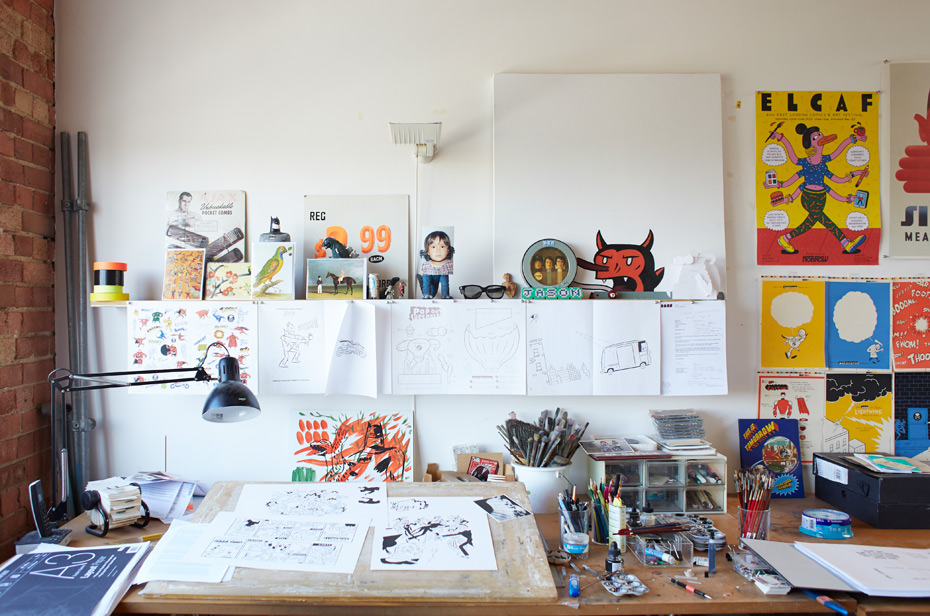 Was it initially a European flavour of illustration you favoured over and American?
I think it was a bit of both. On the continent, especially France and Belgium, they favour 'bande dessinee' – bound volumes of cartoon strips. I liked the way that comics were elevated to a 'book' status, rather than a throwaway weekly disposable thing… Holding these things, turning the pages and appreciating the print quality were very appealing. Not that I could understand the stories, they're all in French.
When did you realise you could 'draw' as a career?
From being 15 or 16, I knew I wanted to be a cartoonist. From that point on, I pursued it. It wasn't actively encouraged at school, so I left and did my A Levels at a local tech college, as they had a fantastic art department – through my dad, I had an idea of the route I would have to take in terms of studying. I did a post graduate degree in illustration at the RCA, and I met a great group of people there… Before, I felt that comics didn't feel as 'valid' as other types of illustration… The RCA gave me confidence to do it.
How's your work processed changed over the last 25 years? Do you still work by hand, or have you progressed to digital mediums?
I do all the drawing by hand; all of the line work. Once I've sorted the pencil drawing, I ink up – I still use brush and ink. Once the drawing is complete, I scan it and finish all the colour work onscreen. My use of Photoshop and computer is pretty rudimentary really, but it allows me to complete the drawing in a way that I'm aping how I used to do everything by hand – before I used to paint everything, so it would take 3 times as long. Now I can turn work around in a much shorter time frame.
What typifies your work?
My work has always had a humorous angle – it's 'knock-about'; slapstick; humorous. I enjoy dealing with the humorous side of life… Ultimately, that's the point – I have to enjoy drawing it, enjoy the content and narrative.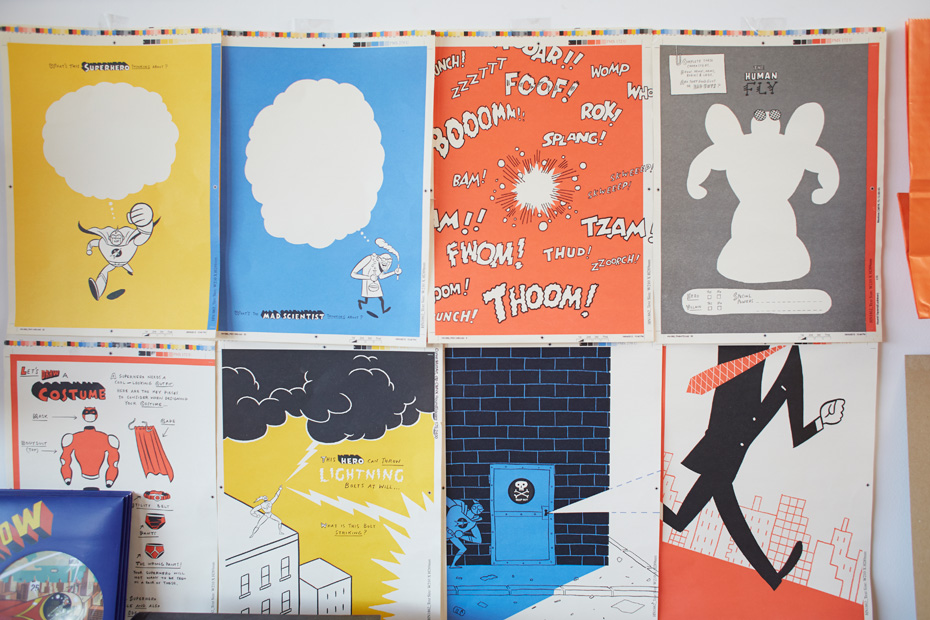 What does your work day look like? Do you have a set routine you follow?
It varies wildly. I've got a 2 1/2 year old daughter: some mornings, trying to get out of the house is like trying to wade through porridge! If a job has just arrived, I'll sit down and read the copy, try and think of ideas. Then I'll do pencil drawings, finish them up before sending them off to the client, waiting for a reply. 'Yes' or 'you've completely missed the point; can you redraw that? You're not quite getting it…' Then it's toing and froing until a compromise is reached. Each job is different – it can be a complete breeze, or drawn-out…The worst job is one where any sense of creativity or spontaneity is killed because they have a very fixed idea of what they want, and anything outside of that is ignored. But then, on the other hand, you have clients who will say 'We like what you do, we like how you interpret things, just get on with it'.
You've obviously got a very established style, but where do you draw new inspiration from?

Going out to exhibitions, books, blogs, taking a stroll, cinema, my daughter and of course The Guardian website, reading the news: I keep tabs on current affairs.
What's currently in your book pile?
Archie; it's a great comic strip from the 60s. I use it to reference figures, particularly women. I love the style of the drawing, the curvature; glossy hair…
What's the most interesting project you've worked on?
I've just had a book published by Laurence King, The Super Book for Superheroes. I generated all of the ideas and the artwork, and worked with an editor and a designer who steered me through. It's a drawing and creating book for kids. It was a lovely project to work on; I'm so used to working on short deadlines for publishers or magazines, this was a monster in comparison! I'll be doing a superhero workshop at Somerset House for it in October, so that's fun and a nice spin-off from my work elsewhere.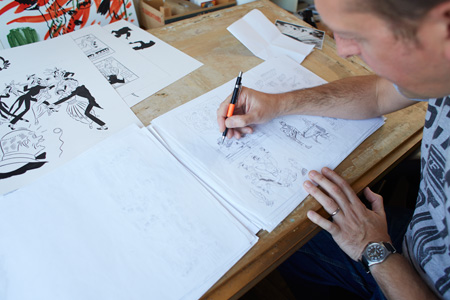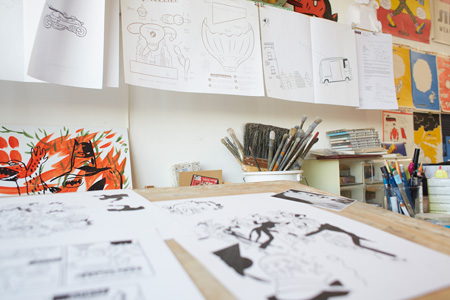 The Super Book for Superheroes is published by Laurence King, and will hits stores in the UK from next month
Photography Maria Spann