The designer reinterprets the famous black suit from Tarantino's 1992 film to coincide with the Jameson Cult Film Club screening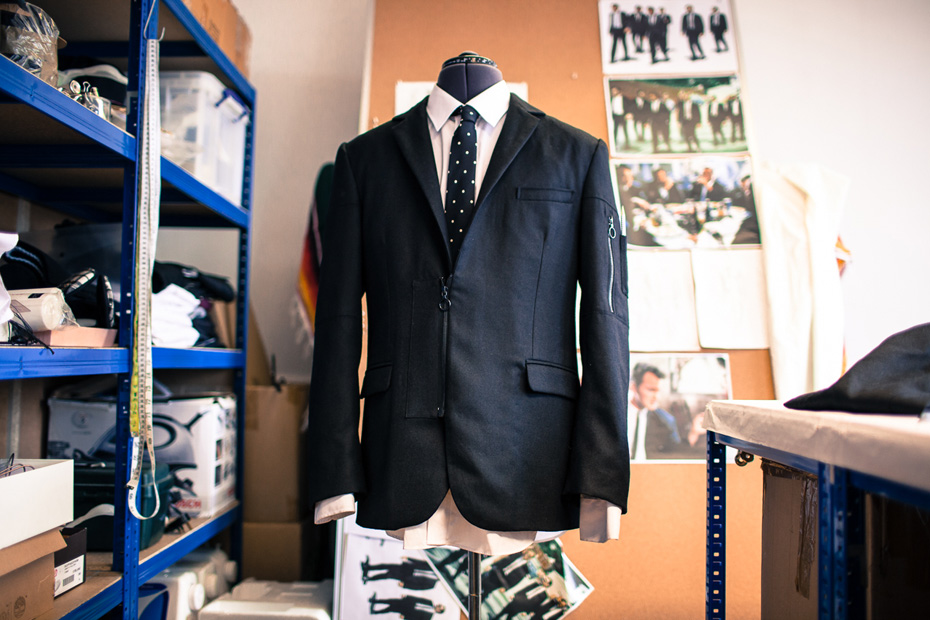 There's many aspects to an iconic cult film; acting script, director and star quality all weigh in when a film is measured up by history. Also the clothing and costumes play a pivotal part in this. As part of the image, they say almost as much about the characters as the lines. This is obvious when watching Quentin Tarantino's Reservoir Dogs. Based around a gang of thugs in the immediate aftermath of a robbery-gone-wrong, we follow six colour-coded actors as they deal with domestic troubles and a spot of torture.
Words David Hellqvist
Photography Robin Sinha
From the film's iconic opening scene to its bloody end, there's plenty of great suits to enjoy in between violent bouts. Black suits, white shirts and slim dark ties are the uniform of choice, and they sure look good. It was this 'dapper bad boy' aesthetic that whiskey brand Jameson wanted to investigate with their Cult Film Club screening of Reservoir Dogs. Emerging East End designer William Richard Green, a staple on London Collection: Men's Fashion East schedule was called in to re-interpret the look for a 'modern day dog'. The designer started out as a Savile Row trainee only to follow a more street-based vision based around football culture and youth movements. The clash between Tarantino's twenty year-old gangster flick and contemporary British menswear design works surprisingly well, as these images from Green's studio show.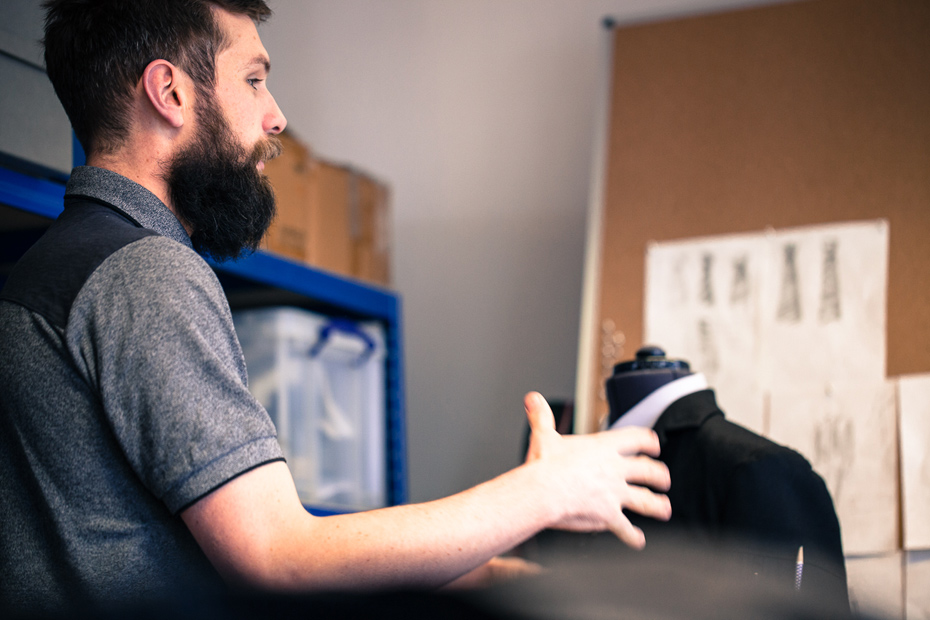 David Hellqvist: What's your experience of tailoring traditional British suits, how did you get involved with that?
William Richard Green: While at university I wanted to be a tailor and I really enjoyed the craft of it. I've always appreciated the idea of British skilled craftsmanship. Then I went to work at Savile Row tailors Henry Poole during my placement year at Central Saint Martins and as much as I really enjoyed it, I was glad I was only doing a placement and I hadn't just started a two-year apprenticeship. What they were doing there was amazing but because I dress very casually – and never really had the need to wear a suit – I just thought it doesn't feel relevant to me and I can't see me doing this for the rest of my life.
David: Is that maybe why Jameson asked you, because you're not a traditional tailor?
William: Yeah maybe, if they wanted to make six suits then they could have just gone to a Savile Row tailor or bought them from Marks & Spencer. Their thing is showing cult films but with a twist, like with the location: they're doing it at old warehouses.
David: Can you describe the original Reservoir Dogs' suit…
William: They're not a classic tailored suit: they've got a bit more volume in the top so the jacket is quite oversized, then the trousers are actually quite high and you can see that their ties are tucked into their trousers. So I went for quite a high-waisted trouser but kept them quite short.
The jacket itself is a very regular-tailored shape. I looked at the classic MA-1 flight jacket for inspiration. I added this pocket detail on the sleeve but instead of just slapping it on I put it in with a seam. It's a panel on the sleeve, instead of a sewn-on pocket, with a zip opening which is also mirrored in the opening on the centre-front, rather than with buttons. I've also got the pencil-holder which is top-stitched on. On a flight jacket it would normally be a square of top-stitched fabric but for this I've put it into the seam so the zip just runs. On the flight jacket the zip has a raw edge but I wanted to make this smarter so I put it in there. It gives a more utilitarian feel but then we have proper tailored welts and tailored jet-pockets.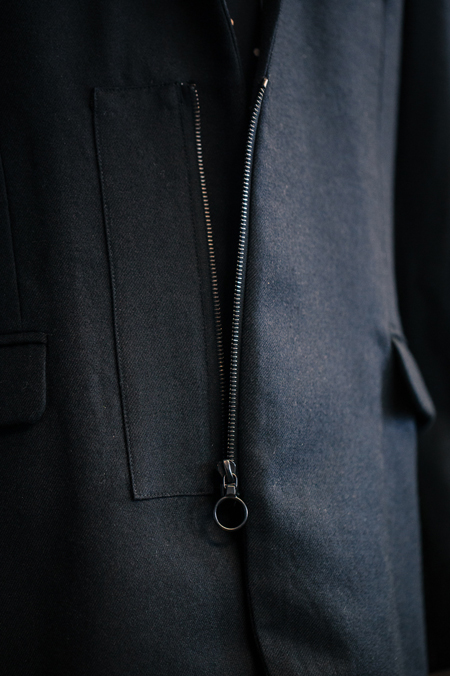 David: What fabrics did you use?
William: I only use British fabric and this is a wool from Doncaster. My collections are always quite full-on so I still wanted it to represent my rugged, British fabrication. Then, on the inside, it's got the proper shoulder-pads and everything… it's kind of a fusion.
David: So, having not worked with tailoring for a while, was this project exciting?
William: Yeah, I really enjoyed it! For my first couple of collections I did actually do a bit of tailoring. The more I became involved in fashion the more I dressed like a scruff, wearing tracksuits the whole time! So then I started going towards this 'utilitarian-outerwear-with-tracksuit' pieces and that's what I was doing for a couple of seasons. But to be given a brief involving tailoring was really fun. I bought canvas for the first time in about two years and I was doing pattern-cutting that wasn't just square shapes.
David: Do you remember the first time your saw Reservoir Dogs?
William: The first time I saw Reservoir Dogs I was doing my A-Levels and everyone was telling my about how cool it was. When the film first premiered one of the things about it was how violent it was but because I didn't watch it until a while after it had come out – and there'd been a lot more violent films since then – so I was a little underwhelmed. But I've watched it since and knowing more about films and the references I can appreciate it more.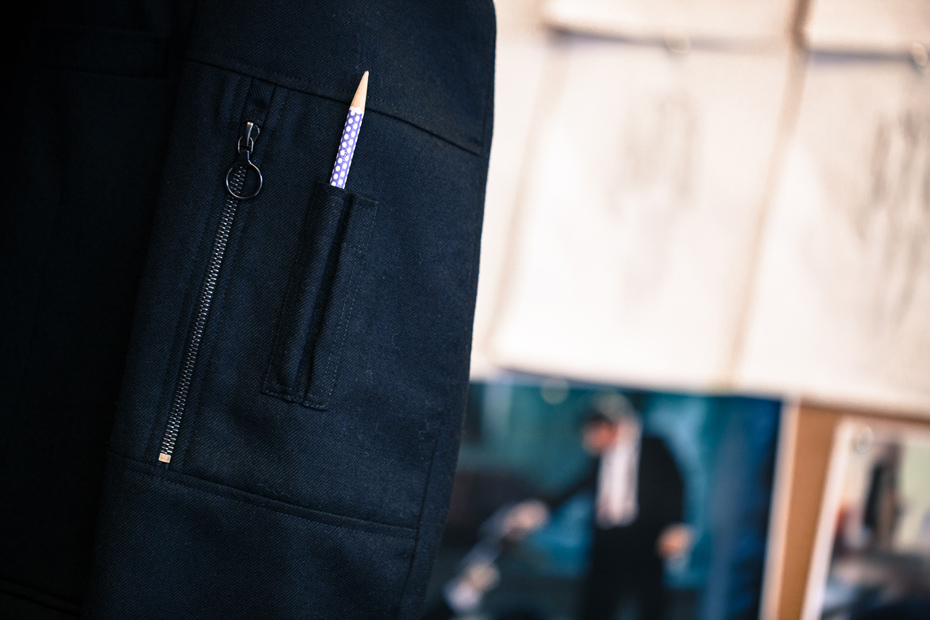 David: Do you remember noticing the clothes, it's always been a stylish film..
William: Oh yeah. If you look at that opening scene, the actors are all in their suits have this unity. I think it's something a lot of fashion designers relate to in their work: people having a sense of belonging when they're in a group, all wearing the same kind of thing and identifying with each other through clothing. That was an interesting point with the film. They all have such a sense of confidence.
David: Who do you prefer? Mr Pink, Brown, Blond, Blue or Orange?
William: Well, I actually like Mr Pink the best, played by Steve Buscemi. He's the one who gets away with it and keeps the diamonds. Initially, I was going to get a silk specially woven for the tie, with a band of each character colour on the tail in the order they died in. It's the the kind of thing that, when you're wearing it, only you know about it – but there wasn't enough time in the end.
For more info on Jameson Cult Film Club and their Reservoir Dogs screenings in Liverpool and Birmingham on the 27th and 28th February, click here