Accessory designer and leather expert Ally Capellino on her fascination with street furniture from India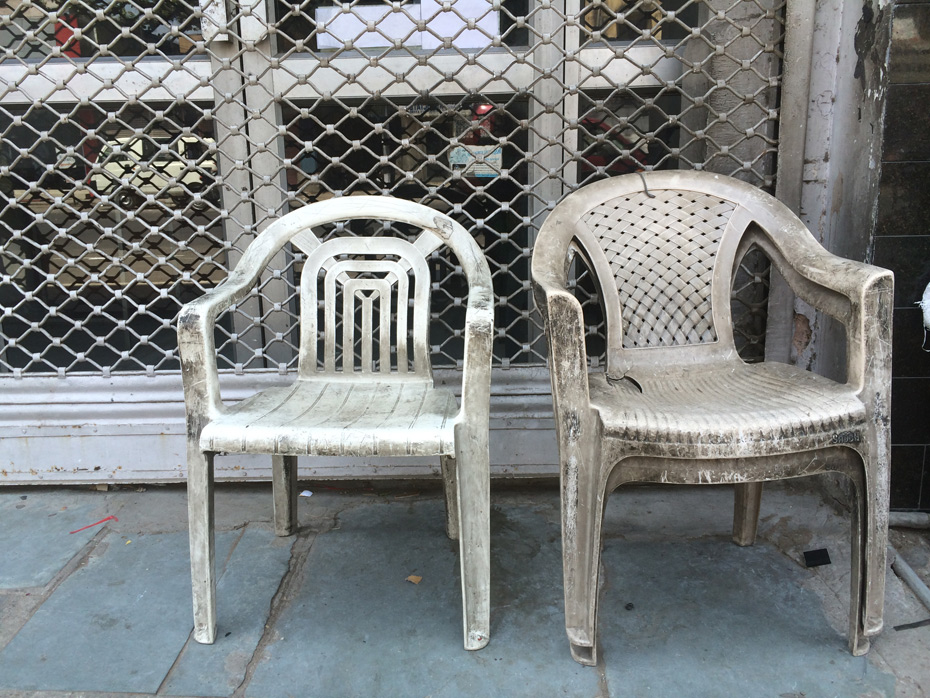 Firstly, I think I need to qualify. This is a continuation of a general chair love affair. And I am not alone here. I know that there are many others who can't resist a chair, so maybe this is an analysis of why.
As a student, abandoned chairs were often picked up on the street or from skips and were welcomed into the jumble of shared student accommodation. Mended with glue and string they became rickety members of the group. I still have trouble throwing some of these old faithfuls away. They have a history with me. I like individuals, and all my chairs are second hand because I dread nothing more than having to choose a matching set of dining or kitchen chairs.
In India, many things have excited me: colours, smells, food and weather. But there is one thing that I've taken literally hundreds of pictures of: chairs.
I started with the horrid moulded plastic ones. These chairs are always outside and they are particularly attractive when abandoned as a group. They make a family; they are having a conversation and despite being made in their thousands or tens of thousands in some dirty, polluting factory, they have character. This is because they are filthy and worn, but also often because of their situation.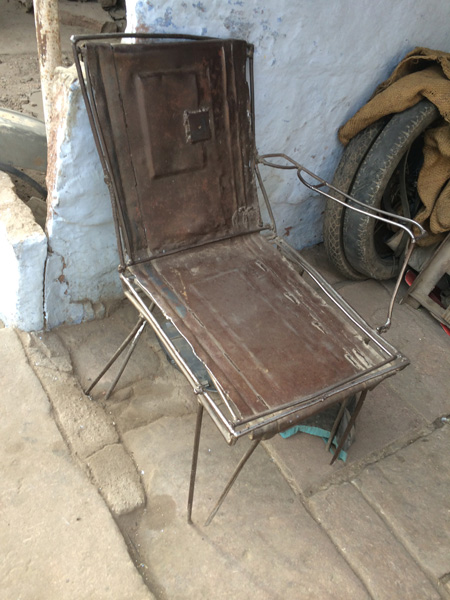 Security guards are big sitter-arounders in India. They are everywhere, from banks to hotels to anything vaguely municipal. They do nothing but sit and scowl, so they need a nice comfy plastic armchair in which to perch, then abandon. They leave their chairs looking a bit bleak.
Small businesses are run on the street or roadside, and whether a tea seller or marble carver, at most their workplace is open fronted. These places seem to practically never close, with much business going on in the evenings when it's cooler. That means there's a lot of sitting around to be done. Cheap chairs are left in place, like living rooms outside. They won't go anywhere – no one steals them – because they're everywhere anyway, but even empty, they tell of community and daily life.
I allowed myself to go off-piste last time I was away, and started to look at some other more 'homemade' creations and adaptations. Metal is the obvious material if you are making window grills all day, and so metal chairs and stools – they're easier and materials are readily available – are the obvious extension. There is much more individuality here because they are created from leftovers and off-cuts. I love this kind of genuine recycling and only wish we had the time to spend on these delightfully imperfect, time consuming projects at home.
This is an endless delight to me and my iPhone is bursting with the evidence.
Follow Ally on Instagram for pictures from the studio (and the occasional Indian chair, on tour)