The photographer discusses his portrait series for the Museum of London focusing on men and their jewellery
"I grew up with The Goonies and Indiana Jones, so I used to dream of stuff like that" says photographer Ross Trevail of the Cheapside Hoard, exhibited at the Museum of London beginning this week. "I love the fact that they don't know who it belonged to and why it was buried. It's great to know there's potentially still treasure out there below our feet that we don't know about…" Discovered in 1912, the collection of 16th and 17th century jewels is being displayed in its entirety for the first time in over 100 hundred years, as part of the museum's new major exhibition season on jewellery. Tomfoolery, Trevail's specially portrait series, runs concurrently, picking up the dialogue about its contemporary role.
The black and white series of photographs explores the individual relationships between the sitters and their jewellery. "I think perhaps men use jewellery differently to women – , you can see a journey with men's jewellery." The Museum of London wanted "a series of portraits of normal guys wearing interesting pieces", explains Trevail. Like the men he photographed, "I only wear jewellery that has a meaning to me – a few pieces that are really precious – so I really got what the museum were looking for".  It was the same for Stumpy, John and the rest of Trevail's subjects: though shot at different times, "when we sat down to take the pictures, we all realised how similar our views were about it".
Trevail adds, "From the start, I was adamant I wanted to cast the sitters, and I had some people already in mind as I like to recast my sitters. The hardest thing was finding a range of people!" With a portfolio of rockerbillys and hot rodders, and a natural draw towards older subjects, Trevail endeavoured to find a group of men who shared his appreciation of jewellery. "All of the guys have such a great, easy style", he adds. "In fact, they're ridiculously cool: team charisma. We had great rapport, which made my job really easy. I just pressed a button now and again; the pictures are really down to them."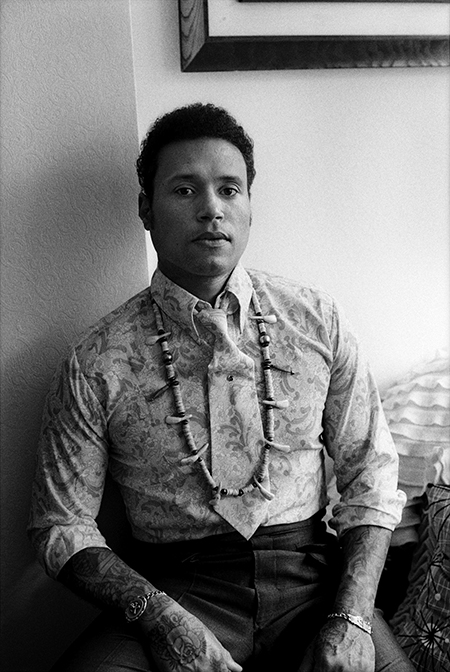 François Nordmann is the Atlanta-born, London-based founder of SWS Jewellery. He wears a necklace inspired by his father's style. "My dad made necklaces in the sixties and gave me loads of spare beads, thread, bone, teeth and half-finished necklaces so I rearranged and finished this one with spare parts to look just like what my dad would have made circa 1968."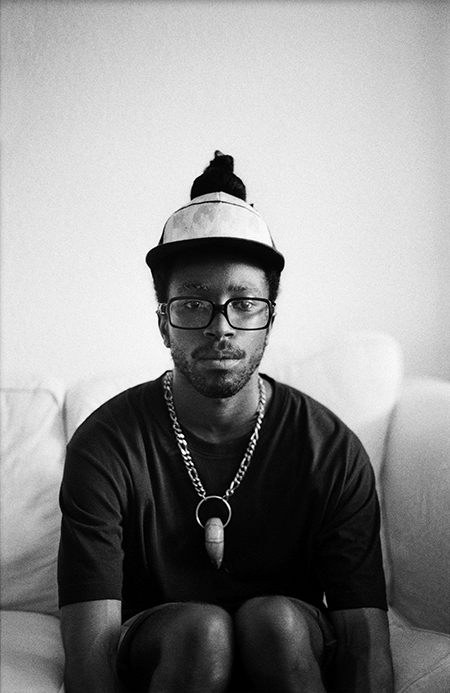 James Tuitt is an artist, stylist and props builder who works on fashion and installation art projects. In this shot he wears a wooden prawn given to him by a friend, attached to a gold chain he bought in a vintage shop. "After a friend of mine named this prawn Pavarotti, I became more attached to it and he became by favourite piece to wear. He's very reliable, and can survive being swung around my neck a lot while I'm dancing."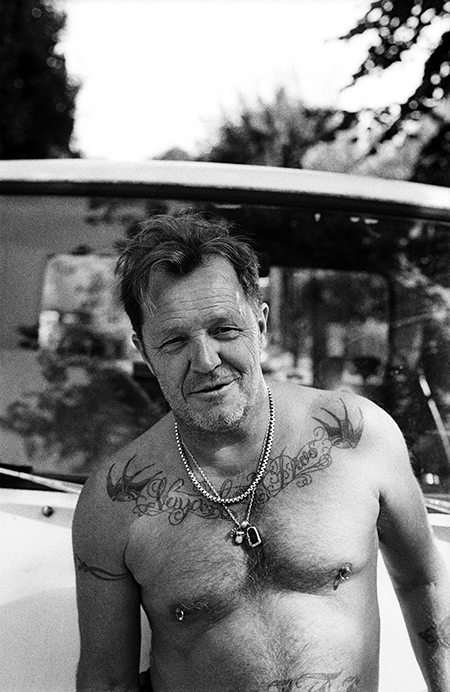 Huggy is a British actor and former vocalist of punk band The Plastix. He's appeared in numerous television shows and films, including EastEnders and Lock, Stock and Two Smoking Barrels. He wears a piece of amber round his neck with a bee inside it, "proper Jurassic Park" and a silver carburettor, representing his passion for vintage Harley Davidsons. "The big silver chain I wear round my neck I got in Thailand. And the silver bracelet on my arm I got when I was in India and I love it, I always wear that and a plastic Scooby Doo which is a good luck thing. They are all memories of something, mostly gifts".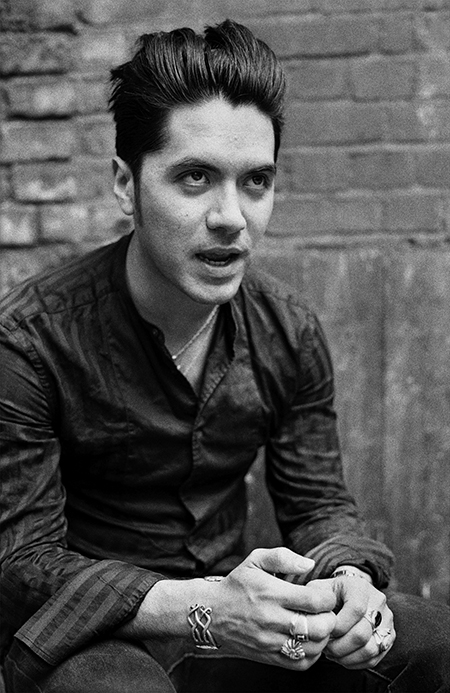 Jonn Dunn is the former guitarist of the reformed Happy Mondays. He began wearing jewellery after his First Communion, aged seven, when his godfather gave him a necklace with a cross pendant. Most of the items he wears are gifts from family or friends, including a ring he received from a tribe leader during a Native American pow-wow in the South West of America. "I don't have a particular favourite, since each piece has sentimental value in their own way. There isn't a time in the day that I remove my rings".
Dave Whiteing is a costume assistant and has worked on Batman, Saving Private Ryan and Braveheart amongst others. He was a regular on London's King's Road during the 1960s, picking up on the dandy fashions of the time and wearing jewellery he bought at Chelsea flea market and Portobello Road market. His favourite pieces include his 'talisman', an identity chain Steven Spielberg gave to him. "I think Black fashion has been a huge influence on style, especially now, with the use of the guys wearing what you call "bling". People like Louis Armstrong and Cab Calloway had fantastic style. They wore, quite discretely, a watch chain, or a ring, but very stylish".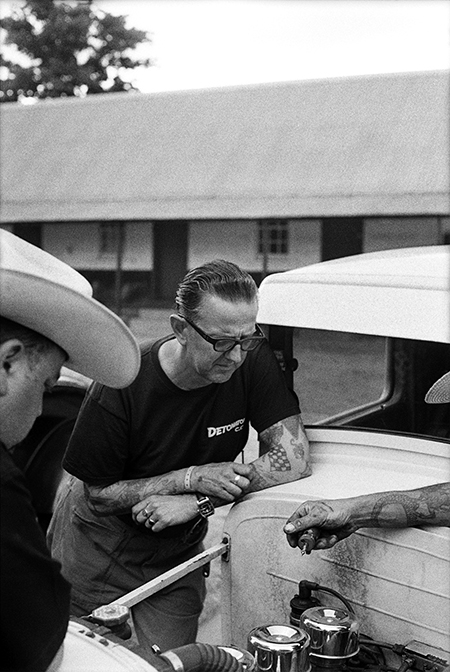 Langley Gifford works for the NHS, but spends much of his free time pursuing his hobby for cars and the hot rod racing scene. His jewellery includes a 1930s Hamilton watch that belonged to his uncle and a signet ring inscribed with his initials "LMMG", which his father gave him on his eighteenth birthday.
"Jewellery means different things to different people. Sometimes it is superficial and purely for decoration and sometime it defines who you are and maybe it is the last thing that you own or wear before you leave this world. Real jewellery has value and should be treated with care and attention and worn with pride."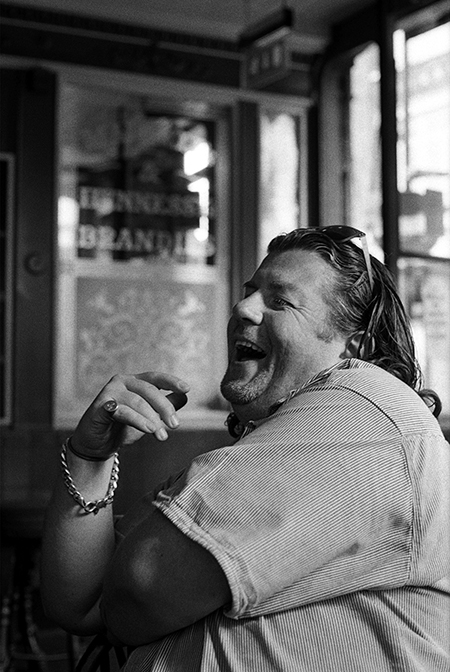 Stumpy works in the City of London. He began wearing silver jewellery in his thirties, during the 90s clubbing scene. He can remember the story behind each of his rings, including one his wife bought him on Upper Street, Islington, with 'Love and Hate' inscribed on it, and a Vivienne Westwood ring bought from her London store."I recall everything that's bought and to a greater and lesser extent where it was bought and unfortunately how much it cost me. I suppose that's what you do with jewellery."
Tomfoolery runs from 8 October – 16 March 2014 at the Museum of London, with free admission