PORT shoots eight of the most promising graduates of the renowned Central School of Speech and Drama's Class of 2011, and talks to the rising stars to watch for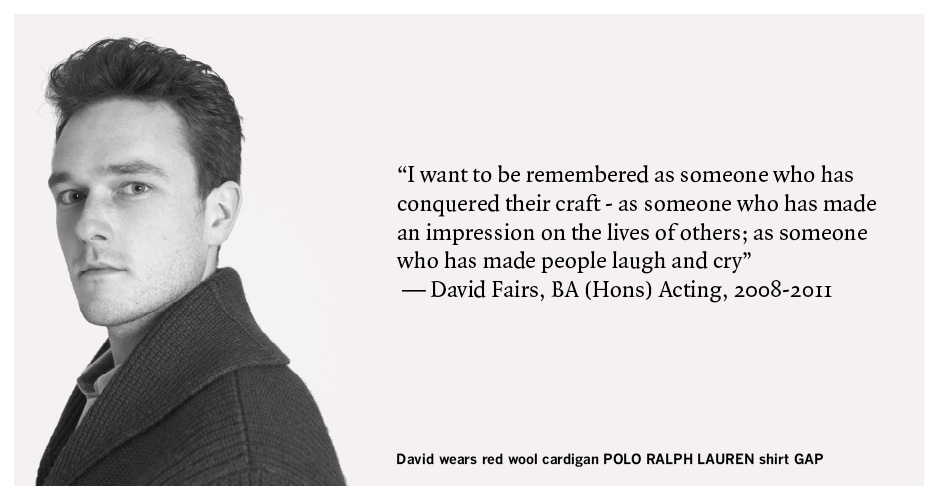 On a quiet, leafy residential street in Swiss Cottage, North London, a group of students stretch their legs for a short break in front of one of the most well-renowned drama and theatre institutions in the world. Founded in 1906 by specialist speech trainer Elsie Fogerty, the Central School of Speech and Drama is one of the premier schools for training actors. Unique in the sector, it combines first-rate teaching and production, with a highly ranked programme of research, aimed at new performance practice. Now referred to as the University Coservatoire, the school runs a diverse range of courses from production and directing, to acting and prop-making and places are highly competitive.With an impressive list of alumni including Laurence Olivier, Harold Pinter, Judi Dench and Vanessa Redgrave amongst others, to say that you have trodden the same footsteps as these iconic actors in an achievement in itself. But graduating from this highly-regarded school is only a micro-fraction of the challenges involved in making it as a fully-fledged actor where jobs are few and far between. The future is often uncertain beyond the safe confines of the school where a world of euphoric realisations or broken dreams await. Here, Port shoots eight of the most promising graduates of Central's class of 2011, and the rising stars to watch for.

The tradition of the "struggling actor" is a long-standing one. On average, statistics show that performers work professionally for an average of just 11.3 weeks of the year, with only 92%in full-time employment at any one time. It is a ruthless industry where many newcomers will find themselves struggling to make ends meet, with the prospect of securing regular and meaningful work a distant reality. Yet although a life of uncertainty (and poverty) may prevail, the trade-off, for many is well worth the sacrifice: "For a little while, I get to feel and explore the world and existence of another person," says David Fairs, a recent graduate on the BA (Hons) Acting course who also read history at Cambridge. "I get to move other and make them feel – it's incredible."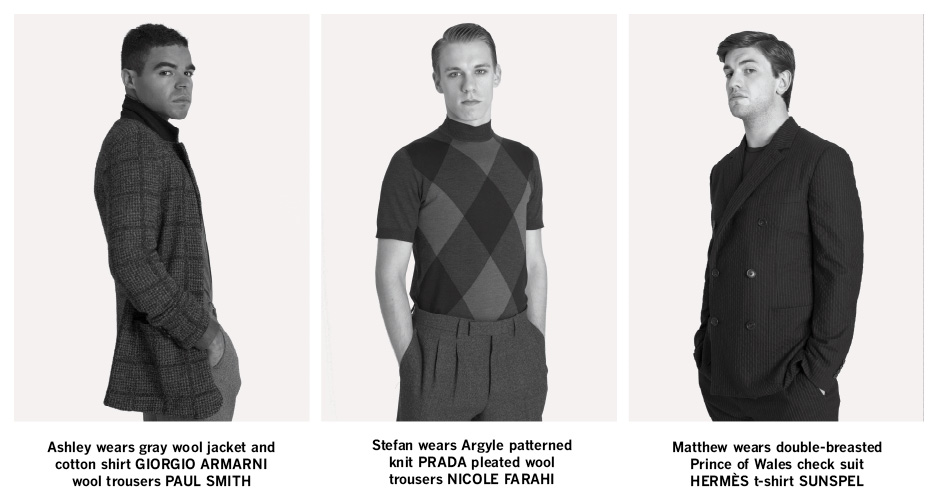 Already tipped for success, Fairs represented Central at The Globe's 2011 Sam Wanamaker Festival and has been nominated for the BBC 2011 Carleton Hobbs Award.
Central's graduates are armed with an admirable blind sense of steely determination, focus, self-belief and unshakable confidence to deal with the long and arduous process of never-ending auditions where rejection will come to them as frequently as brushing their teeth. "It's a difficult and fickle industry, but I have passion and drive," says Fairs without hesitation. "I have no doubt that acting will be my principal profession in life."

For others, however, there are more sobering moments when a glimpse of a possible reality sets in: "Sometimes, I wonder if there really is a place for me in the industry," says Ashley Hunter, a fellow graduate on the BA (Hons) Acting course who has performed in BBC's One Million Tiny Plays on Radio 1. "But then what keeps me going is the belief I have something to offer, a story, and a way of telling it that is slightly different to what people might have seen before." Often, there is also a healthy dose of realism amongst the graduates combined with a heady sense of romanticism. "My worst fear is that the odds are stocked against me and that there's a thousand of me out there already," says Matthew Alexander,
another BA (Hons) Acting graduate and beat-boxing extraordinaire. "But if I've performed in a play and even just one person has left that theatre having learnt something emotionally or intellectually then I've done my job."
With so few roles and so many candidates with fairly generic skills that an education at drama school will provide, the need to stand out amongst your peers is certainly a necessity. On reviewing student profiles for this shoot, there were PAD-diver Taekwondo experts, intermediate ventriloquists, expert period dancers and professional puppeteers – it seems that the worst crime for an aspiring actor is to blend into the masses and therefore mediocrity.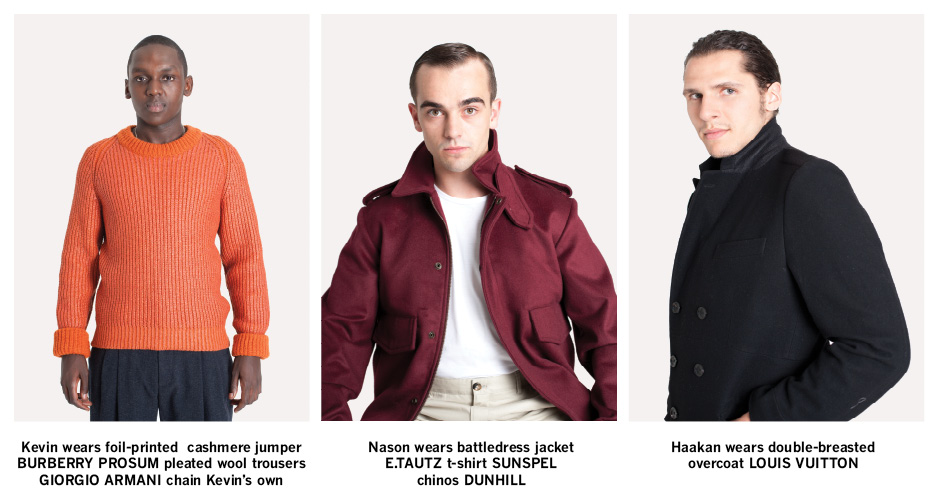 Equipping students with all the necessary skills to brave the acting world in fundamental to Central's ethos. "I think students enjoy being pushed and challenged daily in a creative environment and sharing this experience with a bunch of like-minded people," says Martin Wylde, senior lecturer and course leader on the MA Acting course. "Everyone gets exhausted during the year and I often warn students that a year at drama school is like a long rollercoaster ride…there are lots of ups and downs, but it's all invaluable."
With vertigo-inducing aspirations on their departure, many students often find themselves in a state of emotional conflict when their idealisticexpectations are juxtaposed with what the commercial market demands. Geoff Colma, Head of Acting at Central says, "There is a lot of great talent not being cherished by an industry forced into ever more commercial choices." Joel Anderson, course leader in MA Theatre Studies, also agrees: "Students work intensively with a group of people in good working conditions while they are at Central, but can often struggle to replicate this outside." The prospects are not all grim though Anderson acknowledges: "That said, I am always pleased to see so many alumni busy in the theatre industry. I receive invitations to shows and festivals all the time."With an unpredictable but potentially thrilling future ahead, what concerns do the graduates have when they lay awake at night? "Many things," replies Fairs. "The lack of financial security, the periods of unemployment – but none of these things really matter when I consider the satisfaction that will come from a career, which will always be changing, always presenting with the unexpected." For some, the thought of failing, or gently putting it, pursuing another career is not even a possibility: "I have no option but to succeed," says Steffan Lloyd-Evans defiantly, a recent graduate on the BA (Hons) Acting (musical theatre) course. "I can't give up as there isn't anything else I want to do."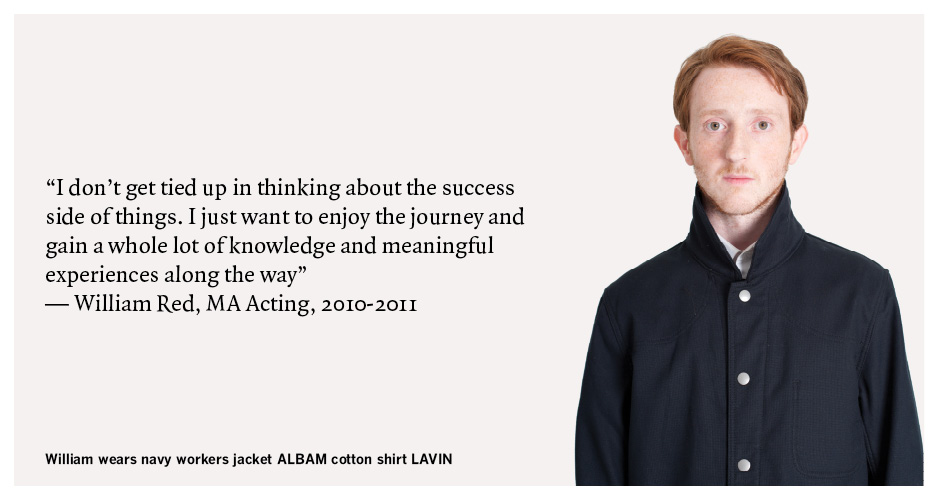 For the Central Class of 2011, as young and naive, perhaps, as they seem, their dreams, aspirations and the enthusiasm they carry are undoubtedly inspiring. There is much to be said for such a driven group of individuals at the starting line of their careers, who believe their efforts have no bounds, that they can conquer the world.The unstable course of pursuing an acting career is certainly not for everyone, but for those who are willing to step into this realm and rise to the challenge, for every disappointment that they face, a major achievement may well await them around the corner – the likely force that keeps them going.
Words Kat Phan
Photography Maria Spann
Styling David St John-James
Hair Elliot Bssila at Debbie Walters Management using NAK bio-marine hair care
Make-up Liz Daxauer at Caren Agency
Photographic assistant Anastasia Voronina
Styling Assistants Natalie Cretella, Nachum Shonn
Special thanks to Snap Products