Hans-Ulrich Obrist explains why Sou Fujimoto's cloud pavilion provides the perfect setting for this summer's immersive events schedule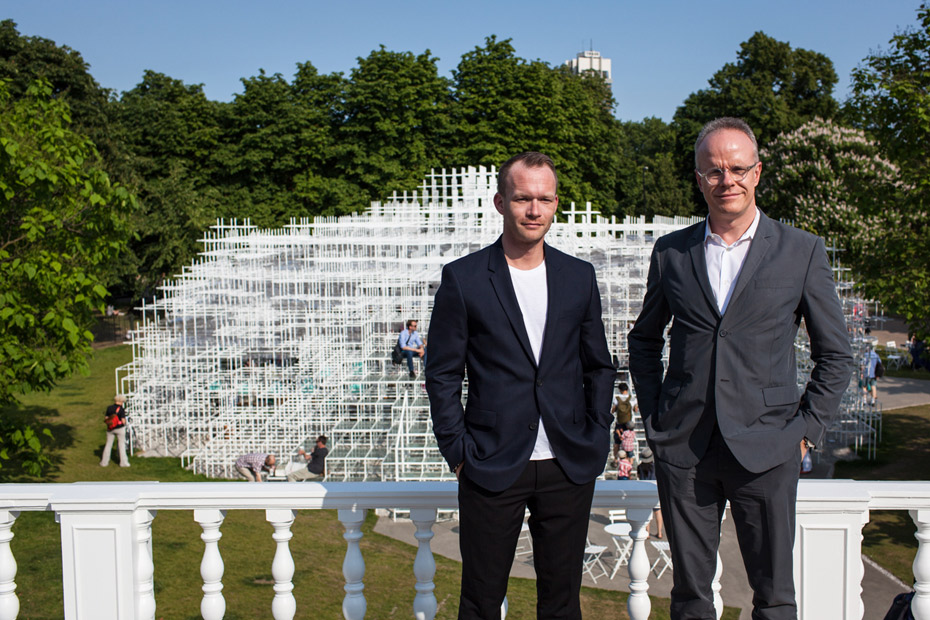 Amid the classical beauty of London's Kensington Gardens sits the Serpentine Gallery, and adjacent to it, each summer, you'll find the pavilion, a temporary structure designed by a different architect each year. Last year's structure – designed by Ai Weiwei in collaboration with architects Herzog & de Meuron – featured a sunken area covered with a heavy, black obelisk-like disk. As if in total contrast, this year's pavilion by Japanese artist Sou Fujimoto is a light and airy geometric cloud design that rises up, inviting visitors to climb up it, sit on it and shelter under the structure.
"The pavilions create a frame, but more than that, they create an environment, an atmosphere, an energy field in which different things can happen," says the Serpentine's co-director Hans-Ulrich Obrist, looking across from the gallery's rooftop onto Fujimoto's impressive creation, which seems to reach higher than the gallery building. "This year, it's extremely participatory because the visitors can actually climb the buildings, they can go up and down; everybody can find their own spot to watch from," Obrist continues.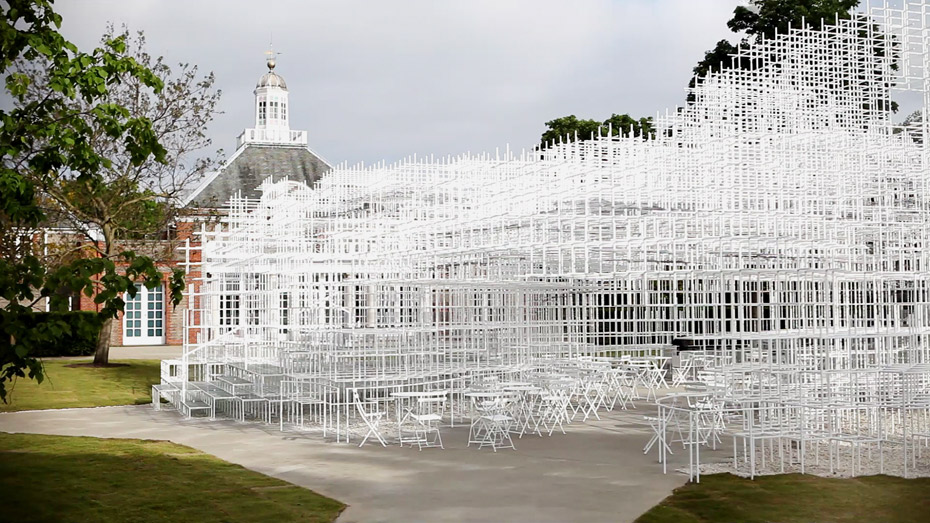 "It's like a house – visitors find their own niche in the house, find their own space where they are most comfortable. A lot of different things can co-exist. That's the thing about Sou Fujimoto's pavilion, the idea of co-existence. That's how participation and co-existence became very particular to the pavilion this year; it's not only a place for conversation: it's a place for music, sound, and artist performances, using the pavilion as a backdrop but also as a trigger for performance art."
Working in collaboration with the Swedish fashion retailer COS, this summer the Serpentine presents Park Nights, a series of immersive events that will engage audiences with discussion, music and performance art. The partnering, explains Obrist, is a natural one: "There is a COS store in Kensington, which we walk past every day on our way to work and we see they are supporting young, emerging artists and collaborating with an art school. We thought, how wonderful in terms of the Park Nights because that's what we do – we always show young, emerging artists. For example, two years ago we showed Helen Marten and since then she's had exhibitions at the Chisenhale and the Venice Biennale, and become one of the leading voices of young British art."
"We find Sou Fujimoto's's pavilion incredibly inspiring," says Martin Andersson, head of menswear design at COS. "There's something about the lines – I love how it changes during the day – when the sun goes down it completely changes the mood and the aspect… We see ourselves as an international brand but we say we have a Scandinavian heritage. We always feel that there is some kind of synergy between the Scandinavian and the Japanese designers – the clean lines, working with light. We feel there is a strong connection."
One of the clearest manifestations of the multidisciplinary nature of the Park Nights collaboration is in the work of George Henry Longly, who will present a specially commissioned performance evening in September. "George Henry Longly is actually a key example of what I meant when I said that we show these young, emerging artists," says Obrist. "Longly is going to bring all the disciplines together – art, fashion, music, literature – this idea of the total work of art that appeals to all senses."
Discussion-based events, such as the continuing of a conversation focusing on the frustration of thinking about a life that could have been, between Paul Holdengräber, director of Public Programmes at The New York Public Library, and psychoanalyst Adam Phillips, take advantage of the amphitheatre style of the pavilion. Other events will bring another dimension of experience to the pavilion space.
Japanese-American artist, writer, theorist and composer Yasunao Tone will play the pavilion like an instrument, bringing to it the sound of the Japanese avant-garde.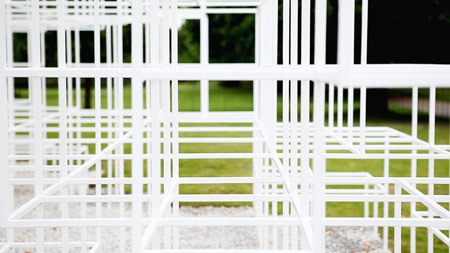 "When you're in a concert hall or you go to a gig, there is a clear spatial division between the band and the audience," says Obrist, "but here, the pavilion is so polyphonic, it's not clear where you would experience the sound, the visitor can actually choose, can move, can see from high up, can come closer to the sound source so it will be something like a sound installation."
For a full programme of the Park Nights events click here